Whole School Blog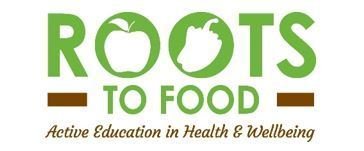 This week, as a whole school, we have all participated in Roots to Food Workshops where we have learnt to make Buna Masala with either chicken or butter beans served with spring onion and coriander rice.
We all got to wear chef hats and aprons to look the part! We learnt the nutritional value of all of the ingredients – carbs for energy, protein for growth, vitamins and minerals in the vegetables and why each part is important for our body. We also reminded ourselves of how the vegetables grow e.g. carrots grow in the soil and contain lots of vitamin A!
We then went on to learn how to ensure all of our food would finish cooking at the same time and we ensured our protein and vegetables were cut to even sizes to allow for even cooking - this prevented us from over-cooking anything and losing the nutritional value of vegetables. We used our new-found cooking skills of the chopping technique, the claw when chopping and slicing veg. We practiced our stirring, mixing, folding, marinating, peeling, steaming, pouring, sealing the garlic into the chicken/butter beans and then finally serving our final dish and tasting it!
Our food tasted delicious and it was so rewarding knowing we had put in all the hard work to help create it! We used fantastic teamwork and listening skills throughout the whole workshop!
Please click on the link below for the yummy recipe:
October 2021 - Year 5 and 6 Girls Football Tournament
Congratulations to the girls below who participated in the Year 5 and 6 Girls Football Tournament at Waterside Leisure Centre on Wednesday.

I am delighted to confirm that the girls won out of the 14 teams that participated. The team played brilliantly and were great role models
for the school. They will now go through to the County Finals.

Nancy A - 5JW
Emily T - 5EKF
Lily-Rose S - 5EKF
Josie A - 6DF
Francesca W - 6DF
Chloe F - 6HW
Emma M-H - 6HW
Ava-Rose W - 6HW
Brooke F - 6HW
Bella S - 6HW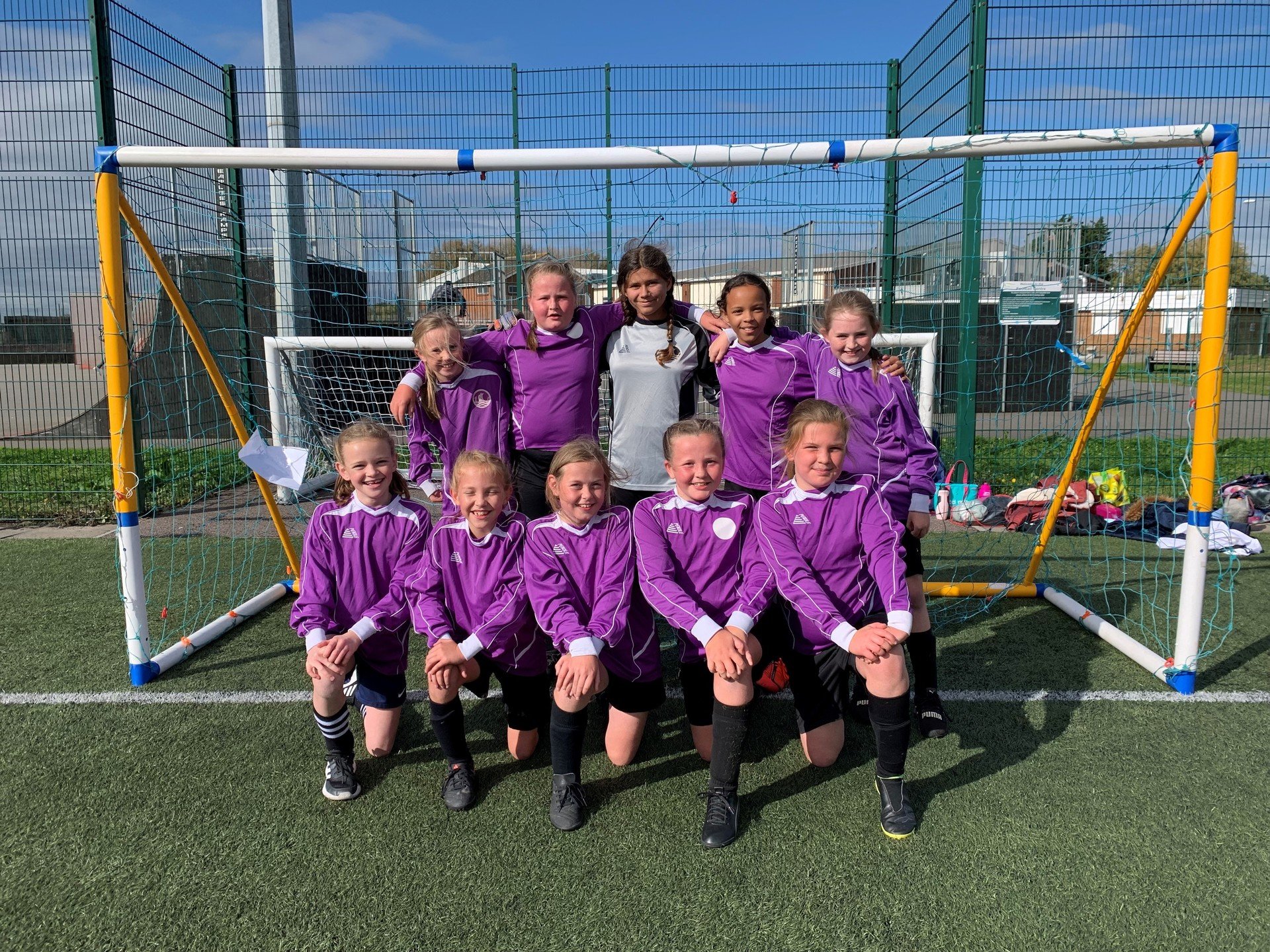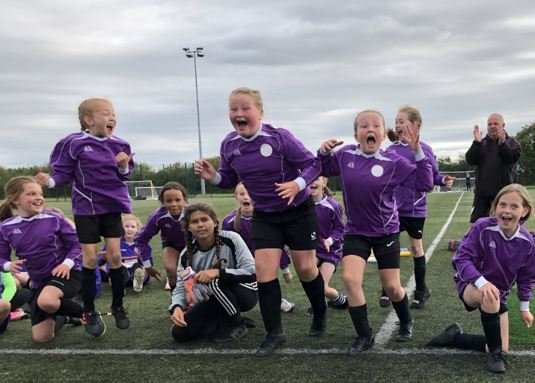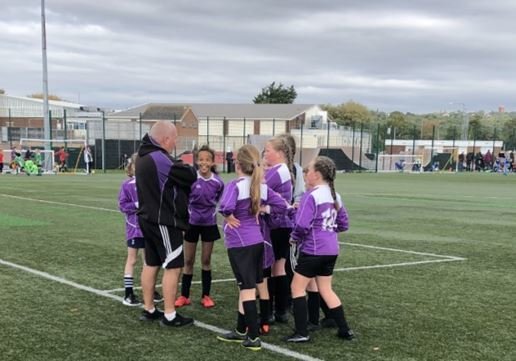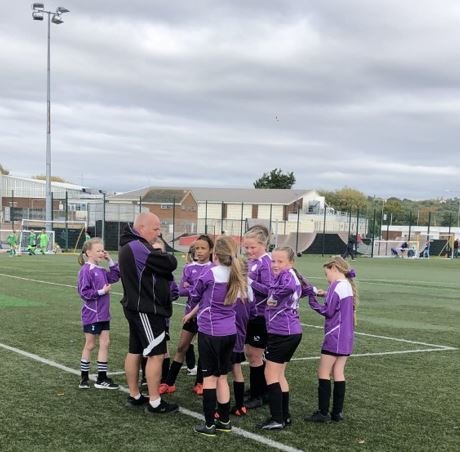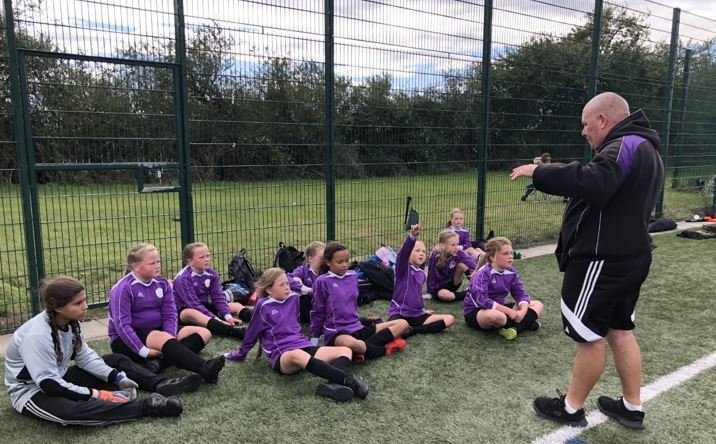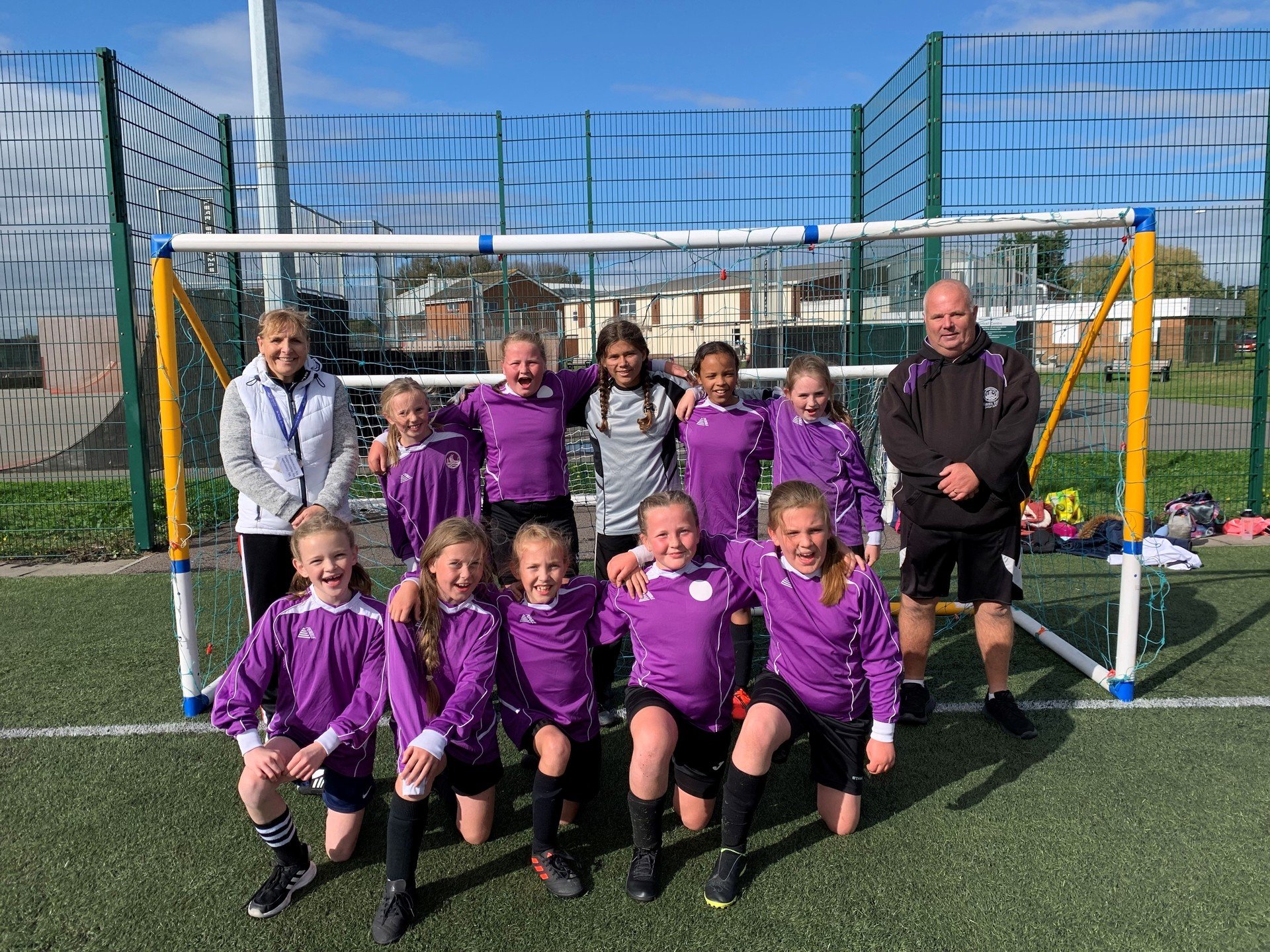 July 2021 - End of Term - Activity Week
Across the school, we have had such an amazing week of fun-filled activities. Euro football competitions, inflatables, a climbing wall, Sublime Science workshop and Lego Spike workshop are to name just a few of the events that we have taken part in this week.
These events helped us to improve our teamwork and perseverance but above all else - to enjoy ourselves after a really challenging 18 months for the whole school community.
Our Year 5 and 6 pupils also had the opportunity for a residential overnight stay in the school hall. This tested our independence away from home and it was so lovely to see everyone helping each other to set up their sleeping areas. We had two late nights watching the nail-biting semi-finals but that just made it all the more fun.
The week came to a close with some medals and certificates being given out in addition to a well-deserved treat of an ice-cream on Friday afternoon.
What a lovely way to bring the summer term to a close!
Year 3
April 2021 - Roots to Food Workshops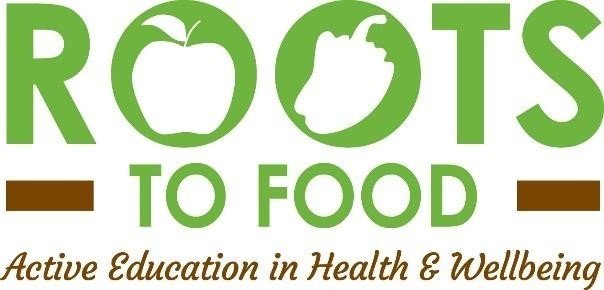 This week as a whole school we have all participated in Roots to Food Workshops where we have learnt to make Teriyaki chicken or Quorn with Bombay noodles.
We all donned our chef's hats we had made earlier in the week and began by learning about the cuisine we were about to explore and how to make sure it is a nutritionally balanced meal! We learnt the nutritional value of all of the ingredients – carbs for energy, protein for growth and repair of the body and tissue, vitamins and minerals in the fruits and veg and why each part is important for our body. We also reminded ourselves of how the veg grows and which were root vegetables e.g: carrots and onions.
We then went on to learn how to ensure all of our food would finish cooking at the same time and we used our new-found cooking skills of: the bridge and claw when chopping, slicing, stirring, mixing, folding, marinading, peeling, steaming, pouring, sealing the garlic and ginger and chilli flakes into the chicken/Quorn, shielding ourselves safely away from the 100 degree steam and then finally serving our final dish and tasting it!
Why not have a go at cooking the recipe at home for your family – don't forget to take photos and share these on your Personal Passports as well as sharing with your class!
Teriyaki Chicken or Quorn with Bombay Noodles (serves 4)

4 Small Chicken Breast diced (or :
1 x 200g bag Frozen Diced Quorn)
½ tsp Dried Chilli Flakes
4tbls Light Soy Sauce
2tbls Clear Honey
4tbls Apple Juice
1 Red Onion thinly sliced
4 Spring Onion thinly sliced
50g Mangetout chopped in half
1 Whole Carrot peeled and sliced thinly
2 tsp Mild Curry Powder
1 tsp Turmeric
1 Red Pepper sliced
3 nests 200g Medium Egg Noodles
30g Fresh Ginger finely chopped
1 tsp Chopped Garlic
1 tbls Olive Oil
Water for steaming
Method
1.Place the chilli flakes, soy sauce, honey and Apple juice into bowl and whisk together to combine. Soak the noodles in a bowl in hot water with the curry powder and turmeric.
2. Place the chicken or Quorn into a clean bowl and add the garlic and ginger and stir together.
3. Heat a non-stick frying pan or saucepan or wok (with lid) until hot with a little oil
4. Sear the chicken in the hot pan for two minutes on each side, add 2 tbls water place the lid on the pan and steam for 90 seconds. Remove the lid carefully
5. Add the red onion to the chicken and steam for a further 1 minute with the lid on.
6. Now remove the lid carefully again and add the mangetout, carrots, peppers, spring onion and teriyaki marinade (honey, soy sauce, apple juice, chilli flakes)
7. Steam with the lid on gently for 2-3 minutes to reduce.
8. Stir the drained noodles through the teriyaki chicken and steam with the lid on for a further 1 minute
9. Remove the lid of the pan carefully and serve in to the centre of four plates.
10. Enjoy
Red Nose Day at Kents Hill Junior School
We have had so much fun celebrating Red Nose Day at Kents Hill Junior School! The theme of our Red Nose Day this year is 'Superheroes: What is your super power?'
We have taken part in superhero training that tested our strength, stamina, agility, hand-eye coordination & speed.
Some classes made masks in order to protect the identity of some of our top-secret superheroes. We thought carefully about what the masks may help our superheroes to do and why too.
We know that not all superheroes wear capes too! We discussed some real-life superheroes like Captain Sir Tom Moore, Greta Thunberg, Sir David Attenborough and Marcus Rashford to name but a few. We wrote about why we have chosen our real-life superhero as the best superhero ever and what makes them so 'super'.
Also, we had a class story time with a superhero twist today. Some members of the Kents Hill Junior School staff recorded themselves reading a range of superhero stories for us to enjoy on our virtual school library. You can find the link to these videos on your Google Classroom streams if you didn't get a chance to watch them all.
Last but not least, we rounded our afternoons off with class talent competitions where we had the opportunity to showcase our hidden super powers. We were treated to an array of talents such as singing, dancing, drama performances, poetry readings, magic tricks and more! We always knew that Kents Hill pupils had these superpowers hidden up their sleeves!
Don't forget to have a look at our 'We Are Published!' section of the website as lots of our very talented writers across the school have submitted some absolutely astounding pieces of writing for us all to enjoy with a special Red Nose Day theme.
Have a lovely weekend! :-)
Full return to site - March 2021
This week we have loved welcoming everyone back to site. As a whole school, we have focused on PSHE and growth mindset creating art work inspired by the book 'The Boy, The Mole, The Fox and The Horse' by Charlie Mackesy. Every class has their own copy to enjoy.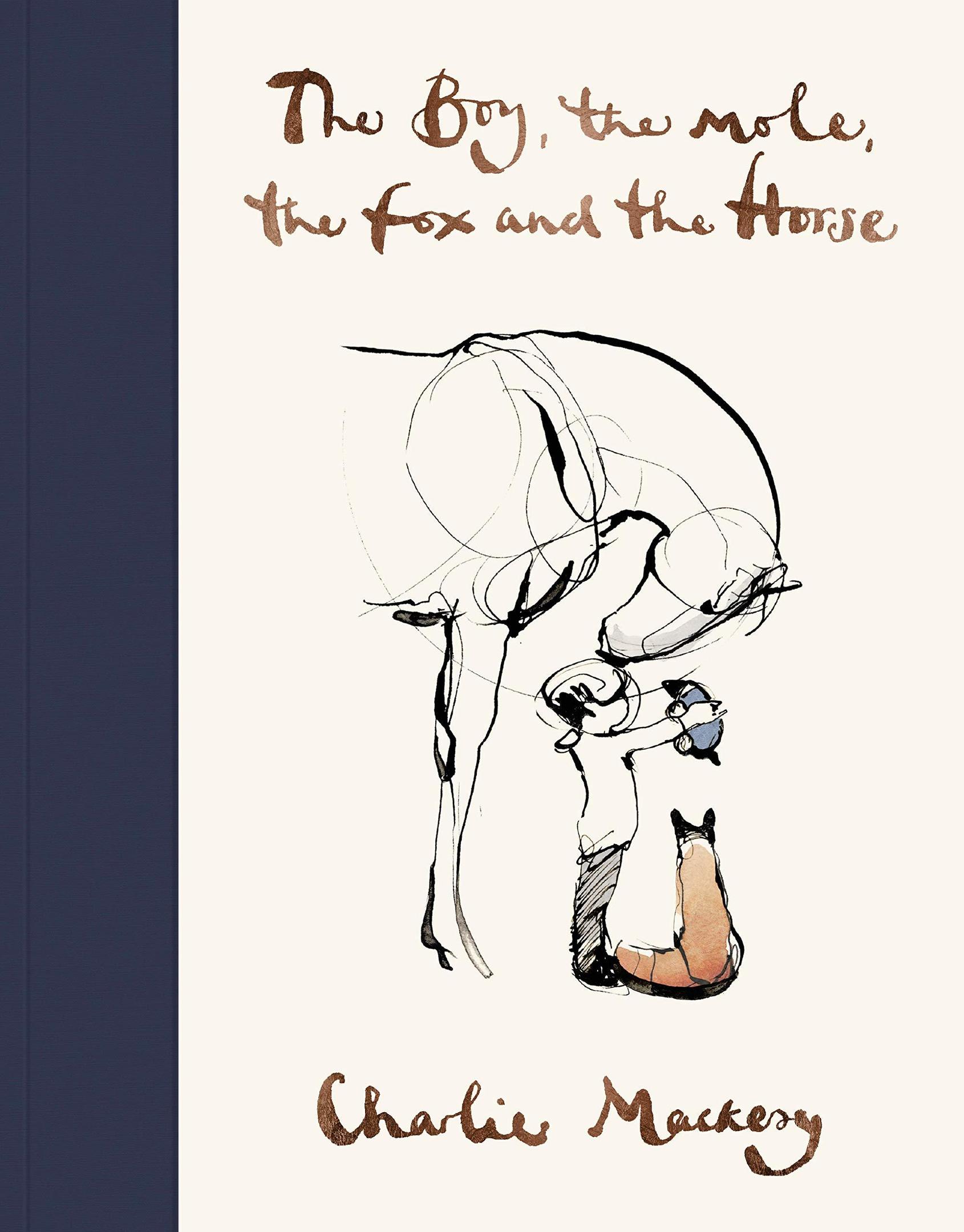 Please see the video below of our artwork created this week which is now up on display around the whole school for us all to be able to enjoy and celebrate coming together again.
Click here and log in to your Google Classroom to view the video in full.
World Book Day 2021
All week we have been enjoying listening to extracts of a range of different books read by staff in the school as well as the authors themselves!
Click here to head over to the KHJS Virtual Library
On Thursday, we had an amazing day celebrating World Book Day remotely. We all begun the day dressed up as our favourite characters and enjoyed 'Breakfast with a Book' together virtually.
Across the school, we have all taken part in some masterclasses with authors:
In Year 3, we took part in:

In Year 4 we completed these 2 masterclasses:


In Year 5, we took part in:


In Year 6, we completed a selection from:



We then created our own stories, designed book covers, made junk models linked to our favourite books and characters and many more activities - click on any of our work below to view it in full.
In all year groups, we took part in some drama, using props within our houses to re-enact a part from our favourite books, record adverts and read our favourite extracts:
Head over to our year group blog pages to see more detail about what every year group has been up to this week: Year 3, Year 4, Year 5 and Year 6.
We want to thank Morrisons Supermarket in Hadleigh for choosing Kents Hill Junior School as the school to receive a selection of books this year for World Book Day!
We can't wait to be back on site next week so we can begin reading them!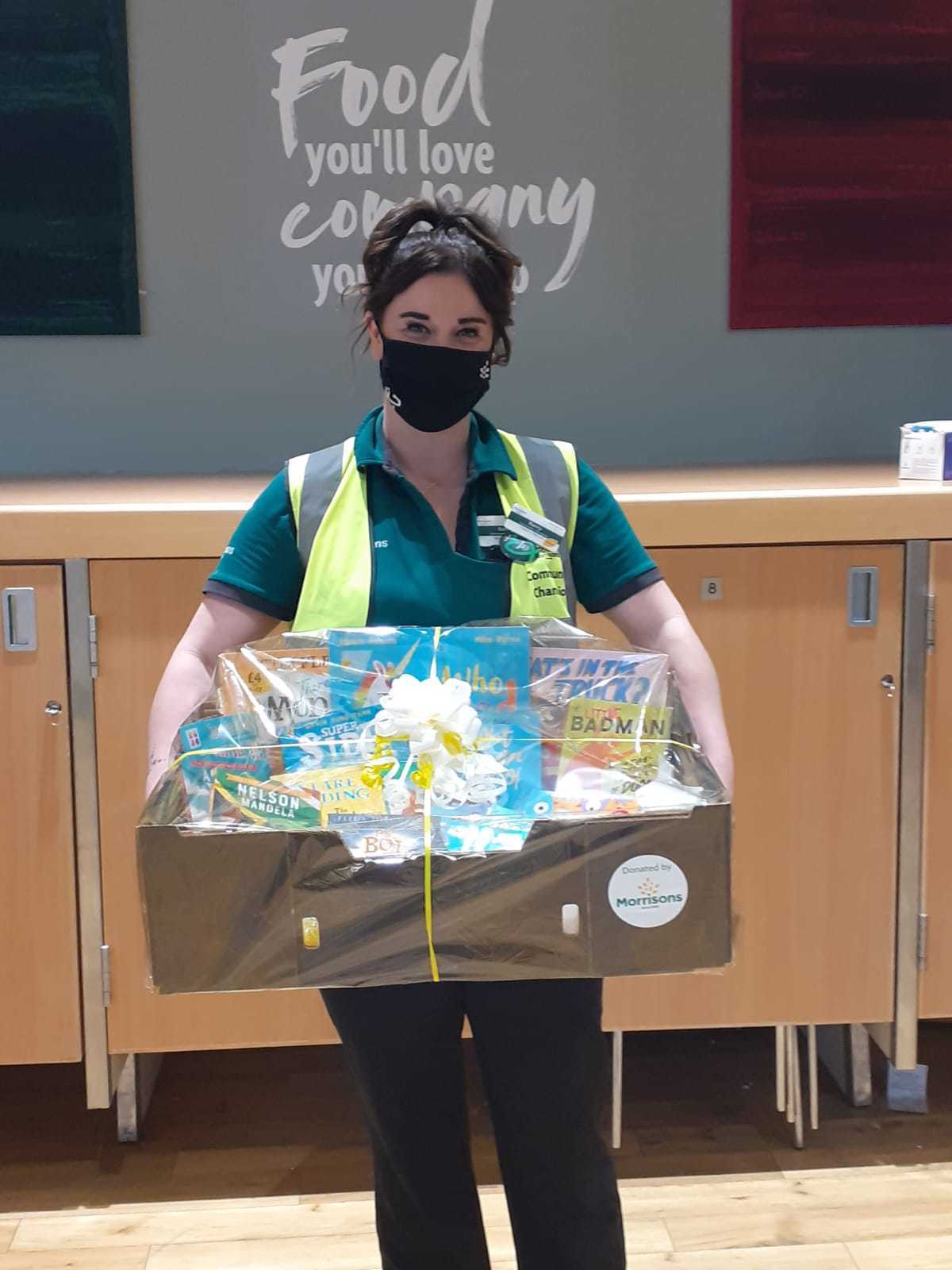 Remembrance Day 2020
'To commemorate Remembrance Day in 2020, the whole school compared the monumental moments across history by contrasting the world wars to the current pandemic, with a focus on community spirit.
In Year 3, the children touched on evacuees and designed a bag complete with belongings as if they were to be evacuated.
In Year 4, the children studied Remembrance inspired poems and created their own acrostic poems.
Meanwhile, in Year 5, the children stepped into the shoes of, an evacuee, a nurse, or a commonwealth soldier. Inspired by this, they wrote postcards to loved ones at home which were fantastically written.
In addition, the Year 6's also composed poems inspired by 'In Flanders Fields' and performed their poetry.
Alongside this, the children respectfully and thoughtfully partook in the 2 minute silence to remember and honour the soldiers, past and present.'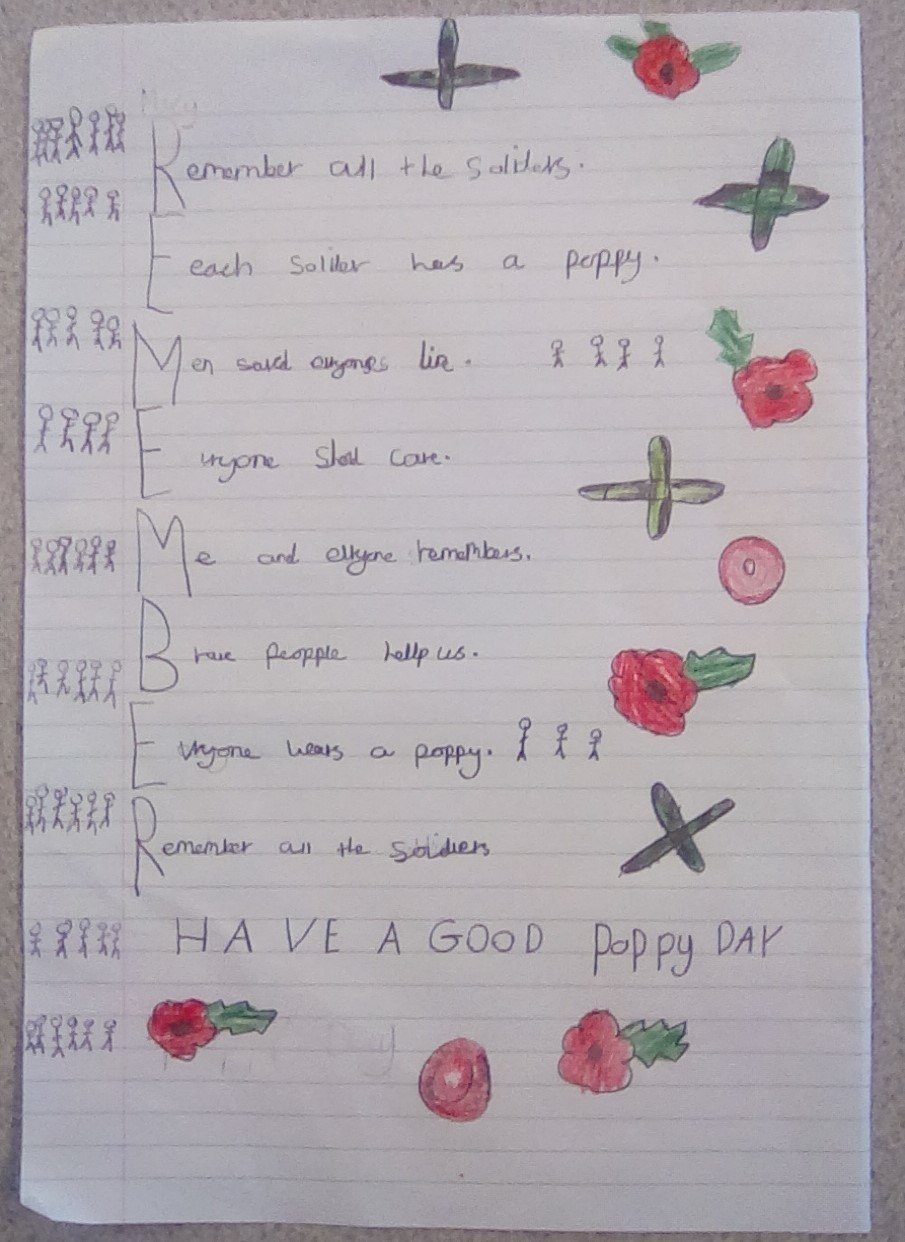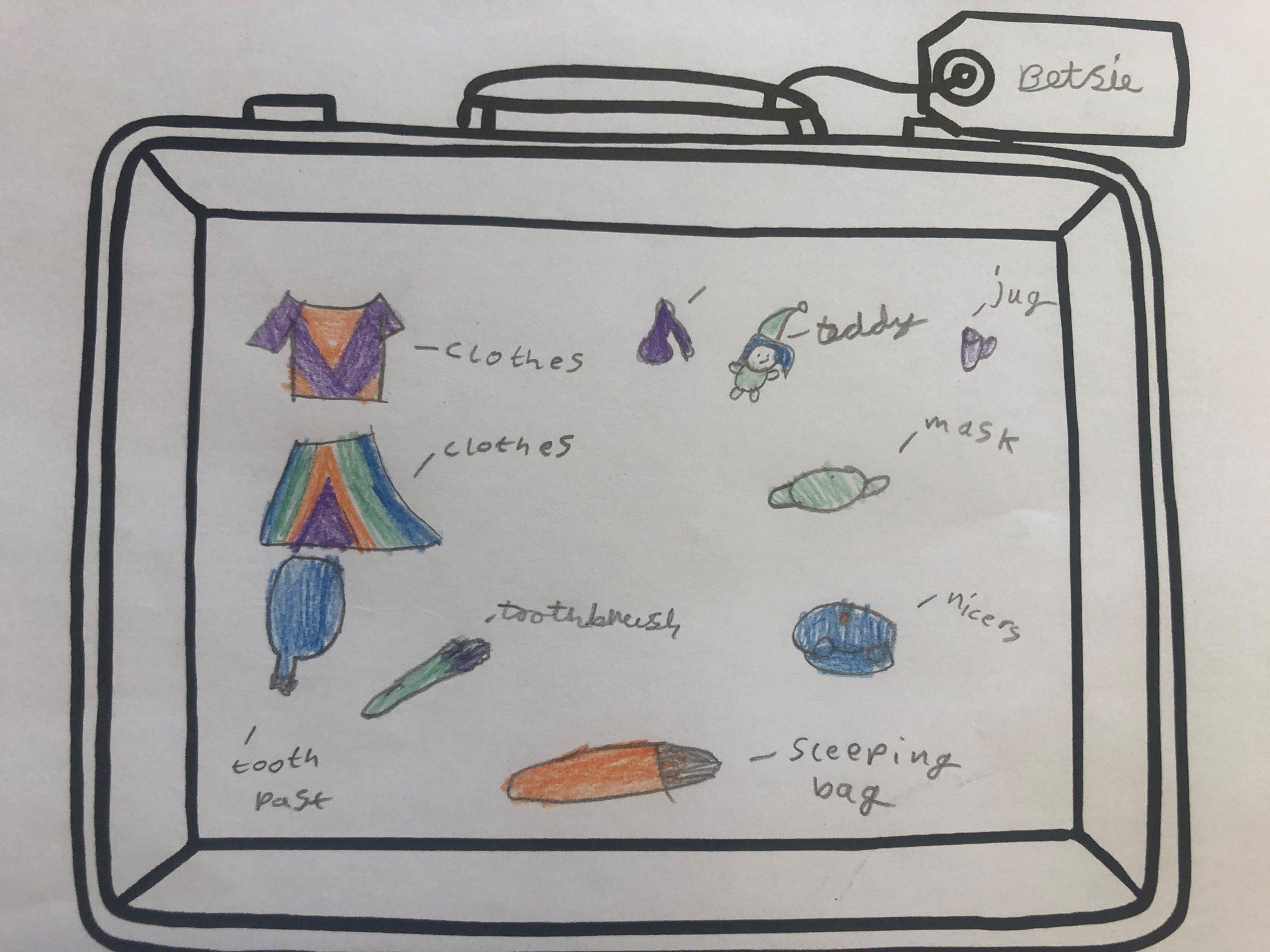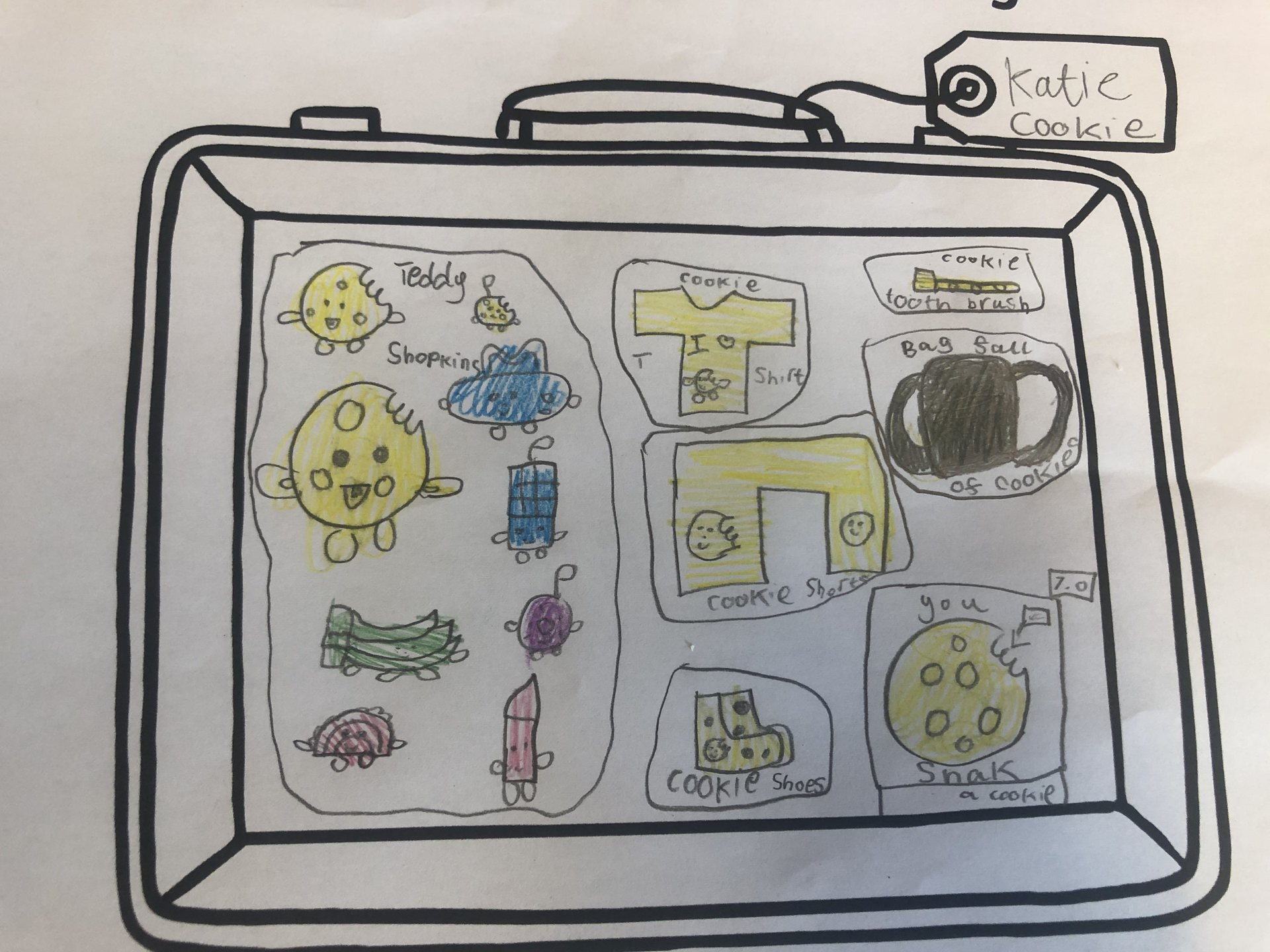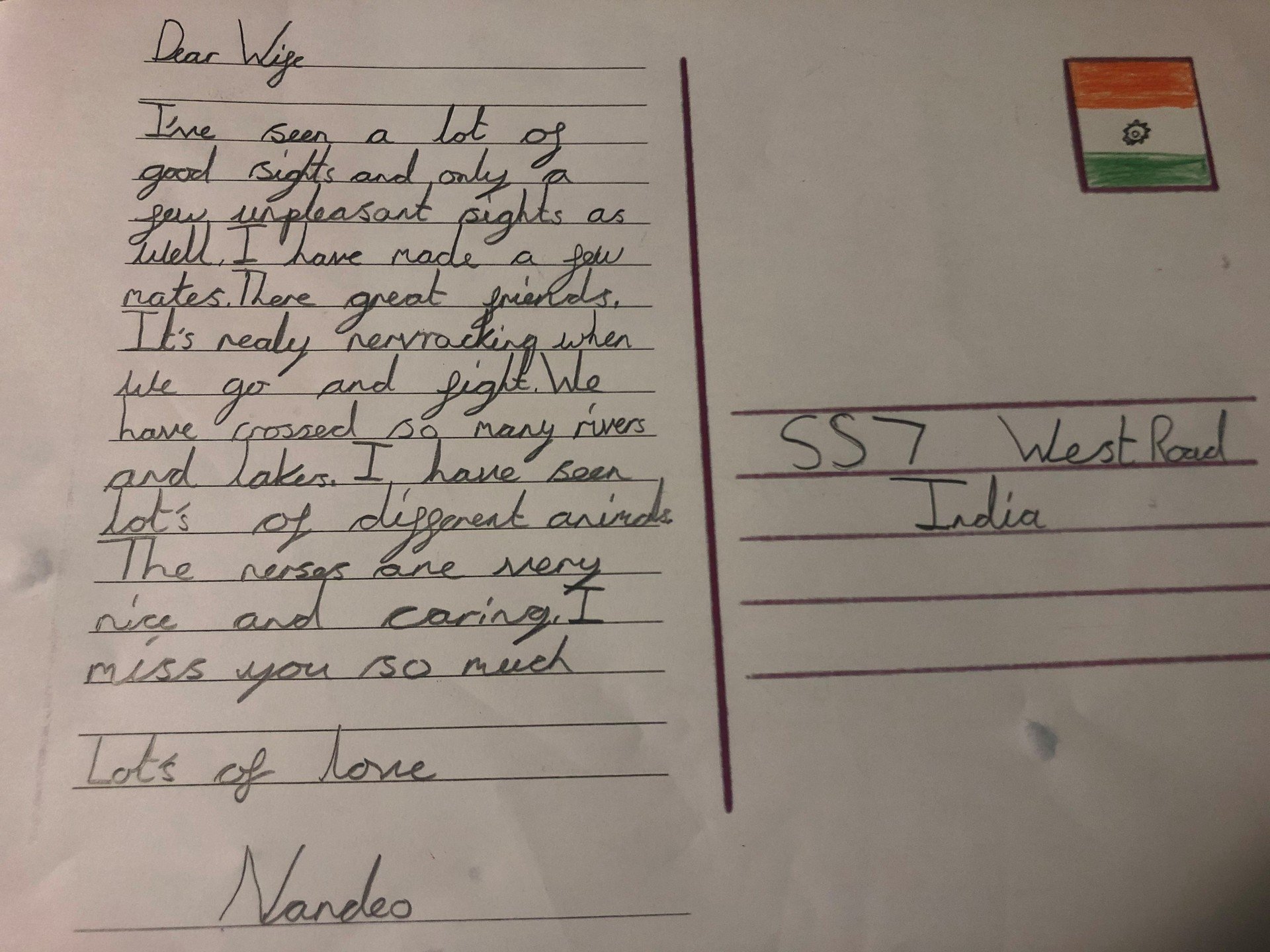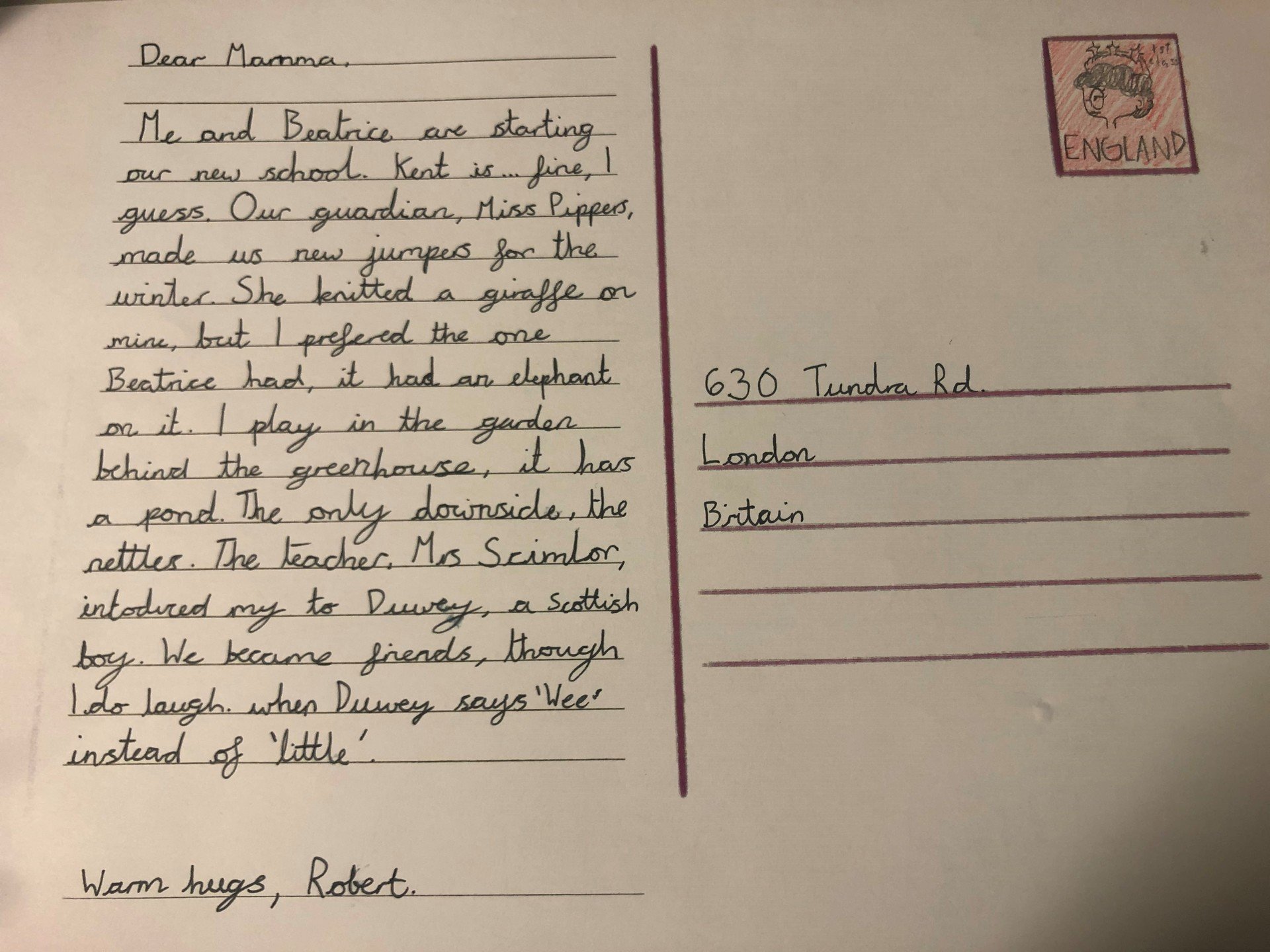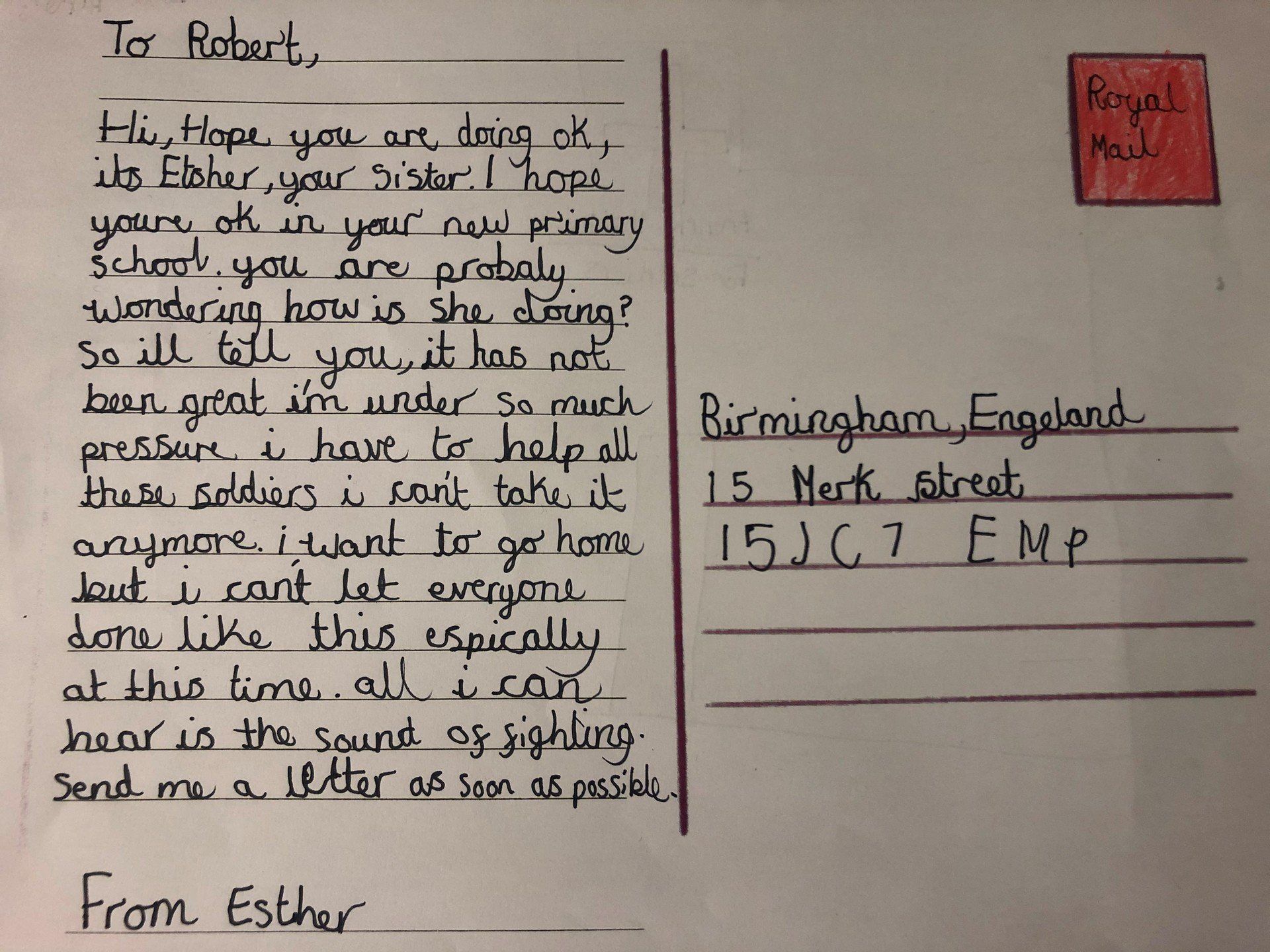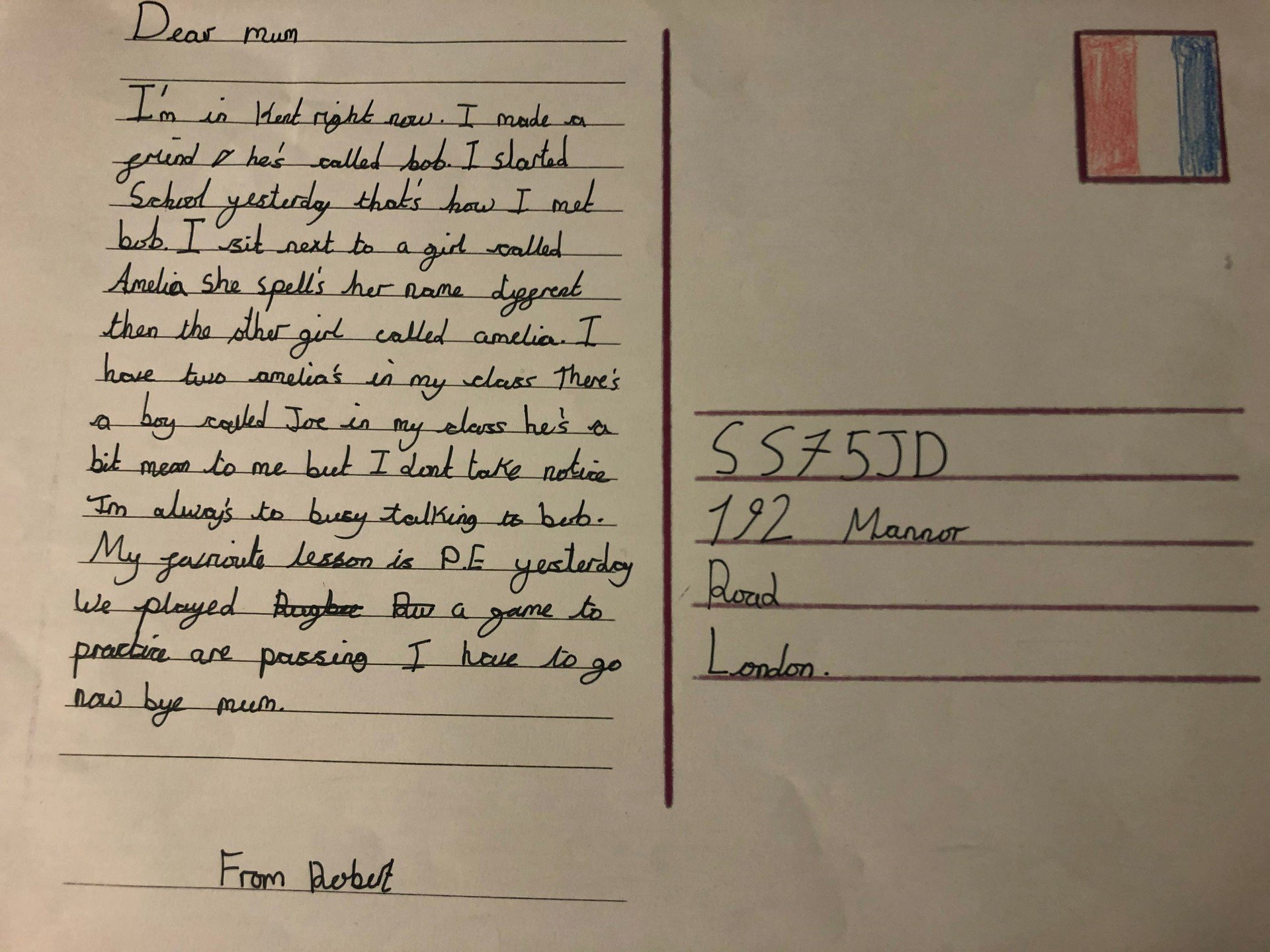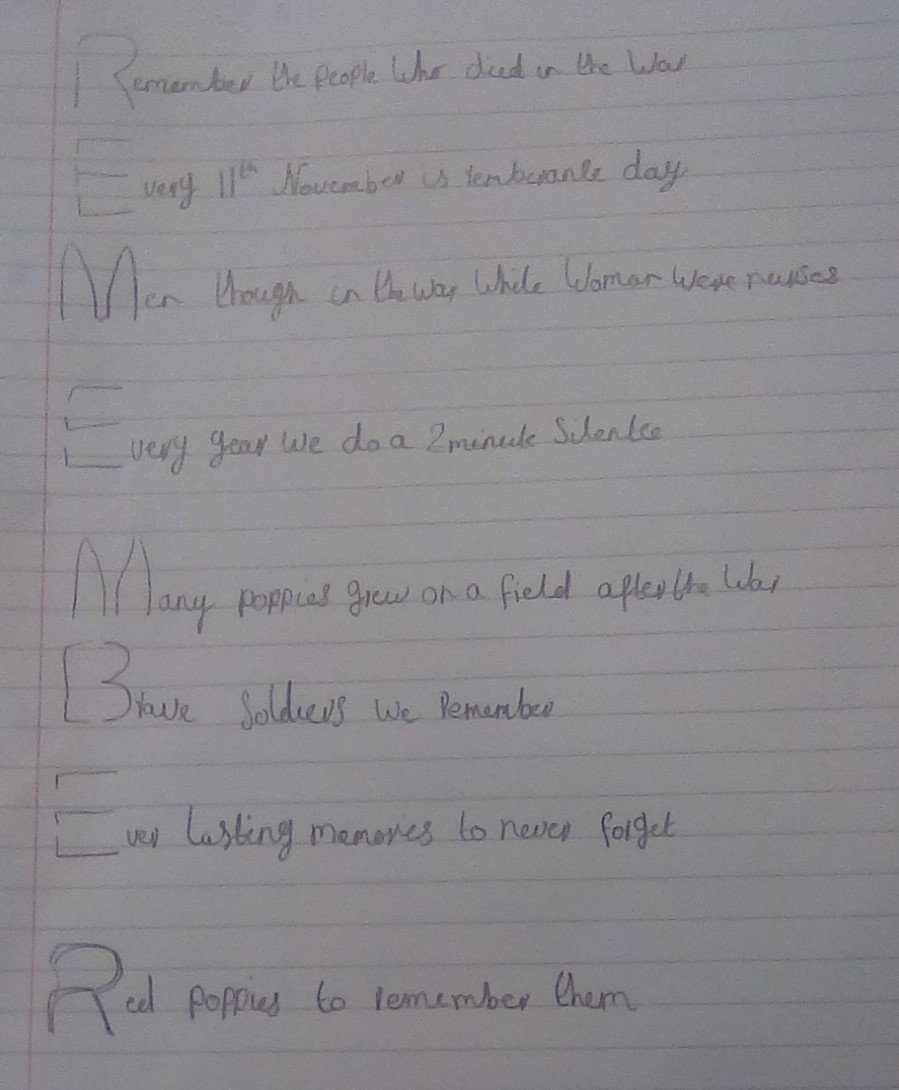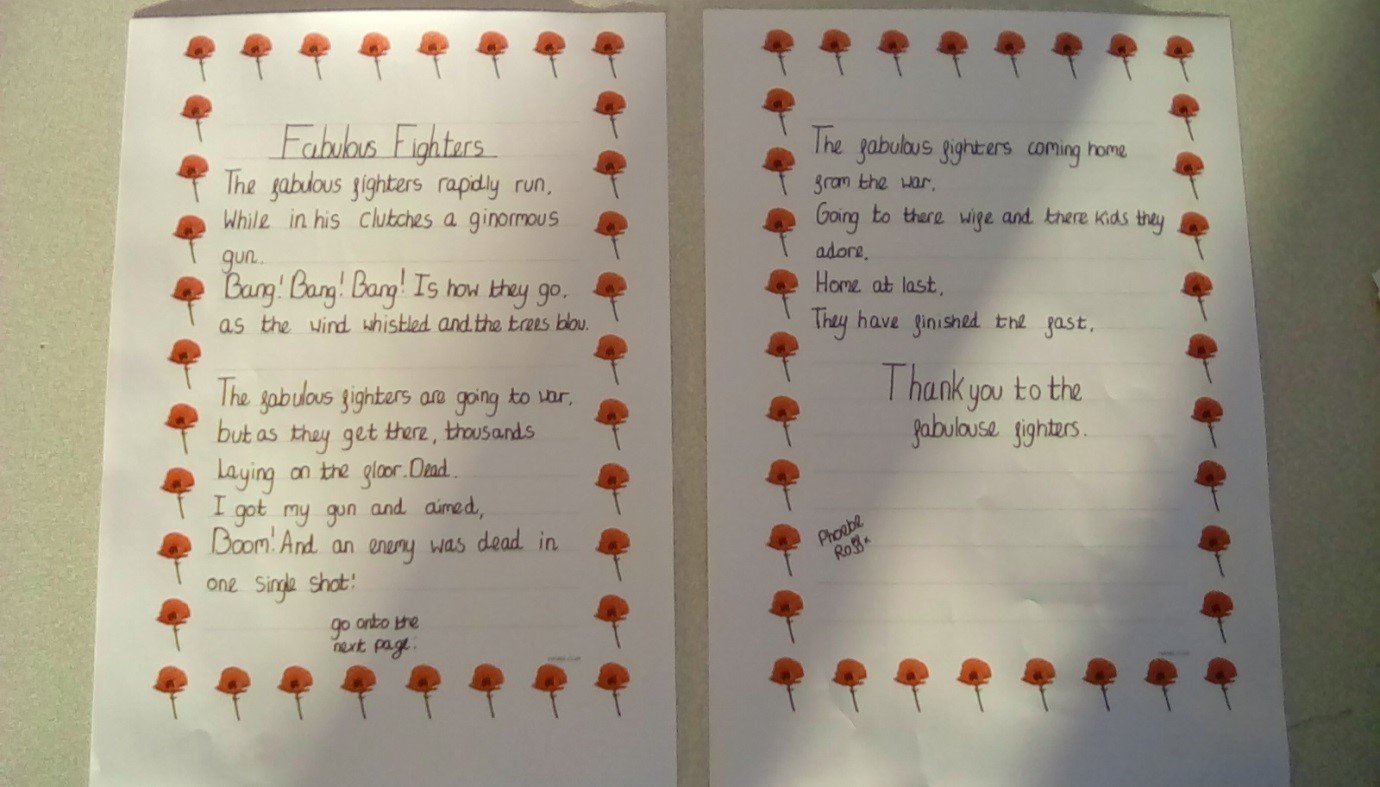 Week 3 of KHJS 2.6 Challenge throughout May
As we end our 3rd week of the 2.6 challenge, it seems the warm weather has encouraged lots of people to get outside on their bikes and do some cycling. As our 4th and final week of the challenge is half term, there is lots of time for you to complete any activity that links to 2.6. Stay fit and healthy and stay safe.
Don't forget to keep sending your videos and photos as they are fantastic to see.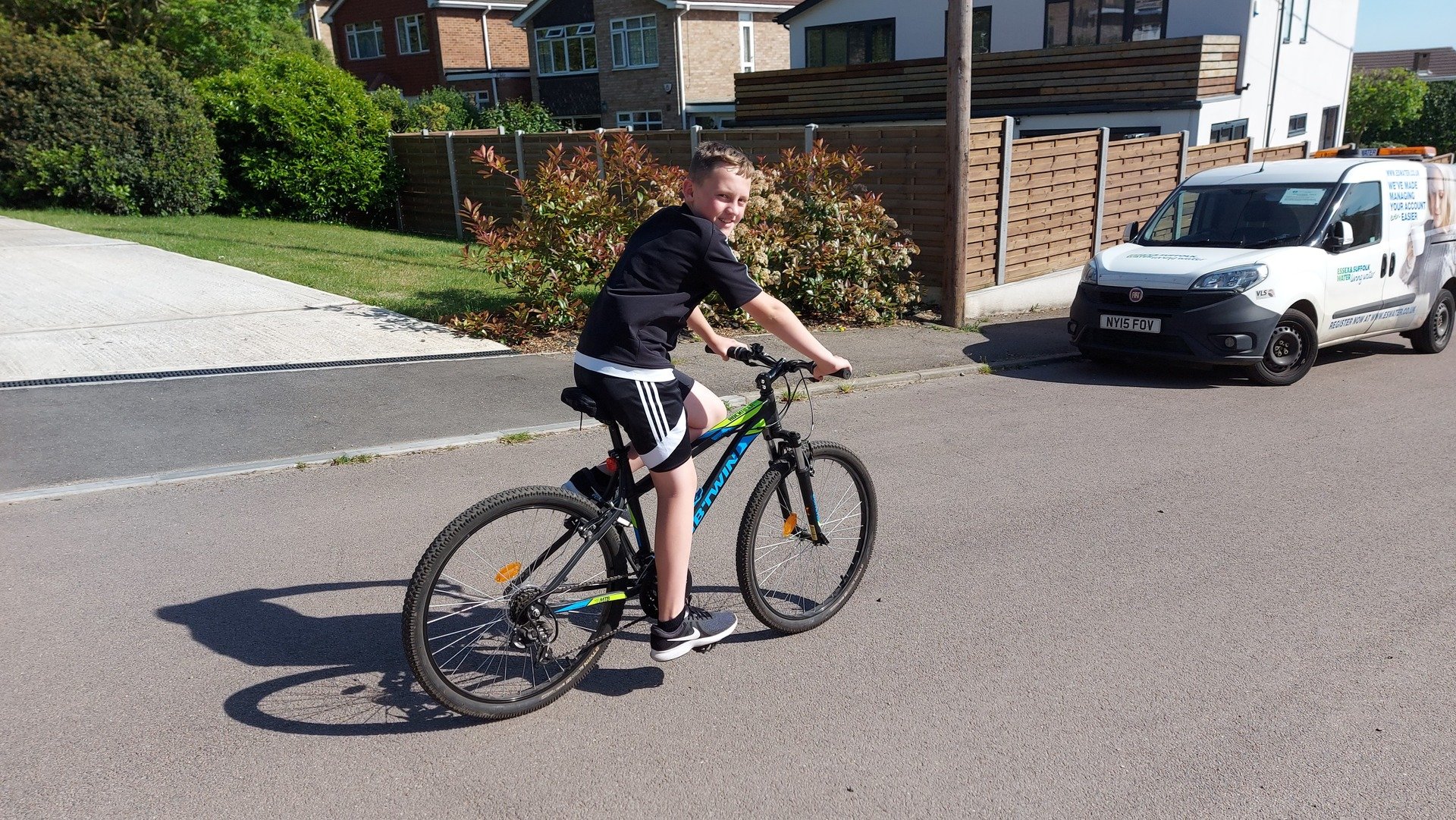 Week 2 of KHJS 2.6 Challenge throughout May
We've been really impressed to see so many of you continuing with your 2.6 challenges. There's so many different activities being completed across our whole school community. Some of the activities we've seen this week are bike riding, scootering and star jumps.
Please keep sending your photos and videos into your class teachers. We absolutely love to see them and it gives us lots of motivation to complete ours and stay active and healthy.
75th anniversary of VE day celebrations
Today we have been learning all about World War 2 and celebrating ahead of 75 years since VE day tomorrow!
We have learnt that VE stands for Victory in Europe day which celebrates that on May 8th 1945, WW2 ended and the Germans surrendered to the Allies (this was us). They agreed that they had lost the war and that the fighting should stop. Millions of people had died in WW2 so everyone was really happy the fighting was over!
We have been really busy being involved with lots of different activities to help us understand WW2 better including:
Locating where the 5 D-day landing beaches were, using timelines to show the countries being invaded during WW2, designing an Anderson Shelter, Comparing WW1 and WW2, create and recording TV adverts for army recruitment, hosting VE day parties and writing biographies on the life of a famous person in WW2 to name just a few!
Here are just a few of our amazing examples:
Week 1 of KHJS 2.6 Challenge throughout May
Thank you so much to everyone who has taken part in our 2.6 challenge and sent in pictures of your fantastic achievements. We've had some brilliant photos so far and I hope you and your families are feeling fit and healthy. Some of the activities we have seen and heard from you include: hula hooping, bike riding, walking and dancing.
Please keep sending your photos in to your class teacher or through the admin email address as we'd love to keep seeing all your achievements.
KHJS 2.6 Challenge throughout May
I'm sure many of you are aware of the 2.6 Challenge that has been popular through the media recently. Our focus at Kents Hill Junior School is to ensure that every pupil and adult in our school community is getting plenty of exercise during this time to support their overall health and wellbeing so we have combined the two!
Throughout May, we are asking the whole school community to choose any physical activity they enjoy or something new they would like to try and link it to the number 26. It might be 26 times, 26 minutes, 26 seconds, 2.6 miles or 2.6 kilometres. Some might also wish to build up to and run their own 26 mile marathon across the whole month, contributing a short distance each day.
The staff at Kents Hill Junior School have also put together this short video with some inspiration:
On Google Classroom today, we have sent this same video and message to our pupils. Along with this is an activity log sheet for the children to complete each day. They might wish to say what they have done or just simply tick the box when complete - there is no obligation to print this at all.
Please encourage your children to be as active as possible and feel free to join them. We will be updating our whole school blog each week, to share some activities the staff and pupils have been completing. As part of this, if you are able to make a donation to a charity of your choice, I'm sure they would be extremely grateful however, we recognise the difficult situation many families are currently in and so this is not our main focus.
Check back each week to see what the whole school community has been up to!
World Book Day - 05.03.2020
Today Kents Hill enjoyed a day of dressing up and reading fun!
The day began at our Reading Café at 8am where we were joined by lots of different book characters and some very interesting outfits.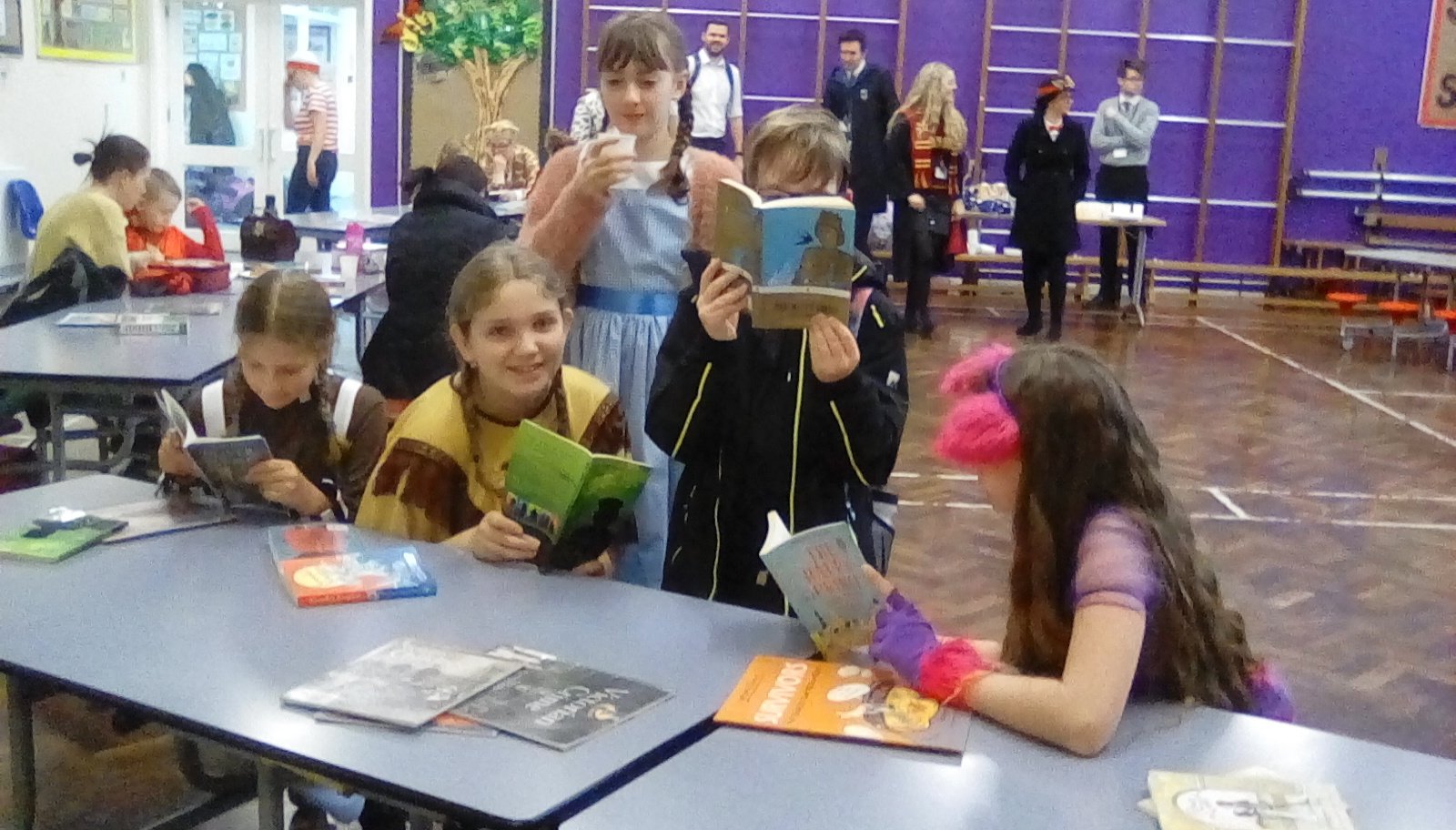 At 9.15am, in a whole school assembly, the children were told about the day's events and where they would be spending the day. All of the children were able to socialise and work with different children from other year groups and be taught by a different teacher! Many of the staff commented on how well the children worked together throughout the day and the children enjoyed being with others who they wouldn't normally work with.
The morning's activity consisted of listening to a story, each chosen by their teacher, then re-enacting a scene in a series of freeze frames or a role play performance. Some groups were very creative and many showed off their fantastic performing skills. One group from each classroom was then chosen to share their performance with the whole school in an assembly at the end of the day!


In the afternoon, the children got even more creative when designing their own book cover, inspired by their favourite author or series of books. These will all be put together to create a new whole school display in our library - something for everyone to enjoy!

The day ended with a final whole school assembly where we celebrated the day's activities and listened to different stories. We also awarded 4 children (1 from each year group) with a special prize for the best costume!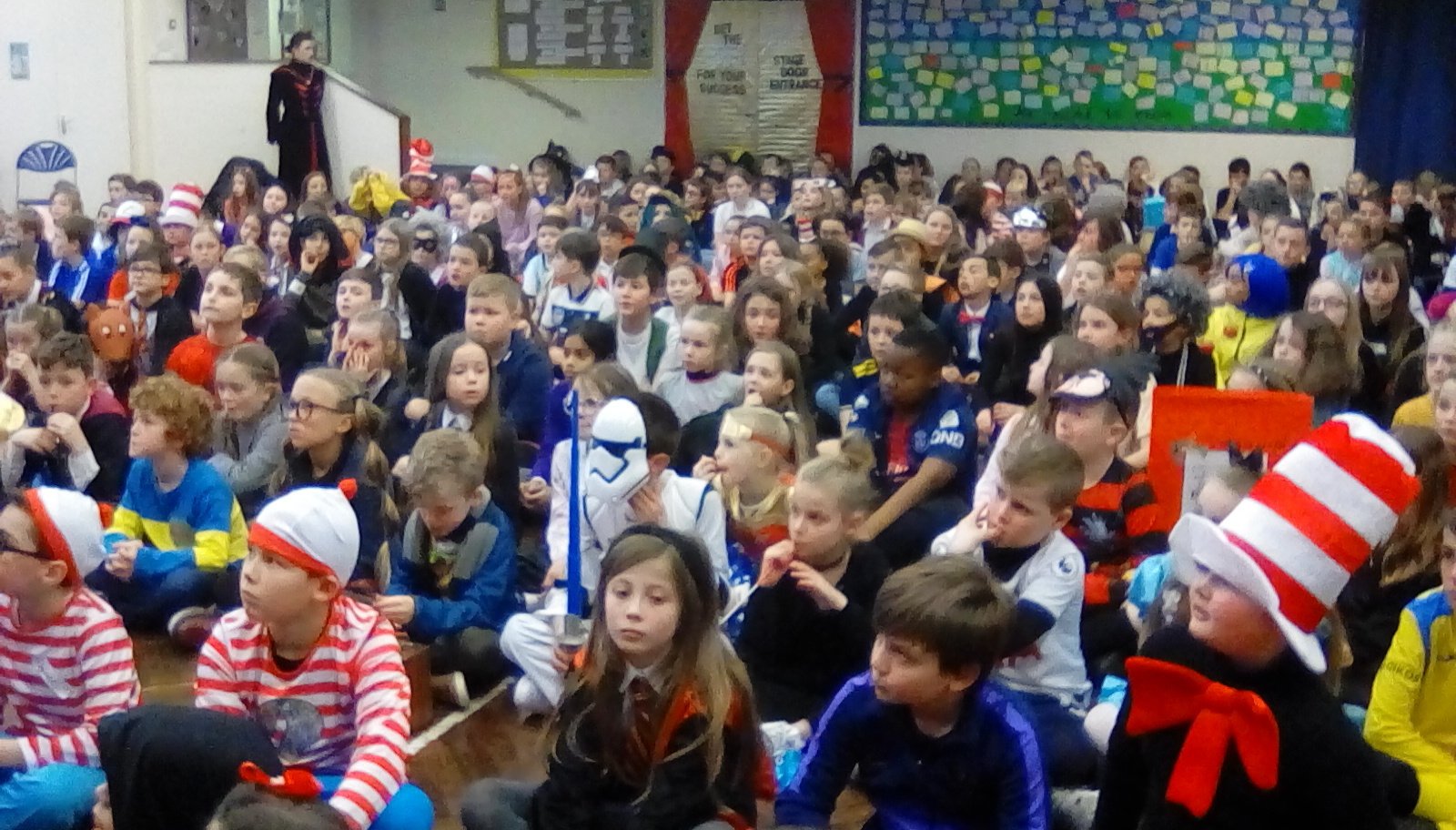 Thank you to all the parents, carers and children for putting in so much effort to dress up for this fabulous occasion!
The Spelling Bee 2020
Kents Hill Junior School has hosted the Spelling Bee again this year across the whole day of Friday 14th February. The children from each year group worked together in their houses for the first session, practising the words from their phase's list in fun activities including some online and some outdoors.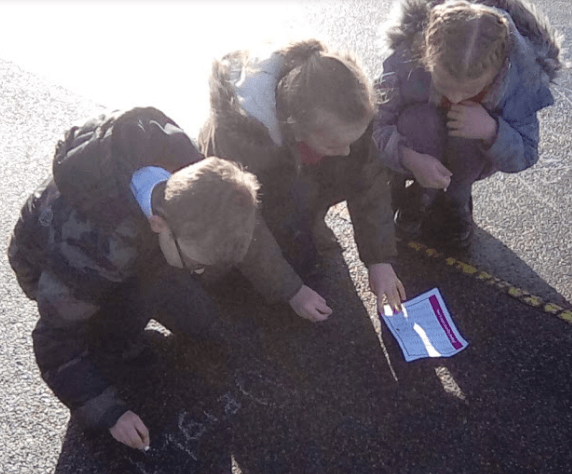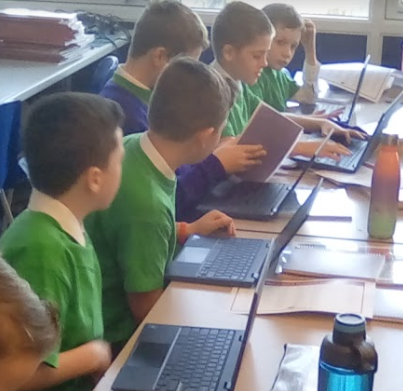 Next, the competition between the houses was based in classes where a member of each of the four houses was selected from each class to represent them. The competition and rehearsal for the afternoon competition was focused and exciting.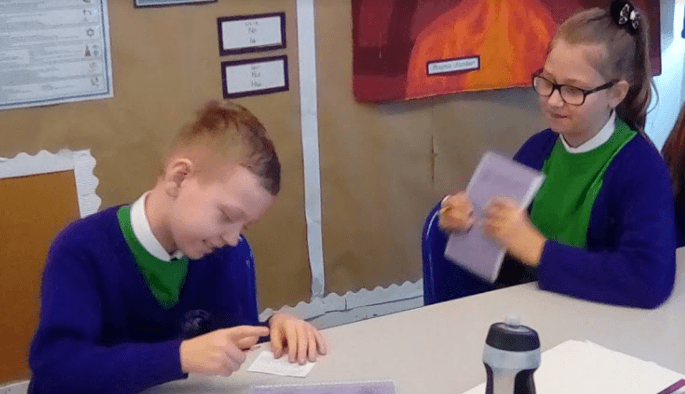 Early in the afternoon, Year 3 and 4 held the first real part of the Spelling Bee, pitting one child from each class against one another in their houses. At the same time, Year 5 and 6 did the same with their own words. The children selected by each class were very confident spellers and this took some time to find the winners!
Finally, the entire school came together as the one representative from each house for Year 3 and 4 faced one another and then one from each house for Year 5 and 6 did the same. For our Year 5 and 6 finalists, the competition was intense as we could not find words that the children could not spell! The Spelling Bee was finally decided by combining the points of the upper and lower school as the finalists had been successful in fourteen rounds! Finally, the Vikings were crowned the Spelling Bee Champions and will go on to the house treat!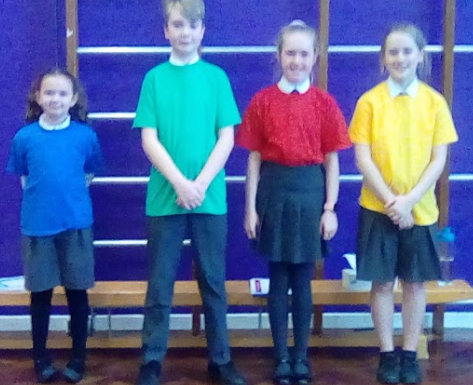 The upper school finalists.

The lower school finalists.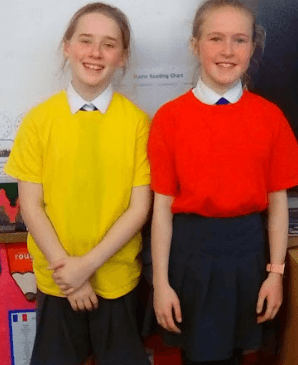 The joint winners from the upper school!
Feathered Friends Visit KHJS
On Tuesday 4th February, Years 3 and 4 were lucky enough to welcome two chickens; Tandoori and Tikka, into their afternoon assembly. Nicola Benson popped in to tell us all about 'Fresh Start for Hens' which is a non-profit organisation, run entirely by volunteers who are dedicated to rehoming hens from the commercial egg production sector. Nicola told us about the anatomy of a chicken, how to look after chickens and answered lots of questions from the eager Year 3 and 4 children.
Some fun facts that we learnt are:
-The colour of a chicken's ears is linked to the colour of the eggs that they produce
-Chickens purr when they are happy
-There are more chickens than people in the world
-Chickens are the closest living relative to the T-Rex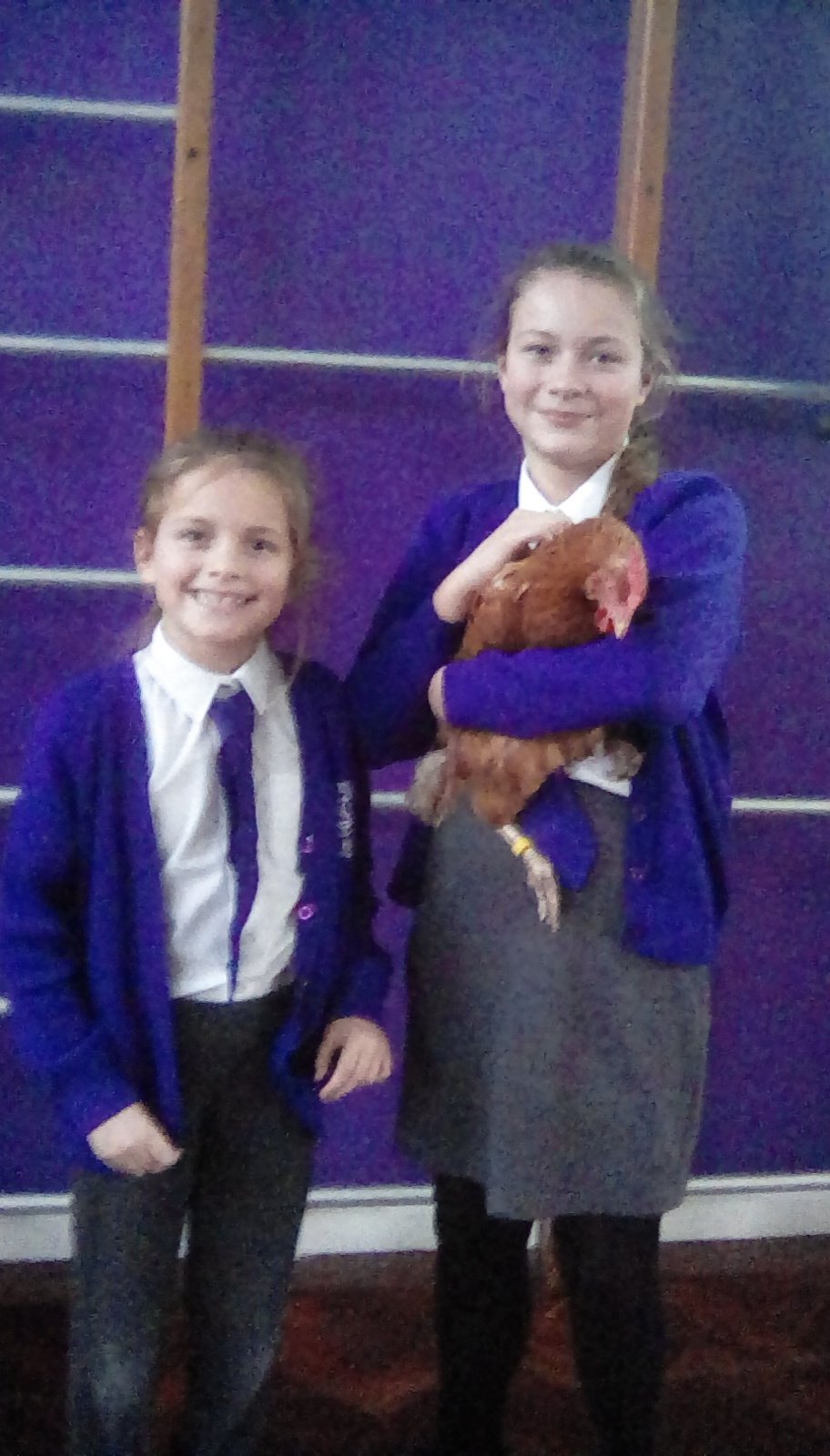 02 Young Voices - Thursday 23rd January 2020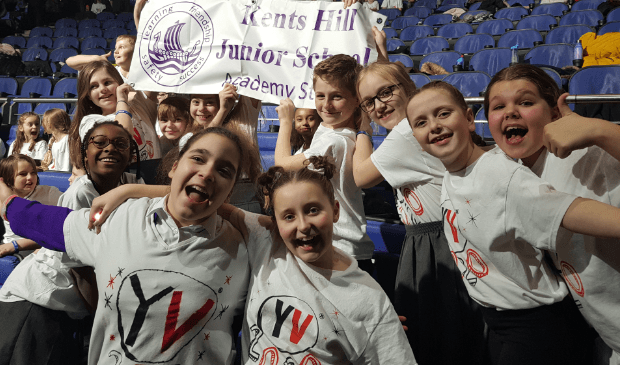 On Thursday 23rd January, Kents Hill Junior School's choir took part in the Young Voices event at the O2 Arena in London! 24 of the choir's members came and sat right behind the band and celebrity guest singers in the front row, rehearsing all afternoon and singing into the evening in front of an audience of thousands of parents and family members, literally filling the O2.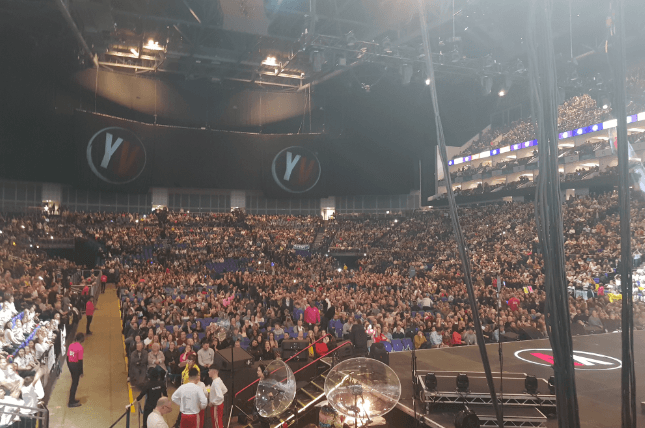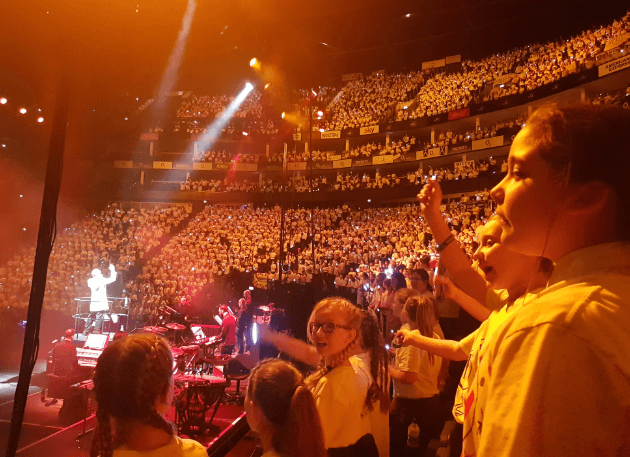 They were trained and conducted by a world-famous conductor and sang and danced together as part of over 8,500 primary school children. Even more exciting were the guest singers, including Spandau Ballet's Tony Hadley and the winner of 2018's The Voice, Ruti Olajugbagbe. Each of these well-known performers joined the children for the rehearsal, not just the final performance.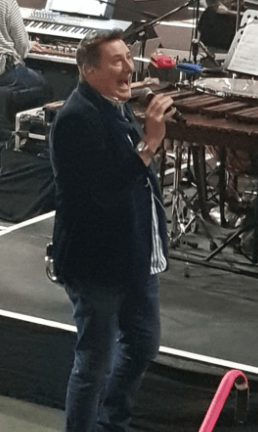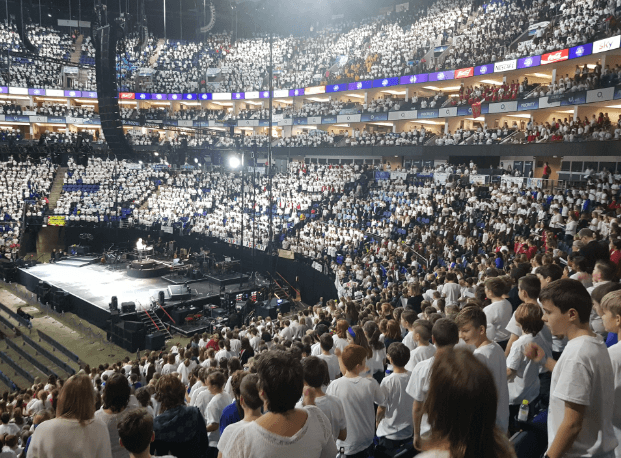 It was an unforgettable experience and one that truly shows us how we can unite as one, how we can achieve our dreams and how it feels to be an arena-filling performer. Speaking of that, Ruti Olajugbagbe told us all how she herself was a member of this experience when she was in primary school before performing as a celebrity guest now. Choir members and future choir members, could this be your future?
Performing Arts Studio Opening- 13th January 2020

In order to really put an emphasis on performance in all its forms, we are excited to now share that we have transformed the space between our hall and reading garden into The Kents Hill Performing Arts Studio!
This space includes the hall itself if needed as it is right outside the front door of the area. It also involves the room itself and the space available in the reading garden which is also on the other side of the room! We envisage one class performing actively in the hall at times, one class engaging in activities in the sun in the reading garden and one working in the middle section.
Pupils can use instruments, rehearse or perform drama, set up stage backdrops and use props – whatever might be needed to make the absolute most out of every performing arts opportunity.





Science Lab Opening - 13th January 2020
This week we were delighted to open our brand new Science lab. The room is packed full of wonderful resources and equipment allowing the children to complete exciting and interesting investigations linked to their topics. We also have a set of lab coats which will allow the children to feel like real scientists. They will be able to have more freedom in the way they choose to complete their investigations allowing them to take more control of their learning. Both Year 3 and 5 have already been using the room to complete their Science lessons including planting seeds and experimenting with properties of materials.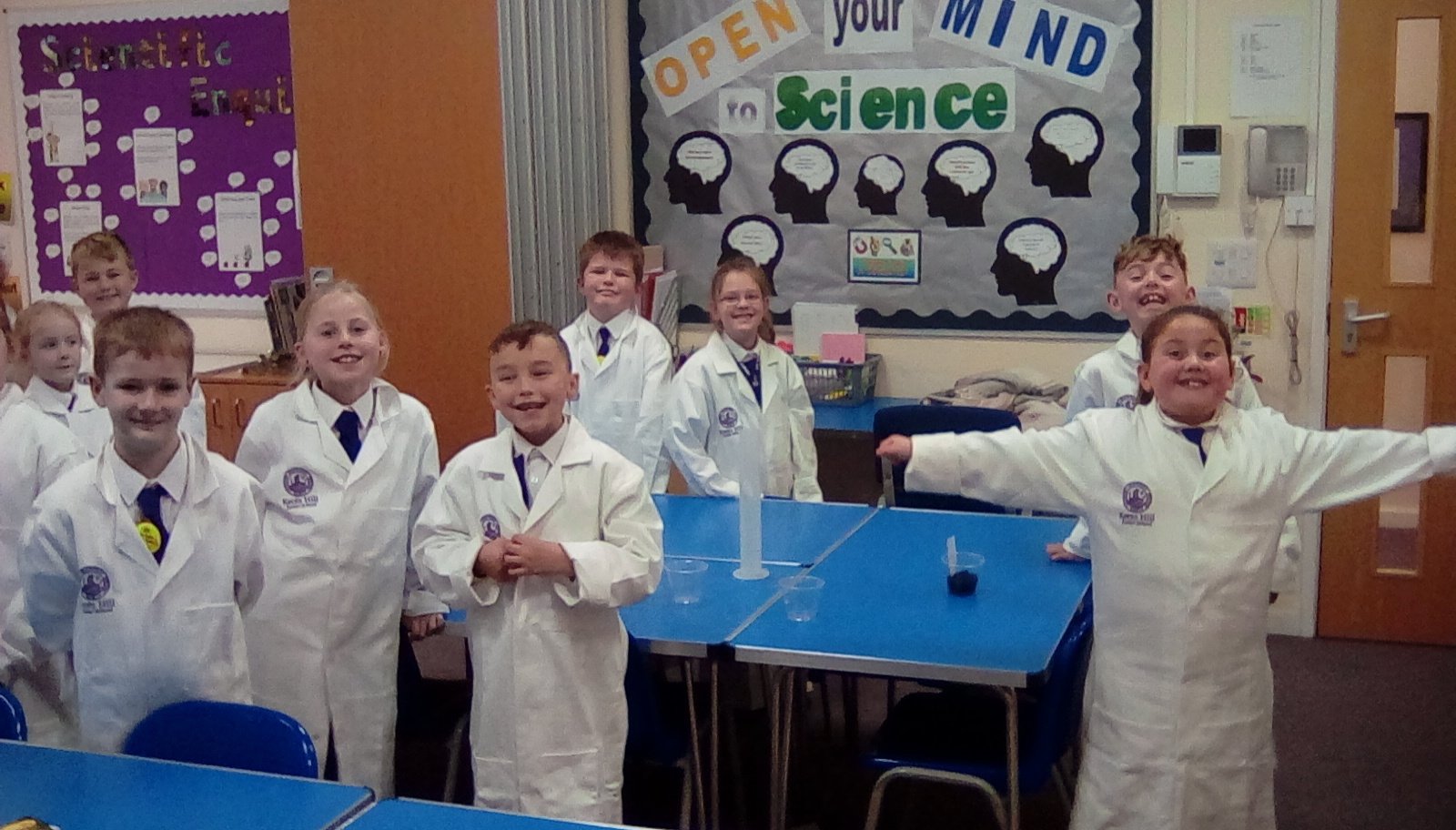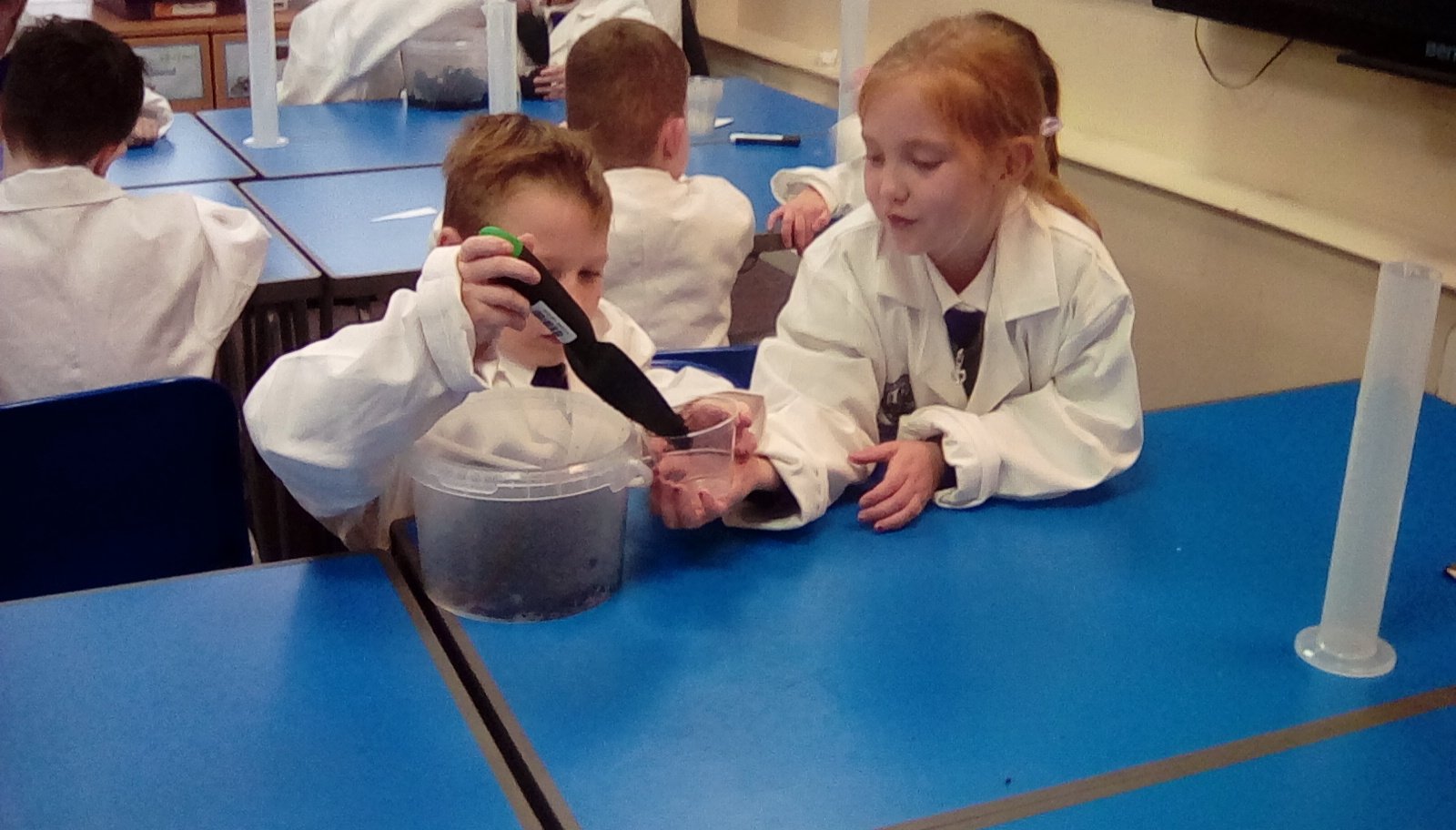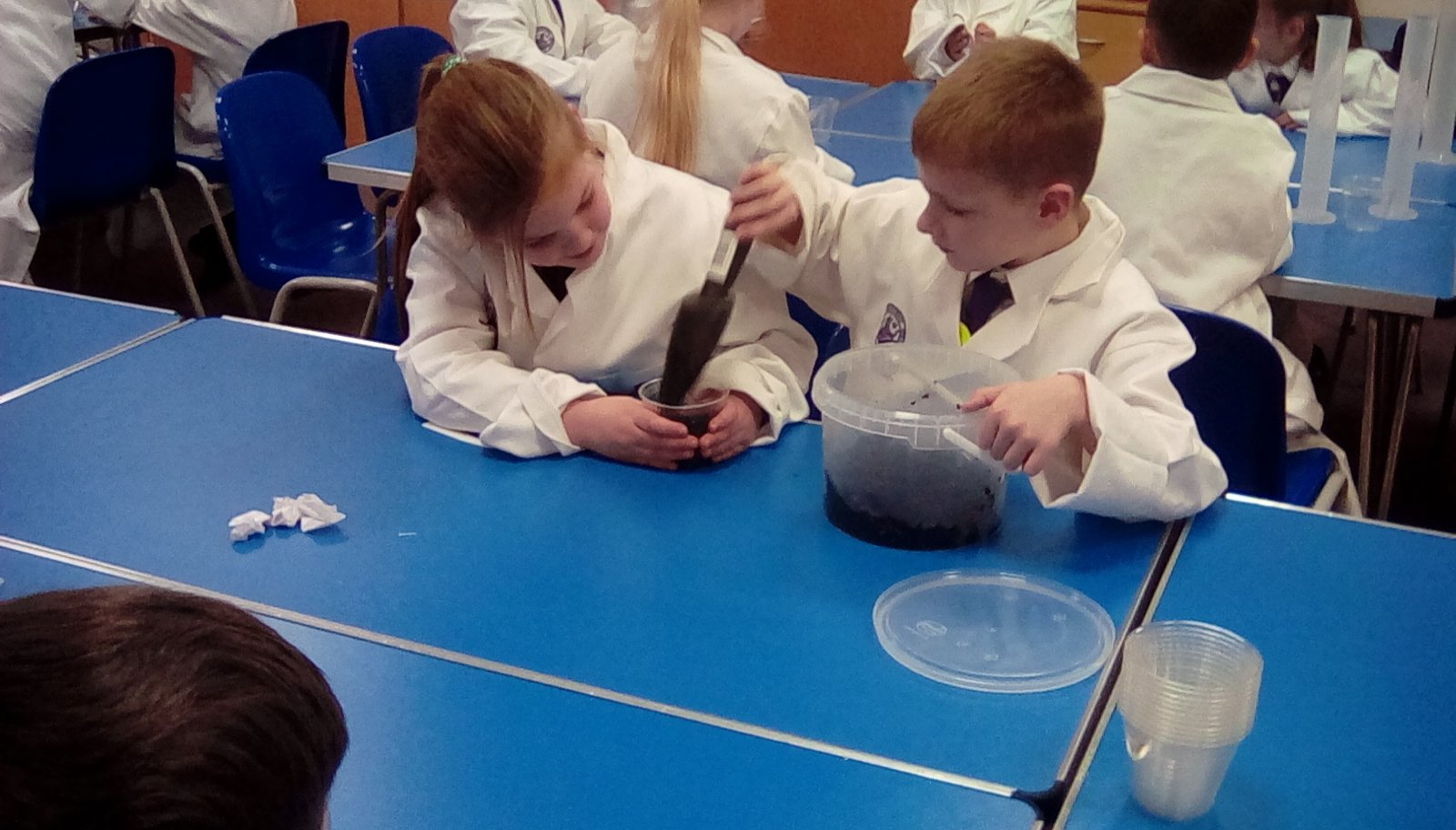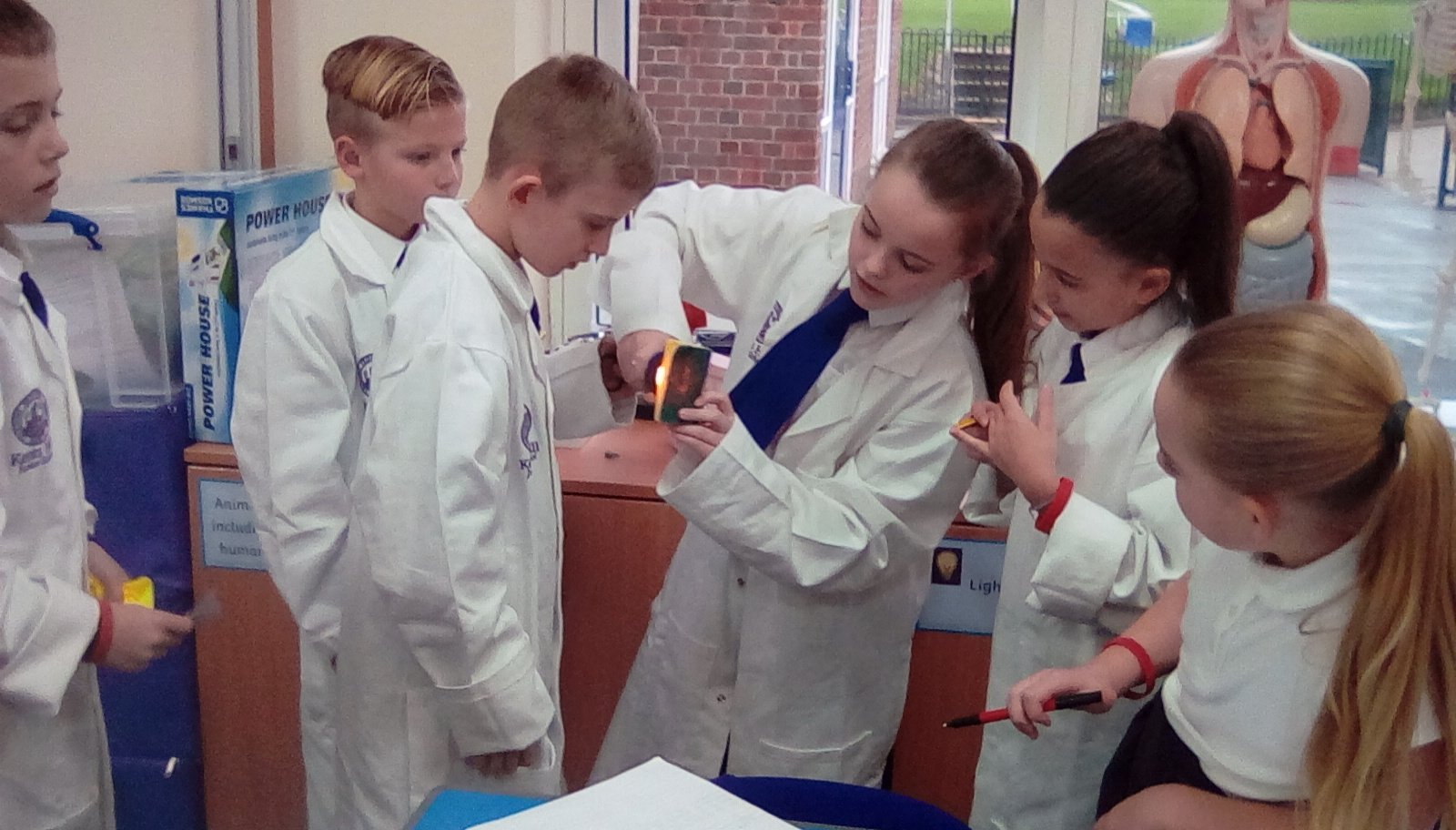 Whole School Pupil Questionnaire Responses
The pupils across the whole school were given an opportunity to complete an anonymous questionnaire about our school. Please see below for the results for your year group as well as our response to the children's answers.
Year 3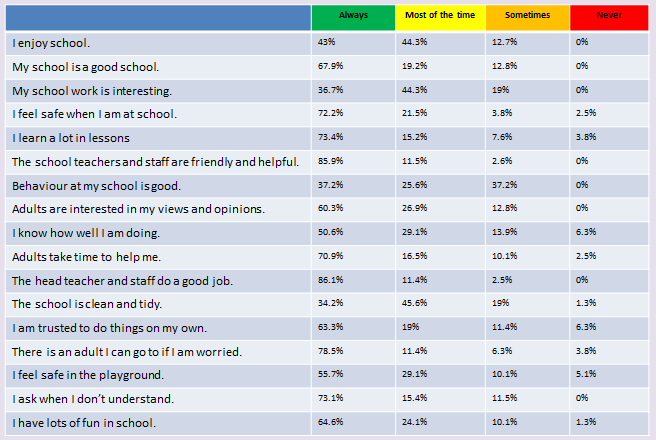 Year 4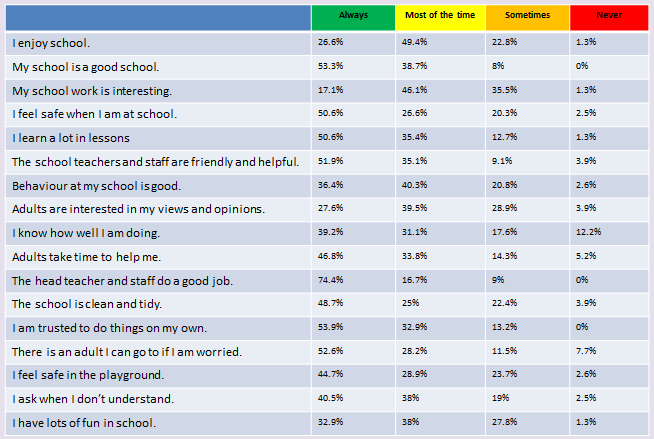 Year 5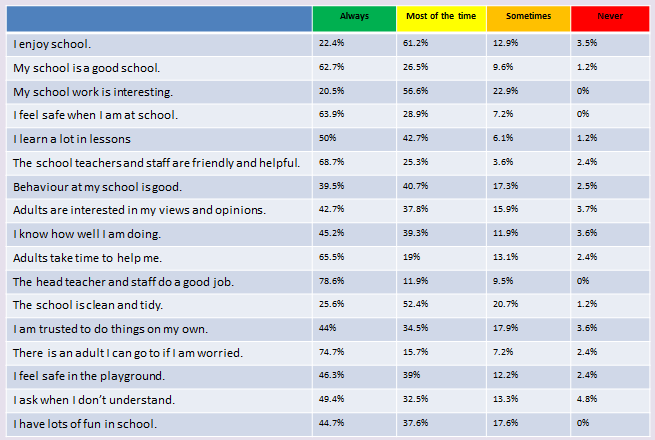 Year 6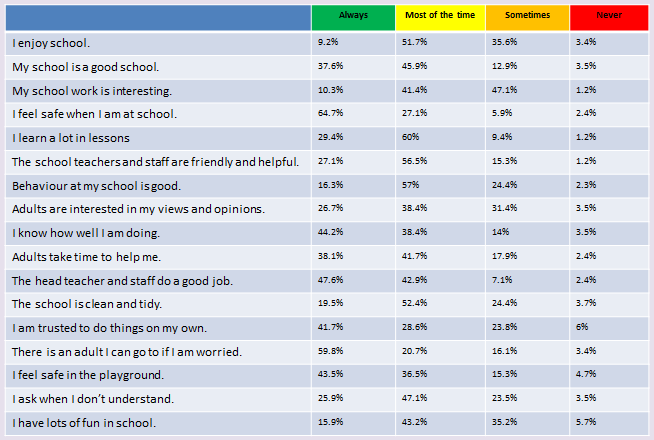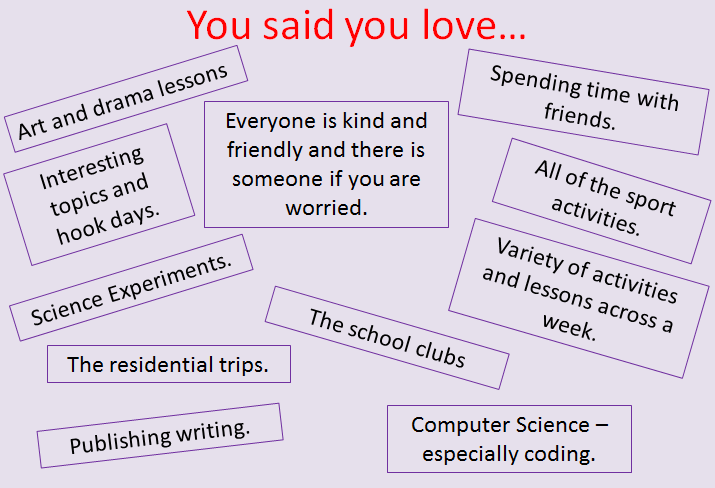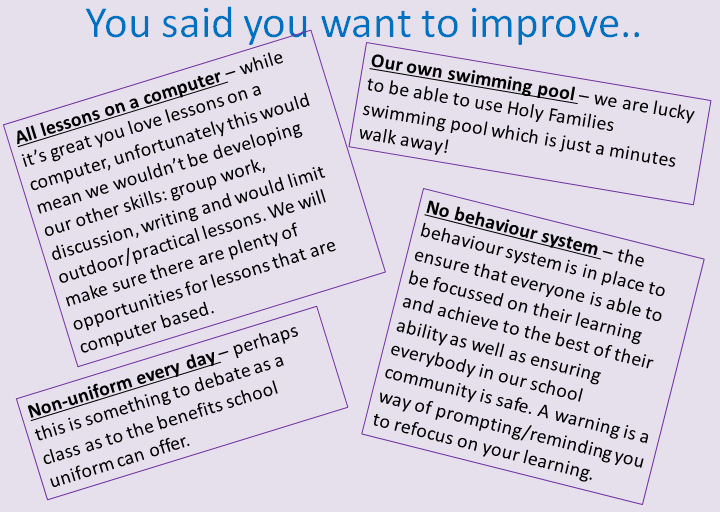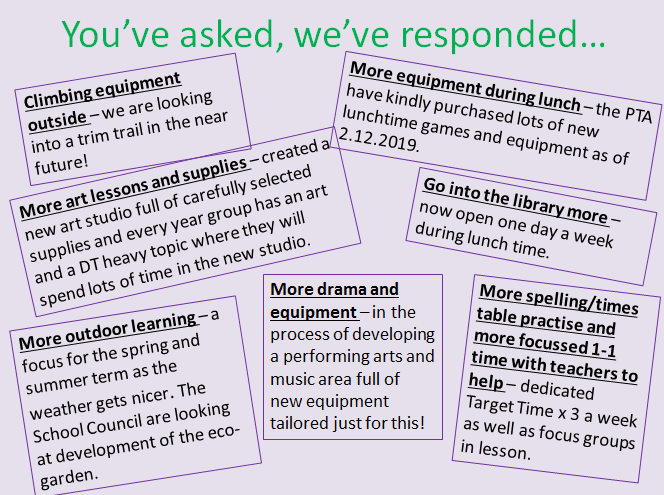 Remembrance Day - Monday 11th November
On Monday, Kents Hill Junior School commemorate Remembrance Day with a range of drama activities, allowing the children to develop their knowledge and understanding of people's experiences during the First World War.
In Year 3, the children imagined the lives of World War 1 soldiers in the trenches and put together a sequence of freeze frames to show different parts of the day. The children considered how they could use their bodies to represent objects and change their facial expressions to reflect the emotions of their roles.
In Year 4, the children combined freeze frames with the 'thought tracking' technique. Once again, the children considered the daily routine of soldiers in the trenches and reflected their experiences through a sequence of scenes. In each scene, a narrator brought one of the actors/actresses to life so that they could share their experiences, thoughts and feelings. This allowed the children to really consider how the soldiers would have been affected by what they went through every day.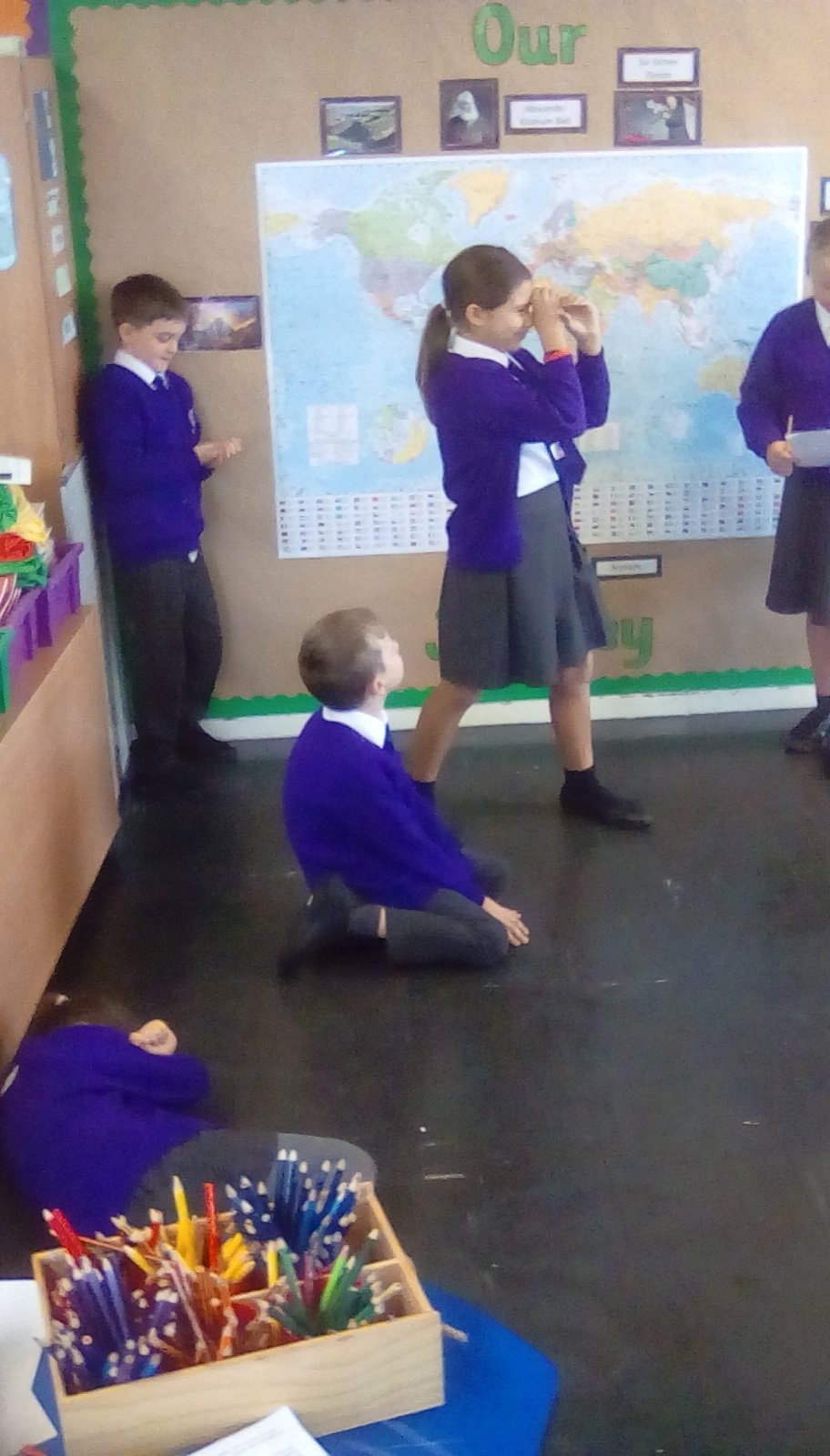 In Year 5, the children considered different perspectives on major events in the war as part of their forum theatre activity. Groups worked collaboratively to give each other feedback and improve their performances as directors. The children were challenged to reflect on how people besides British soldiers may have been affected by the war, considering the perspectives of women and soldiers from other countries.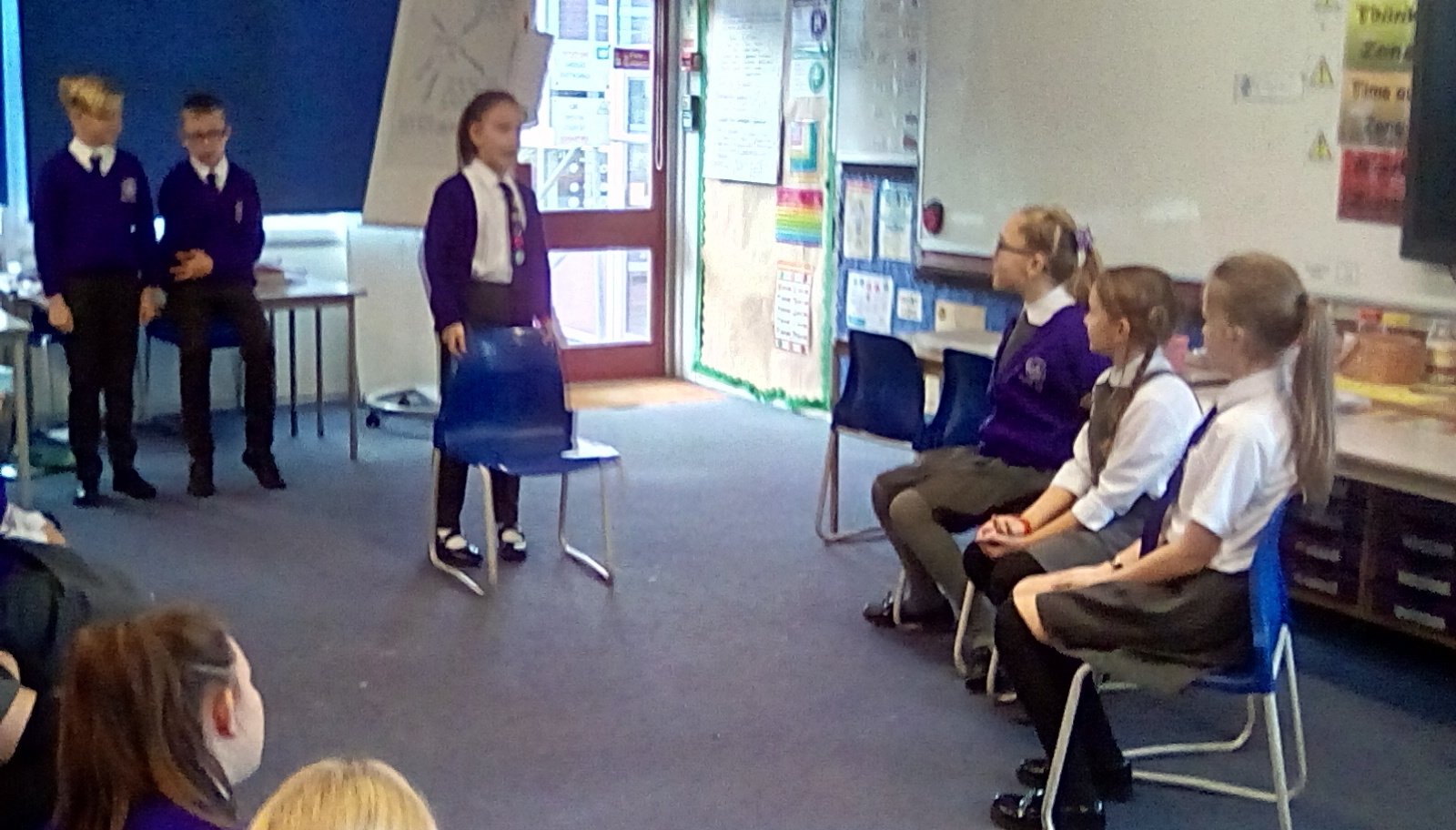 Finally, our Year 6 children were also challenged to think about different perspectives and the wider impact of the First World War. Through the flashback/flash forward technique, they were able to reflect on the contrasting emotions people would have experienced at different stages throughout the war, such as Britain's declaration of war and the ceasefire on 11th November 1918.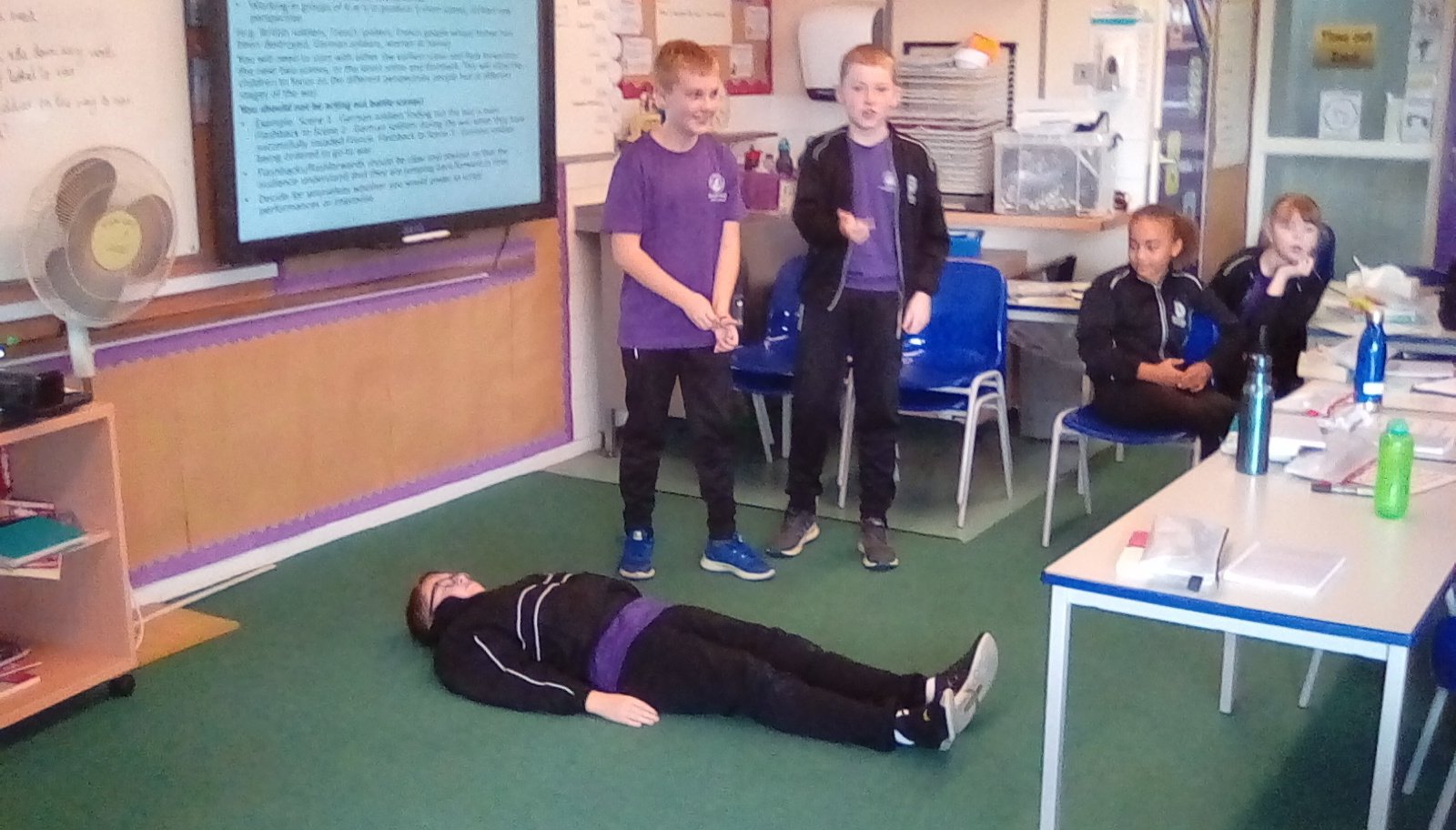 The children produced some excellent dramatic performances and showed impressive understanding of the experiences of people involved in World War One. All of the children showed respect and thoughtfulness as they paid tribute to the people who gave their lives during wars.
Roots to Food House Competition - Tuesday 5th November
House winners - Normans
On Tuesday 5th November, Darren Tinkler of Roots to Food spent the day working with the whole school, the focus being healthy eating and nutrition. Firstly, all pupils took part in a workshop 'in a Ready Steady Cook style' house competition. Miss Jackson led the Saxons, Mrs Todd led the Danes, Mr White led the Vikings and Mrs Ford led the Normans, all ably assisted by a group of children, as Commis chefs. Children learnt about the different food types, what a balanced diet consists of and how to eat healthily. They learnt that breakfast is needed as the most important meal of the day, helping us all to concentrate and giving us energy.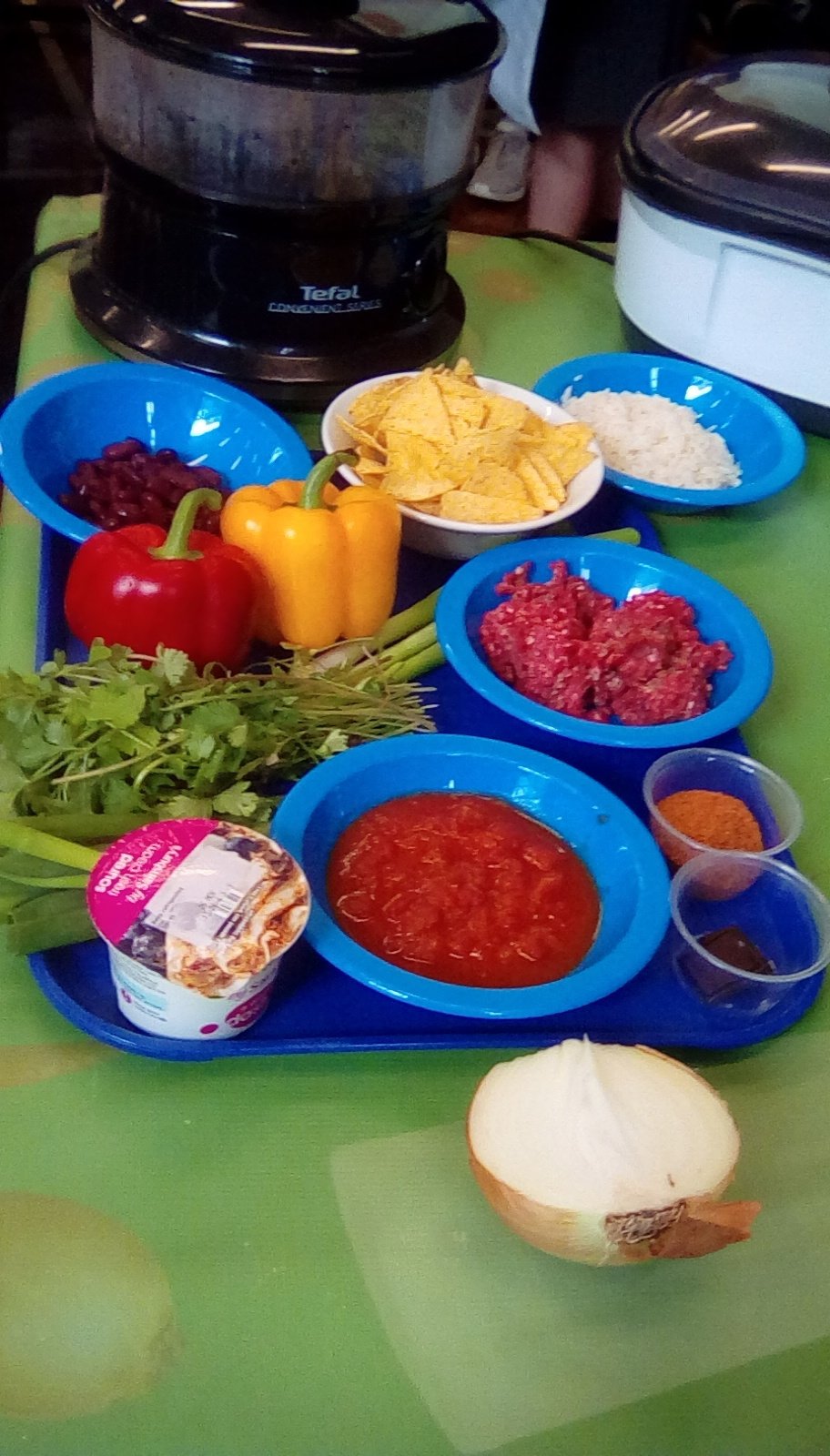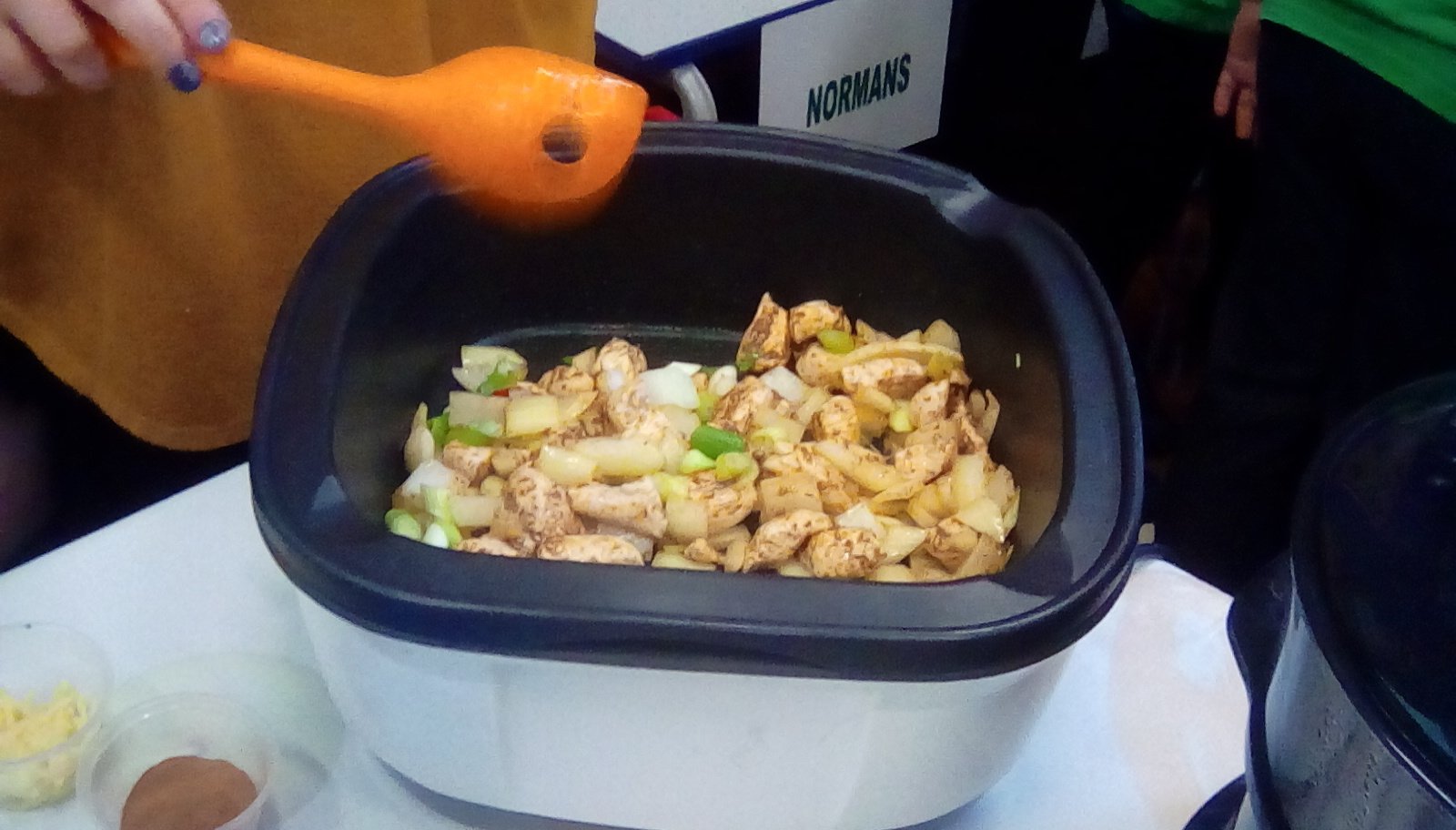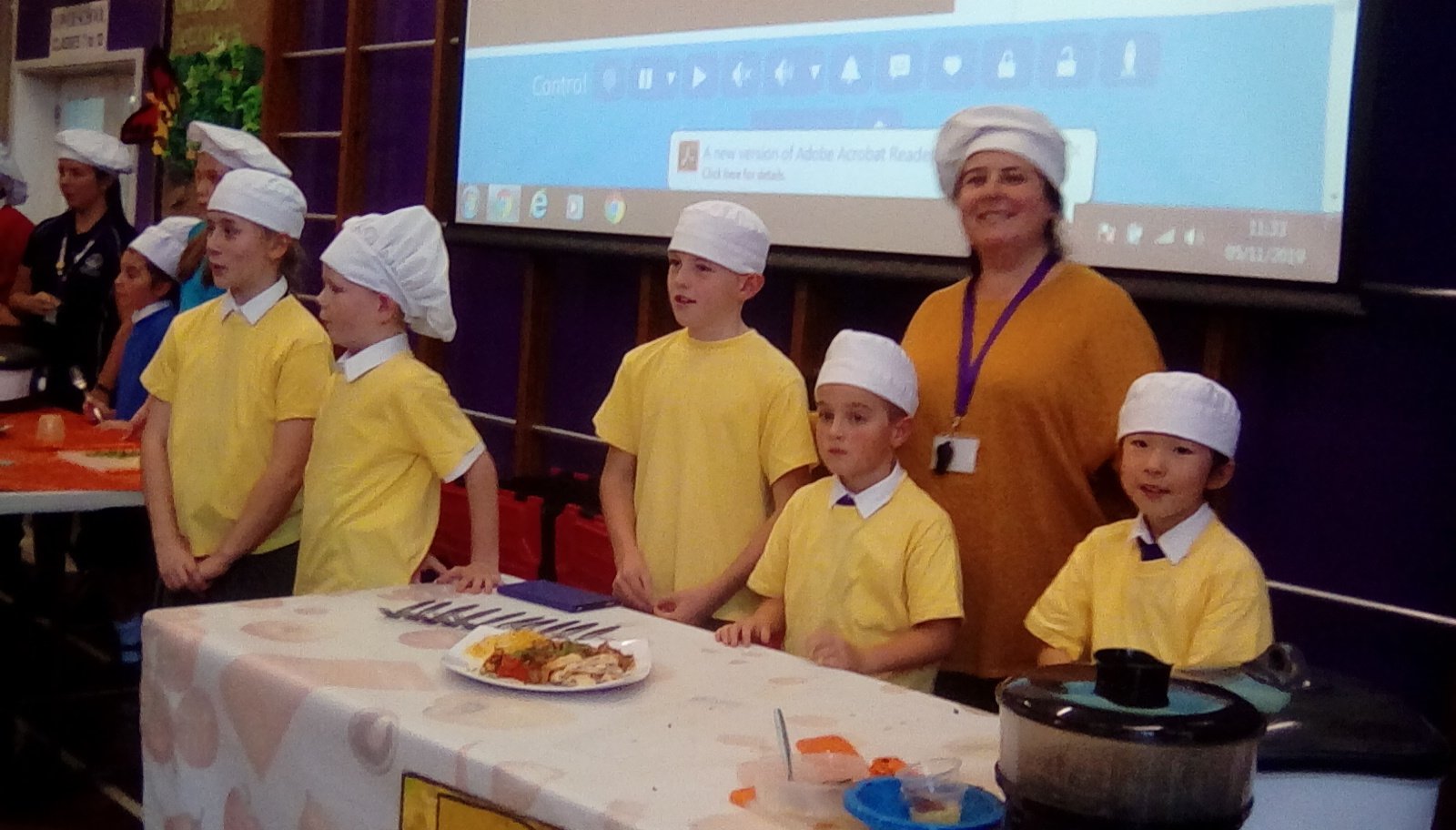 The Normans carefully prepared 'Chilli Beef with Chocolate' while the Danes team made Chicken Rogan Josh and the Saxons made Pepper, onion and Spinach Balti. Finally, the Vikings came up with the idea of making Honey Meatballs. 4 pupils from each year group were chosen to taste the final dishes but the final vote was provided by our School Governor, Mrs Howell and although it was a closely fought battle, the Normans were chosen as the overall winners.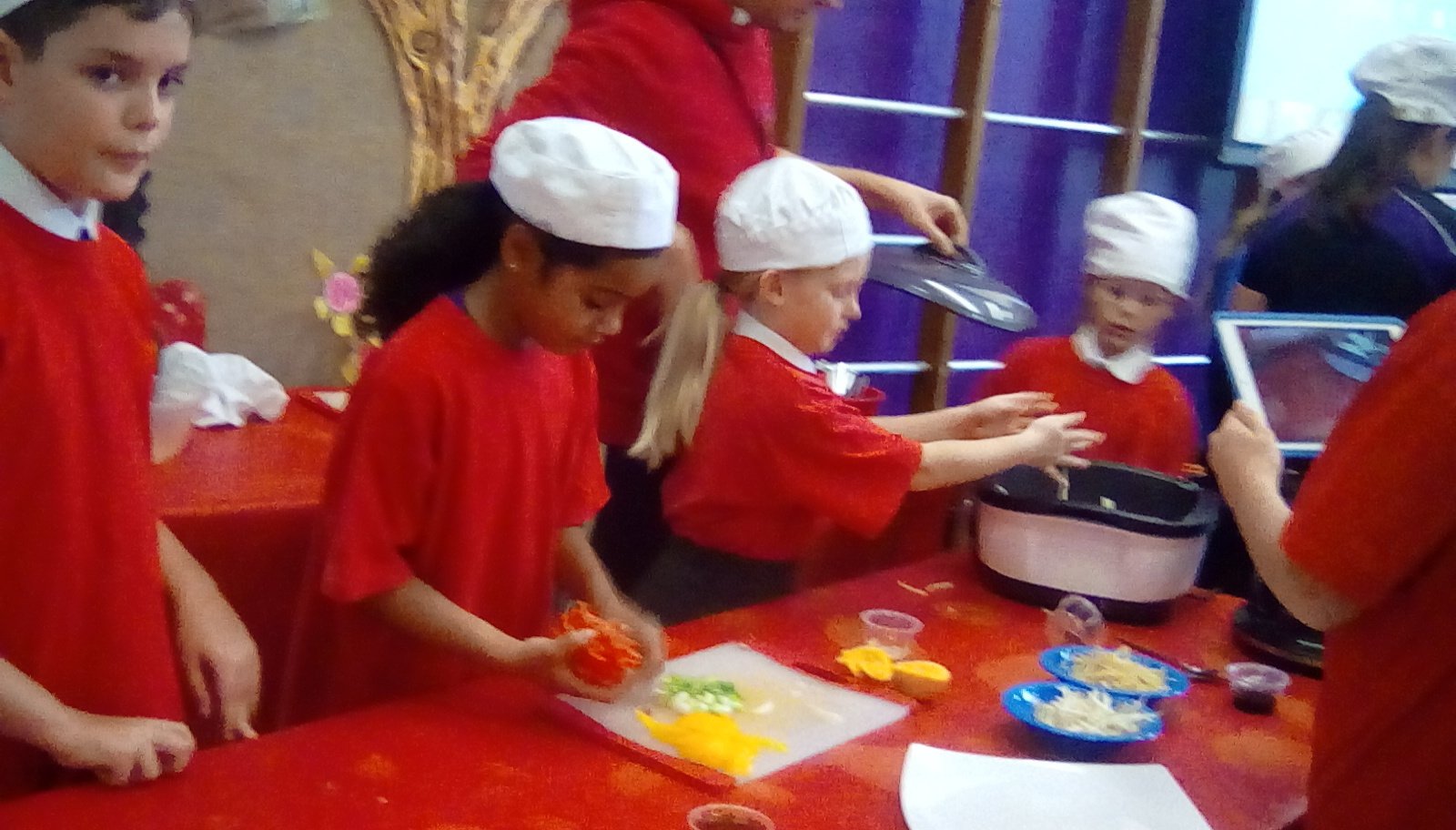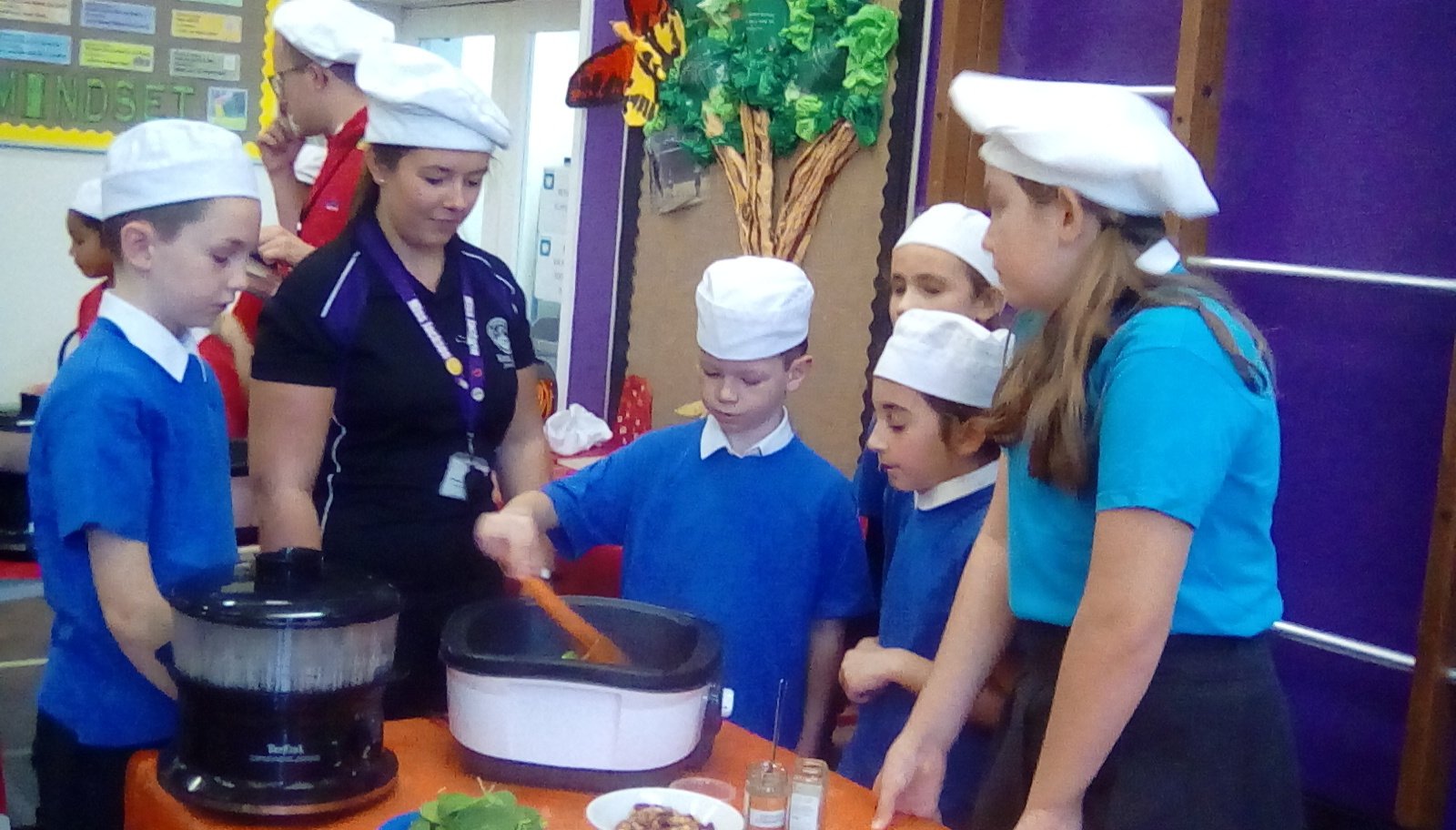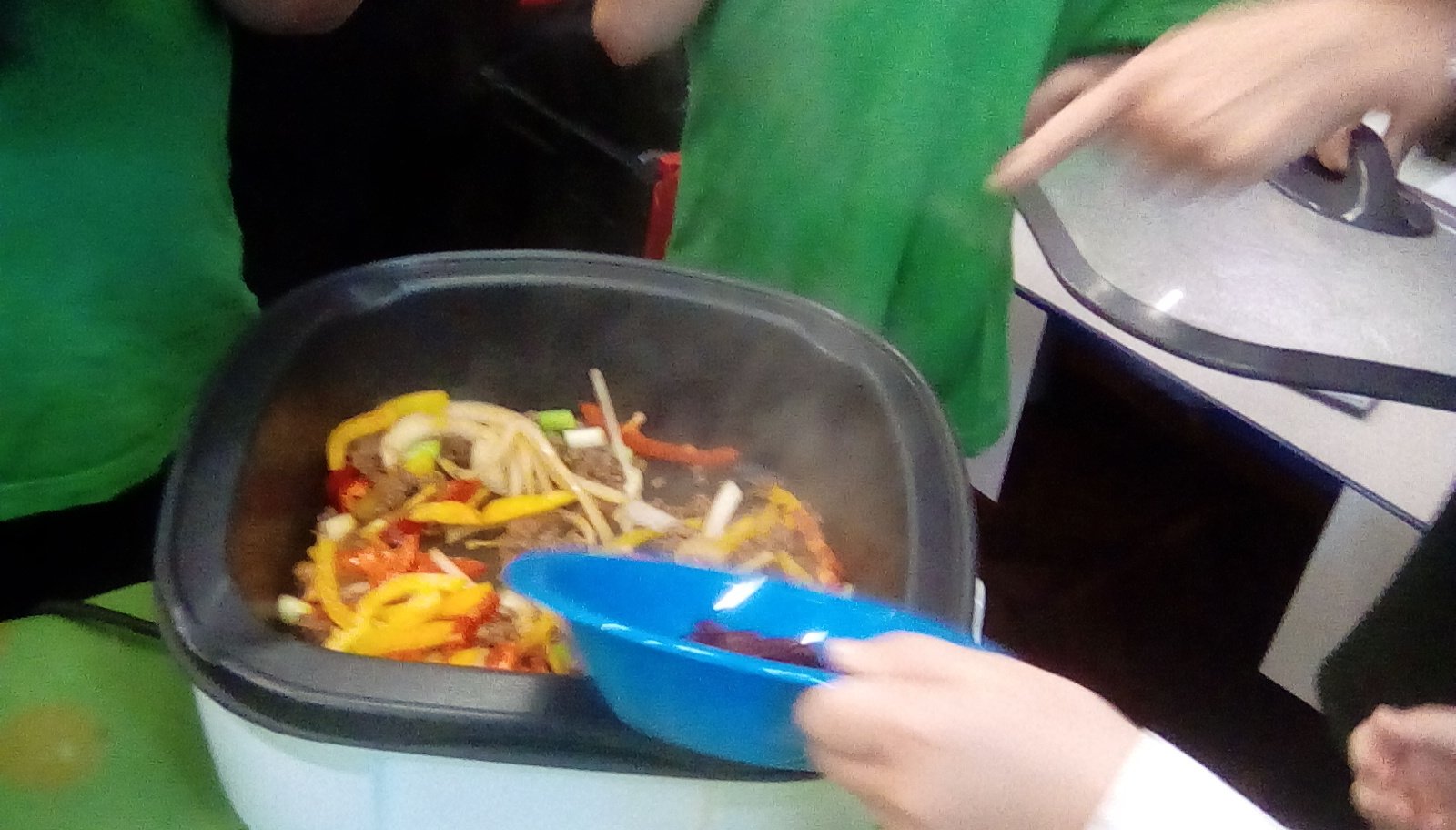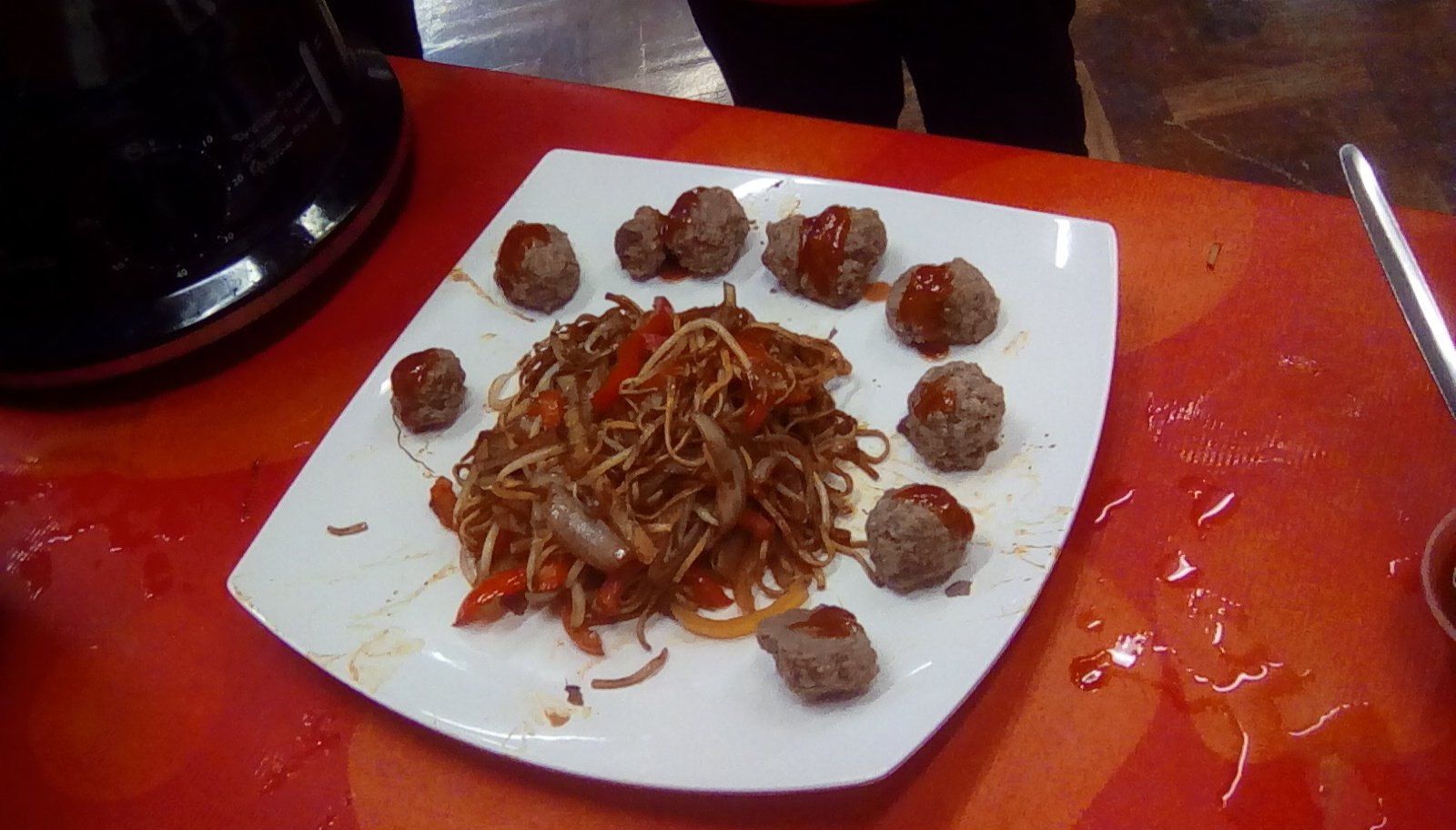 In the afternoon, the pupils all completed a variety of challenges related to what they had learnt in the morning. In Year 5 and 6, pupils learnt about modifying recipes for different types of people based on their knowledge of nutritional groups and learnt about the different cooking techniques used in the morning such as marinating, simmering and bridge and claw cutting. All pupils had an opportunity to use their knowledge to peel and chop.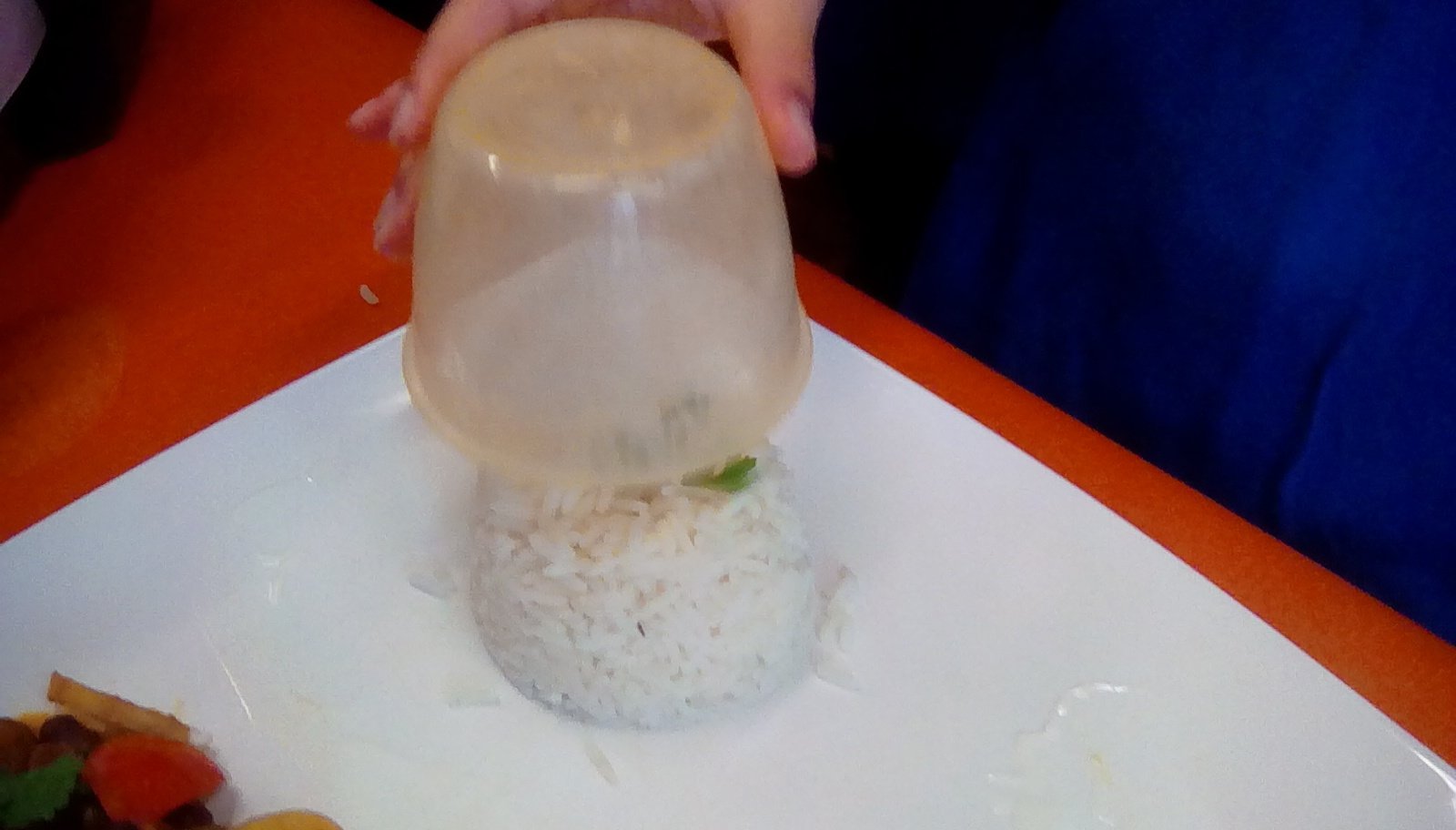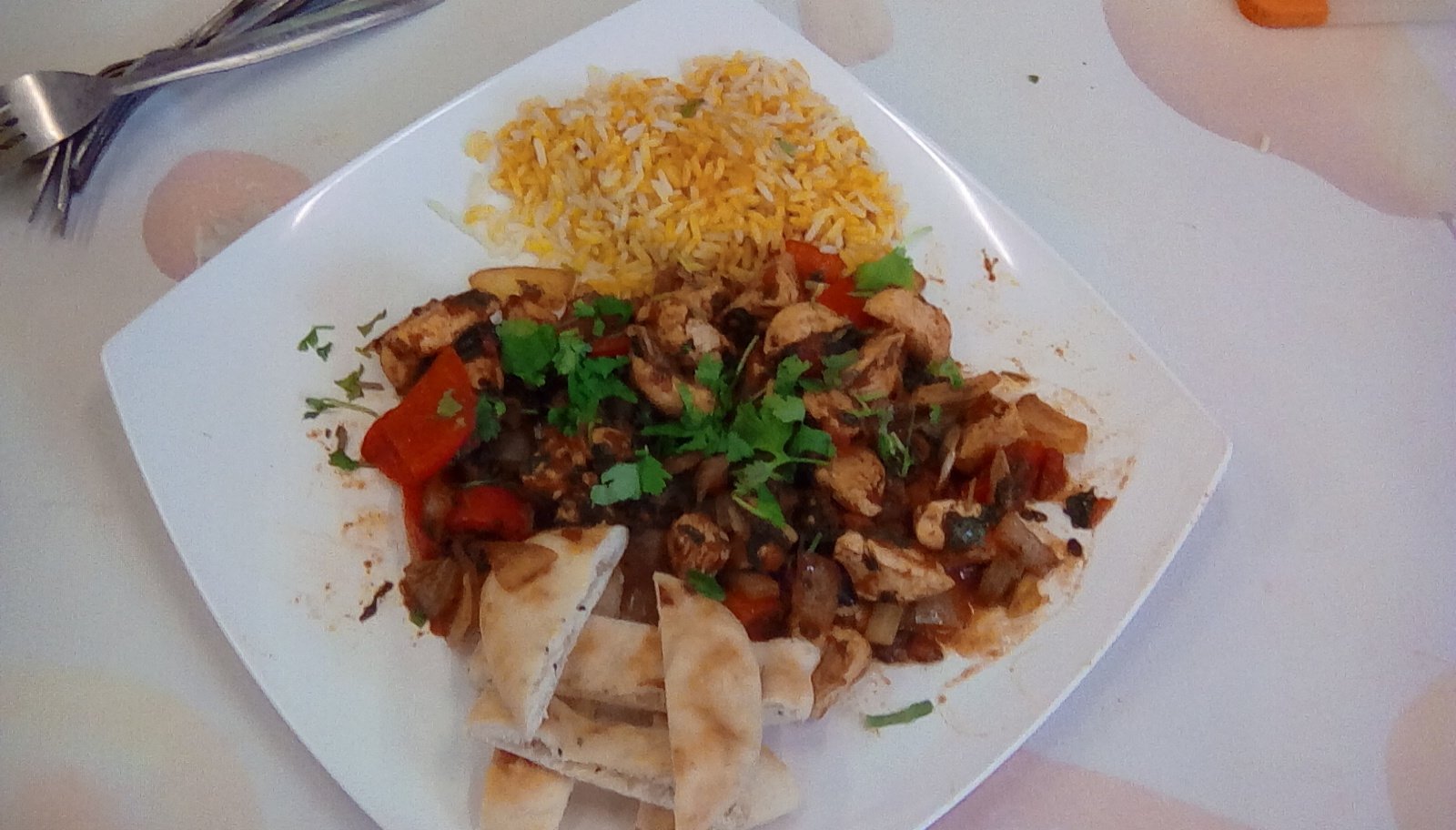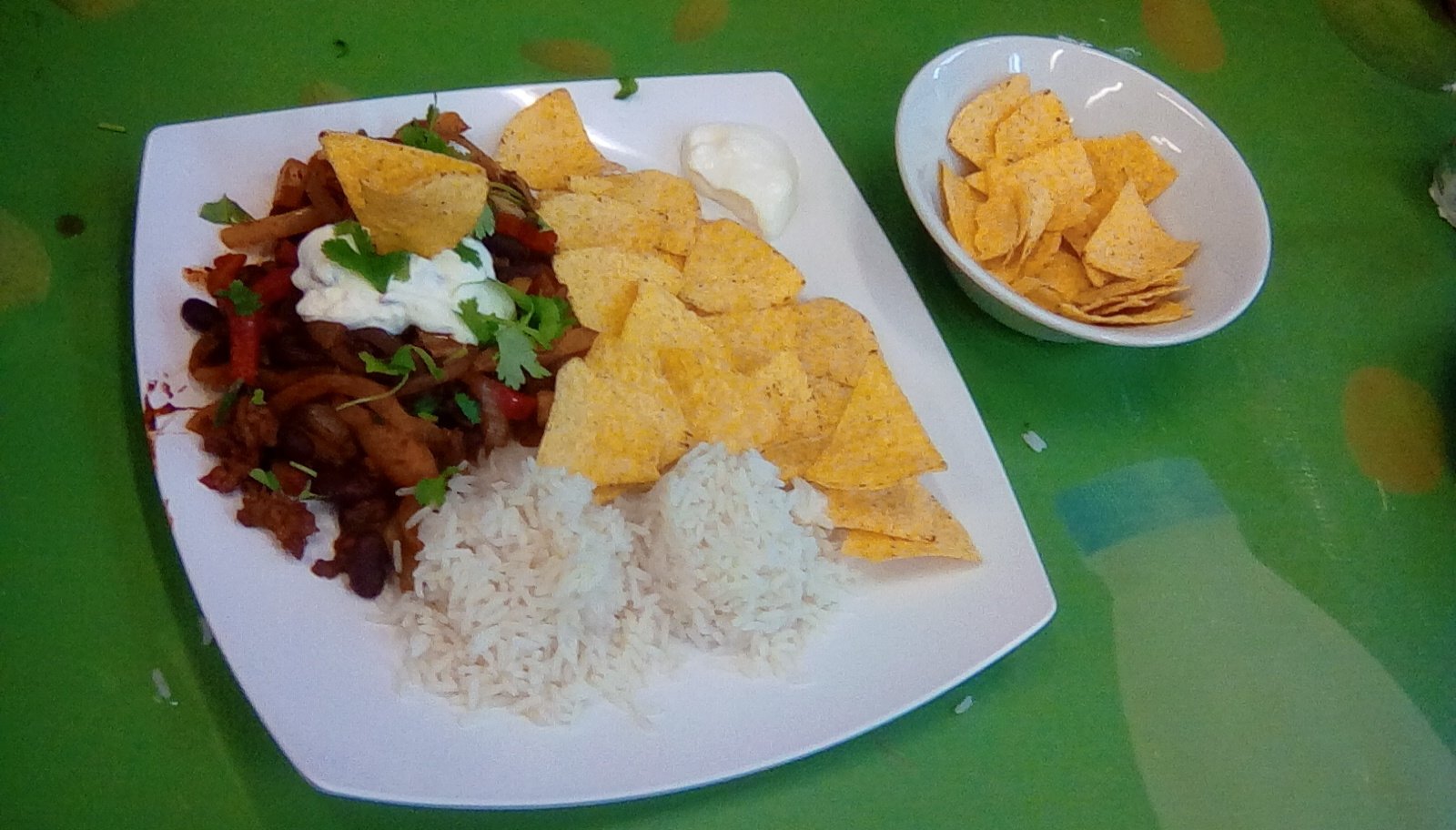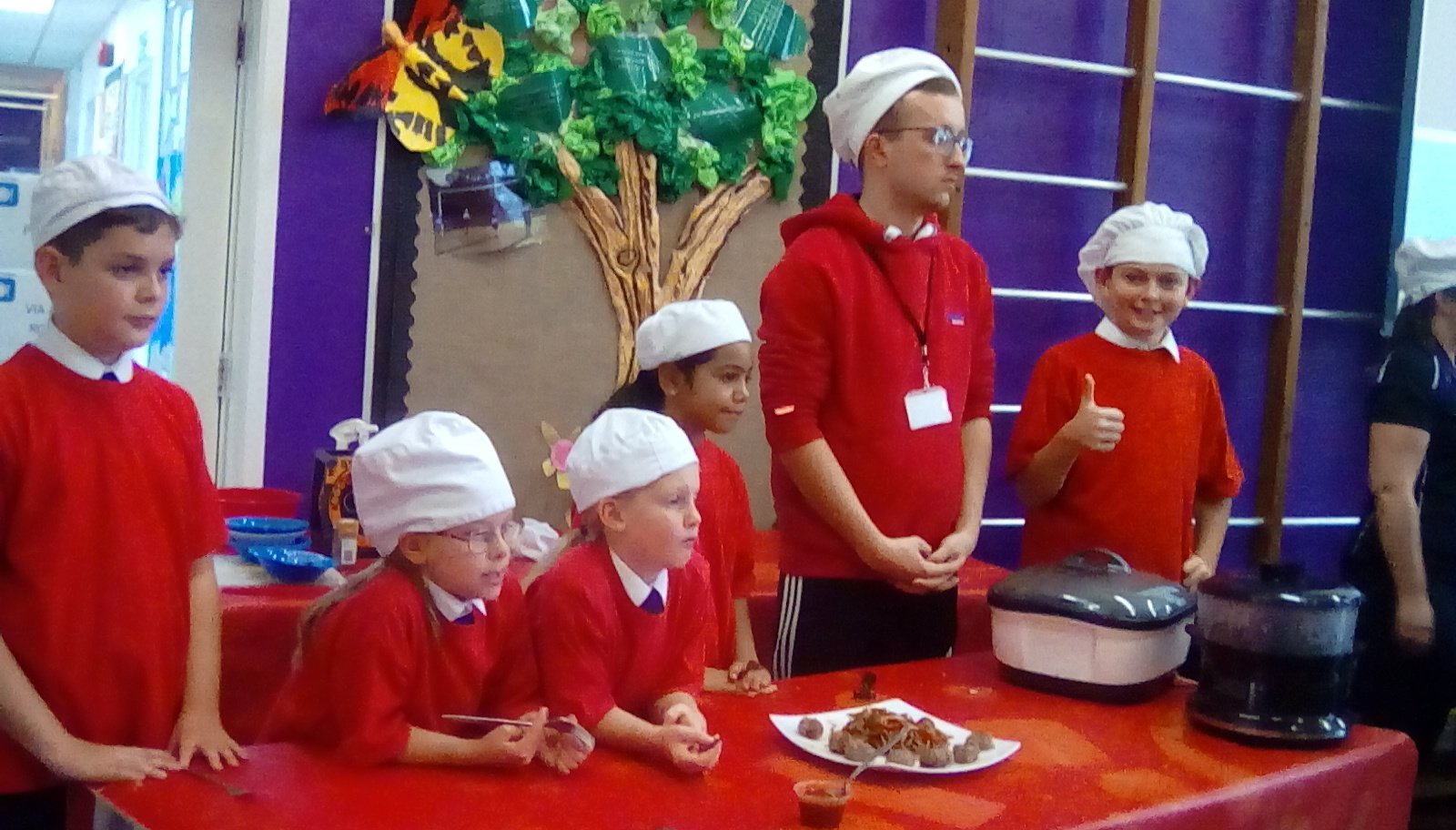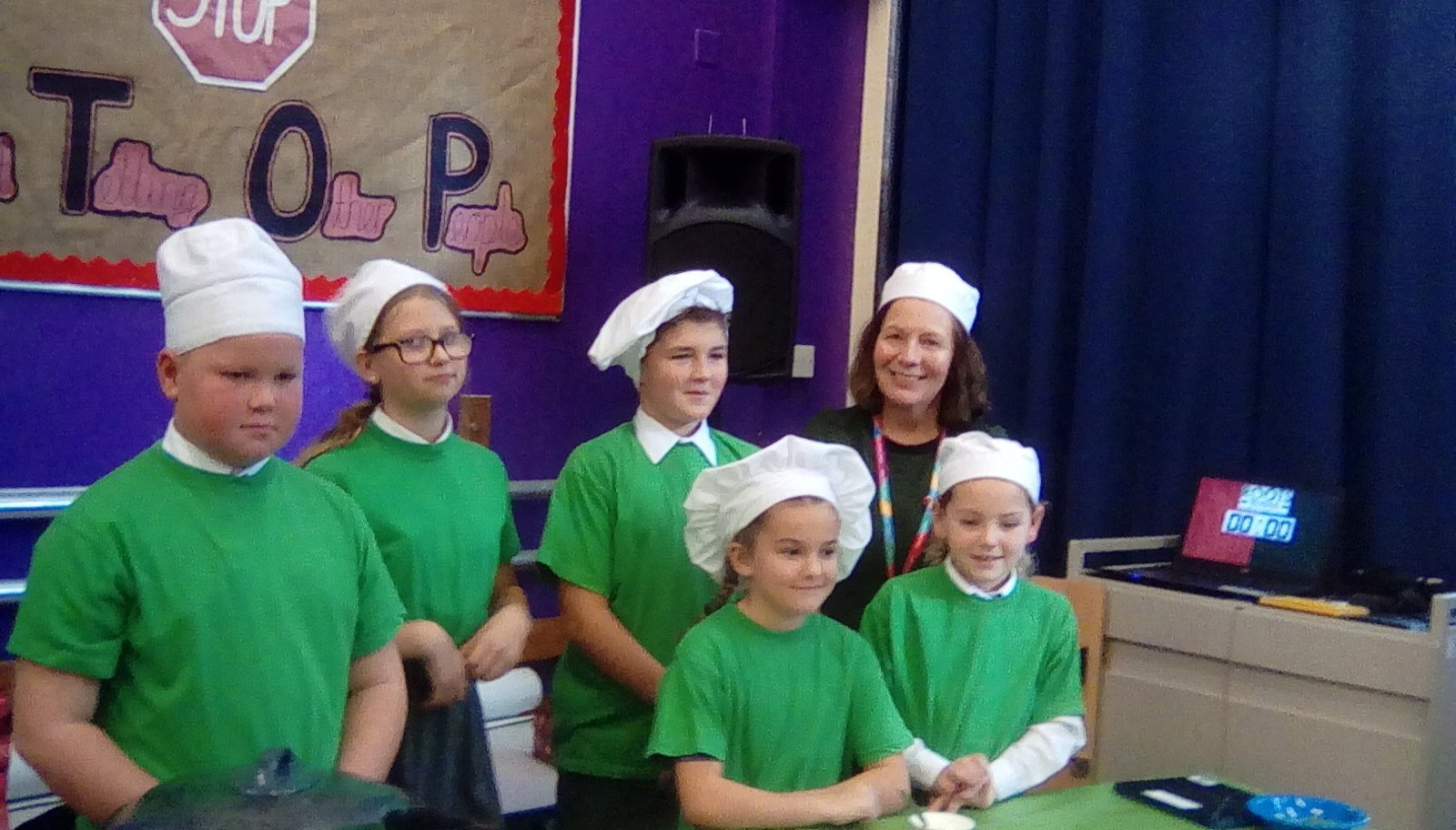 Meanwhile, some selected pupils in Years 3 and 4 were invited to take part in a special workshop in the afternoon where all 30 children were simultaneously cooking the Mexican Chilli Beef with Chocolate, Nacho's, Sour Cream and Sweetcorn Rice recipe they had seen demonstrated in the morning. The rest of the Year 3 and 4 pupils took part in classroom activities to develop their knowledge of cooking utensils and nutritional food groups.
Sporting Events
On Tuesday 8th October, a group of boys played some amazing football in a boys tournament at Waterside Leisure. We got through the group stage and into the quarter finals. We breezed through this into the semi-finals. Sadly, in the semi-finals, we lost on penalties but had a brilliant day competing for our school.
On Tuesday 15th October, ten girls from the hard-working football team went to a football tournament. These girls were Mia, Raiyn, Paige, Isabel, Rebecca, Luella, Dolly, Rosie, Chloe and Cherry. We all worked extremely hard and supported each other, showing some fantastic football skills and demonstrating great teamwork. Our team captain Rebecca chose our player of the match who was Mia. We would like to thank Mr Hassan for preparing us so well for the tournament. Unfortunately, we didn't quite make it through to the quarter finals.
On Tuesday 22nd October, Caiden, Lenny, Dolly, Charlie, Rebecca, Oliver, Jasper and Zach participated in a Dodgeball competition. We all worked very hard to do our best and amazingly, we came 6th out of 24 schools. We are all extremely proud of ourselves as we worked together as a team and put all of our effort into every game. Thank you to Miss Greenslade for taking us and supporting us through the very enjoyable competition.
On Wednesday 23rd October, we took two boys football teams to a Southend United football competition. Our B team​ drew a match, had several wins but sadly lost against our other team.
Our A team showed impressive teamwork and football skills to get through the group stages and into the semi-finals. Unfortunately we only drew this game so had to go to penalties. We won on penalties and went through to the final! In the final, we upped our game even further and won! Now we get to represent the school and Southend at a further competition in Oxford!
Congratulations to both our A team: Martin, Charlie, Blake, Zac, Zac, Kobe, Ashdon and Johnny and our B team: Billy, Owen, Lenny, Ben, Liam, Sebastian, Danny and Henry.
School Council Politics workshop - 22.10.2019
On Tuesday, the School Council from all 4 year groups took part in a Politics Workshop with a member of Youth Parliament - Sophie Bush. To begin with we learnt all about who is in charge in our country and we took a basic look at how politics works and laws are put in place.
We then explored 'Our Voice' and learnt about how we can use our voice to campaign for issues important to us. We learnt all about some current campaigns out there - Mental Health, Vote at 16 and Plastic Pollution.
We got into small groups and created our own political parties including electing a Prime Minister and a Chancellor of the Exchequer (which we learnt was similar to a Deputy Prime Minister). We designed our own campaigns which included - Plastic Pollution, Preventing Animal Extinction and Stopping Homelessness.
Finally we presented our ideas to the whole School Council and carried out a vote on the campaign we would like to implement.
We reflected how our learning today could help us all find 'Our Class Voice' and how we would best represent this within the School Council to put in place new ideas and improvements.
Online Safety Week - wb: 14.10.2019
Our assemblies this week have all been focused on online safety. We have introduced the children to the 'SMART' rules that underpins all the work that we do in teaching the children how to keep themselves safe online.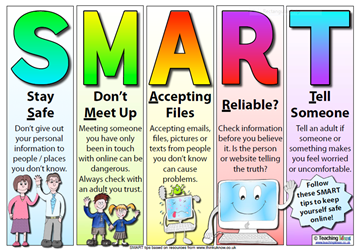 Monday to Wednesday's assemblies were class based cumulating in a whole school assembly on Thursday where children were able to share with the rest of the school what they had learned. It was lovely to see so many different areas of online safety being covered and the different ways of presenting it.
Year 3 watched and discussed a video about The Adventures of Kara, Winston and the Smart Crew (https://www.childnet.com/resources/the-adventures-of-kara-winston-and-the-smart-crew/watch-full-movie). They used it to write 2 stars and a wish about how they could keep themselves safe online.
Year 4 discussed the apps that they were currently using and learned about how they could keep themselves safe whilst using them.
In Year 5, they used Now Press Play to listen to some dilemmas people might face online and discussed what they could do.
Year 6 also focused on the SMART message, ensuring they knew what each letter stood for.
We will continue to discuss and learn about online safety, including the SMART message, in our Wednesday class assemblies for the rest of the year.
Next week, we will be focusing more on what each letter means in more detail using the guidance provided on the Childnet website.
Our New Art/DT Studio:
This week we were delighted to open our brand new Art and DT studio to be used for both new and exciting art and design and technology projects as part of our new curriculum. Thanks to the PTA funds, Mrs Cawcutt and Miss Jackson's hard work, the room is packed full of wonderful resources enabling the children more freedom to choose and use the resources most suitable for their projects. This includes some exciting new resources for teaching the 'control' element of design and technology.
We also have brand new art equipment that will allow the children to be as creative as possible when creating beautiful pieces of art work.
The walls include inspirational displays to motivate the children to learn new skills and produce high quality outcomes. We have an 'Art Gallery' that will display a variety of children's art work to show their achievements and successes.
In addition to using the studio with their class, Miss Jackson will use the room for her art club in the Autumn term and Mrs Cawcutt will use it for Lego club in the Spring term.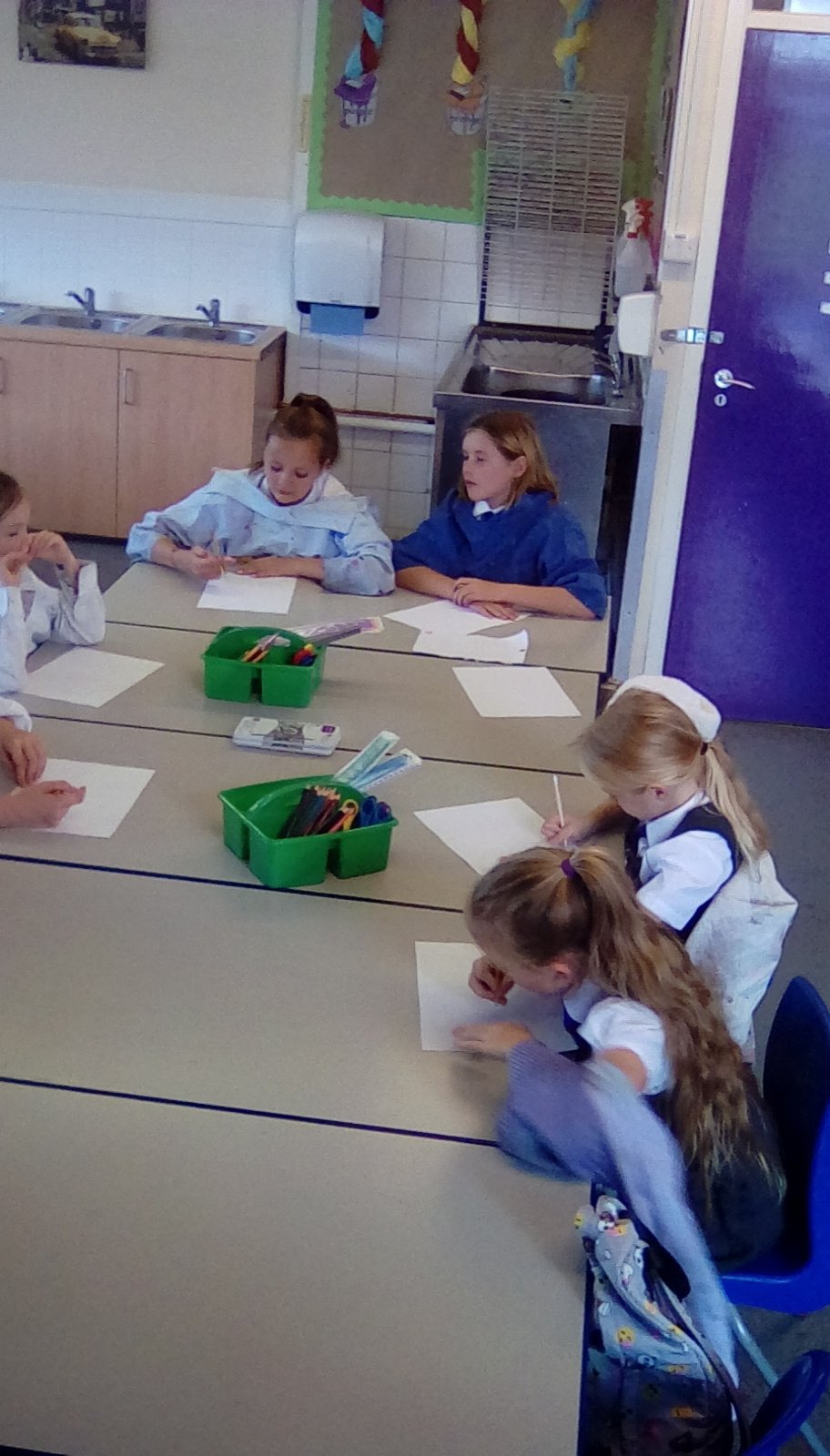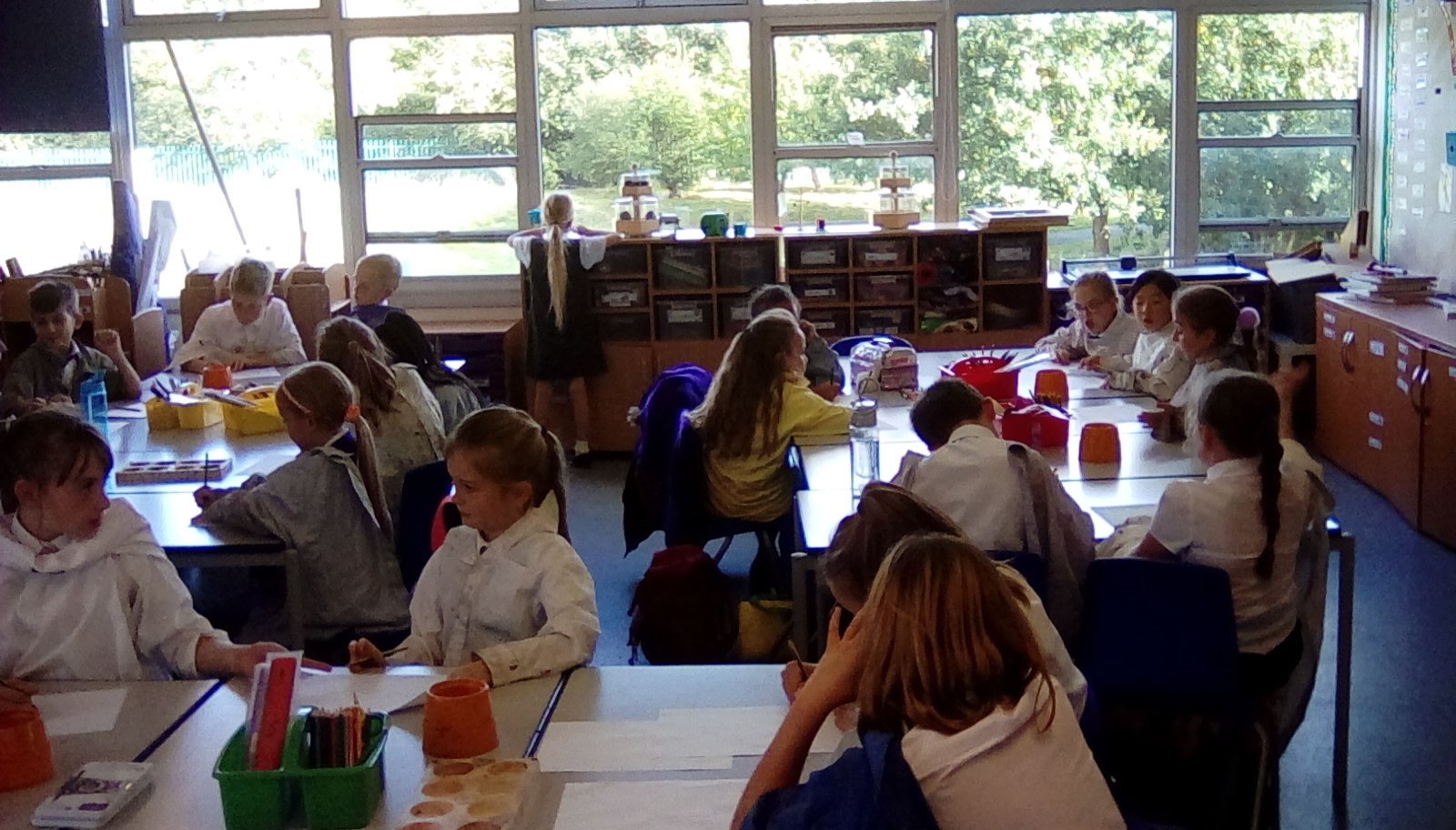 The School Council At KHJS!
2019 - 2020
Welcome! This page has been set up to allow parents, carers and other visitors to see what goes on with our school council.
The leaders of the school council are the Pupil Leadership Team which consists of George Line (Head Boy) Maddison Benson (Head Girl) Paige Whittet (Deputy Head Girl) and Max Calvert (Deputy Head Boy).
Wednesday 18th September 2019
Today, a number of brave pupils from Year 3, Year 4 and Year 5 put themselves forward to represent their class as "School Councillors".
After a wide range of persuasive presentations were shared by children from each class, every pupil took part in a vote where they had to make the very difficult decision as to who they think would be the best candidate for the job.
The children made their way to the polling station set up in our school hall to make their vote!
Our Year 6 Pupil Leadership Team had their first experience being part of this and supported the whole school during this process. They also had the very important job of counting up the votes and announcing the successful candidates!
We would like to say a huge well done to all of the pupils who took the time to prepare and share their presentations – what a fantastic experience!
We would also like to congratulate those children who were voted to become our School Councillors:
3IC: Lily Coker and Thomas Hill
3LJ: Mia Duffield and Kasey Curtis
3ER: Summer Terry and Samuel Calvert
4ST: Brooke Fullard and Adrian Atansov
4DF: Willow Perrin and Chester Joyce
4GF: Lola Pike and Sebastian Ventom
5HW: Emma Peychev and Jake Dopson
5LJ: Dolly Bennett and Lenny Hales
5MC: Phoebe Roff and Kobe Bird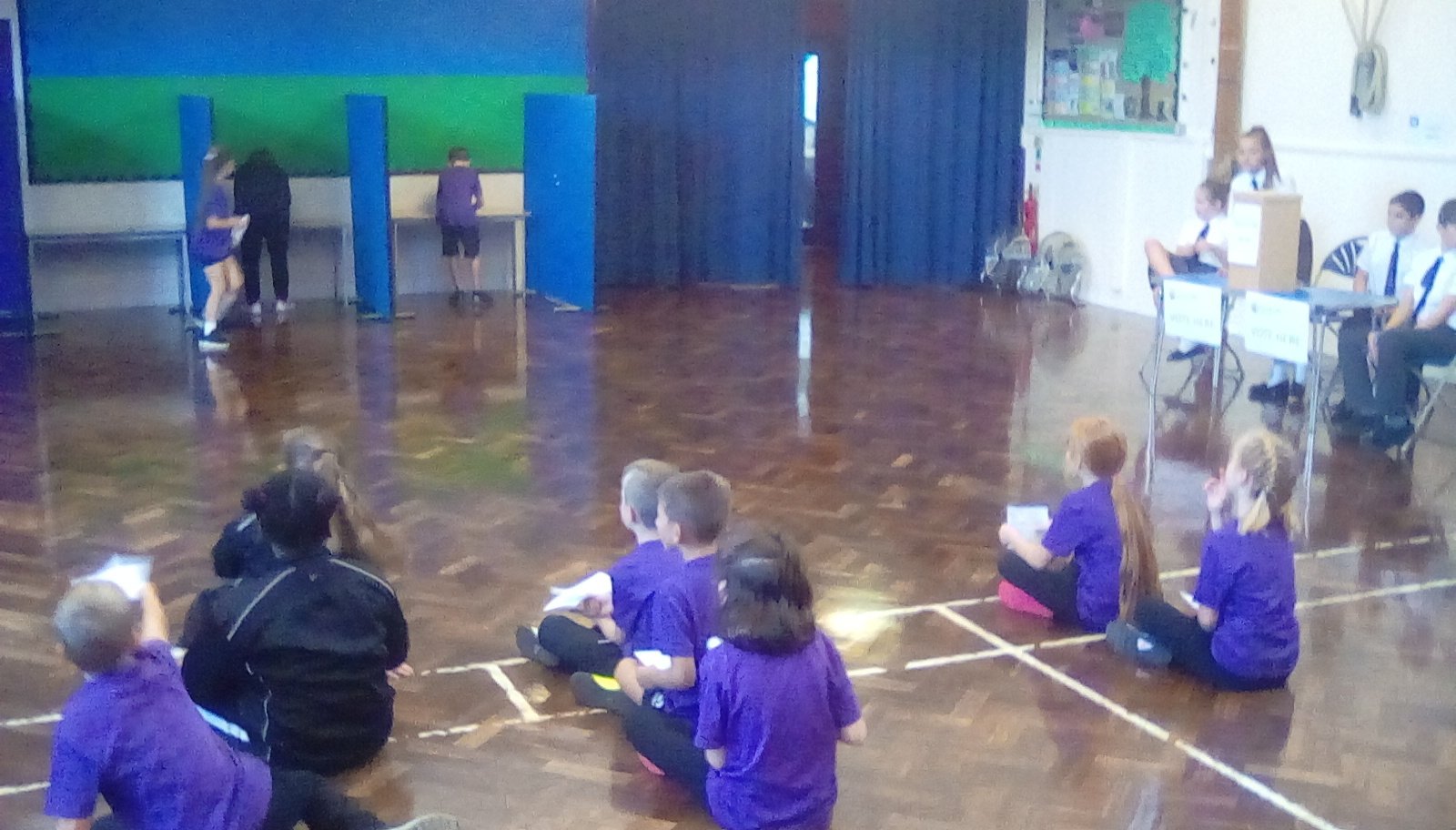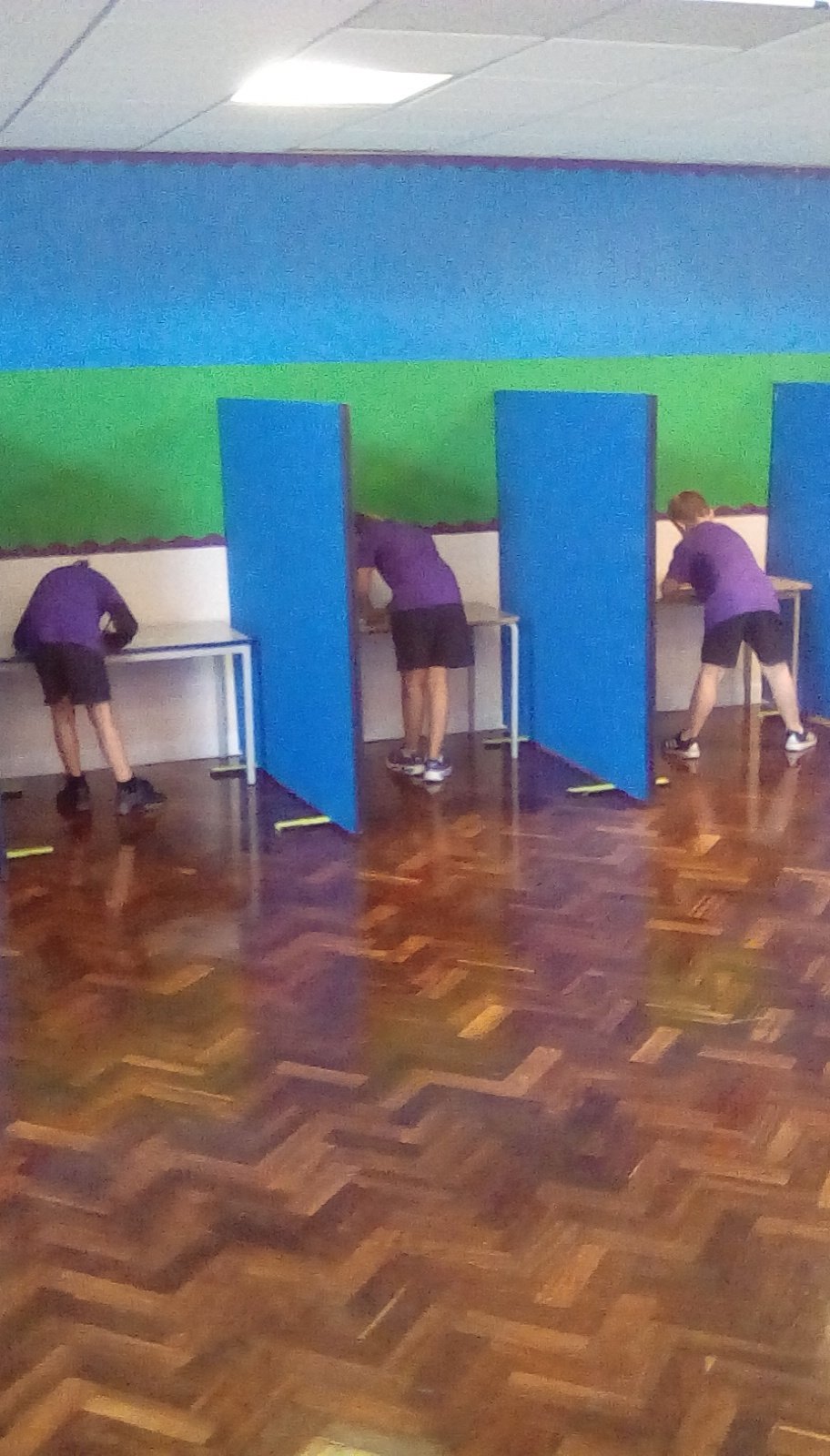 Swimming Gala - Wednesday 10th July
On Wednesday 10th July, the swimming team went to Runnymede swimming pool to take part in a schools gala against 3 other schools. Children from years 4, 5 and 6 took part in a variety of races including year group relays, individual front crawl, back crawl and breaststroke, and the school boys and girls cannon. We came 1st in the girls cannon but unfortunately were placed 3rd in the boys cannon after an incorrect cross over between swimmers. We came away with lots of medals and came 2nd place overall. Well done to all who took part!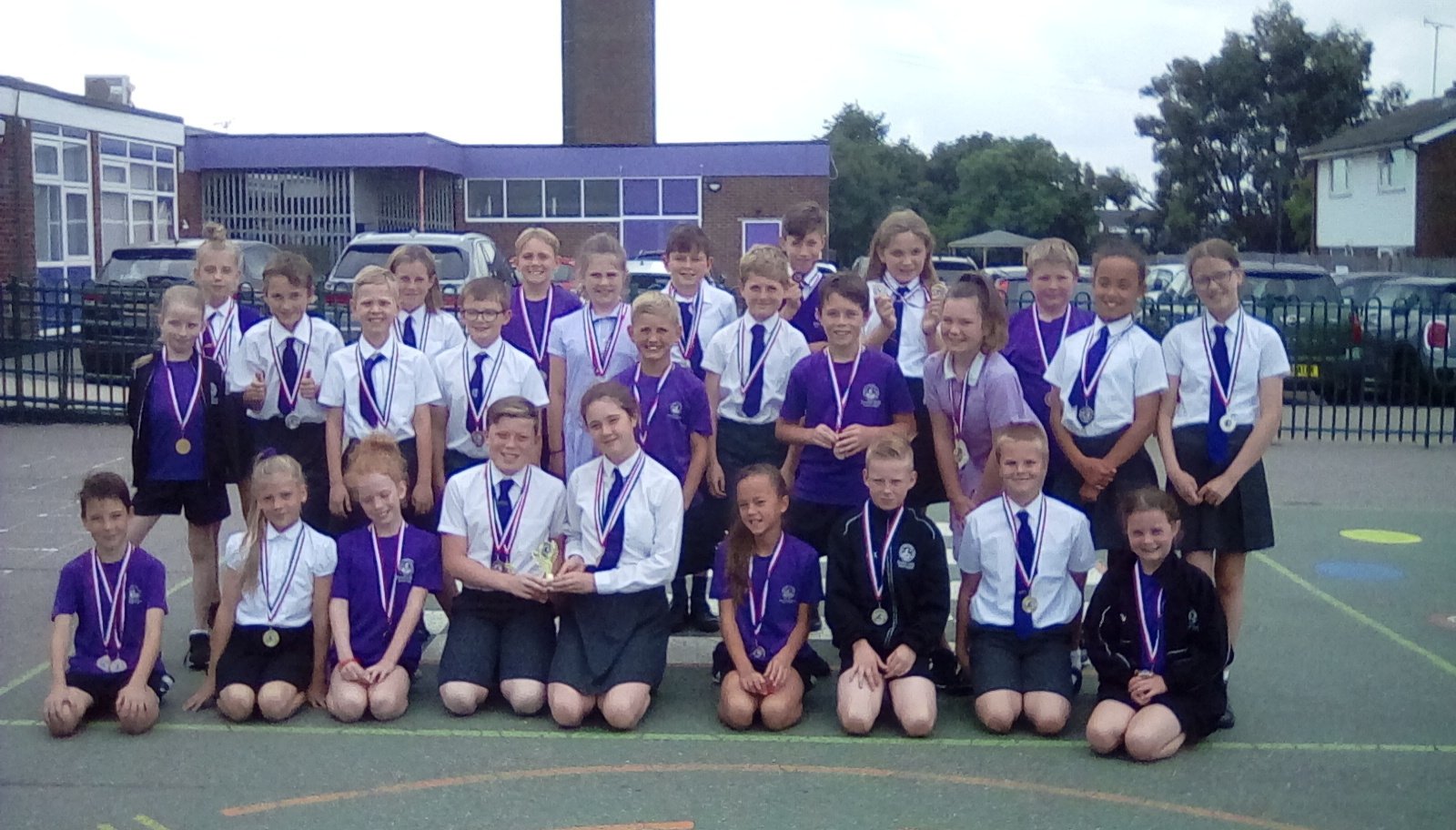 District Athletic Competition 2019 - Tuesday 9th July
On Tuesday 9th July, Year 3,4,5 and 6 competed in the CPRSSP District Athletic competition. The children demonstrated great competition, teamwork and great sportsmanship. We had lots of children who had individual success as well as the whole team placing 2nd in the track events and placing 2nd overall. Well Done!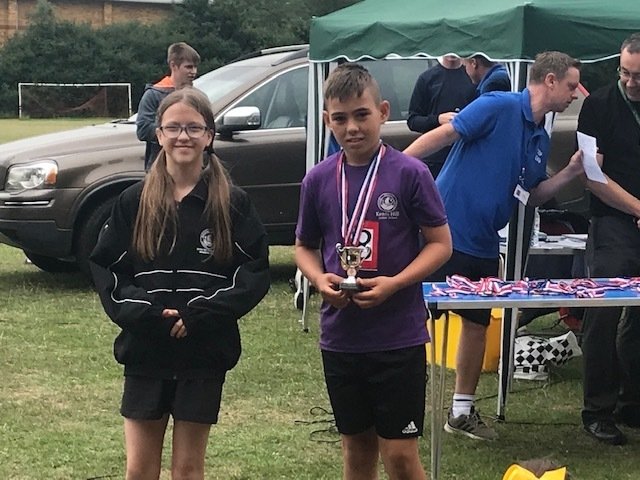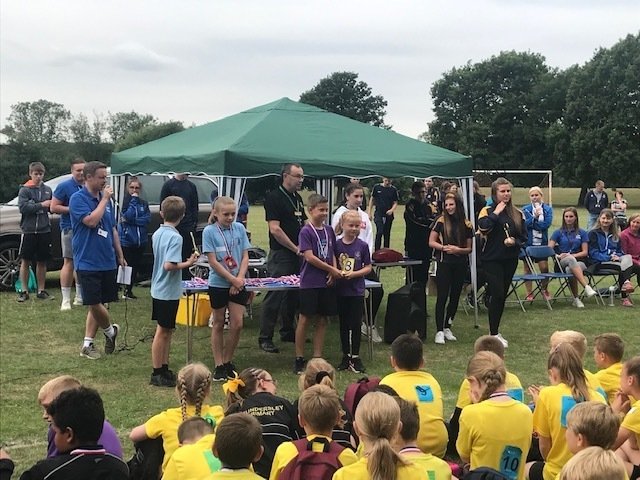 Spelling Bee Competition - Wednesday 5th April
On Wednesday 5th April, we finished off the Spring term with our house competition.
Who would be the winner of Kents Hill Junior School's Spelling Bee? The Danes, Normans, Saxons or Vikings?
We began the day by spending an hour with our houses to practise and remember as many spellings as possible. Some of these activities consisted of using chrome books, chanting out loud, using whiteboards on the playground and writing the words in chalk all over the playground.
After break, we joined the rest of our class to complete a spelling quiz in pairs. The highest scores from each house went through to a head to head round where they would compete against the rest of their phase.
After lunch, we gathered as a lower school and upper school and each house faced a head to head in which they would battle against their own house to become their candidate in the final round.
Finally, 8 pupils (4 from lower school and 4 from upper school) made it to the grand final in front of the whole school including teachers and Governors. Pupils were so brave to stand up in front of the whole school and spell these words aloud.
Overall, it was a very successful day!
Congratulations to the Vikings who were our House winners!
A huge well done to every pupil for taking part and demonstrating perseverance and team work throughout the day!
British Science Week - 8th - 17th March
As it was British Science week from the 8th - 17th March, we spent Friday 15th March celebrating this by taking part in a range of Science based activities throughout the day. This year's topic was Journeys so each year group focused on a different type of Journey had by Scientists.
Year 3 focused on everyday journeys, having a go at 3 different experiments. One of which was to find out about how different reflective materials can be used to create clothing that will be visible at night.
Year 4 focused on electric journeys, having a go at 3 different experiments. One of which was to observe how electricity travels through different objects focusing on salt.
Year 5 focused on journeys through nature, having a go at 3 different experiments. One of which was to use a range of materials to filter dirty water observing which would be best.
Year 6 focused on journeys through the human body and beyond, having a go at a range of experiments. One of which was observing the journey food takes through your digestive system and the effect it has on your body.
We then finished the day with an assembly to celebrate the Science that had taken place and share all the experiments that we had done. The children really enjoyed getting engrossed in the Science and observing a range of different experiments.
Cross Country at Garons Park - Tuesday 19th March 2019
World Book Day - Thursday 7th March 2019
World Book day began with a Book Cafe in the morning. During this time, pupils and their families had an opportunity to enjoy a pastry and some juice whilst spending time reading together. We also used our new 'Now Press Play' headphones to play an audiobook which many people enjoyed.
During the day, all pupils had the opportunity to design their own World Book Day t-shirts based on their favourite books. These looked bright and eye-catching with some amazing designs.
There were many other activities taking place across the day including a Book World Cup for each class to choose their next class read and some creative writing based on a specific text.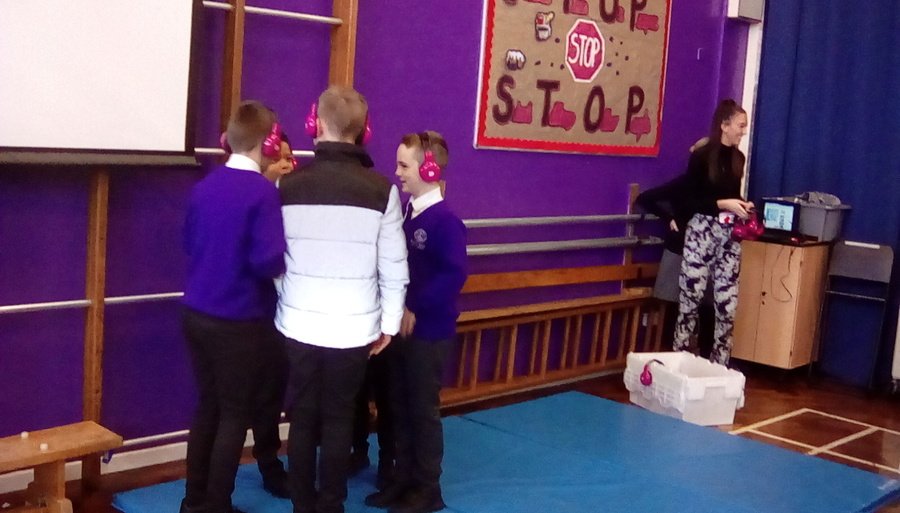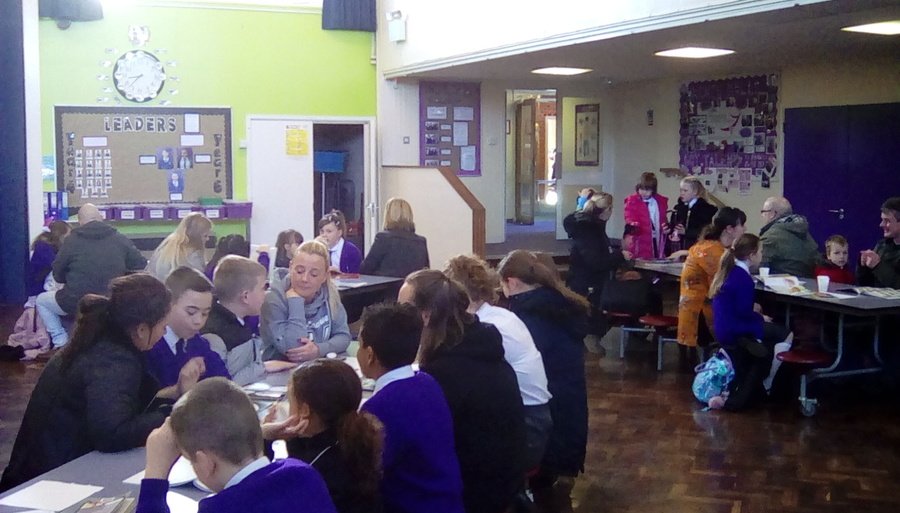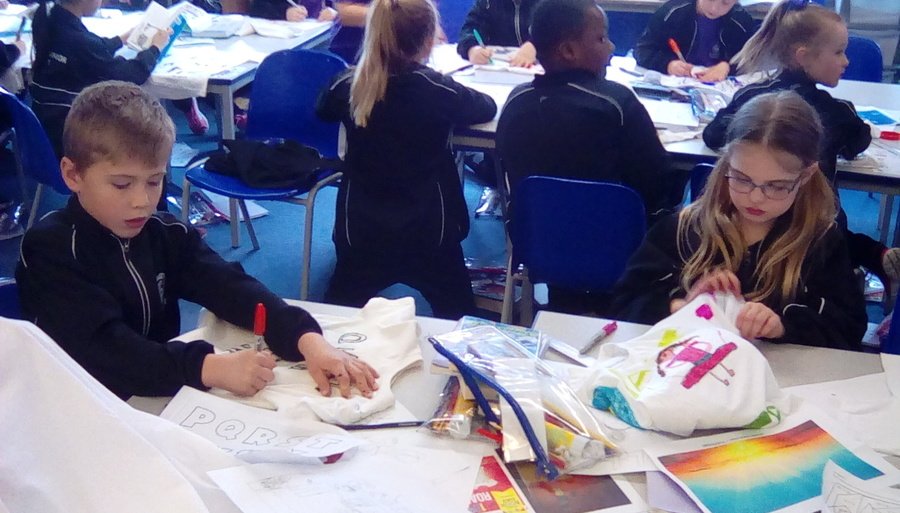 Young Voices at the O2 - Thursday 31st January
On Thursday 31st January 2019 the choir headed to the Young Voices Event at the O2.
As soon as we arrived we found a spot to enjoy our lunch to fuel up before the rehearsals that followed:
We rehearsed in our seats for the night along with 7,749 other pupils from choirs around the UK. We were lucky enough to see a sneak preview of all of the other acts rehearsing too!
Once we had perfected all of the songs – and our dance moves – we had dinner, got changed and began to get very excited, and a little nervous, about the prospect of singing in front of all of such a large audience. We made sure our banner was flying high throughout as our parents entered so that they could spot us.
The show itself was incredible! We sung lots of songs on our own as well as with Beau Dermott, Tony Hadley and Sharlene Hector as well as dancing along with Urban Stride.
Click below to watch a short video of us performing:
Converting media.
(Media will continue converting in the background)