Whole School Blog
The School Council At KHJS!
2019 - 2020
Welcome! This page has been set up to allow parents, carers and other visitors to see what goes on with our school council.
The leaders of the school council are the Pupil Leadership Team which consists of George Line (Head Boy) Maddison Benson (Head Girl) Paige Whittet (Deputy Head Girl) and Max Calvert (Deputy Head Boy).
Wednesday 18th September 2019
Today, a number of brave pupils from Year 3, Year 4 and Year 5 put themselves forward to represent their class as "School Councillors".
After a wide range of persuasive presentations were shared by children from each class, every pupil took part in a vote where they had to make the very difficult decision as to who they think would be the best candidate for the job.
The children made their way to the polling station set up in our school hall to make their vote!
Our Year 6 Pupil Leadership Team had their first experience being part of this and supported the whole school during this process. They also had the very important job of counting up the votes and announcing the successful candidates!
We would like to say a huge well done to all of the pupils who took the time to prepare and share their presentations – what a fantastic experience!
We would also like to congratulate those children who were voted to become our School Councillors:
Class

School council

School council

3IC

Lily Coker

Thomas Hill

3LJ

Mia Duffield

Kasey Curtis

3ER

Summer Terry

Samuel Calvert

4ST

Brooke Fullard

Adrian Atansov

4DF

Willow Perrin

Chester Joyce

4GF

Lola Pike

Sebastian Ventom

5HW

Emma Peychev

Jake Dopson

5LJ

Dolly Bennett

Lenny Hales

5MC

Phoebe Roff

Kobe Bird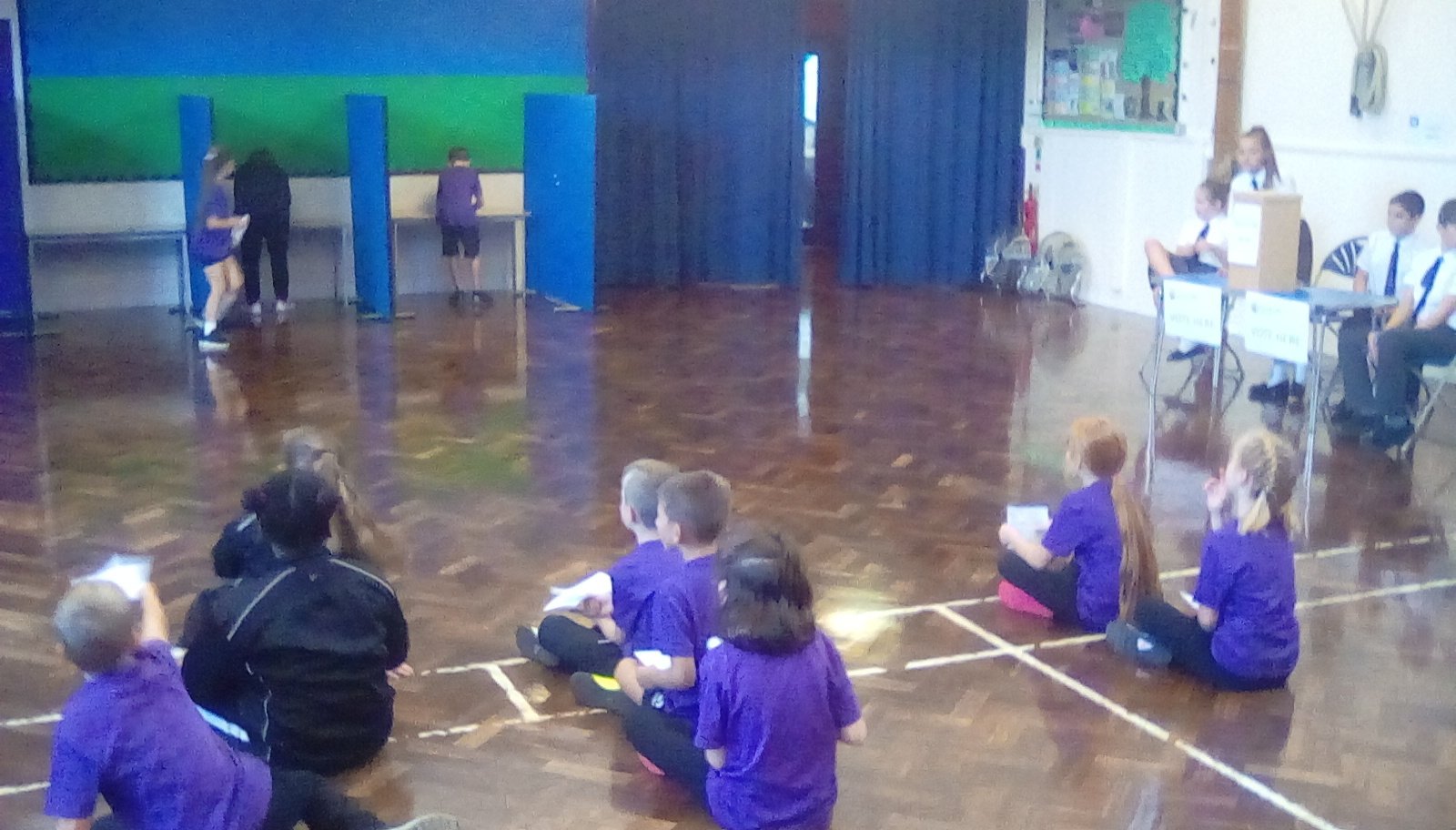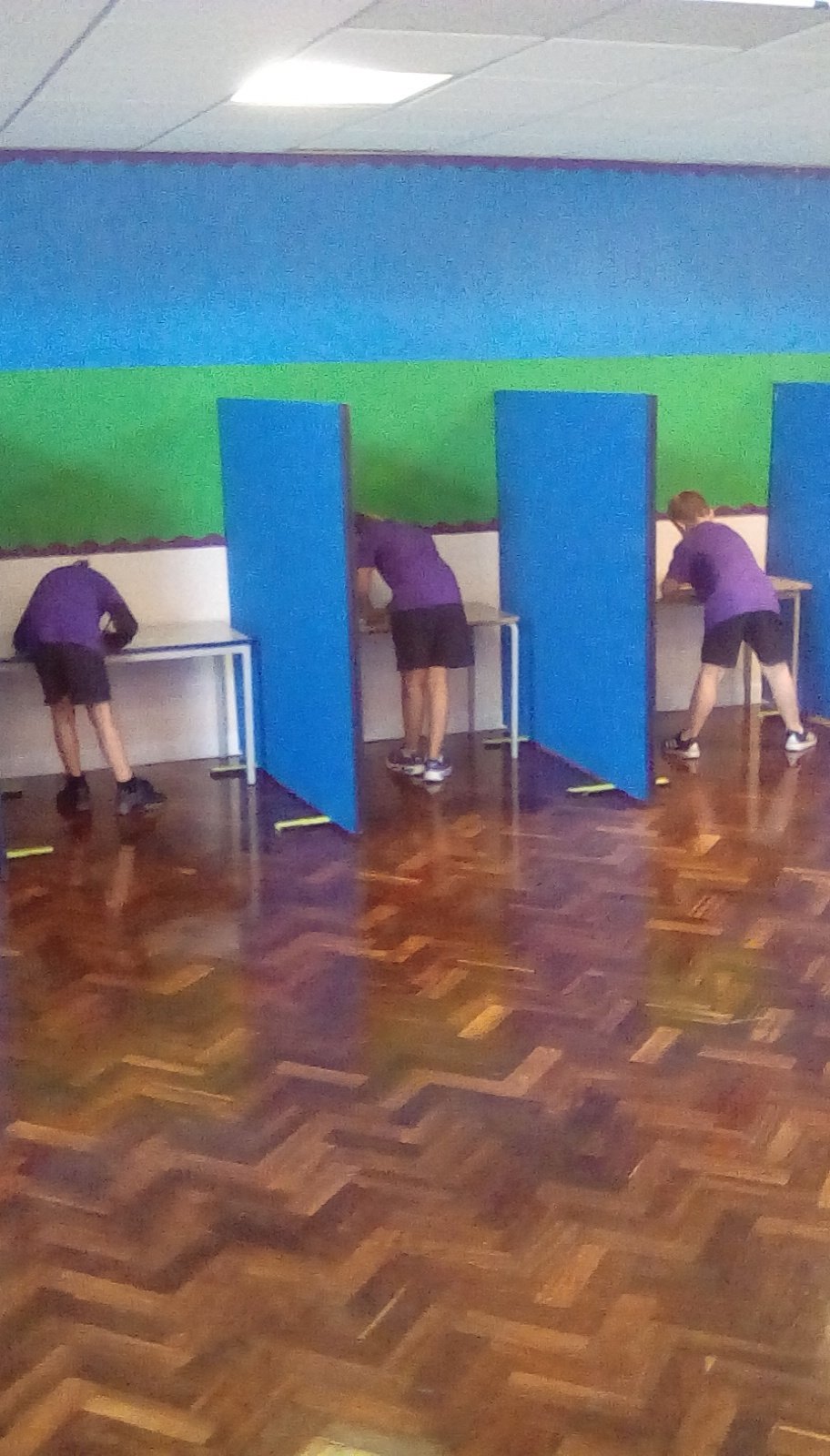 Swimming Gala - Wednesday 10th July
On Wednesday 10th July, the swimming team went to Runnymede swimming pool to take part in a schools gala against 3 other schools. Children from years 4, 5 and 6 took part in a variety of races including year group relays, individual front crawl, back crawl and breaststroke, and the school boys and girls cannon. We came 1st in the girls cannon but unfortunately were placed 3rd in the boys cannon after an incorrect cross over between swimmers. We came away with lots of medals and came 2nd place overall. Well done to all who took part!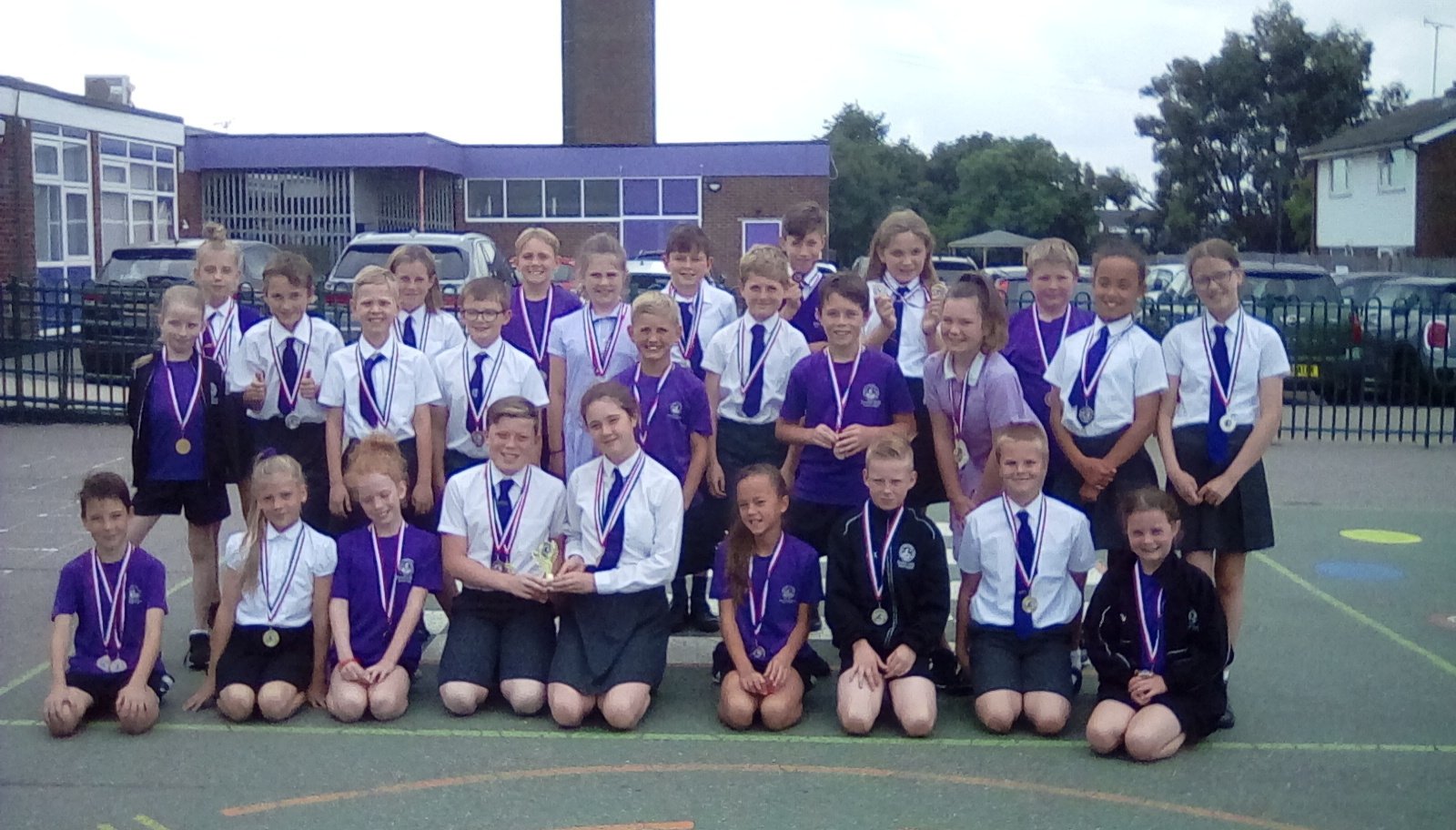 District Athletic Competition 2019 - Tuesday 9th July
On Tuesday 9th July, Year 3,4,5 and 6 competed in the CPRSSP District Athletic competition. The children demonstrated great competition, teamwork and great sportsmanship. We had lots of children who had individual success as well as the whole team placing 2nd in the track events and placing 2nd overall. Well Done!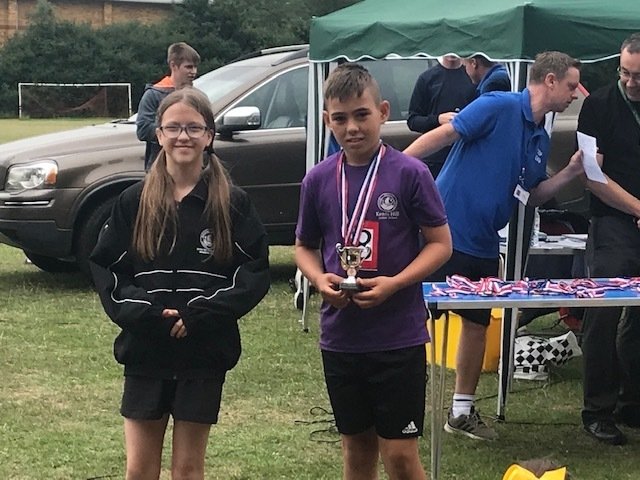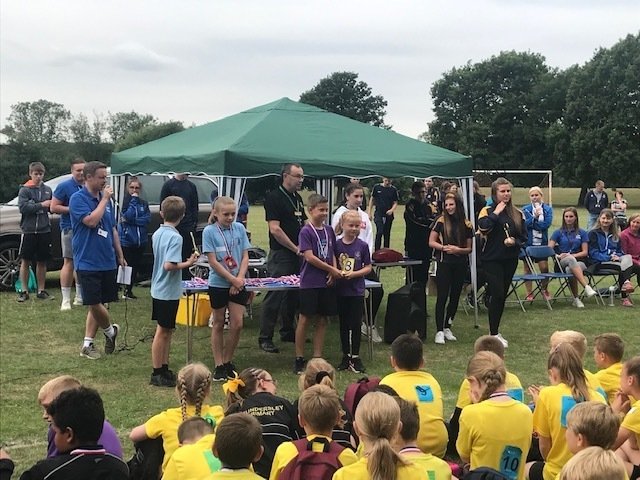 Spelling Bee Competition - Wednesday 5th April
On Wednesday 5th April, we finished off the Spring term with our house competition.
Who would be the winner of Kents Hill Junior School's Spelling Bee? The Danes, Normans, Saxons or Vikings?
We began the day by spending an hour with our houses to practise and remember as many spellings as possible. Some of these activities consisted of using chrome books, chanting out loud, using whiteboards on the playground and writing the words in chalk all over the playground.
After break, we joined the rest of our class to complete a spelling quiz in pairs. The highest scores from each house went through to a head to head round where they would compete against the rest of their phase.
After lunch, we gathered as a lower school and upper school and each house faced a head to head in which they would battle against their own house to become their candidate in the final round.
Finally, 8 pupils (4 from lower school and 4 from upper school) made it to the grand final in front of the whole school including teachers and Governors. Pupils were so brave to stand up in front of the whole school and spell these words aloud.
Overall, it was a very successful day!
Congratulations to the Vikings who were our House winners!
A huge well done to every pupil for taking part and demonstrating perseverance and team work throughout the day!
British Science Week - 8th - 17th March
As it was British Science week from the 8th - 17th March, we spent Friday 15th March celebrating this by taking part in a range of Science based activities throughout the day. This year's topic was Journeys so each year group focused on a different type of Journey had by Scientists.
Year 3 focused on everyday journeys, having a go at 3 different experiments. One of which was to find out about how different reflective materials can be used to create clothing that will be visible at night.
Year 4 focused on electric journeys, having a go at 3 different experiments. One of which was to observe how electricity travels through different objects focusing on salt.
Year 5 focused on journeys through nature, having a go at 3 different experiments. One of which was to use a range of materials to filter dirty water observing which would be best.
Year 6 focused on journeys through the human body and beyond, having a go at a range of experiments. One of which was observing the journey food takes through your digestive system and the effect it has on your body.
We then finished the day with an assembly to celebrate the Science that had taken place and share all the experiments that we had done. The children really enjoyed getting engrossed in the Science and observing a range of different experiments.
Cross Country at Garons Park - Tuesday 19th March 2019
World Book Day - Thursday 7th March 2019
World Book day began with a Book Cafe in the morning. During this time, pupils and their families had an opportunity to enjoy a pastry and some juice whilst spending time reading together. We also used our new 'Now Press Play' headphones to play an audiobook which many people enjoyed.
During the day, all pupils had the opportunity to design their own World Book Day t-shirts based on their favourite books. These looked bright and eye-catching with some amazing designs.
There were many other activities taking place across the day including a Book World Cup for each class to choose their next class read and some creative writing based on a specific text.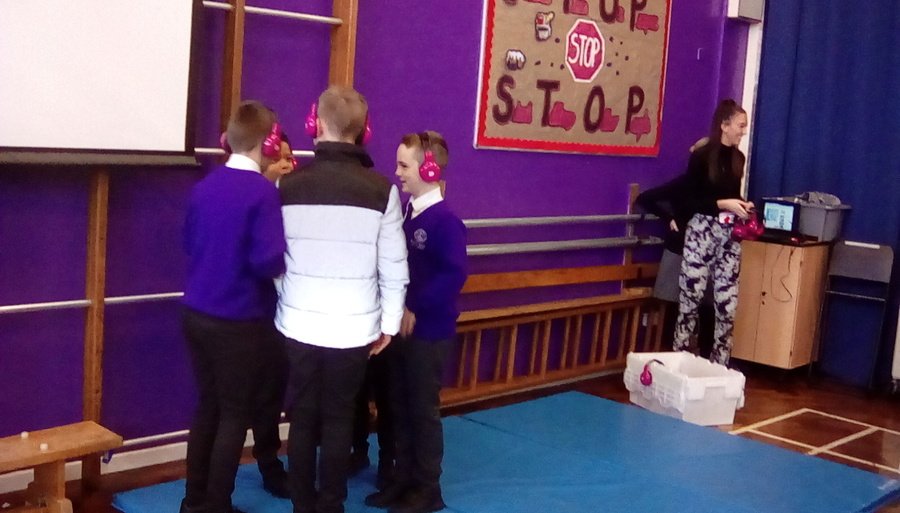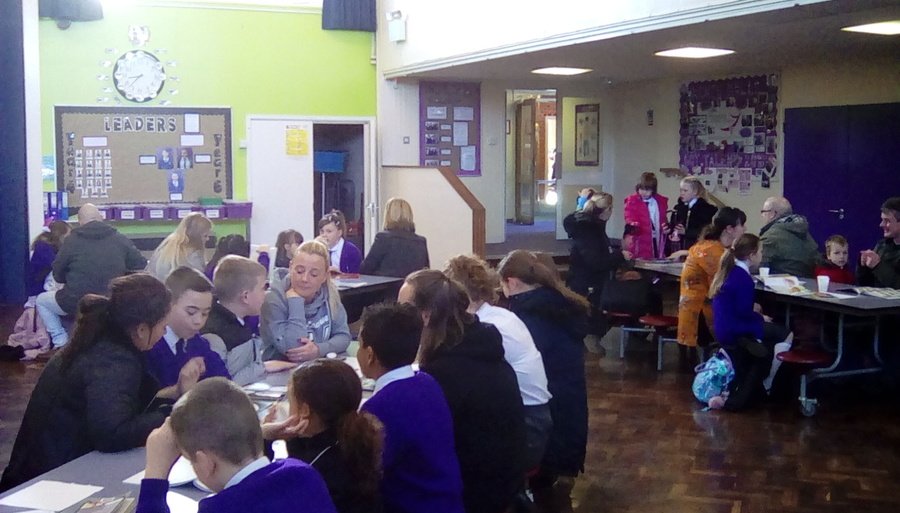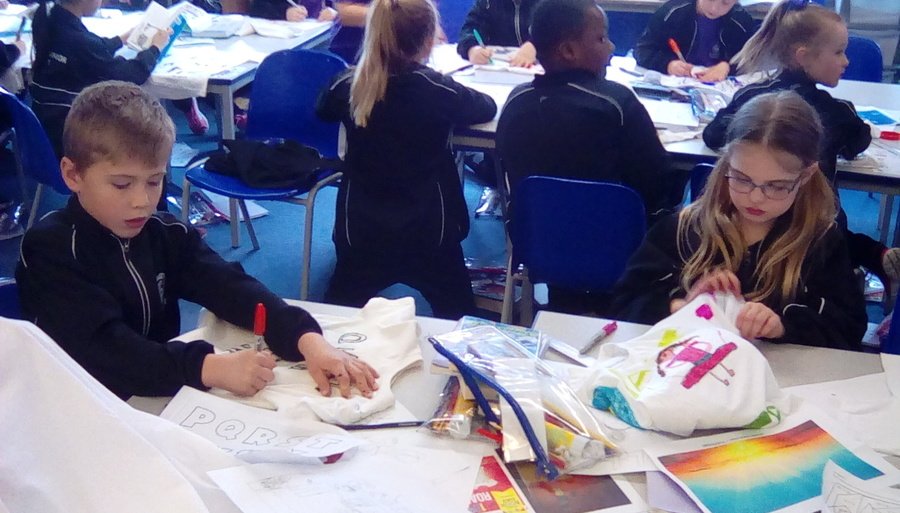 Young Voices at the O2 - Thursday 31st January
On Thursday 31st January 2019 the choir headed to the Young Voices Event at the O2.
As soon as we arrived we found a spot to enjoy our lunch to fuel up before the rehearsals that followed:
We rehearsed in our seats for the night along with 7,749 other pupils from choirs around the UK. We were lucky enough to see a sneak preview of all of the other acts rehearsing too!
Once we had perfected all of the songs – and our dance moves – we had dinner, got changed and began to get very excited, and a little nervous, about the prospect of singing in front of all of such a large audience. We made sure our banner was flying high throughout as our parents entered so that they could spot us.
The show itself was incredible! We sung lots of songs on our own as well as with Beau Dermott, Tony Hadley and Sharlene Hector as well as dancing along with Urban Stride.
Click below to watch a short video of us performing:
Converting media.
(Media will continue converting in the background)