Click Here for the Year 5 Homepage
Week beginning 30.03.2020
Year 5 have now come to the end of Business and Enterprise and leave the spring term with a more worldly knowledge of business in addition to many transferrable skills too. Over the term, they have learned about; a range of jobs and careers due to visits from professionals as well as research opportunities (linking to the PSHE unit of Dreams and Goals), designed and produced their own logos and decorated cakes based on their designs across art and food technology in DT, appraised music and discussed how a catchy beat can sell and make money, as well as using programming to create their own jingles in music and computing.
On top of this, other purposeful skills/learning include; learning about trade and how supporting the Fair Trade Foundation can have a positive impact on many people around the world, how to convert currencies and solve maths problems in order for a business to operate overseas which was then applied to familiar entrepreneurs such as the author David Walliams (who they also wrote a biography about), using atlases to locate countries that use child labour as well as countries which are part of the Fair Trade movement today, consequently developing their geographic understanding of the world. Alongside this, they produced wonderful replicas of Van Gogh's 'A Starry Night', compared their lives to children of Victorian times who were used as child labourers whilst reading Oliver Twist, produced CV's which can be used in the future, and learnt about properties of materials through conducting experiments in science.
This week, Year 5 completed their second week of home learning with determination and independence. They moved from fractions onto decimals in maths, applying all learning to a range of questions, reviewed the genre of Old School Hip Hop and had the opportunity to learn the 'Fresh Prince of Bel Air' in music, as well as developing programming skills on Scratch (which are celebrated in the pictures).
Enjoy the break from school and have a restful couple of weeks, until we can greet you with 'Jambo!' in our next topic.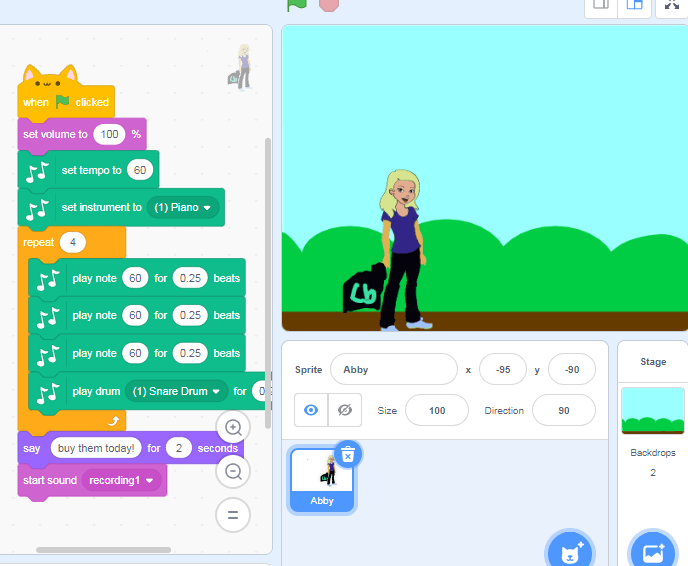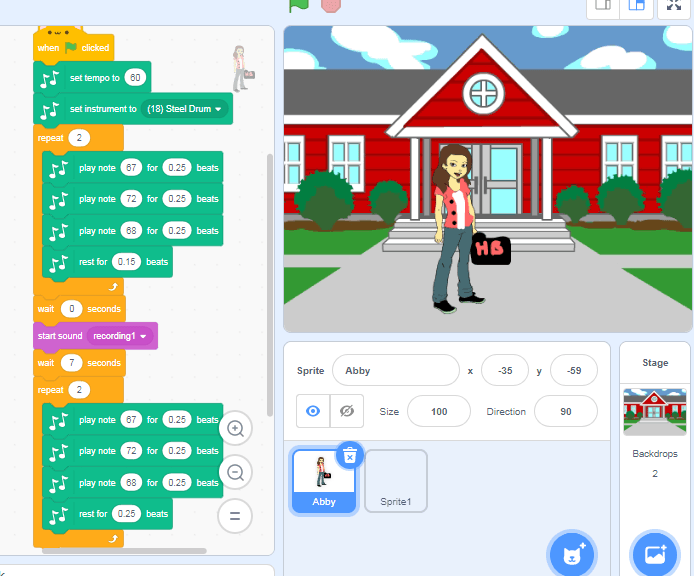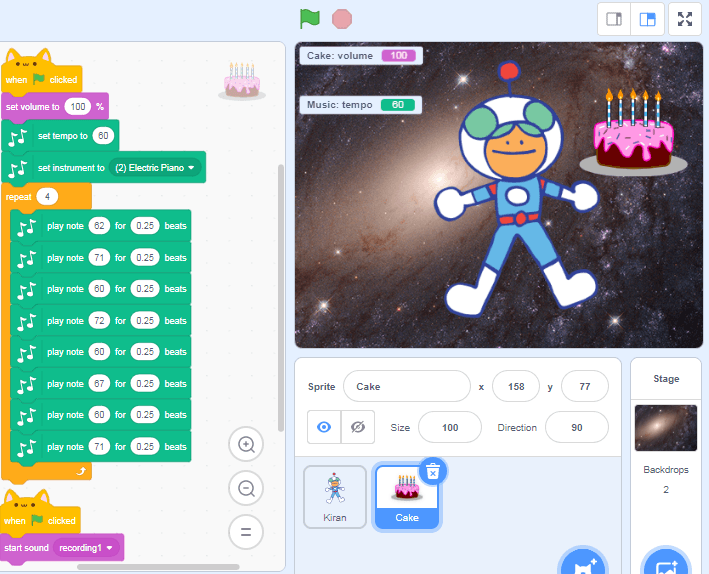 Week beginning 23.03.2020
This week has entailed a completely new way of learning, and with that some new experiences. The Year 5 teachers are proud of all of the children at Kents Hill Junior School that are continuing to work hard from home, but especially of Year 5. Some fantastic displays of independence and perseverance have been shown across many different lessons.
The children were set tasks such as: becoming global citizens by exploring the celebration 'Passover' whilst learning about Judaism in RE, finding fractions of amounts in maths and then applying this to a game of Deal or No Deal, becoming spies based in Paris and learning greetings in French, as well as persuading readers to buy an item using persuasive features such as rhetorical questions and emotive language in writing.
However, this week the Year 5 teachers would like to celebrate our kind, thoughtful children who made rainbows, in an attempt to spread happiness and smiles. Somewhere over the rainbow…is an abundance of happy, caring Year 5's willing to make the world a better place.
Thank you and well done this week Year 5!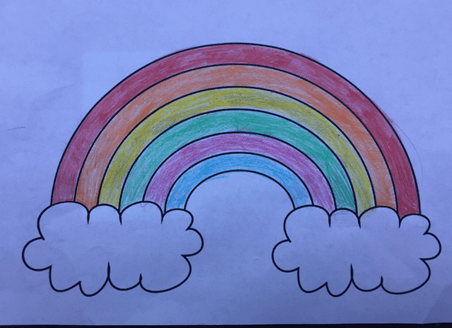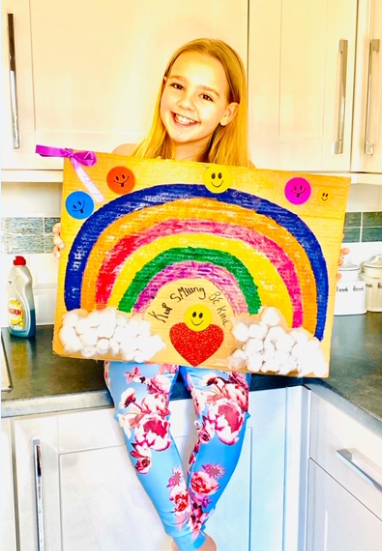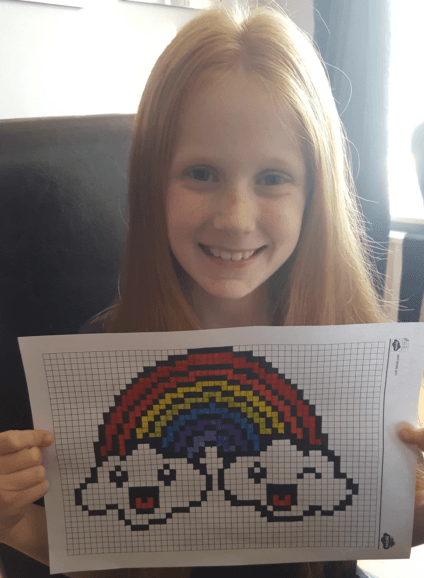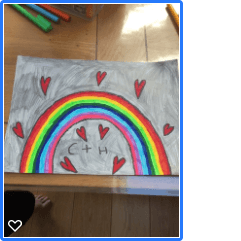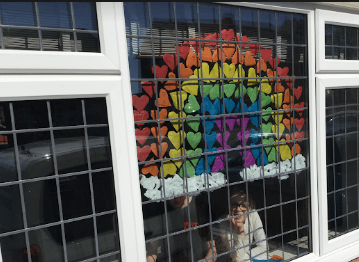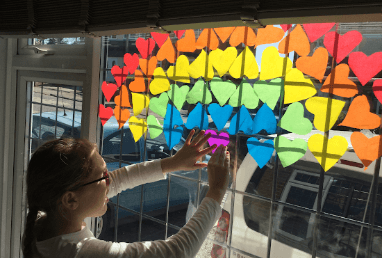 Week beginning 16.03.2020
This week, Year 5 learned about share and stocks as well as science! As part of the topic business and enterprise, the children have learnt about what shares and stocks are which they can apply to their future lives. After learning about how stocks and shares operate, the children then invested in a range of companies. Values of shares then fluctuated based on factors such as lack of stock i.e. less cocoa being grown which affected Cadbury, or the increase in the amount of people using a specific app. This helped children understand how real life factors can affect economics, which they demonstrated in cross-curricular maths whilst using operations to total the value of their shares, as well as negative numbers. In science, the children consolidated their understanding of properties of materials whilst experimenting with separating mixtures using sieving and filtering, as well as learning about using evaporation and using magnets to separate mixtures.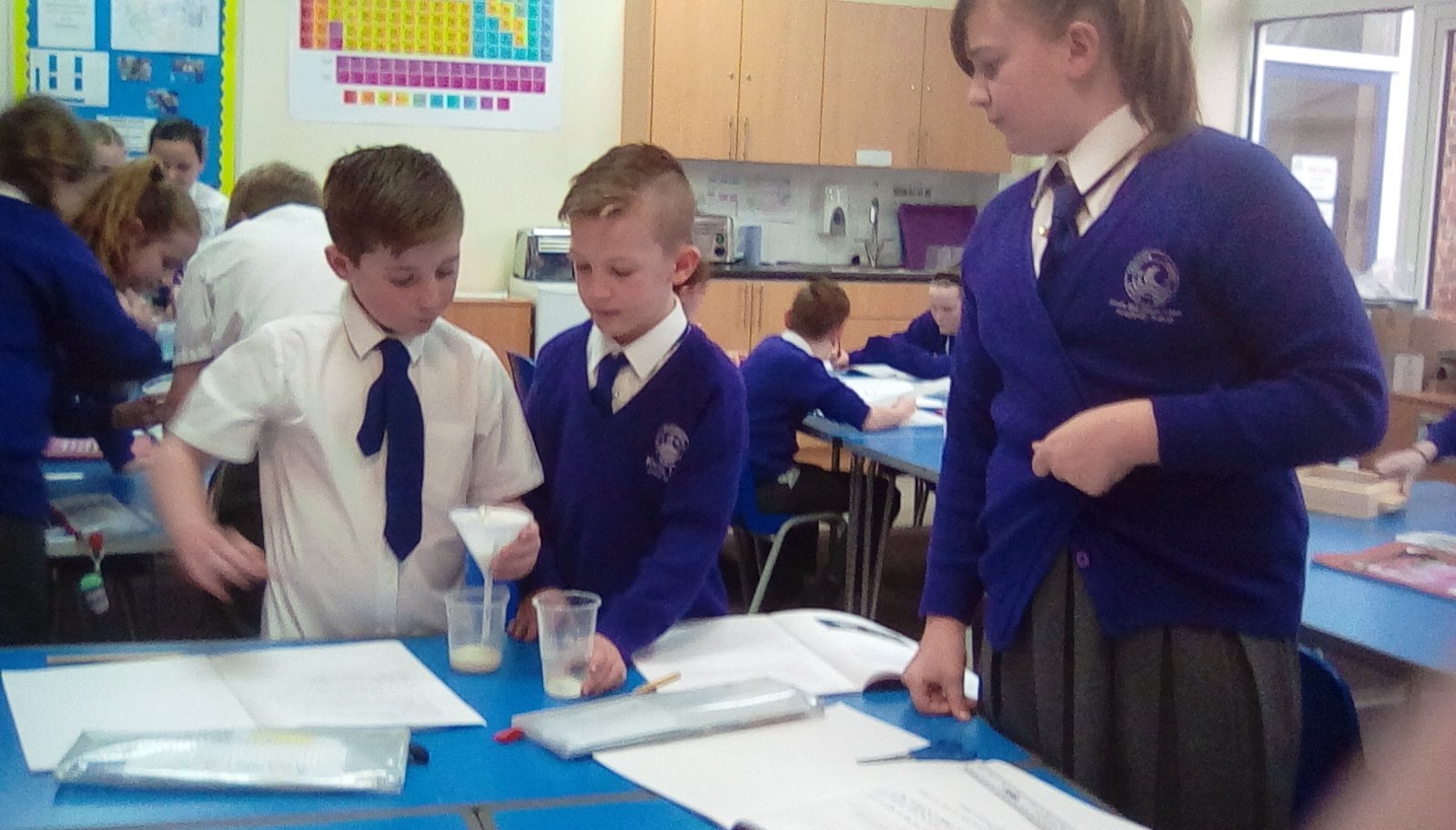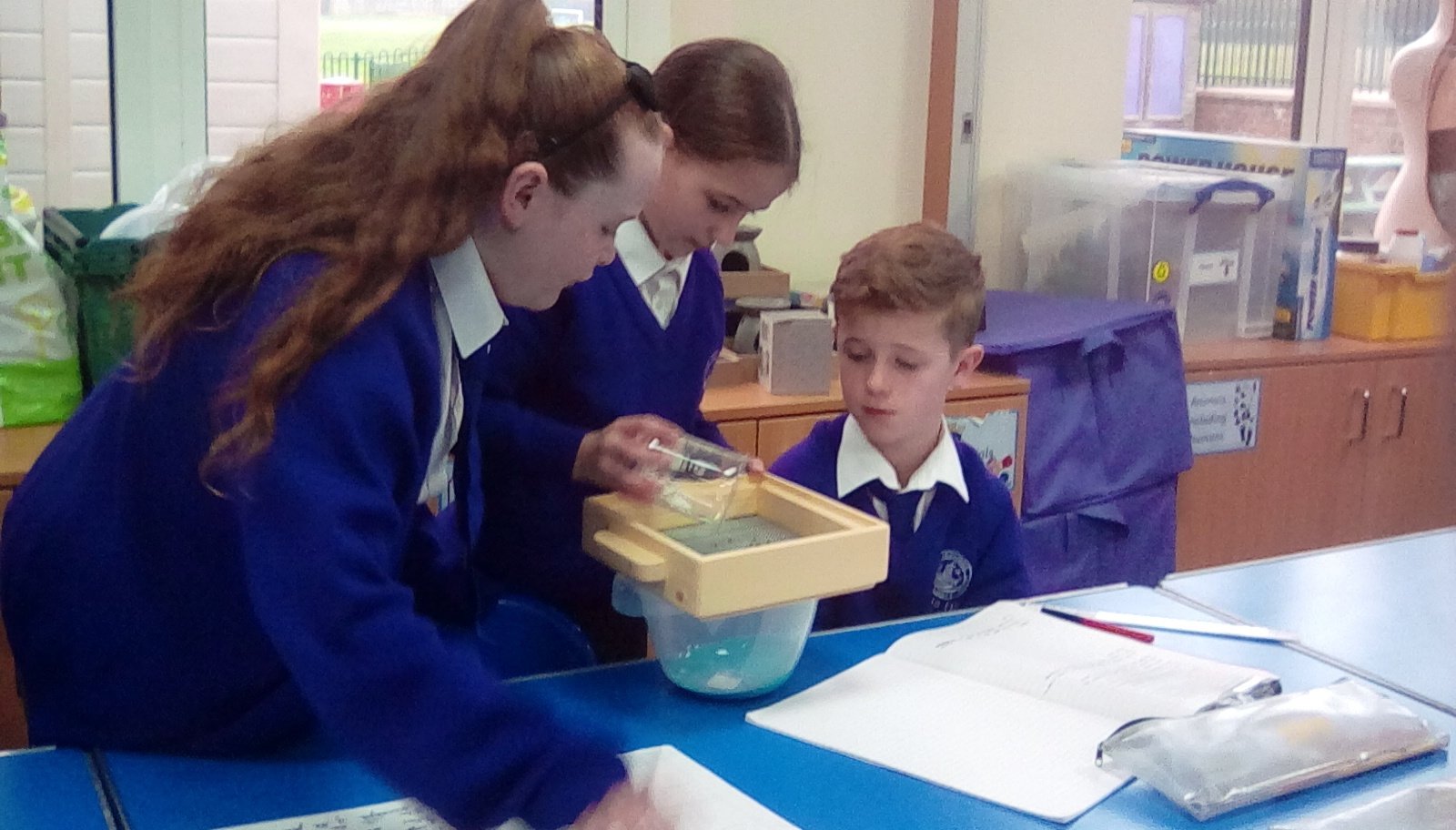 Week beginning 09.03.2020
This week, Year 5 continued their journey to becoming entrepreneurs whilst studying our topic. They created their own jingles using the program Scratch, developing their editing skills as part of computing. A fantastic display of imagination was shown in creating their short, catchy slogans as part of the jingle. In addition, they applied their knowledge of David Walliams, an entrepreneur that they are familiar with, from their reading lessons to writing to inform. Using subheadings, relative clauses to add information and enhancing cohesion through the use of fronted adverbials, the children produced fantastic biographies about David Walliams. Well done!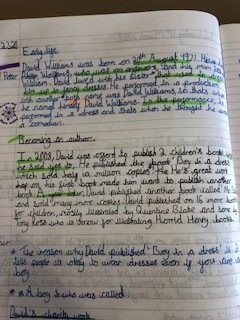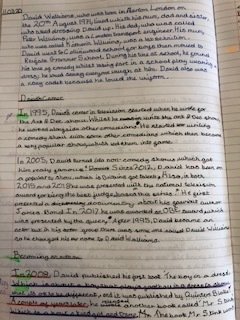 Week beginning 24.02.2020
During the first week of Spring 2, Year 5 built on their understanding of business and enterprise, learning about revenue, costs and profit. They applied cross curricular statistical skills whilst interpreting a company's success showing profit made each year, which was then plotted on a line graph. Confidently, the children were able to explain that if a company made profit, it was successful whilst also understood that costs could sometimes outweigh revenue, resulting in potential loss. As a continuation of their journey to becoming Entrepreneurs, they sold cakes, personalised with their logos. Following the design process of the decoration of the cakes, the children produced cross-sectional diagrams and developed piping skills within D and T. As a result, the children will be able to calculate profit, using their understanding of revenue and costs. Some fantastic displays of imagination and lots of business sense have been showcased – great job Year 5!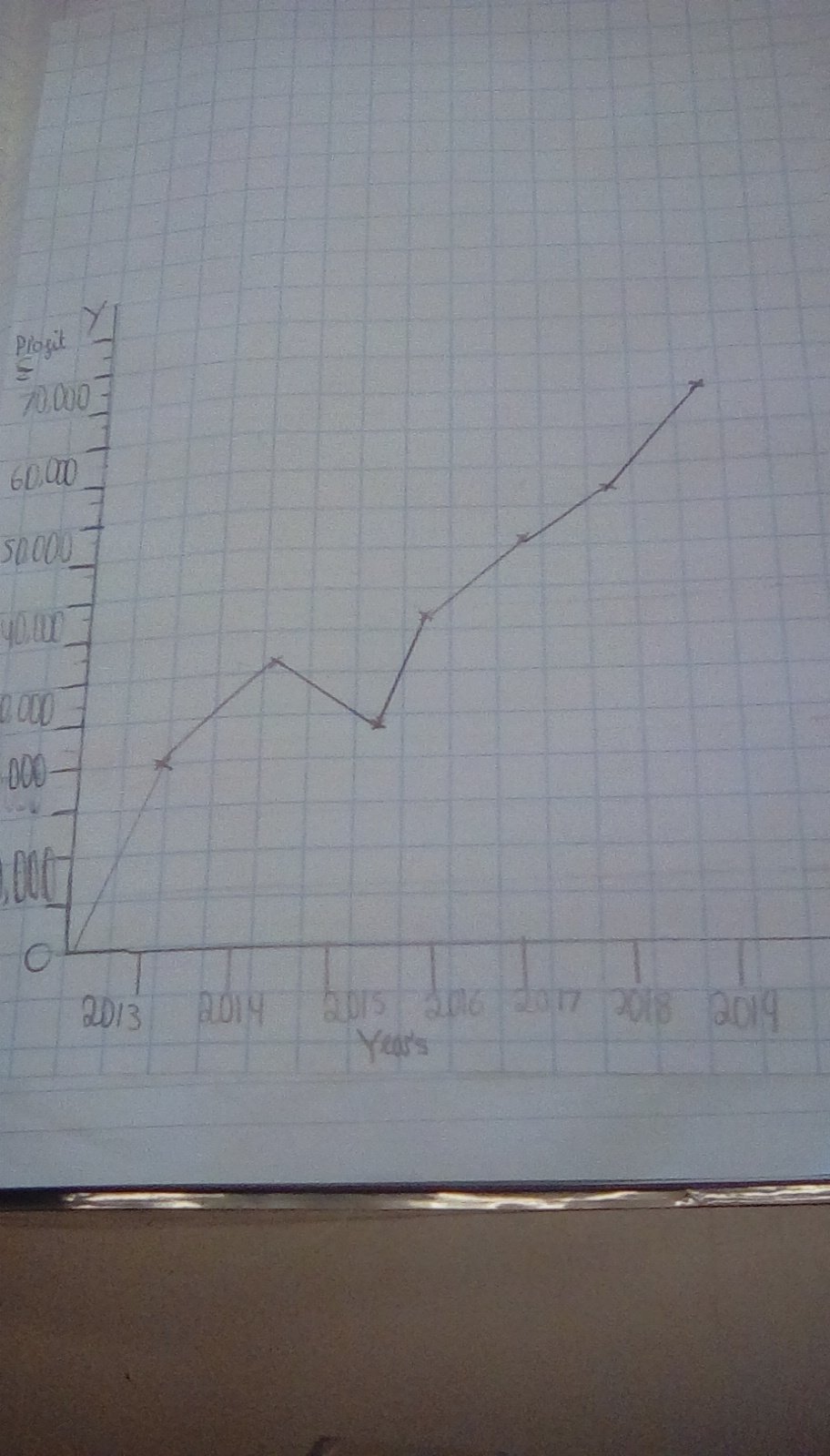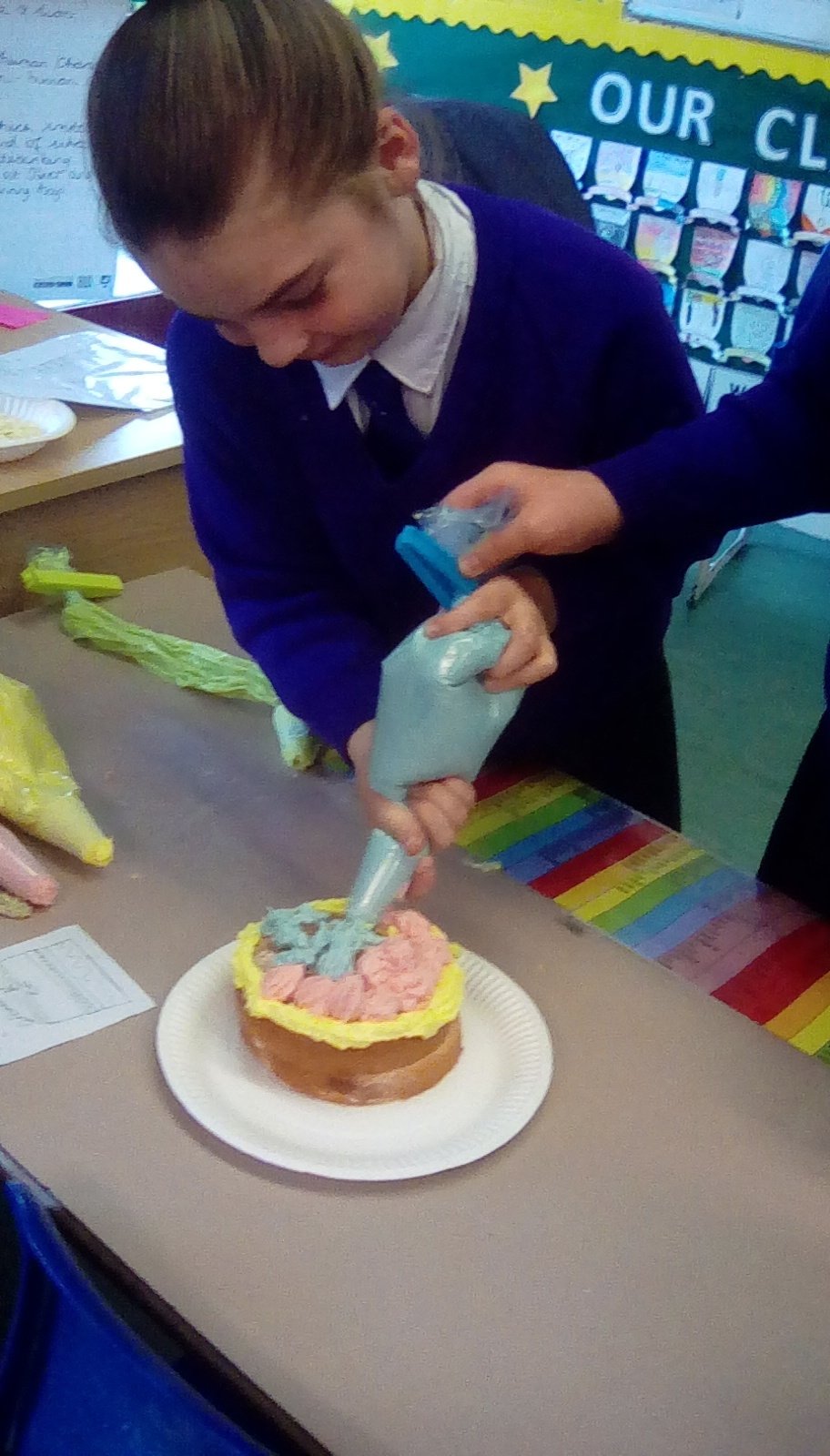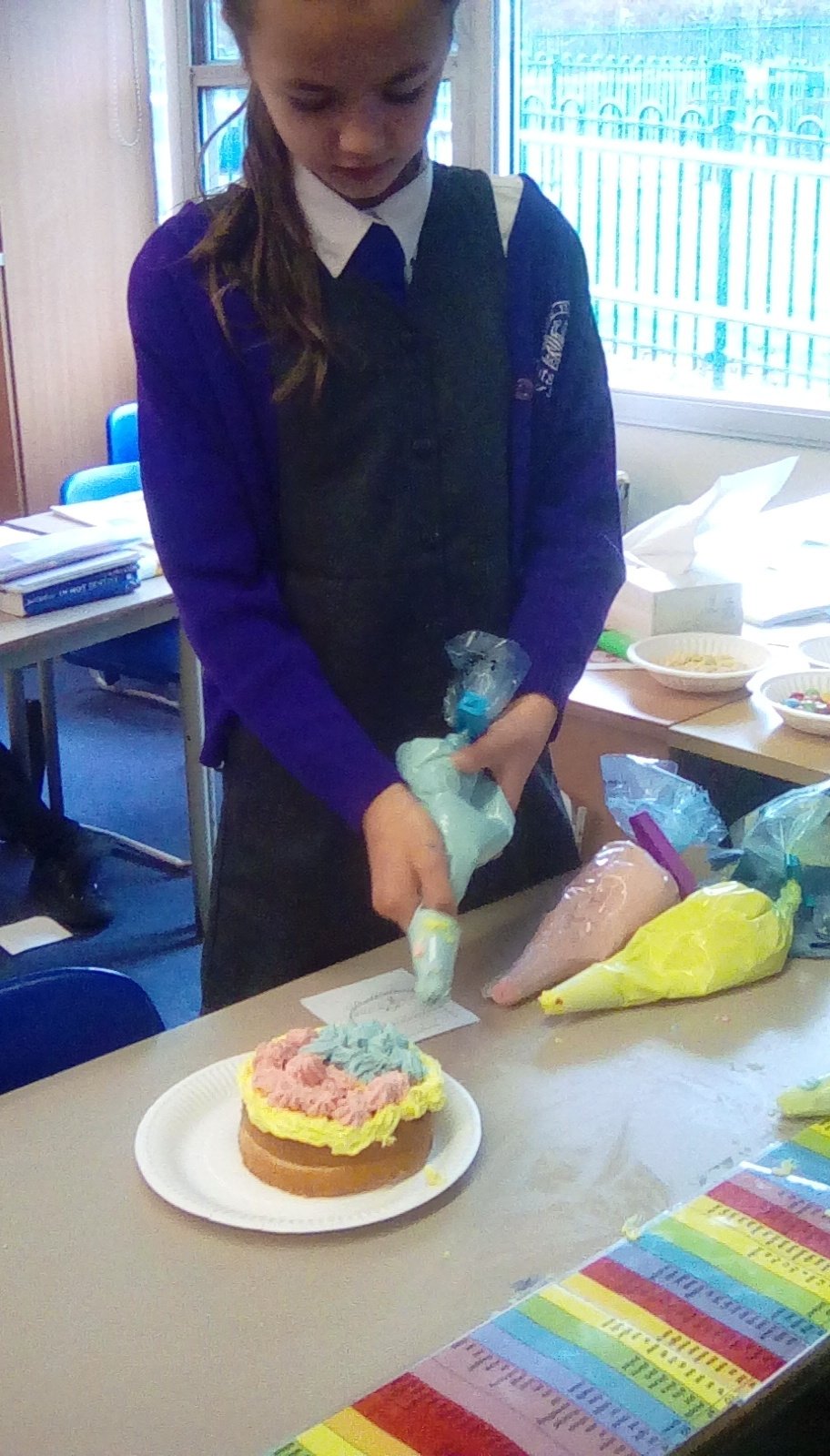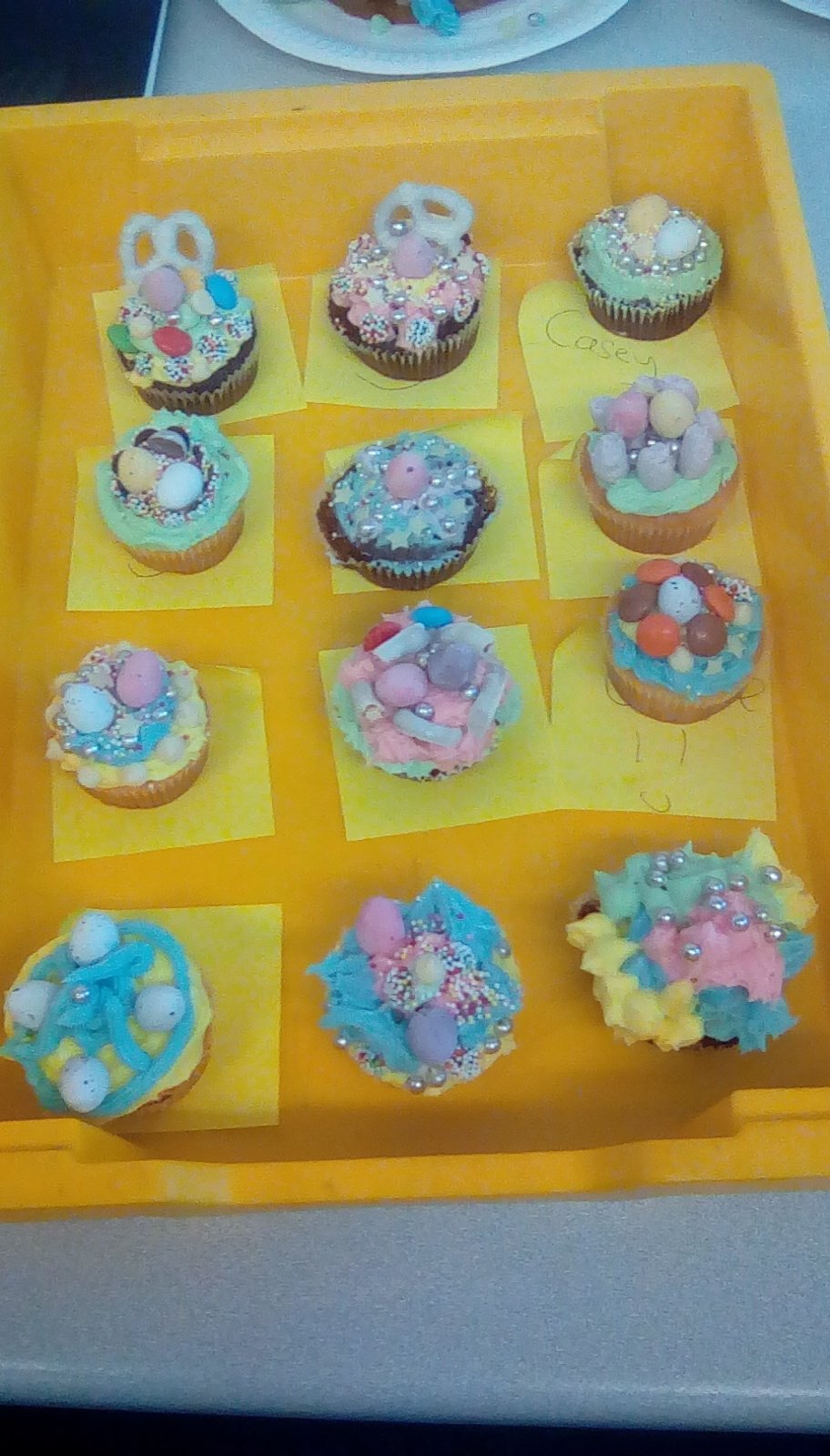 Week beginning 10.02.2020
This week in Year 5, the children have written to entertain during our writing sessions. The book Oliver Twist was used to inspire a narrative, including fronted adverbials and figurative language such as personification and similes, to create detailed settings. This led on from our learning about child labour, which Oliver Twist links too. In addition, they became artists whilst producing their own versions of Van Gogh's 'Starry night'. Application of skills such as mixing colours to create different tones, as well as sketching and evaluating, added to some wonderful pieces of art work. Some real artistic flair has been demonstrated! Lastly, we competed in houses, using our knowledge of spellings to battle against each other in the Spelling Bee!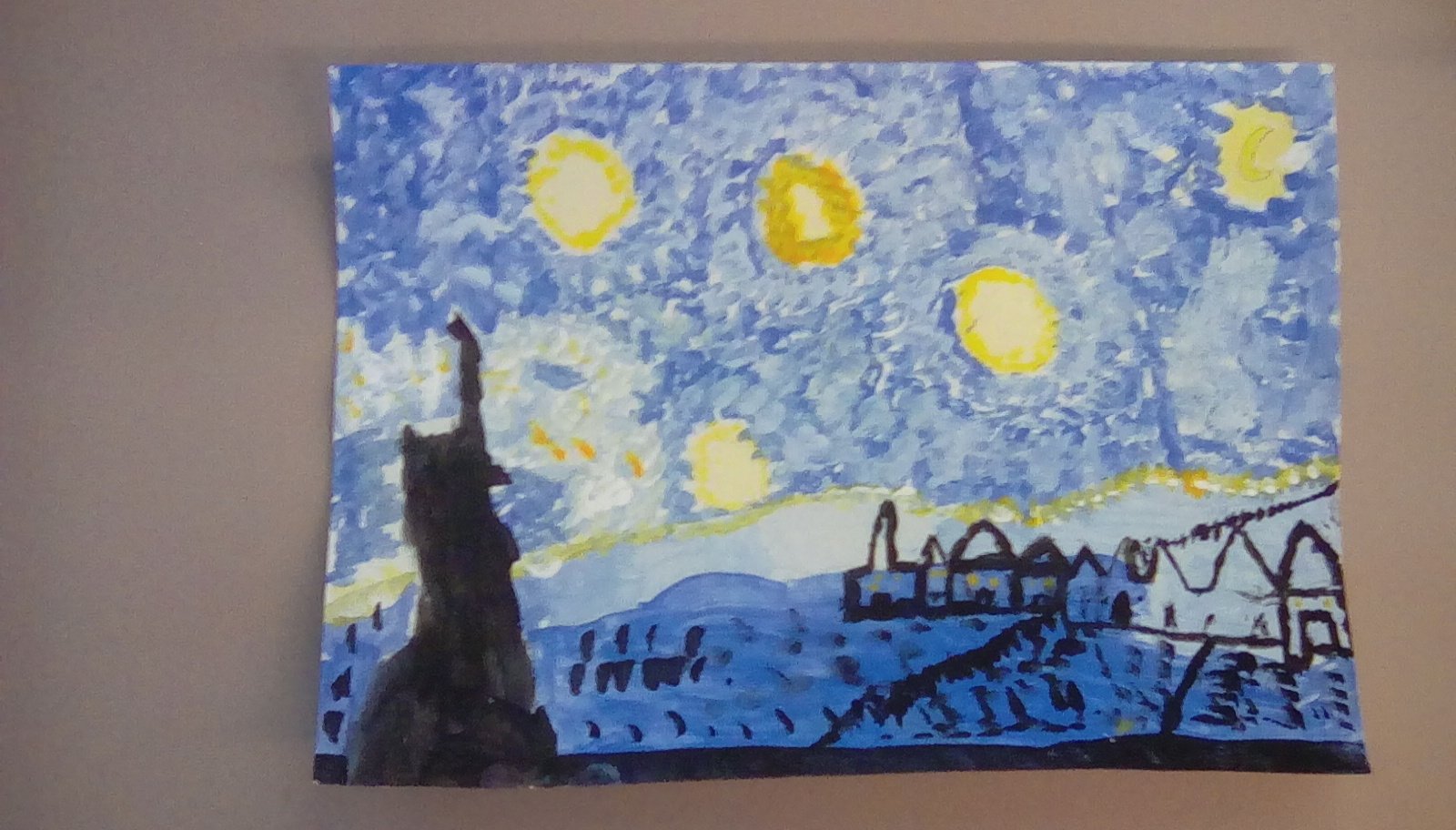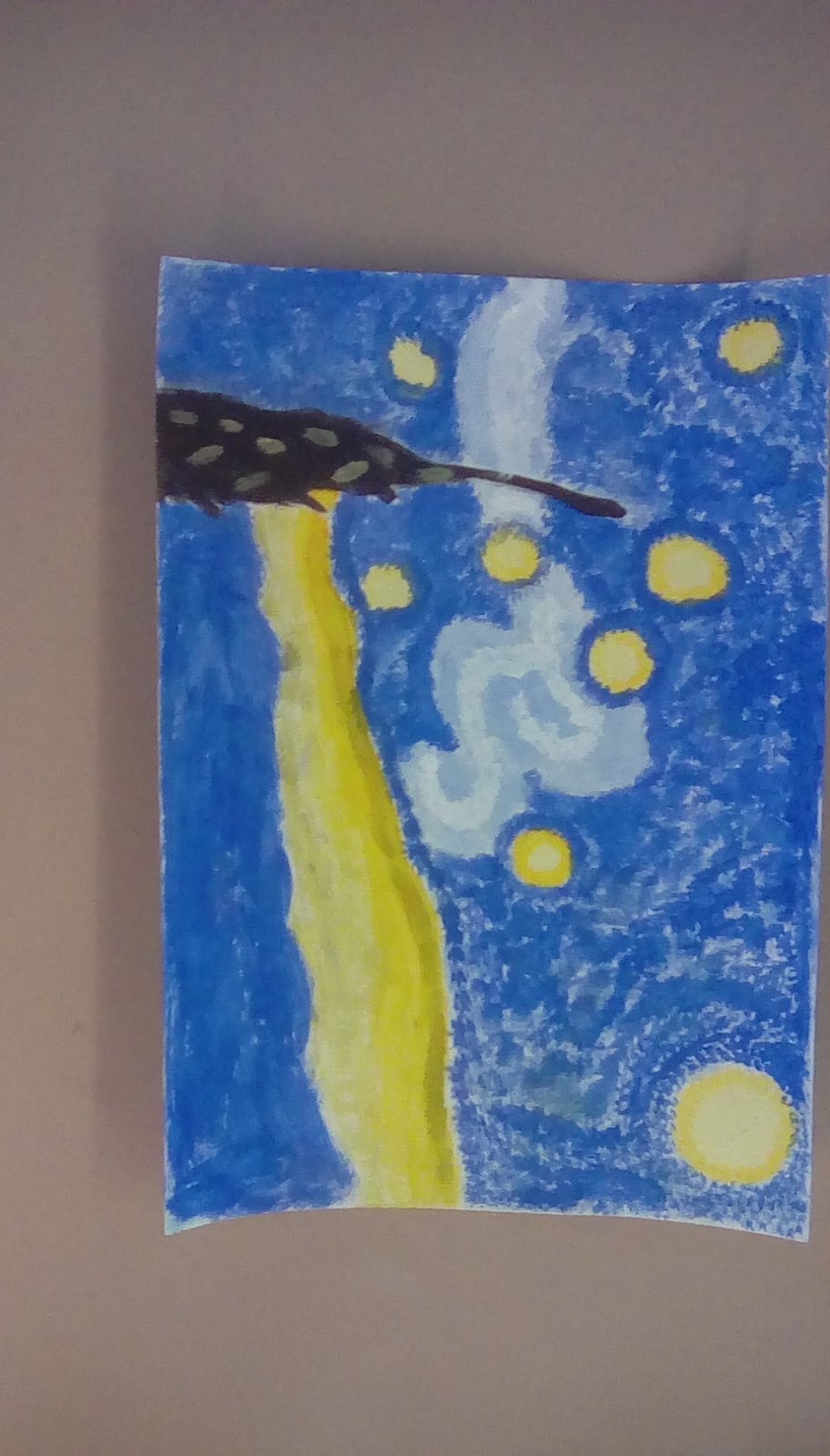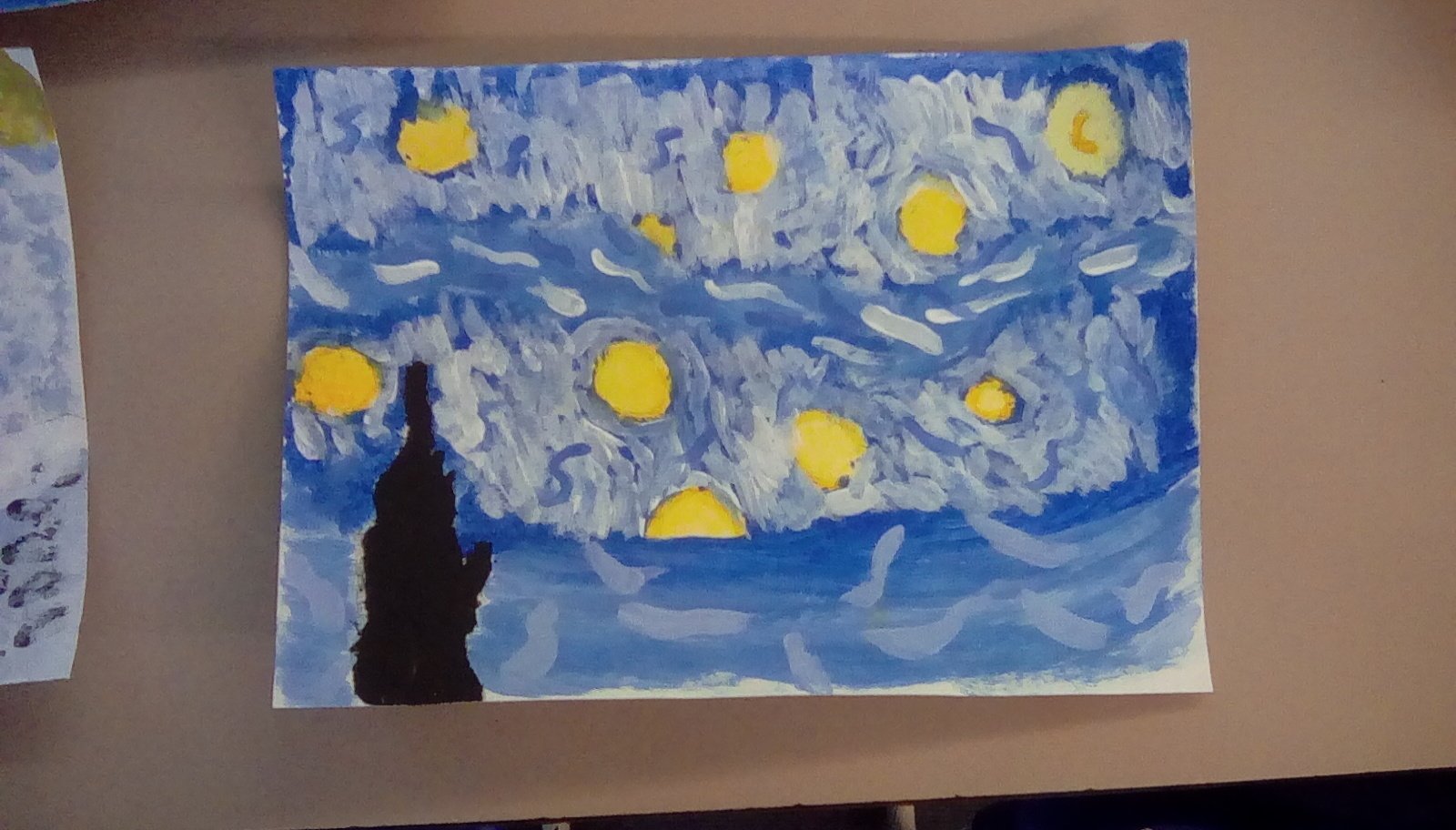 Week beginning 03.02.2020
This week in Year 5, the children have developed their enquiry skills within Science. Following the previous lesson in which they experimented testing the solubility of materials, they then developed their own lines of enquiry. Some of these included 'does temperature affect the rate at which a material dissolves?', 'Does volume of the solvent affect solubility?' as well as testing different materials and using a range of equipment selected by themselves. They have really enjoyed regularly using the science lab, especially wearing the lab coats! In addition, they developed their understanding of shape and nets of 3D shapes during our cross-curricular maths. A great deal of perseverance was shown in creating complex shapes from a variety of nets, which could be used to package products (linking to the topic of Business and Enterprise). As well as that, they wrote to inform in the Free Write, demonstrating skills such as fronted adverbials for cohesion, as well as expanded noun phrase for detail, in their diary entries/newspaper reports about Oliver Twist. Well done Year 5!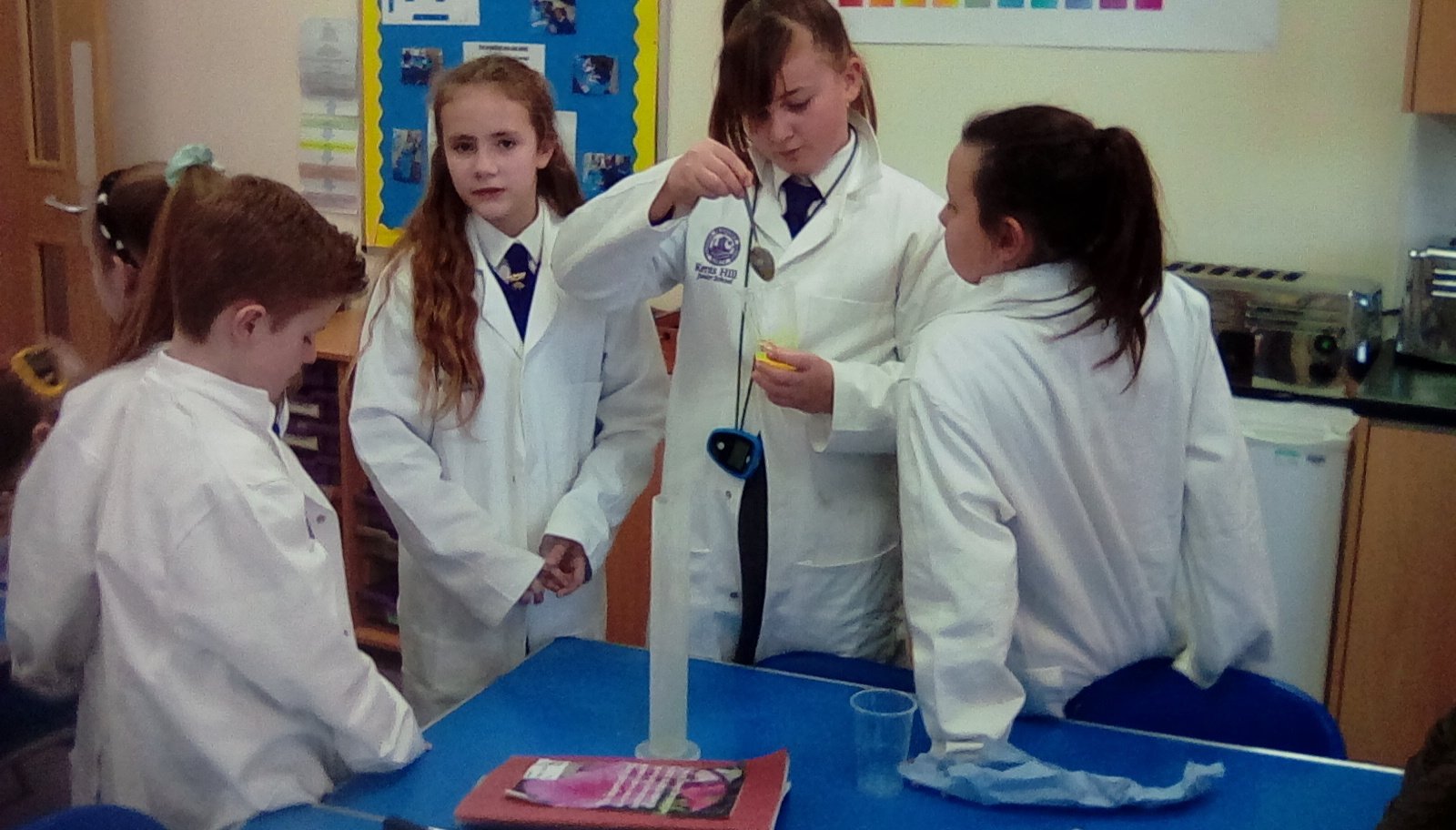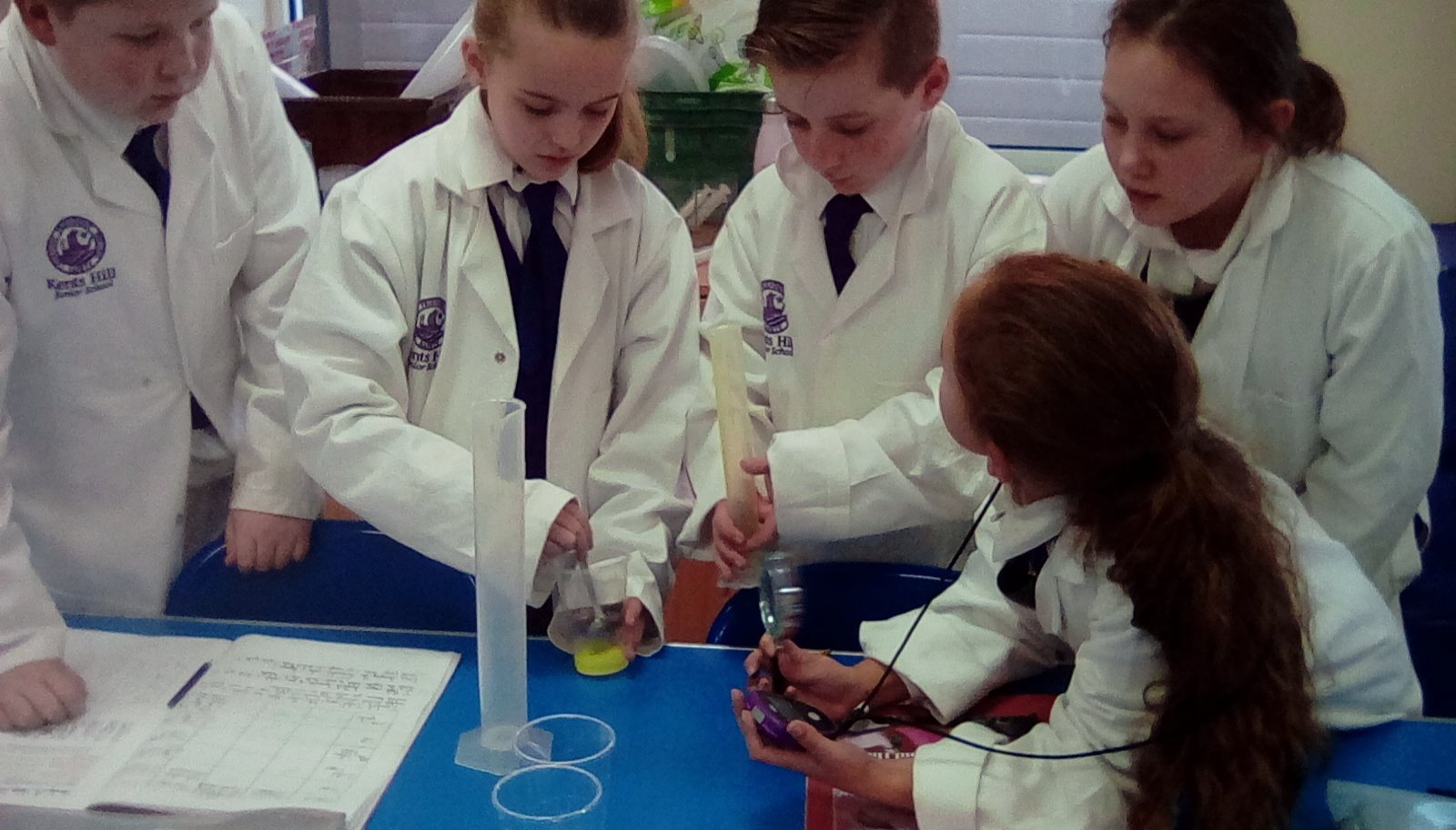 Week beginning 27.01.2020
This week in Year 5, the children have developed their understanding of advertising, learning about technicalities of the World Wide Web as part of the computing curriculum, as well as how the World Wide Web can be used to help build a business. Following this, they developed their own logos to personalise products of their own in art. A fantastic display of artistic excellence, demonstrating evaluative skill as well as imagination!
Excitingly, they were able to use Now>Press>Play as part of PSHE. As usual, the children immersed themselves in the experience, relating to characters such as Danny, who had a disability, as well as learning about Young Carers. After this, they reflected on the experiences that Danny had at secondary school, considering the impact on his wellbeing and school experience. Collectively, the children shared the view that differences should be celebrated and emphasised the notion that everyone is unique.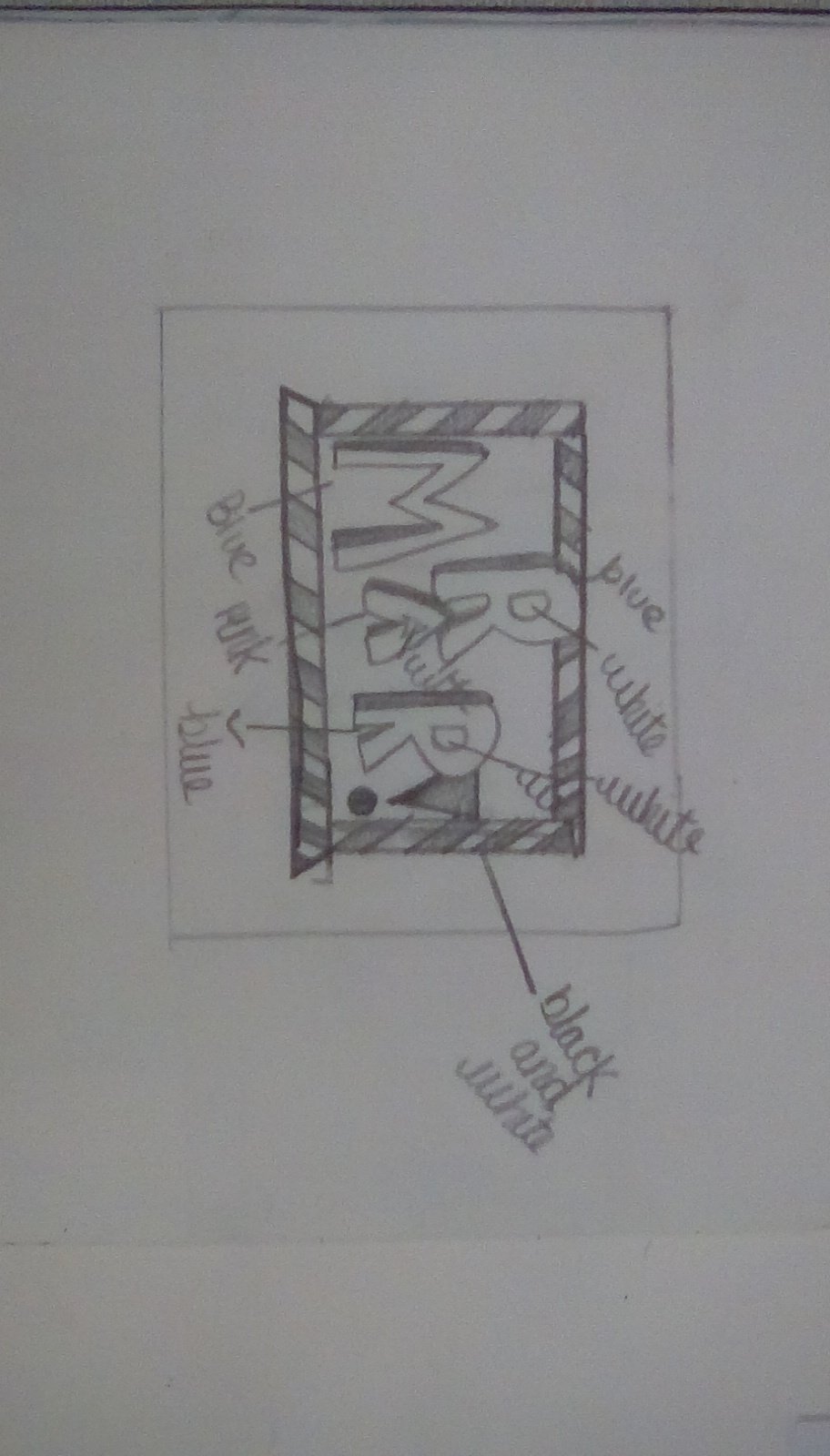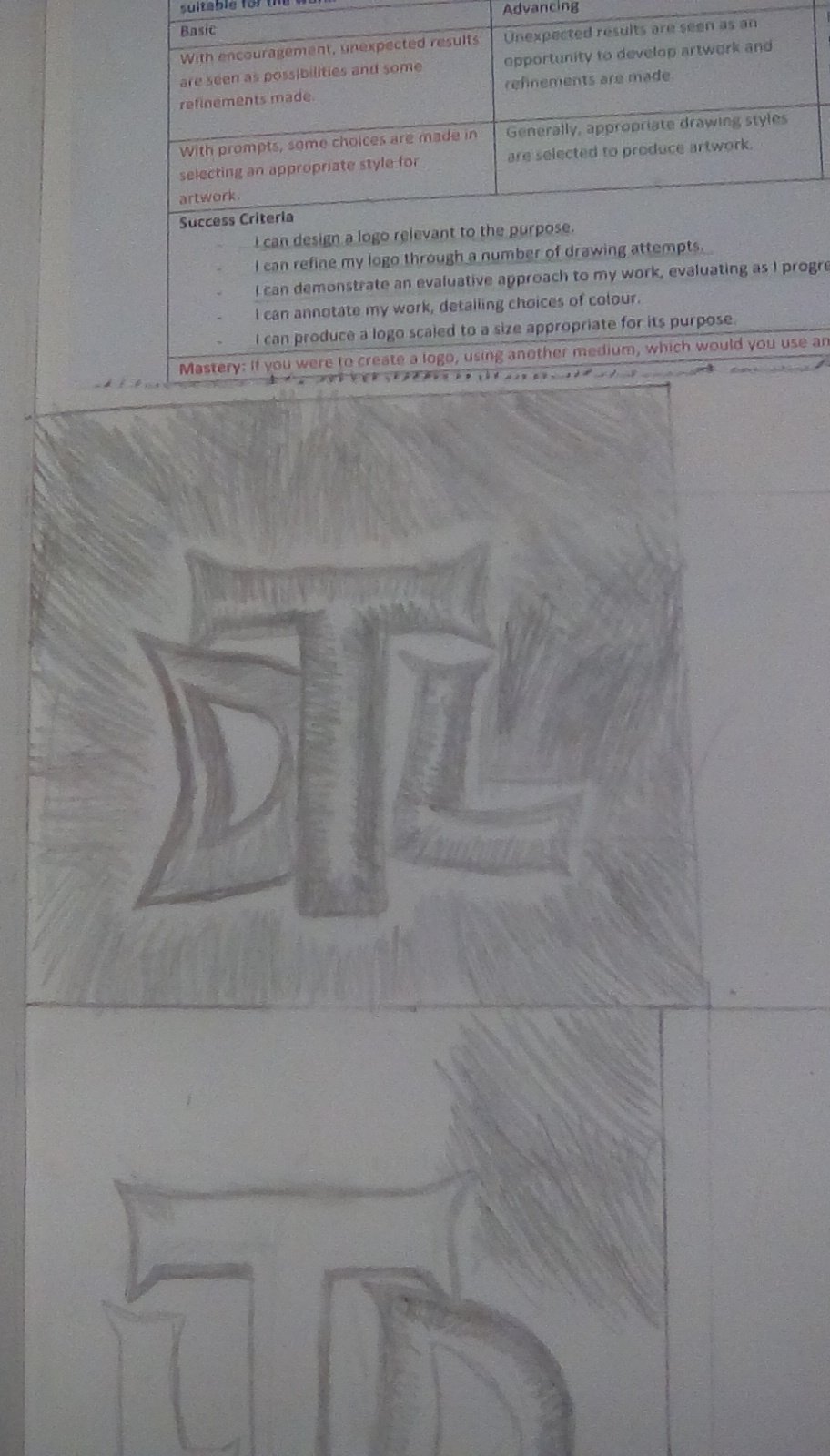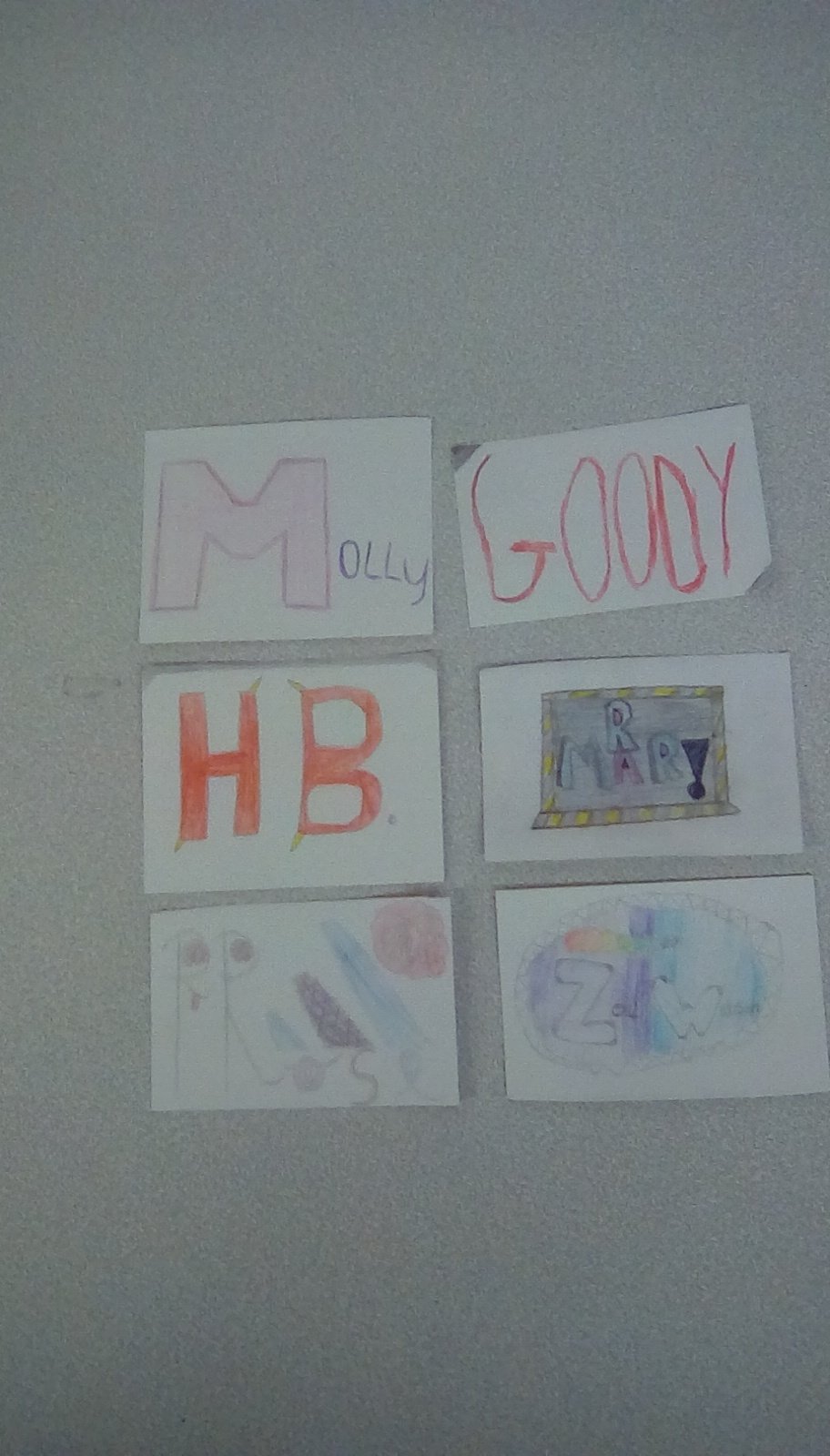 Week beginning 20.01.2020
In Year 5 this week, the children have begun learning about child labour in the context of business and enterprise. So far, they have read a few chapters of our topic book, Oliver Twist, and were able to understand that initially, poor Oliver lived and worked in a workhouse. They have continued to further their learning about Victorian Britain, in which children as young as 5 worked in coal mines and children their age sometimes worked from 5.30am until 8pm in terrible conditions. Following this, they expanded their knowledge of the world in geography, using atlases to locate countries to depict on their maps, which countries still use child labour today. Applying all of this fantastic learning, the produced a write 'to discuss' about whether they think child labour is right or not. A mature, empathetic attitude has been shown by many children, who now appreciate their school day in comparison to a working day in Victorian times or in some countries around the globe today!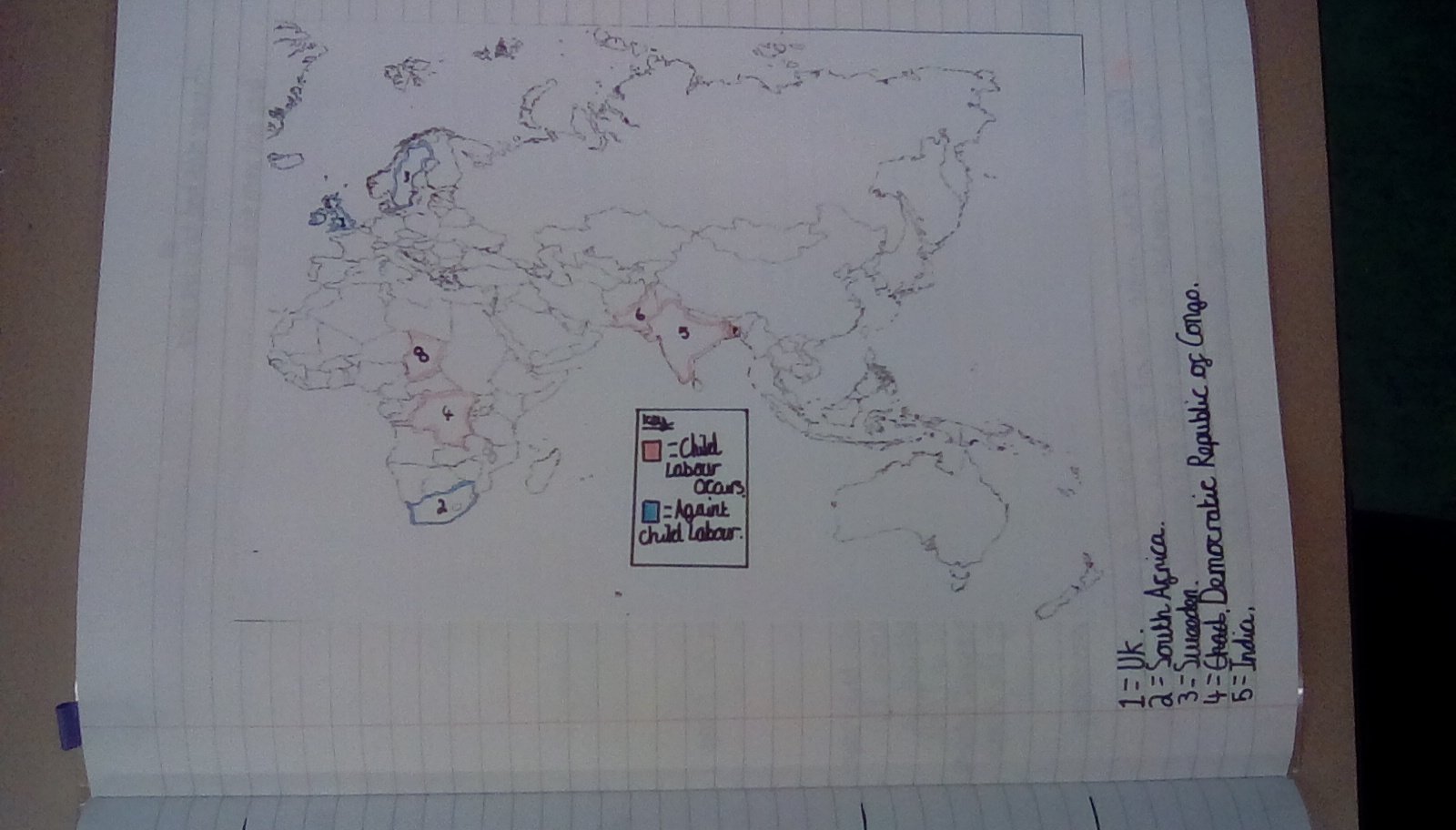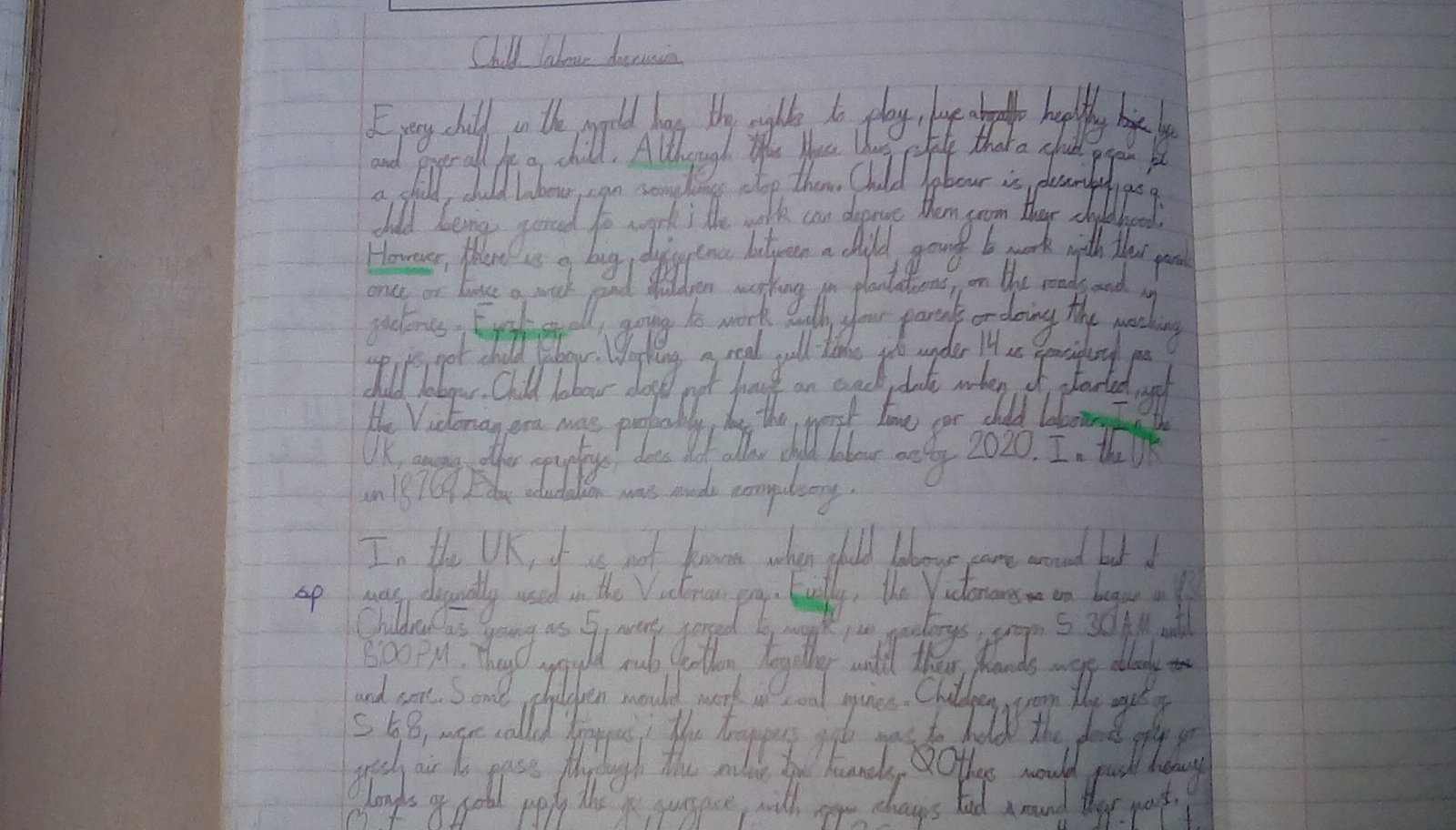 Week beginning 13.01.2020
This week in Year 5, the children have begun to apply their knowledge gathered on our business and enterprise day, to their work in class. They are able to explain what an Entrepreneur is, along with the understanding that anyone can create their own business, no matter neither which country they are from, nor their background. The children learnt about famous entrepreneurs such as Walt Disney, CoCo Chanel, David Walliams and Richard Branson. Using knowledge of multiplication and division, they were able to convert currencies so that to solve problems regarding goods being sold in Europe and the USA by David Walliams. On top of our cross curricular lessons, Year 5 began learning about properties of materials in science, and some lucky classes even used the newly created Science room.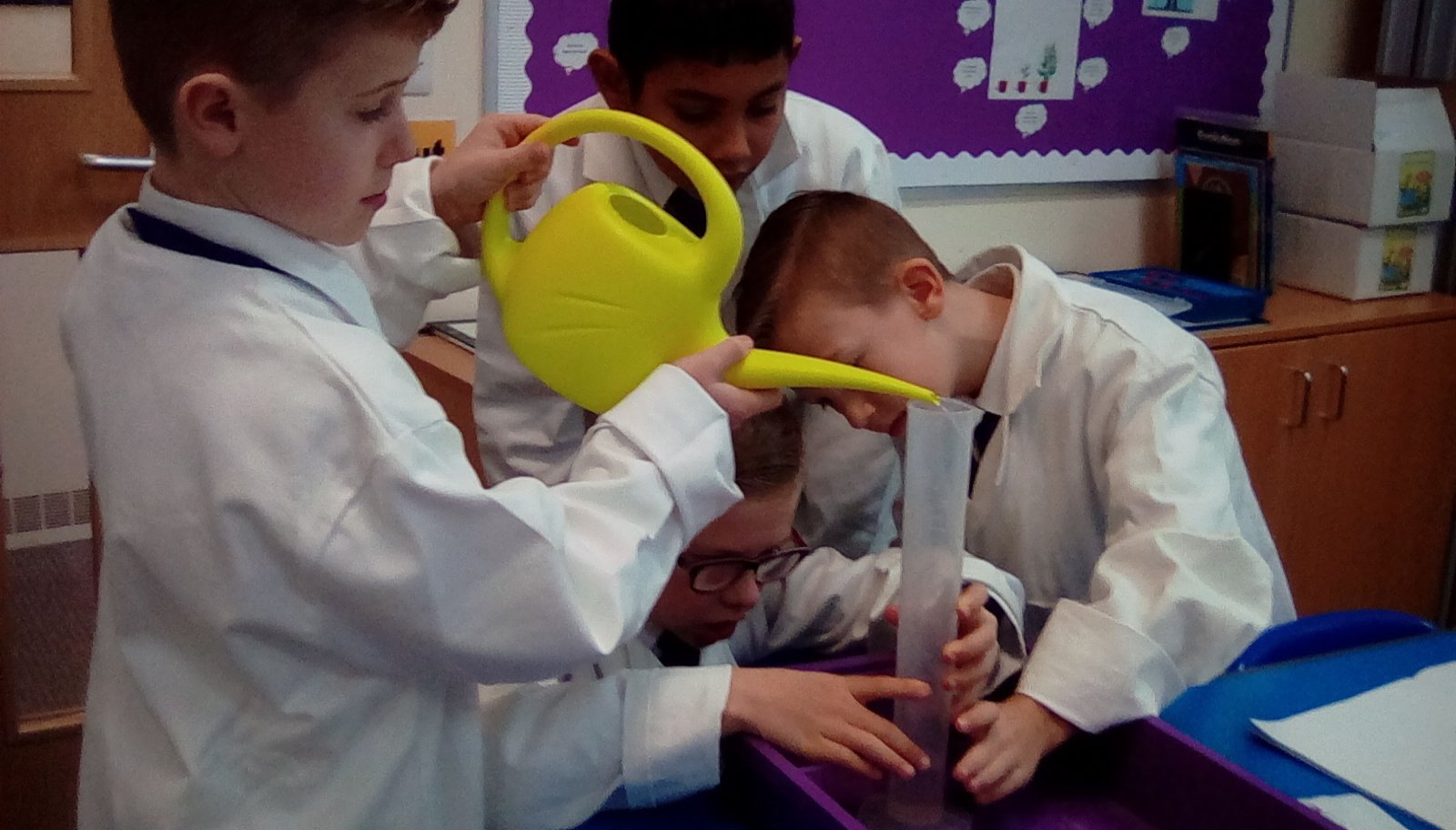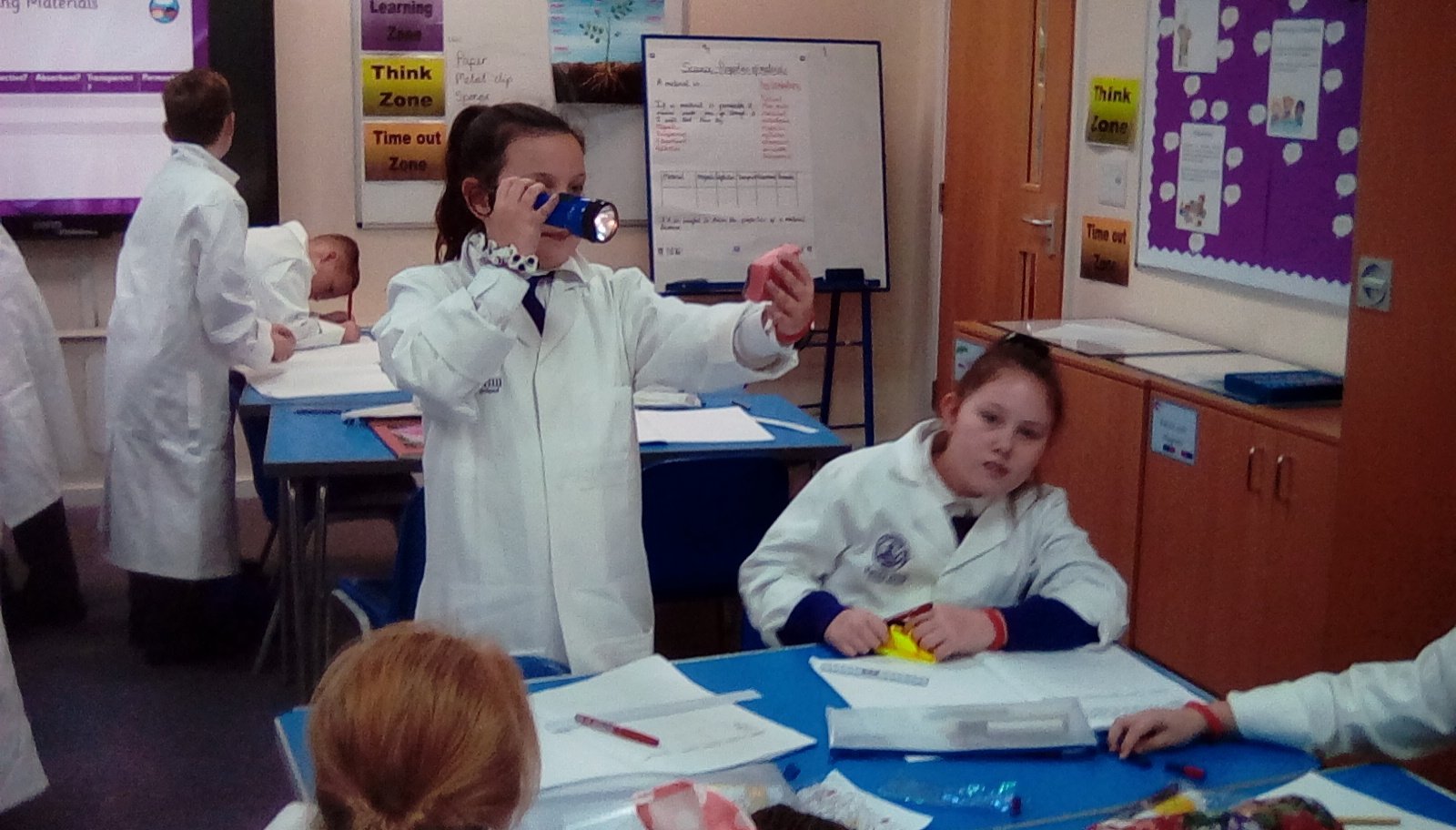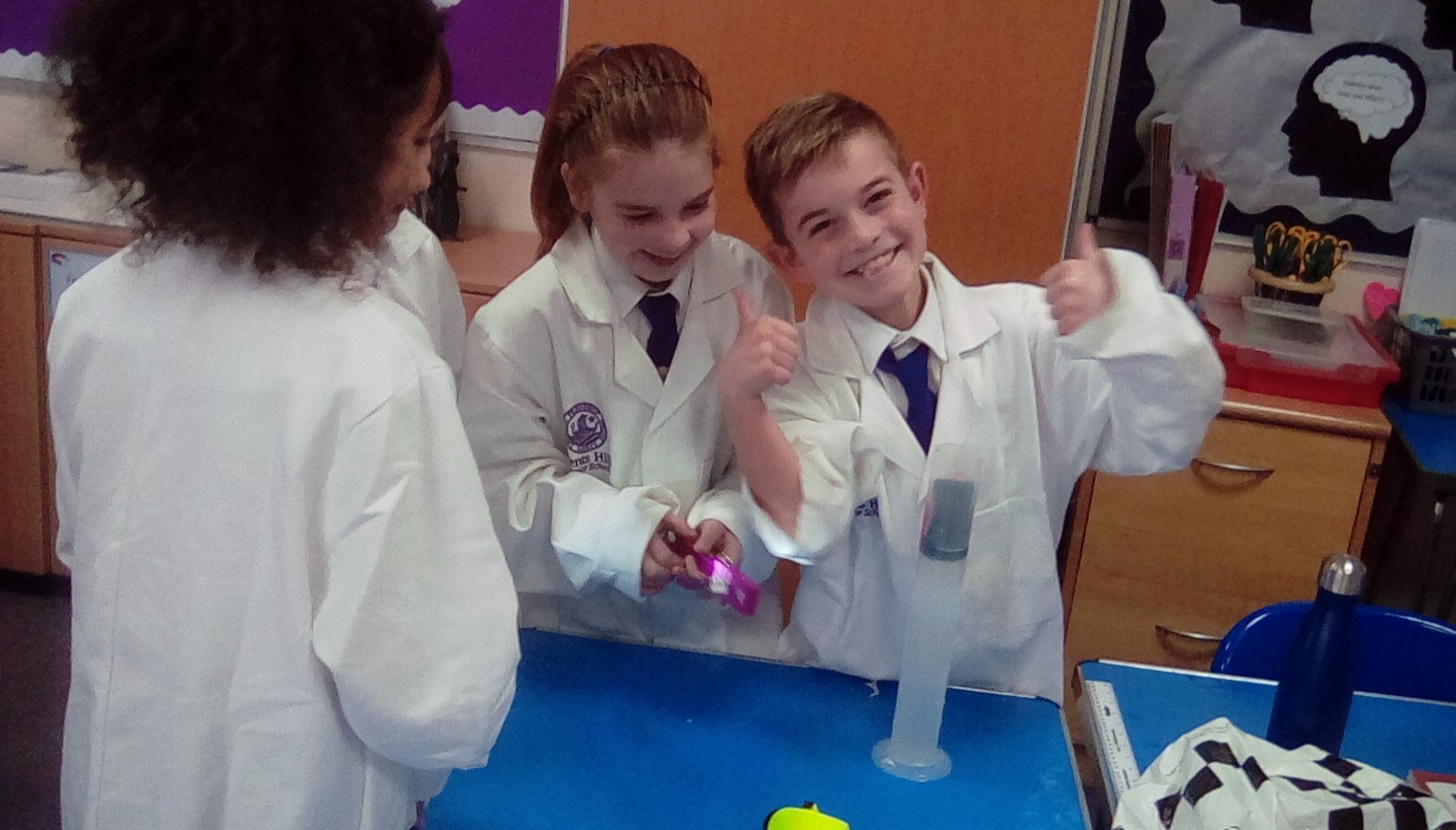 Week beginning 08.01.2020
This week upon the children's return to school, they have begun to learn about their new topic – Business and Enterprise. To hook them into their new topic, the children have had the opportunity to meet a range of professionals in different careers! It has been fantastic to see the children thriving whilst researching and learning about a range of jobs, helping them to consider what they may like to do when they're older. Impressively, the Year 5's showed critical thinking skills as well as a genuine interest in the questions they asked the professionals. Excitingly, the children got to meet officers from the Police Firearms Unit, as well as a Scientist, training expert in the computing industry, publicist in the music industry and a homeless officer as well other interesting roles. A huge thank you again to the parents who volunteered that they were able to help educate our young people. A super week to start off our Spring term – well done Year 5.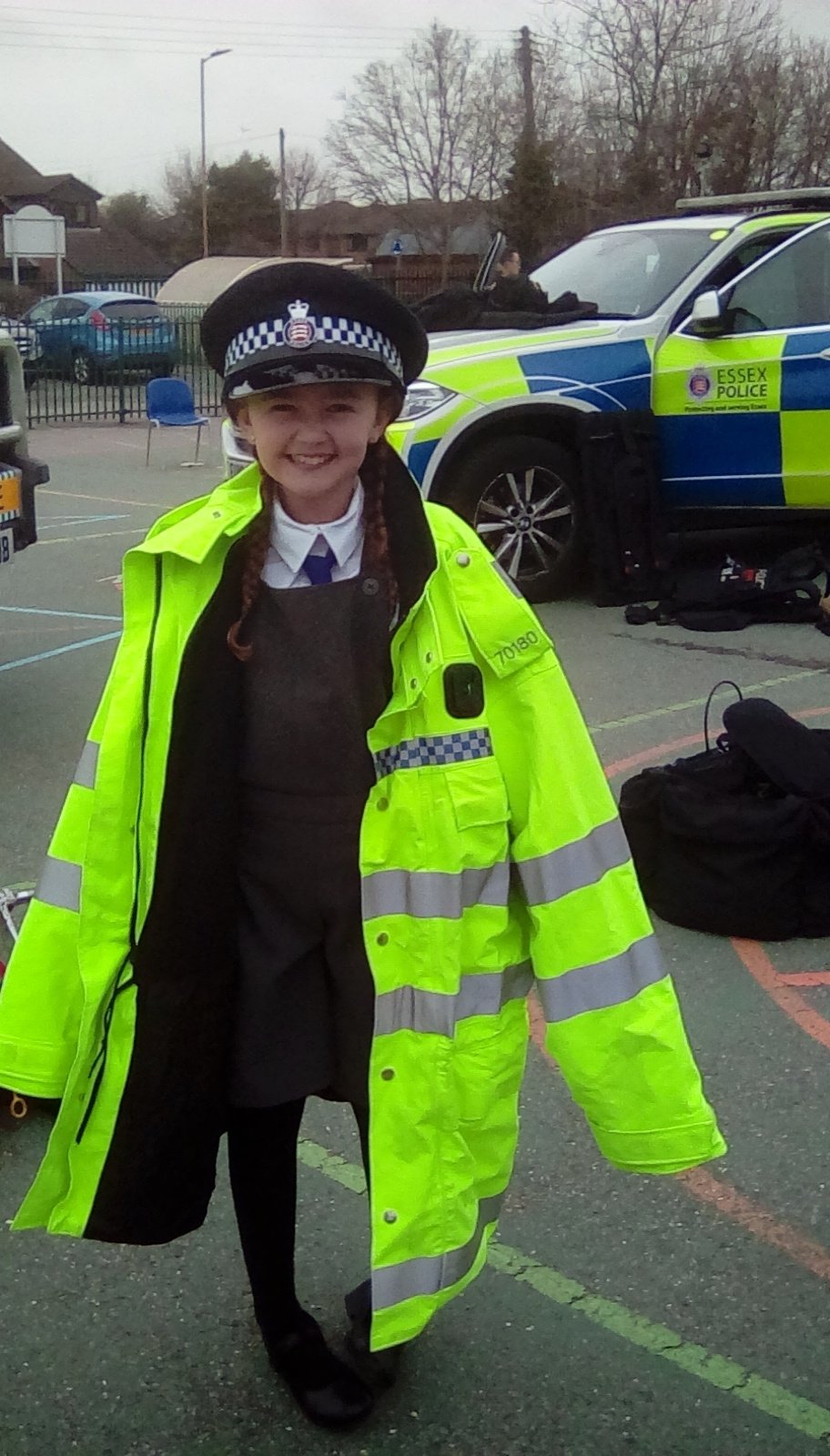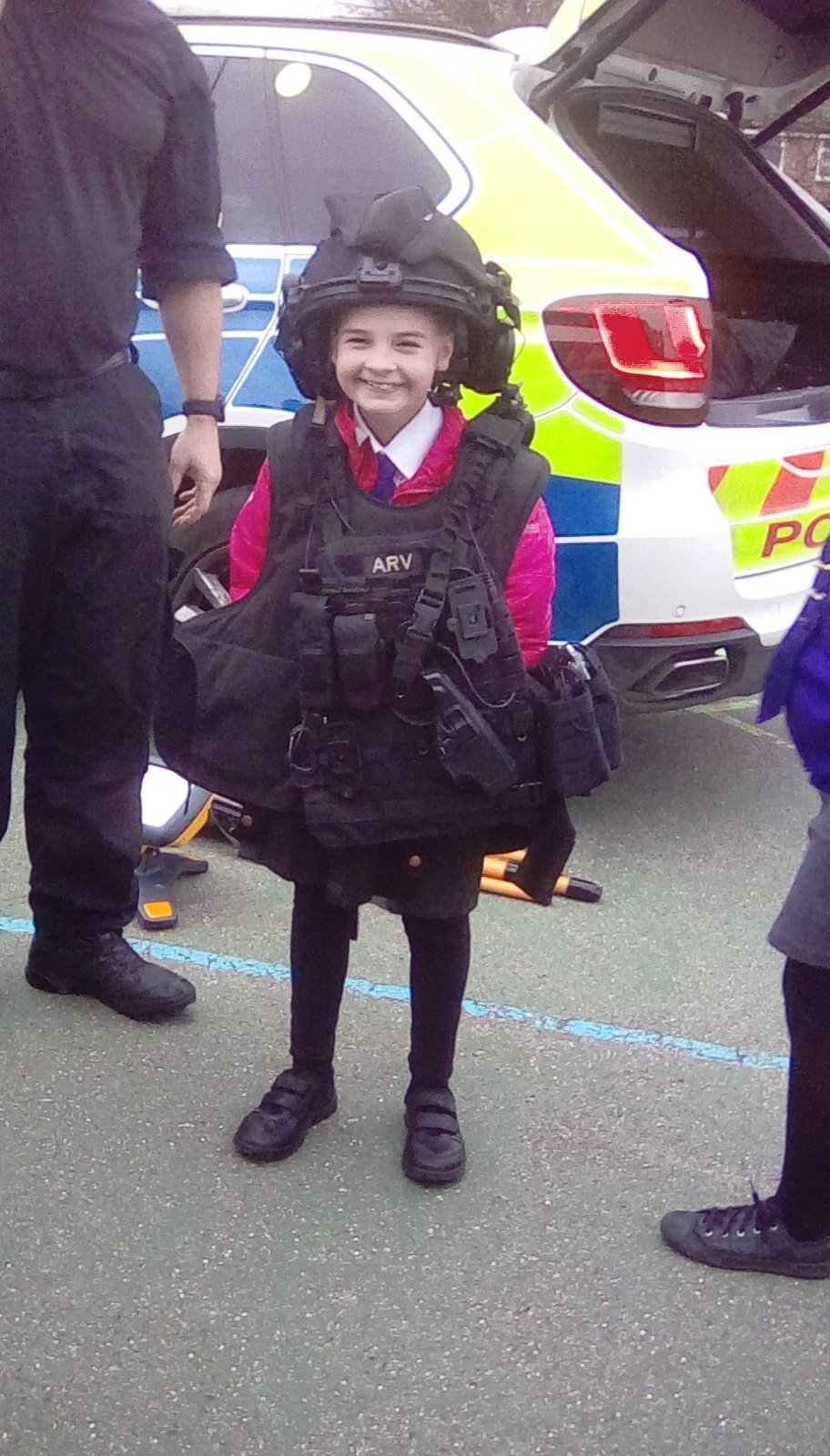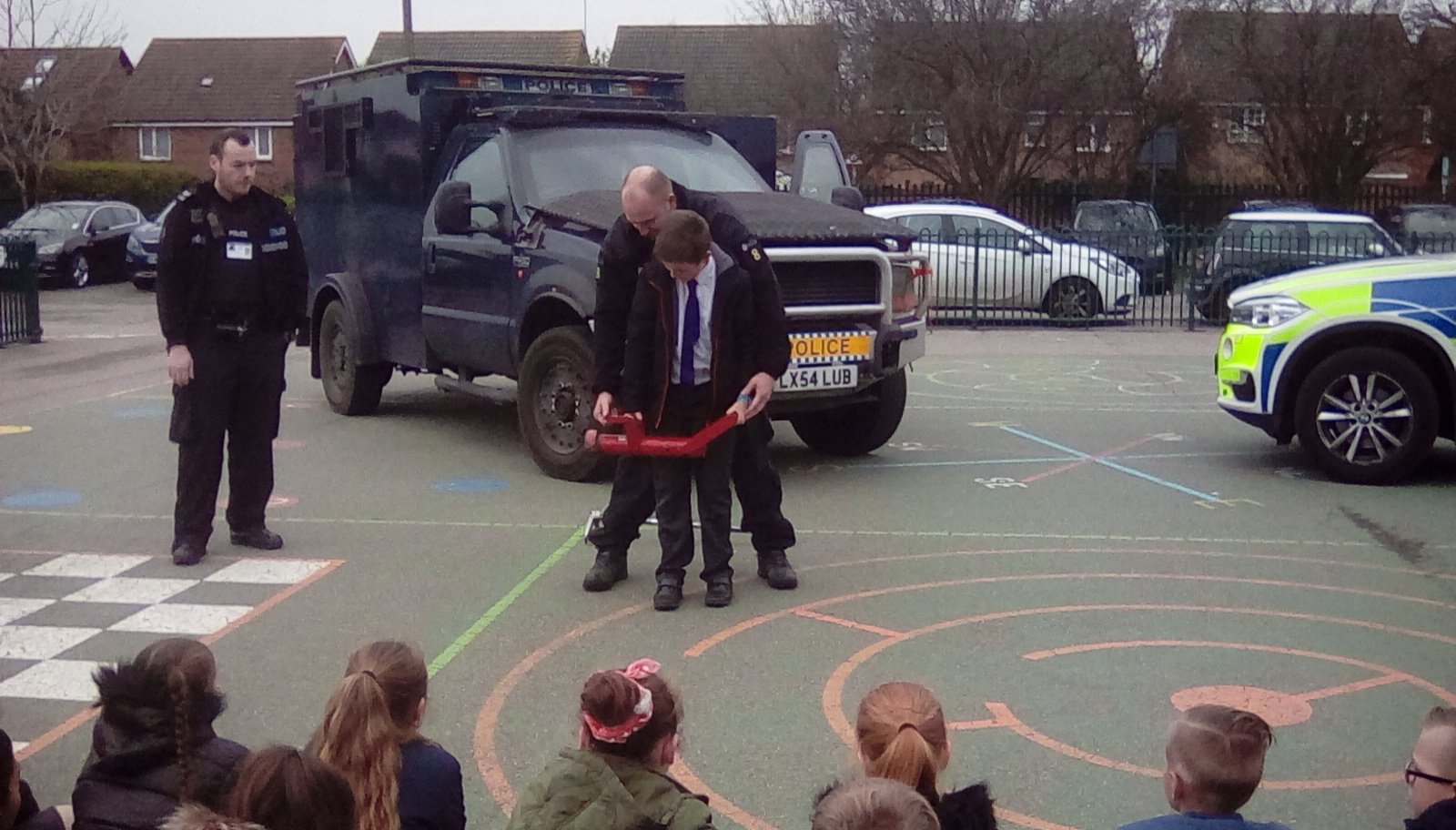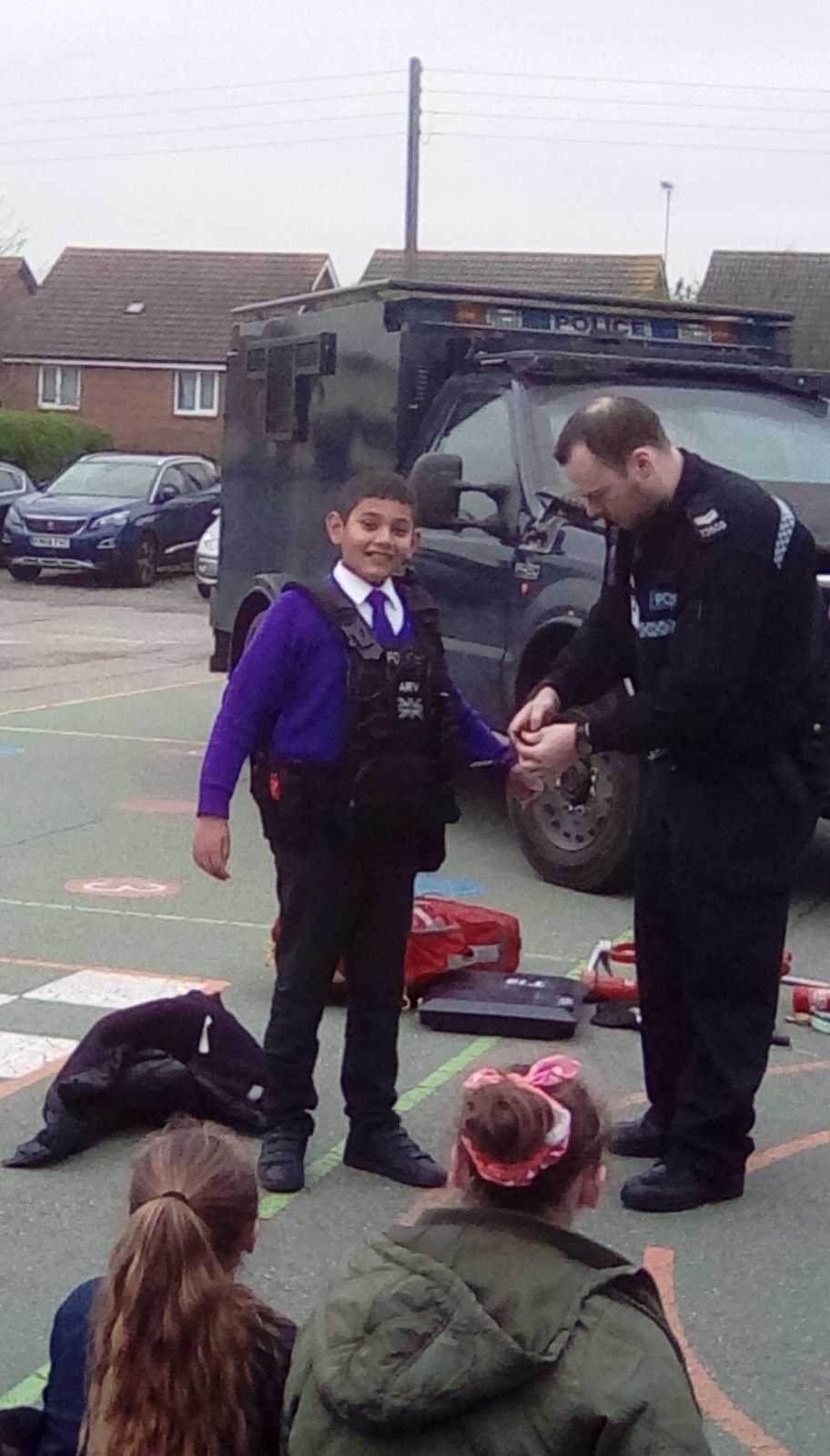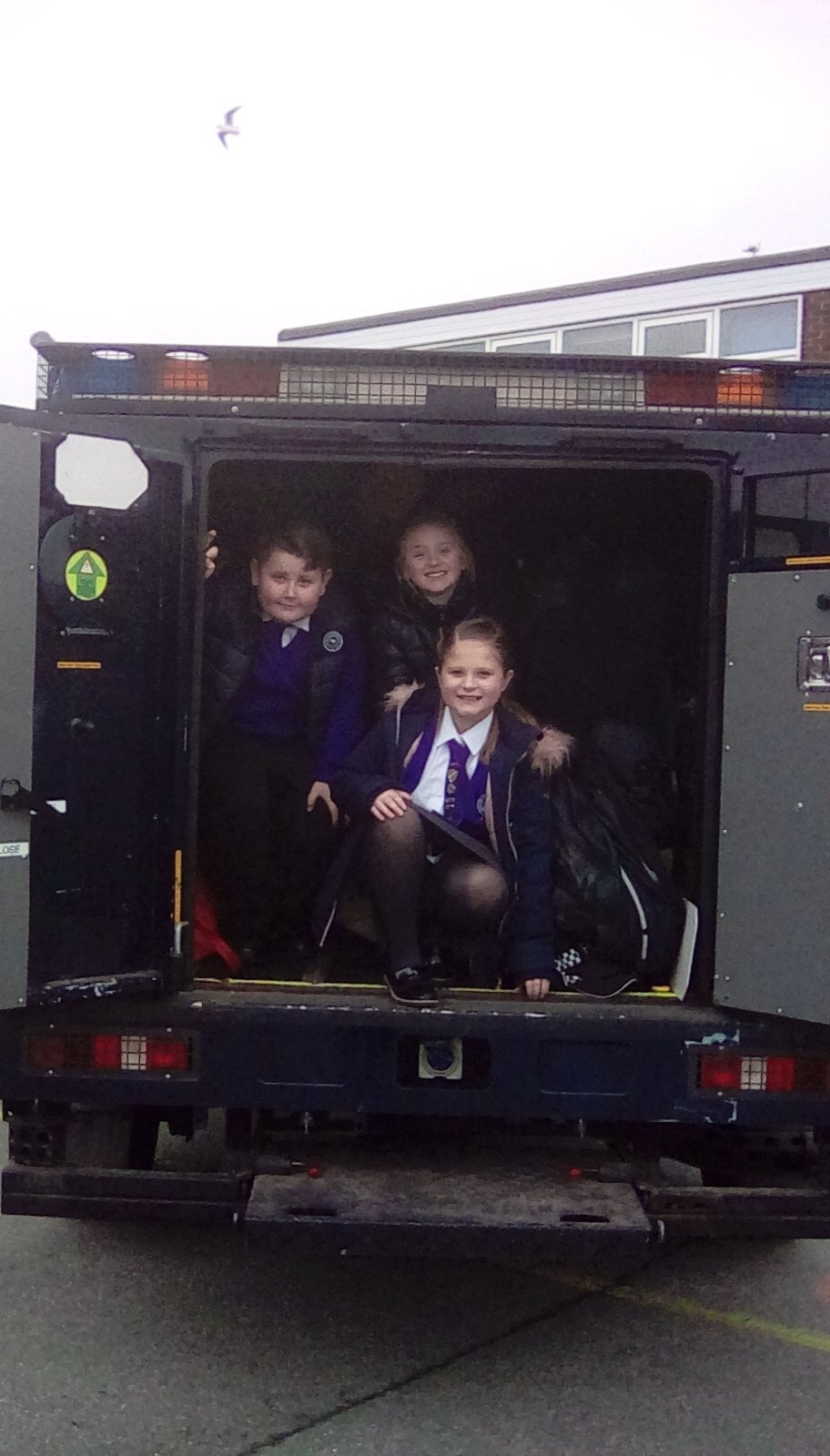 Week beginning 16.12.19
This week, Year 5 had the opportunity to create Christmas baubles during their Christmas crafts session, followed by superb performances including classics such as Last Christmas and Rudolph the rednose reindeer, to Feliz Navidad! A brilliant demonstration of teamwork by all three classes.
During the week, the class also had the opportunity to show their fantastic topic homework projects linked to crime and punishment. Wonderful examples of the children's learning and imagination was shared and celebrated, with lots of wow dojos received.
Well done to Year 5! A wonderful way to end the Autumn Term.
Have a lovely Christmas break!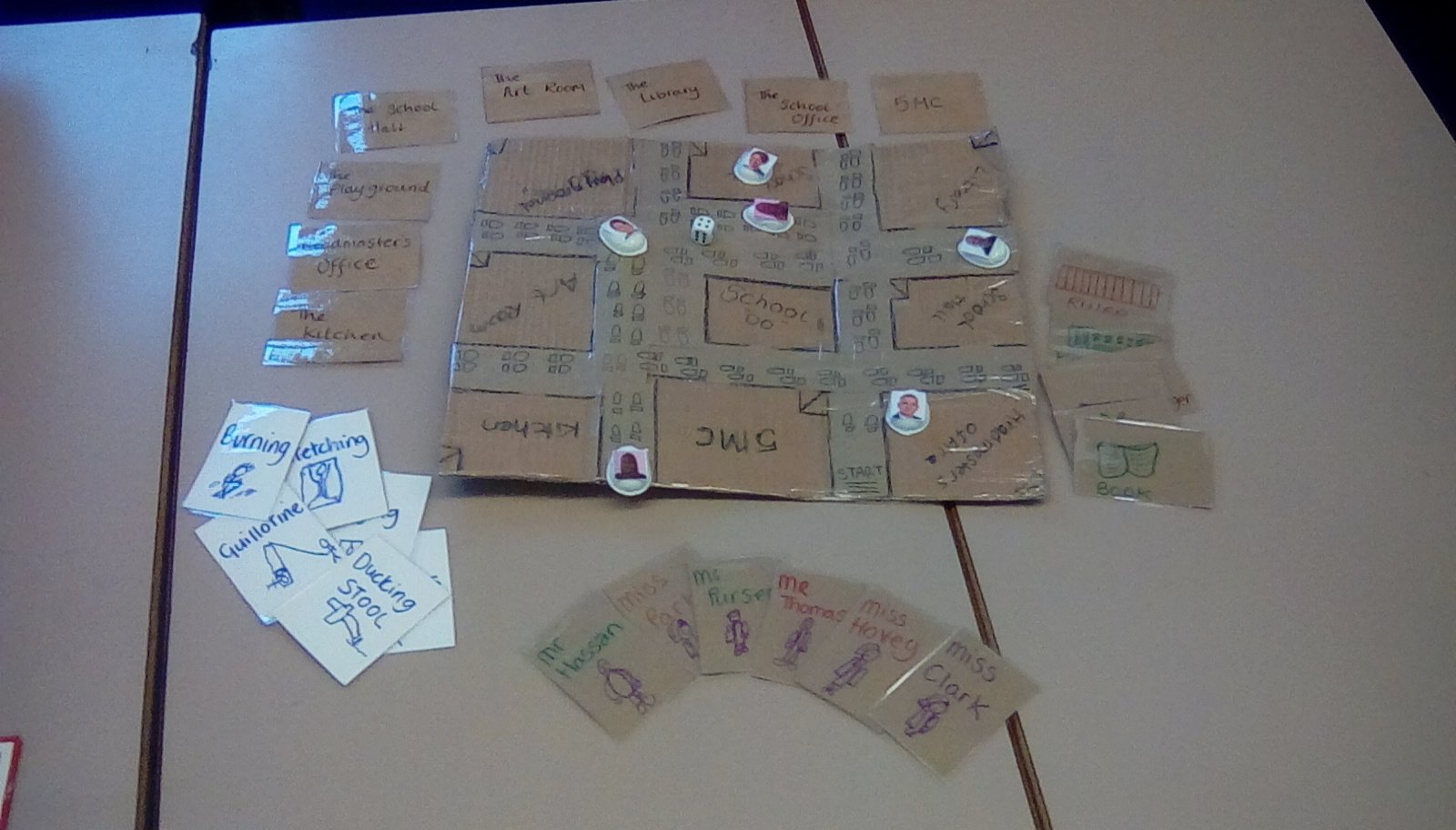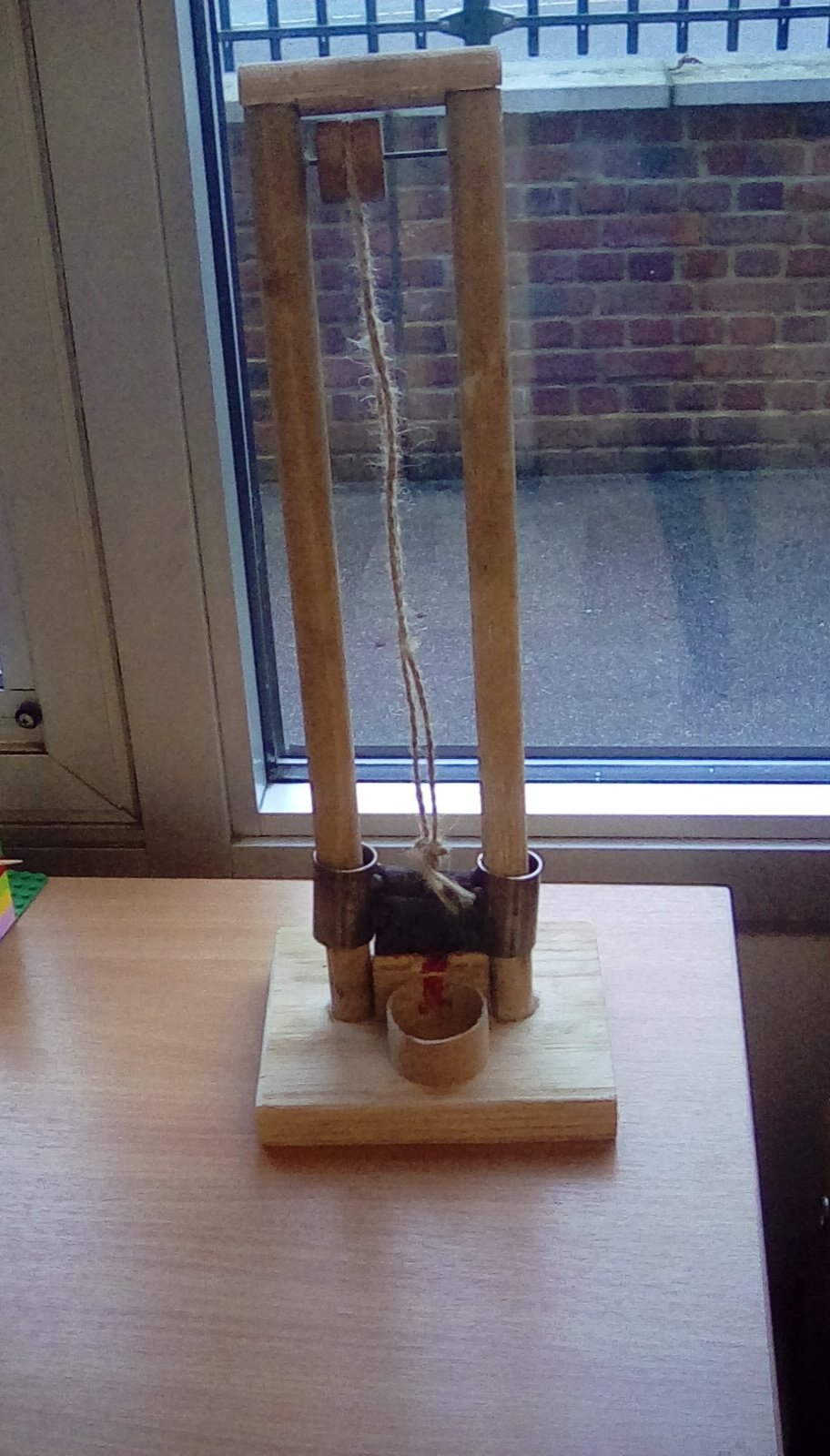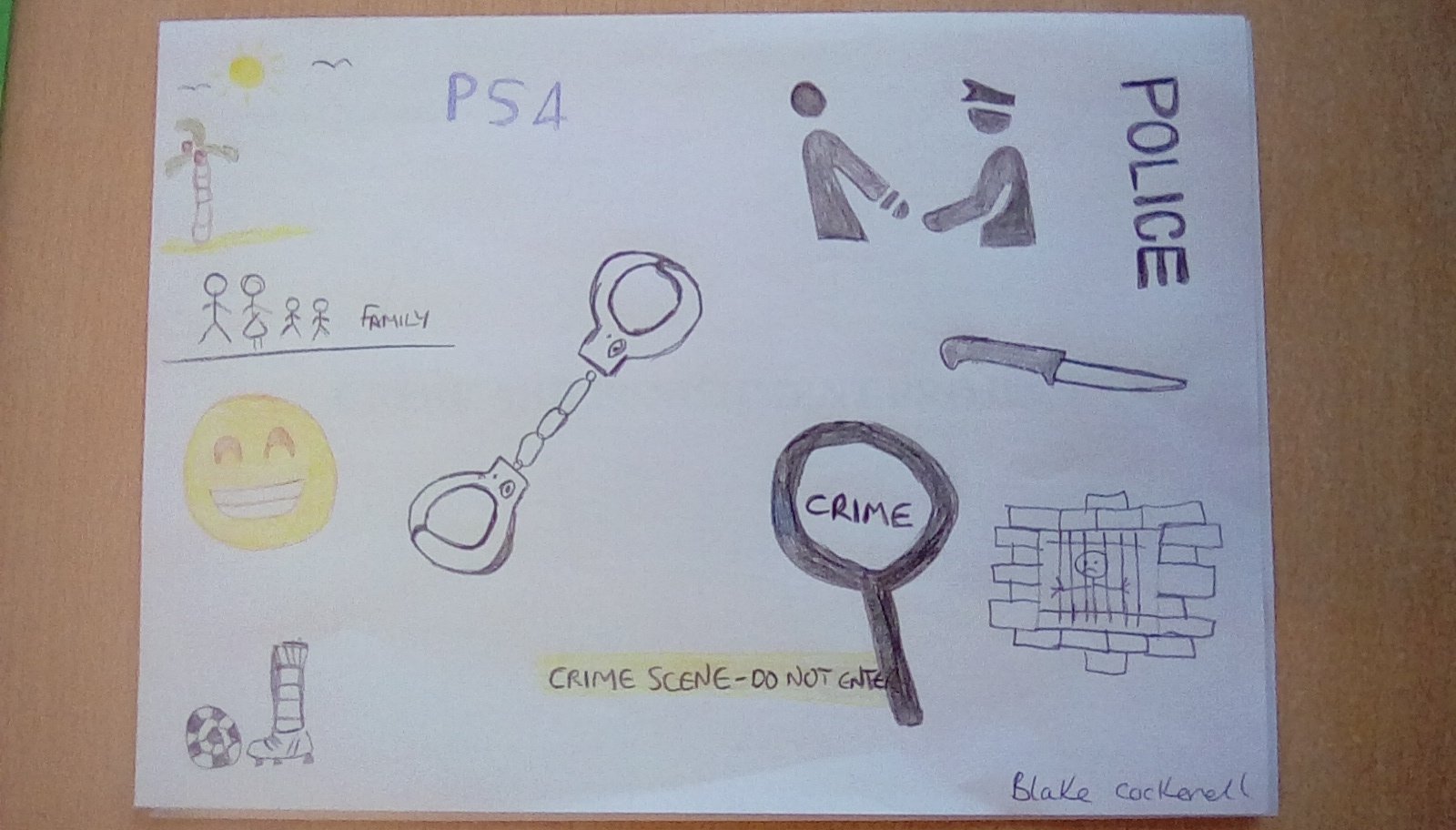 Week beginning 09.12.19
This week, the children have had lots of fun and enjoyed getting in the festive spirit which included the Christmas Pantomime and Christmas Dinner, as well as a chance to make biscuits for their Christmas crafts afternoon as part of DT. In addition to these, they have learned about the criminal justice system, learning the role of the Judge, Jury, Witnesses, Defendant, and both the defence and prosecution Barristers. On top of this, the children used their knowledge to re-enact a courtroom scenario, using their knowledge of crime and punishment across the ages. They worked together to get justice and for the Jury and Judge to decide if the Defendant was found guilty or not guilty.
Week beginning 02.12.19
This week in Year 5, the children showed bundles of enthusiasm of ahead of our French Day on Tuesday. They continued to develop their understanding of food and drink as part of the 'Au Café' topic. Excitingly, the children experienced ordering French cuisine with the help of students and teachers from King John. On top of this, they learnt about French traditions at Christmas time, the artist Paul Cezanne, as well as the words to 'Vive le Vent' (Jingle bells). In addition to French Day, Year 5 have been considering crime and punishment across the ages and produced superb write to discuss in response to the question 'is punishment beneficial to mankind?'. Well done Year 5!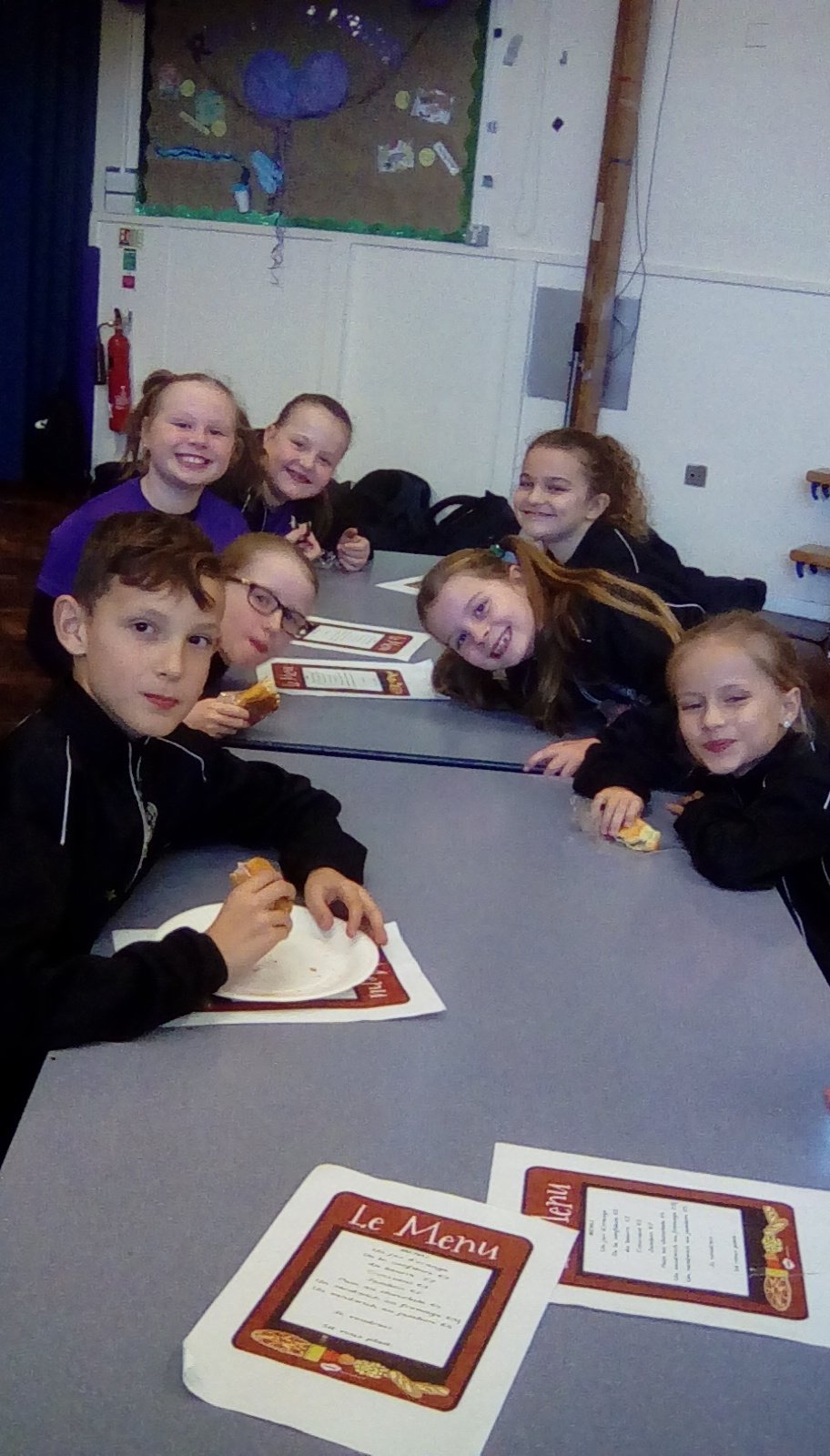 Week beginning 25.11.19
This week in Year 5, the children have demonstrated the core values of independence and perseverance throughout our assessment week. They continued to show the ability to persevere whilst creating their own algorithms on Scratch. Linking to the crime and punishment topic, the children created their own hero and villain scenarios, using coding to develop their algorithm. Lots of enthusiasm, and expertise in coding, was shown in their fantastic efforts.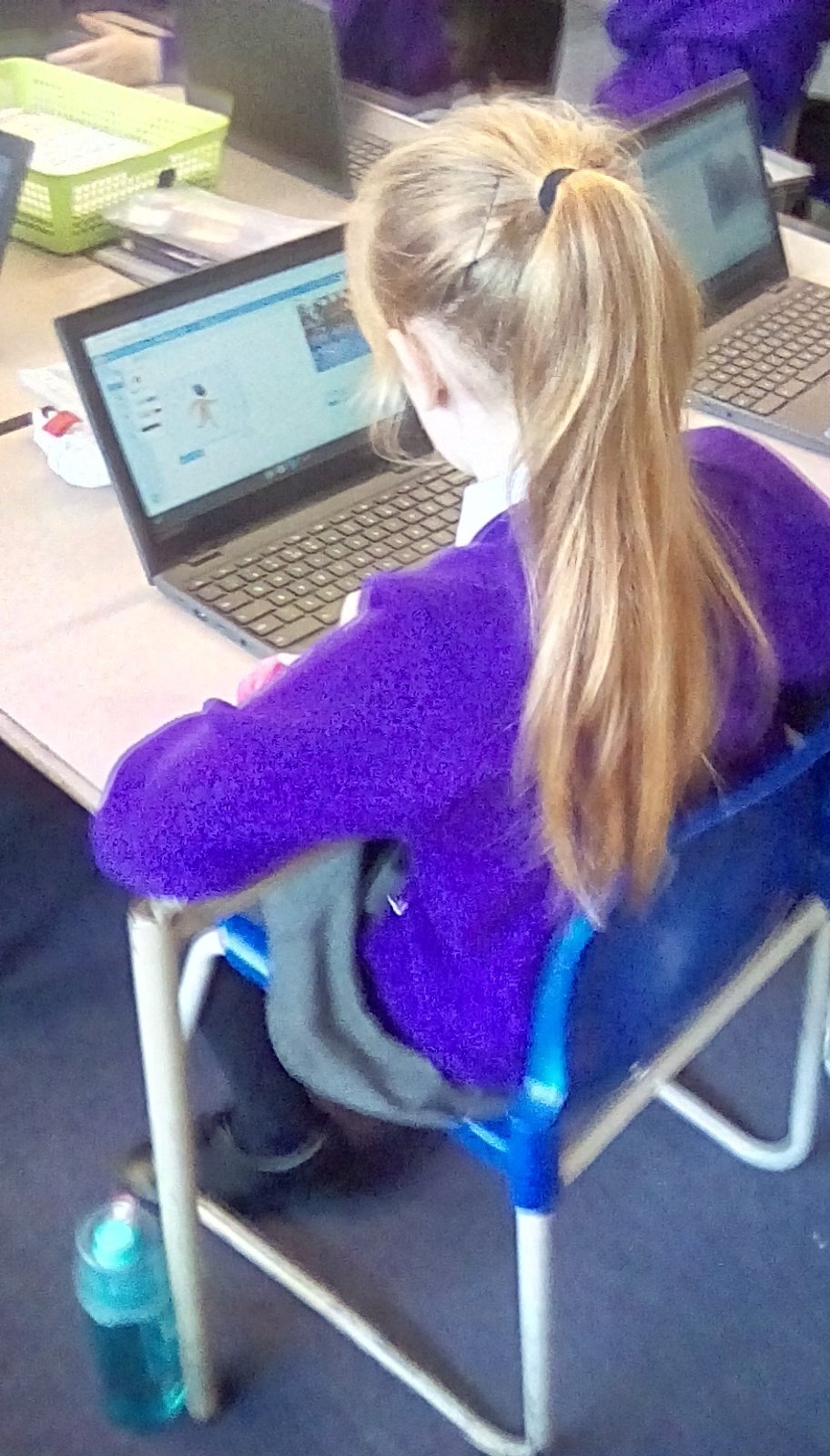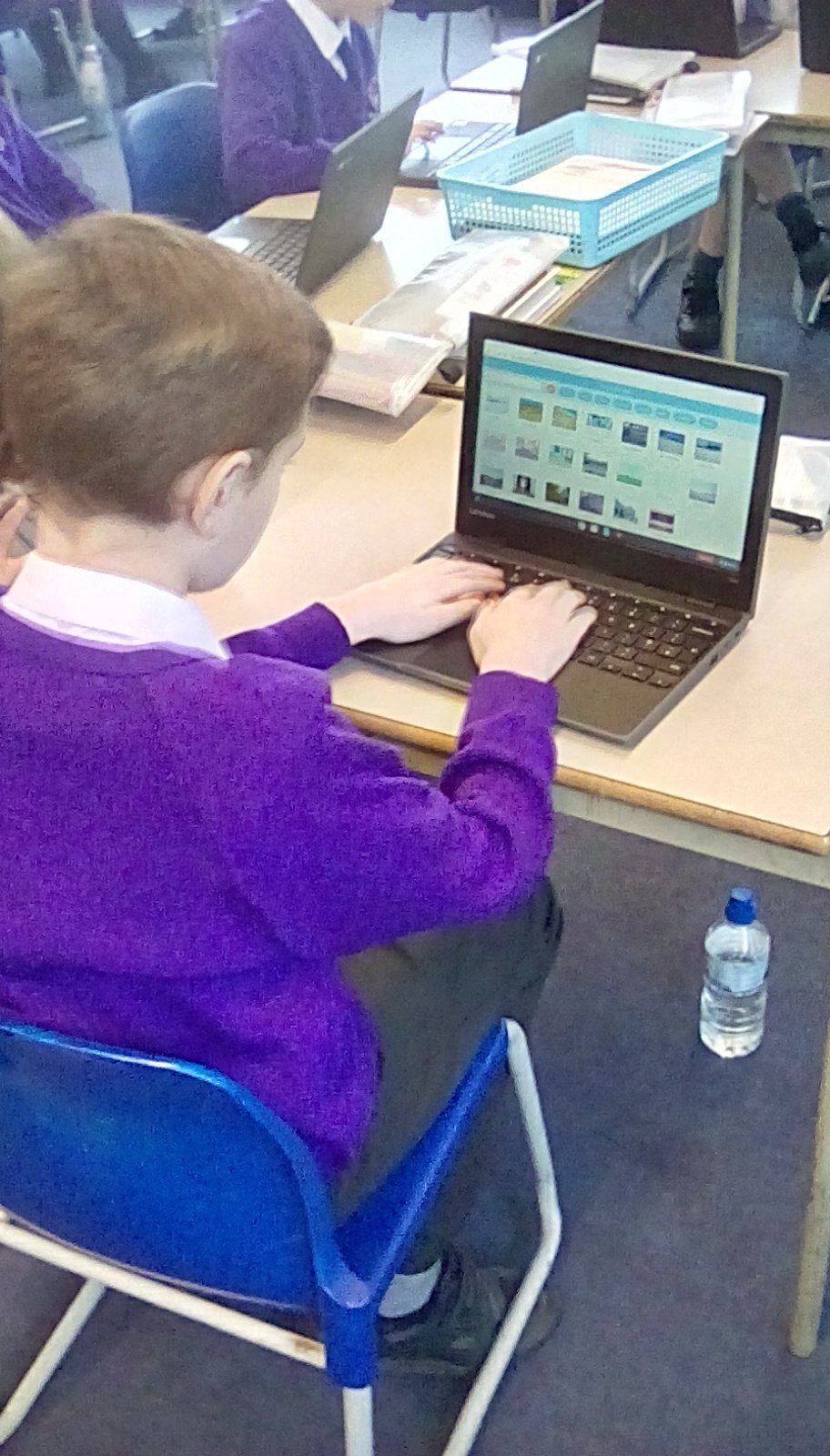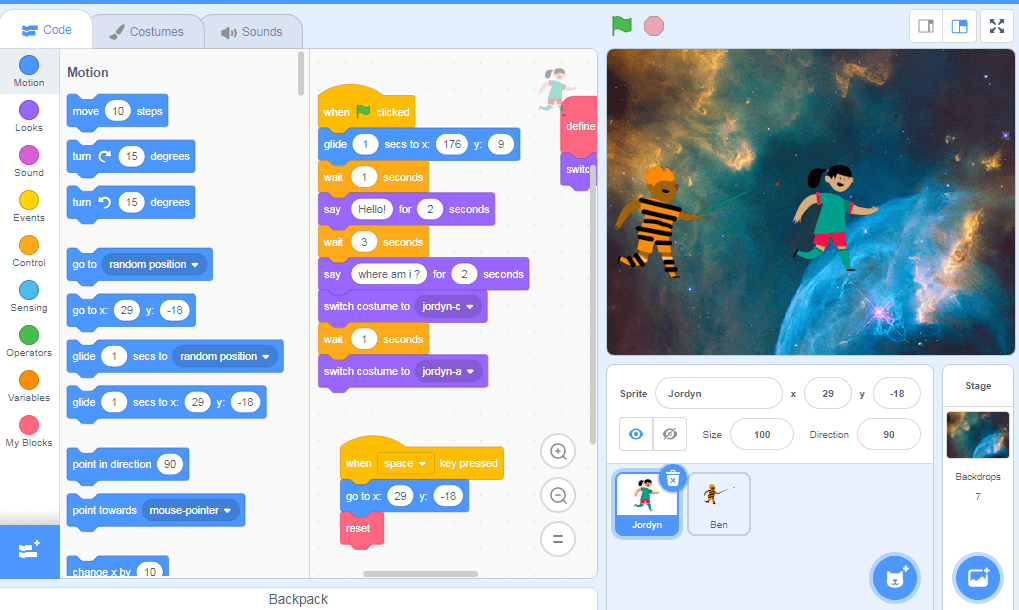 Week beginning 18.11.19
This week in Year 5, the children have been learning about crime and punishment in the modern day. They learnt about street art and graffiti, in particular the mystery that is Banksy. Inquisitively, they investigated the meaning behind his work and thought about whether he is a political artist or a criminal. Using Banksy's stencilling technique as inspiration; they designed their own stencil linked to anti-bullying. Their unique and thoughtful designs were then painted on to create their own Bansky inspired masterpieces. A fantastic effort from all of the children!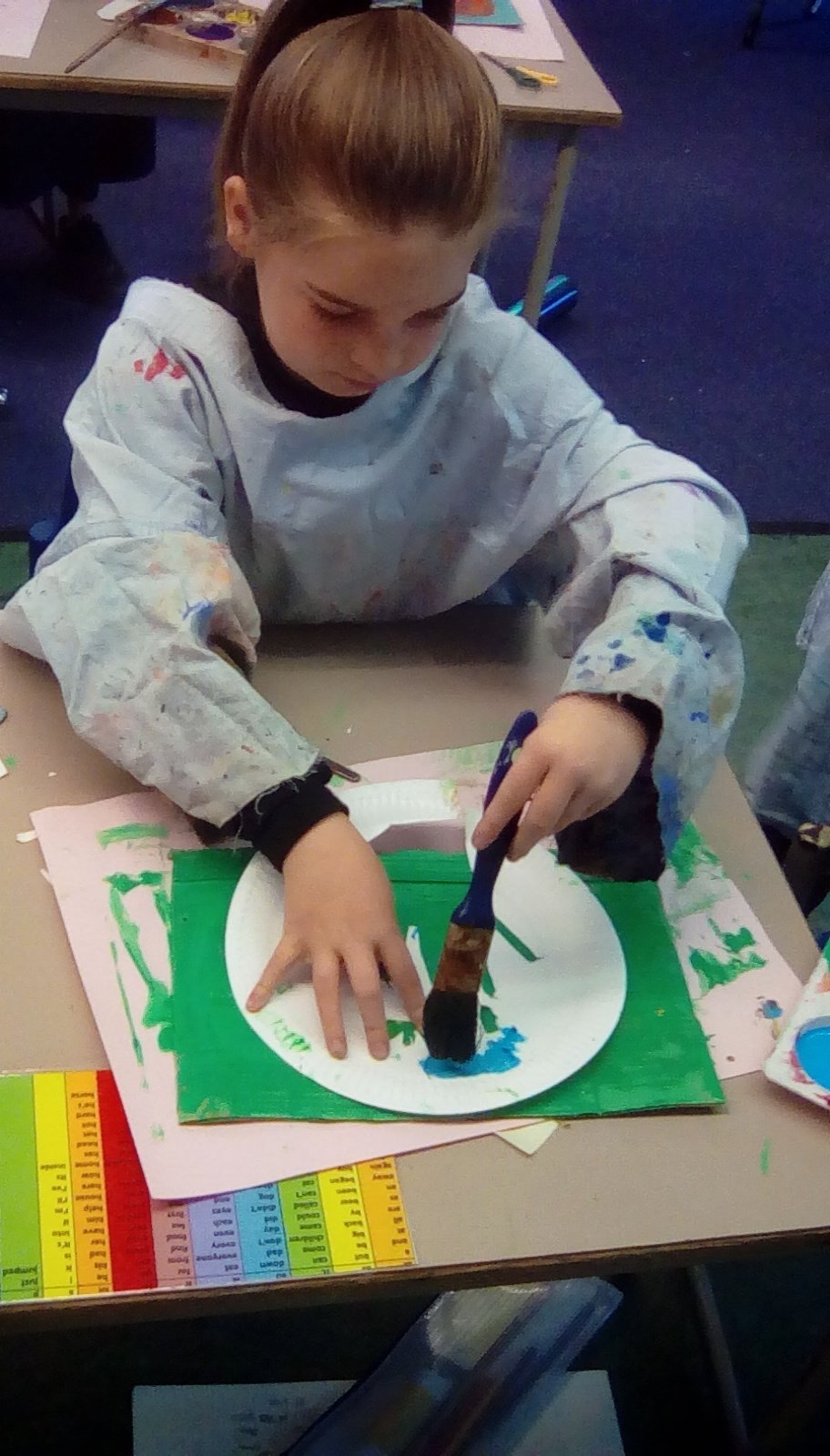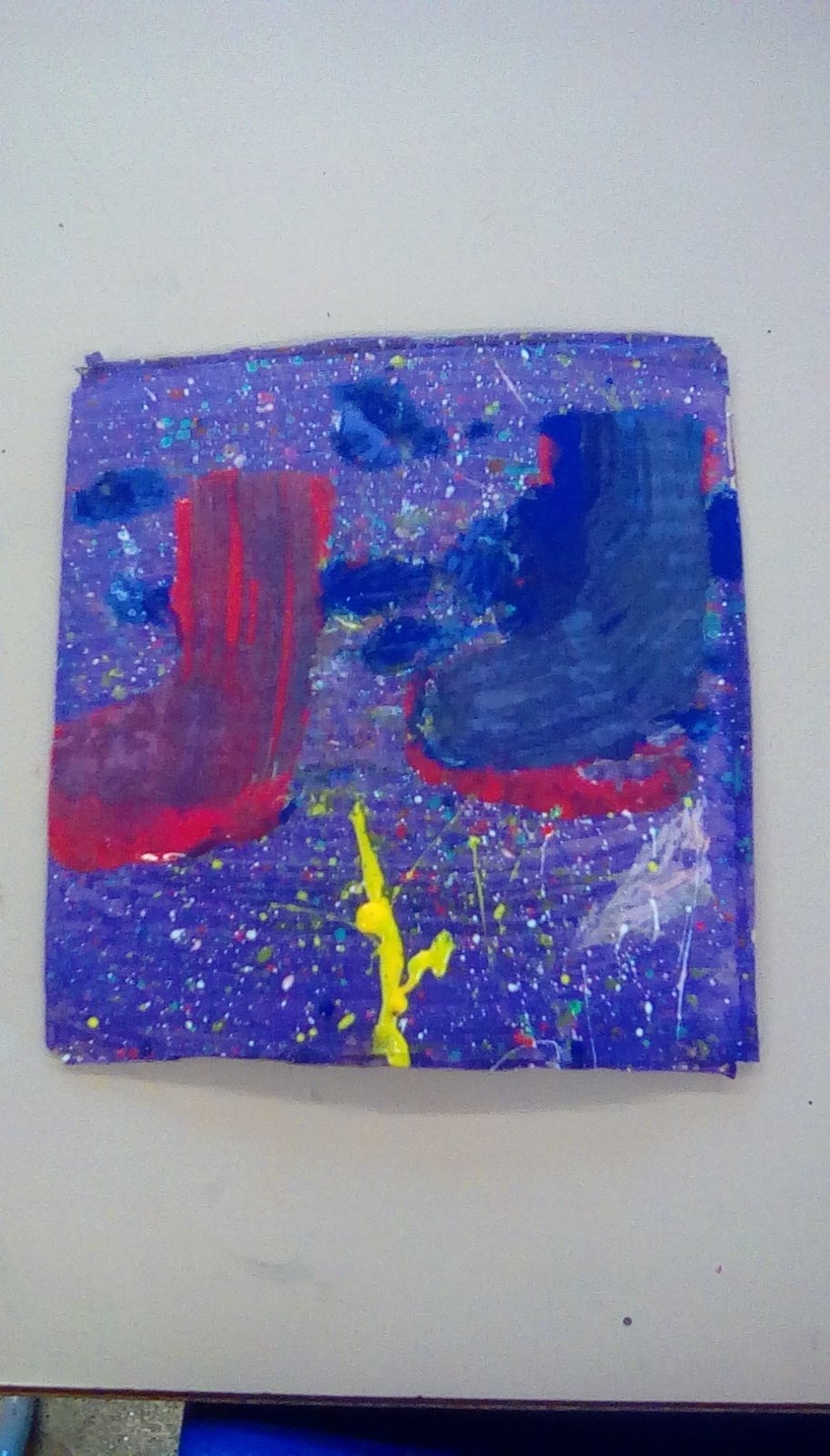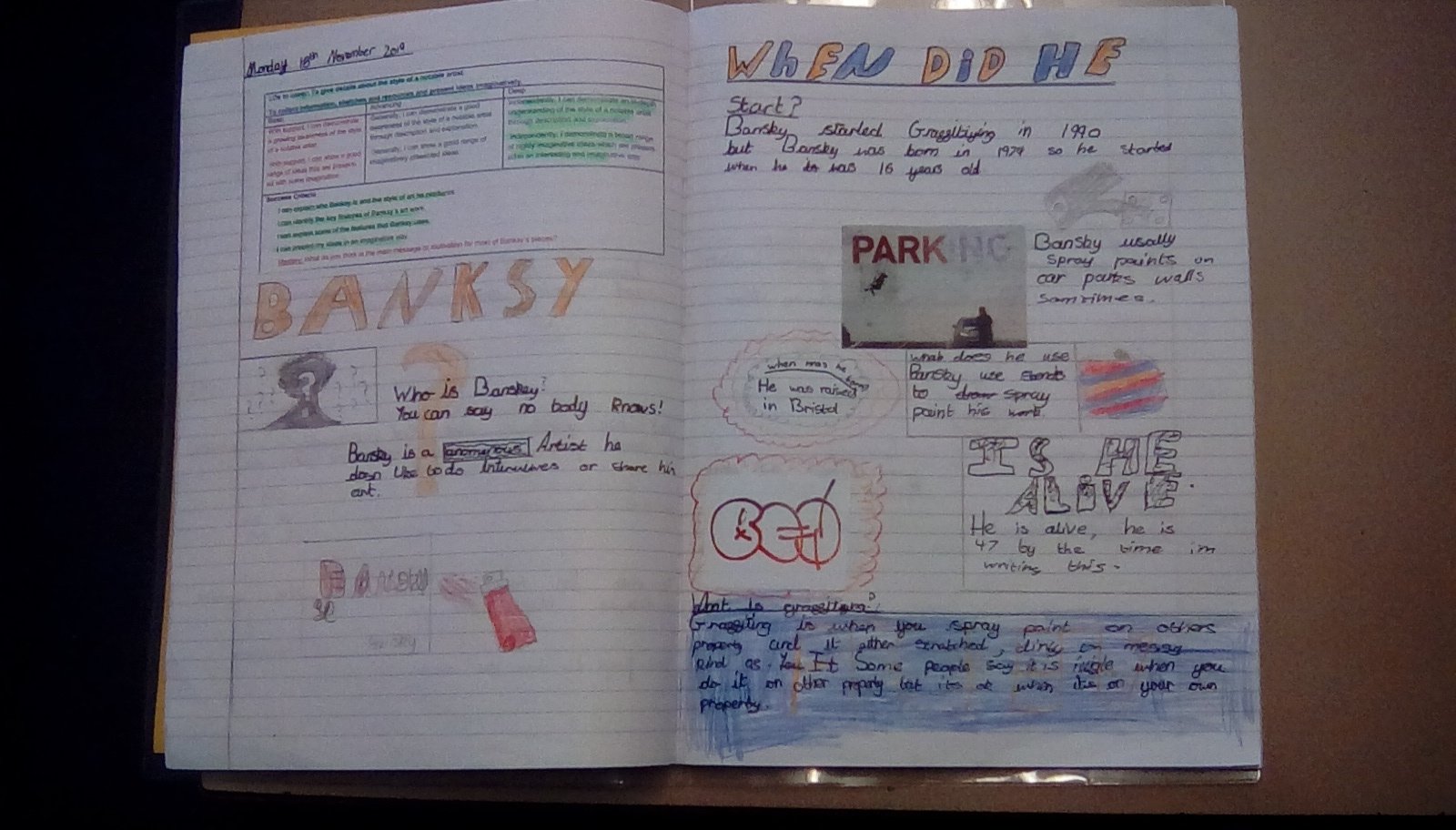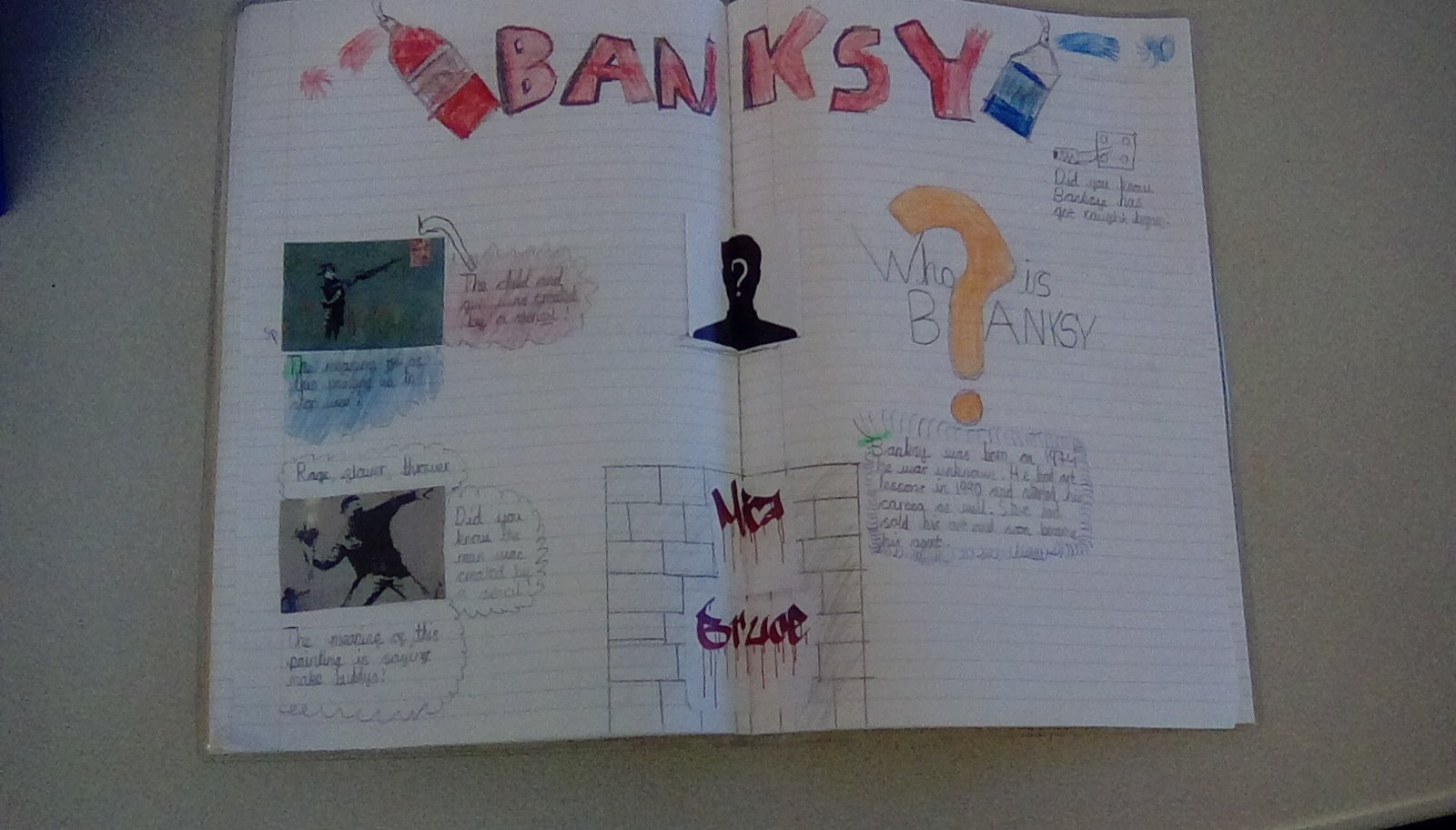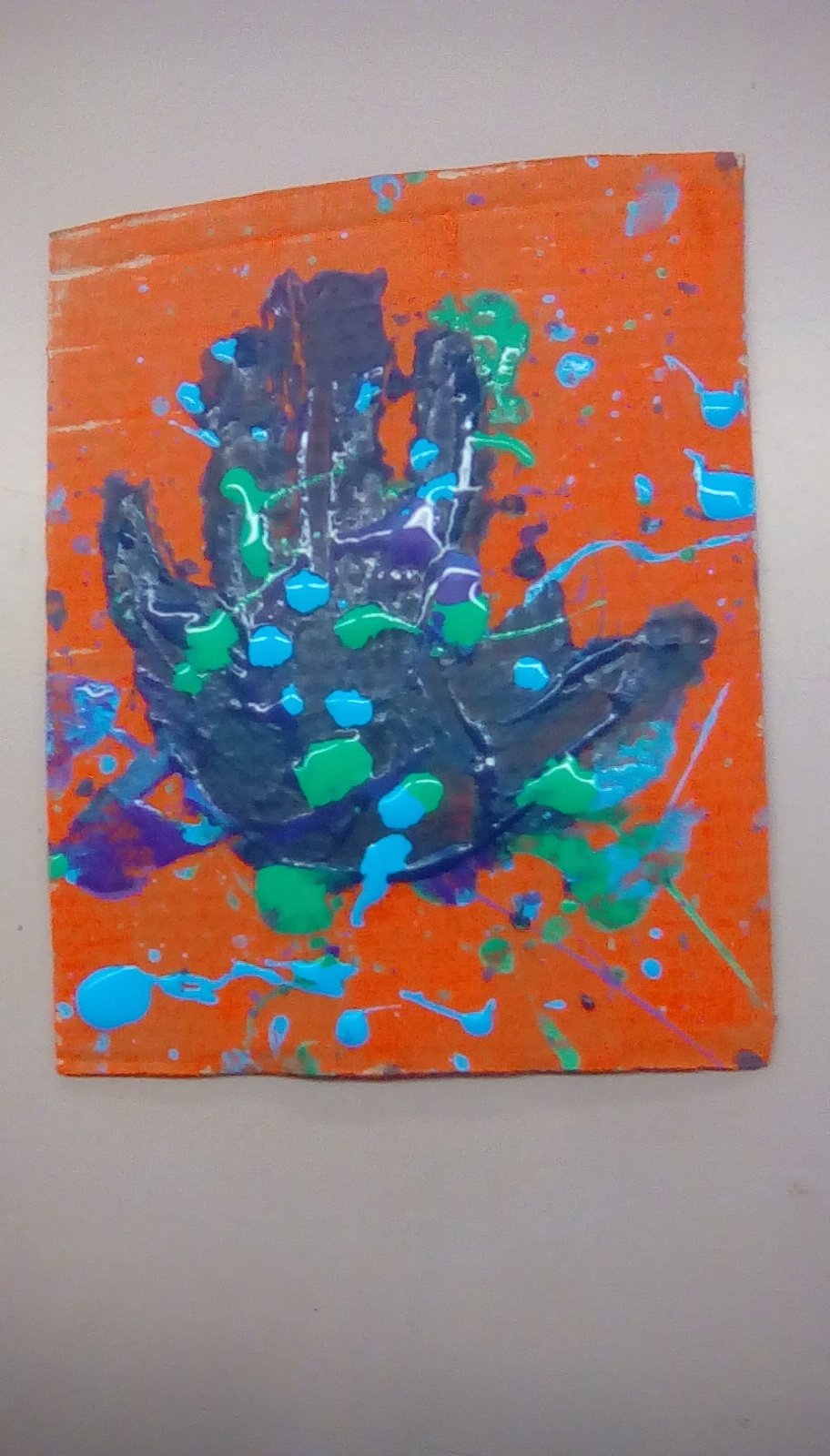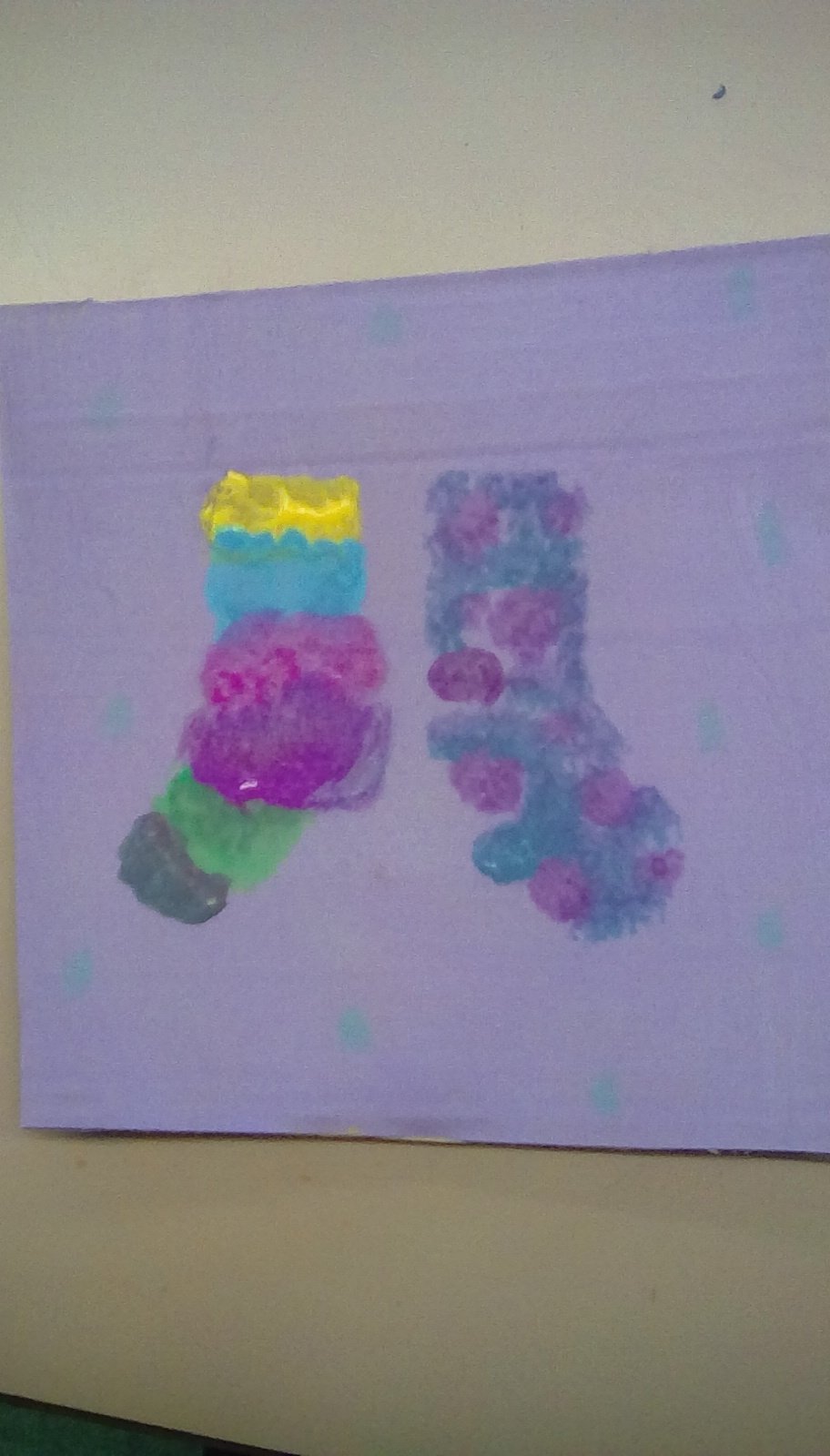 Week beginning 11.11.19
This week in Year 5, the children have worked on their writing to persuade pieces. Focusing on emotive language, modal verbs and short sentences, as well as rhetorical questions, they composed a letter addressed to Guy Fawkes. As a friend of Guy Fawkes, they wrote to him explaining why he should consider abandoning the gunpowder plot. After this, they designed and sketched wonderful Guy Fawkes inspired published writes, ranging from burning bonfires to stunning skylines. A fantastic effort and wonderful display of talent from Year 5!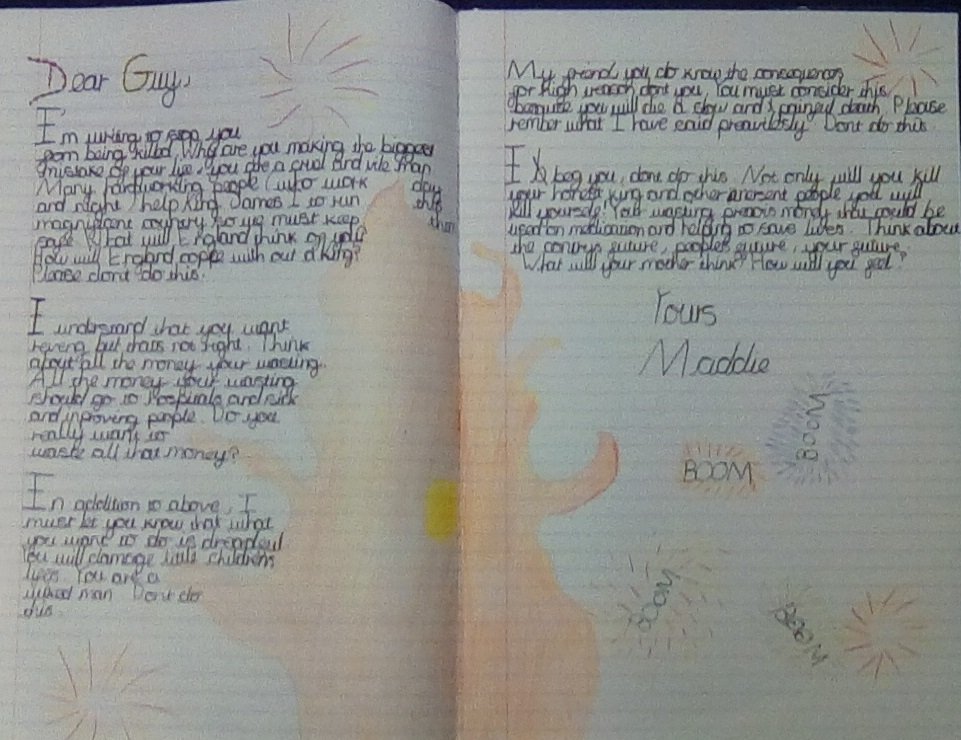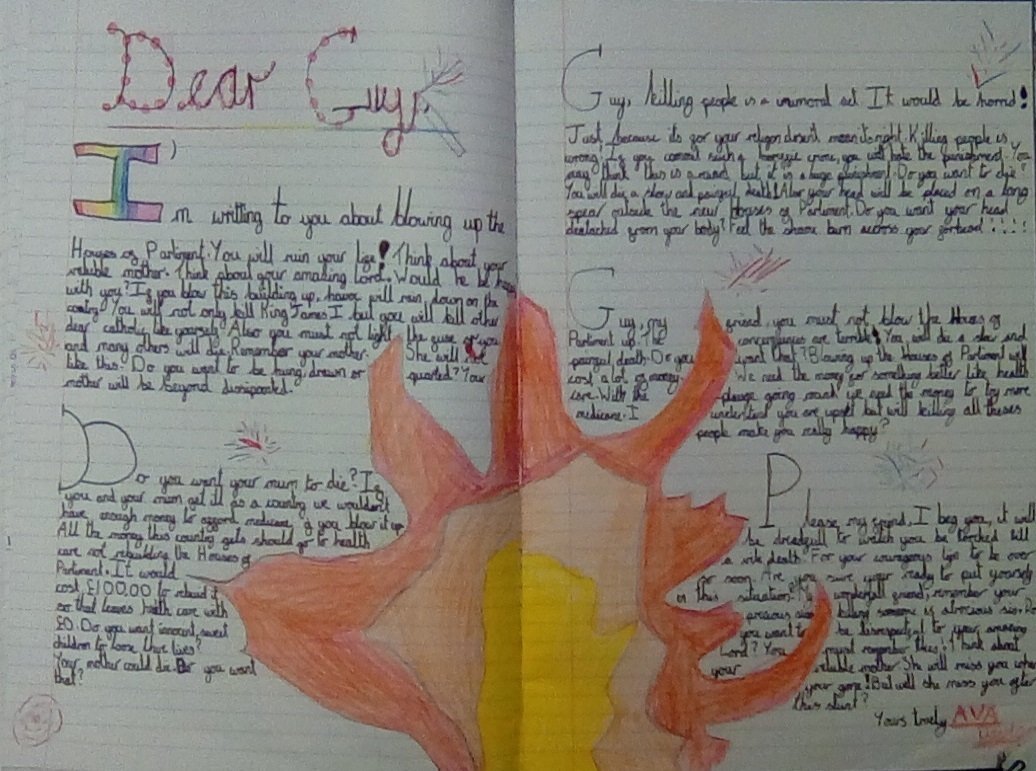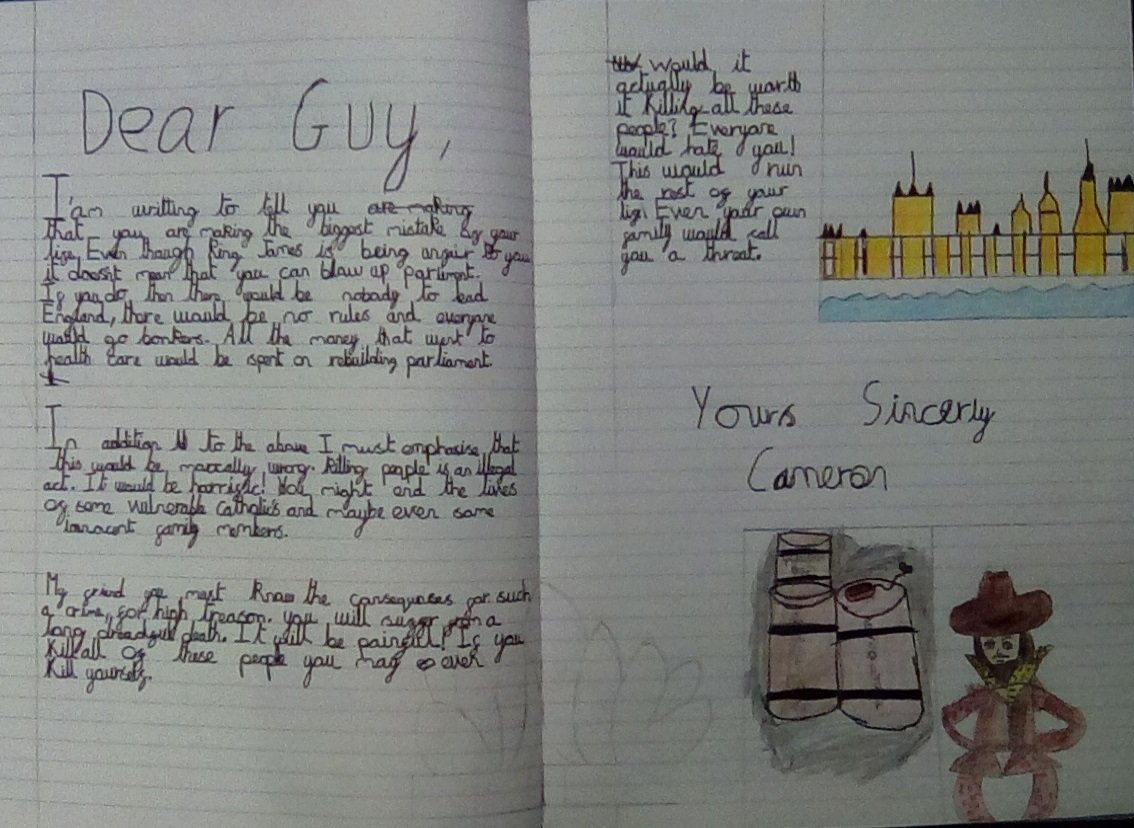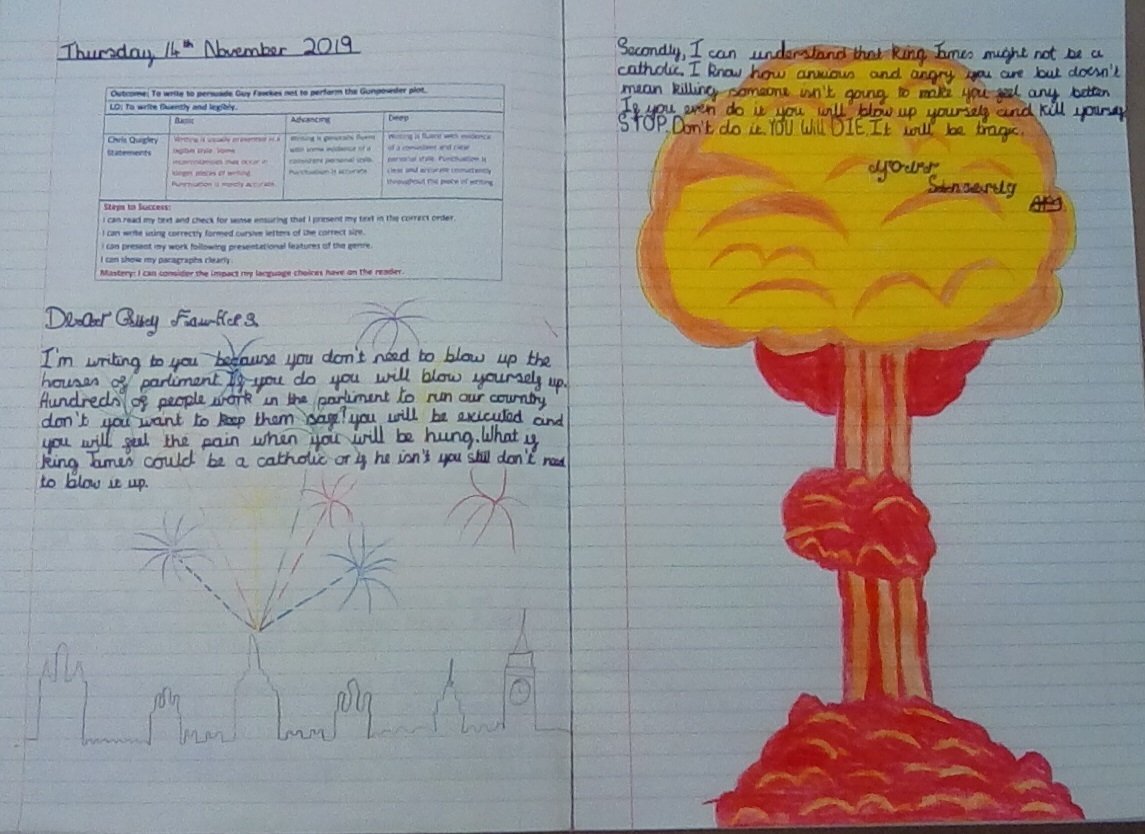 Week beginning 04.11.19
This week, the Year 5 students have demonstrated respect and a mature attitude during our Health and Relationships lessons. The children have shown curiosity when learning about our 'Changing Me' unit of PSHE. Importantly, they have discussed and learnt about changes to their bodies as they go through puberty, for both males and females. Sensibly, they have learned how the reproductive system works, in turn producing new lives.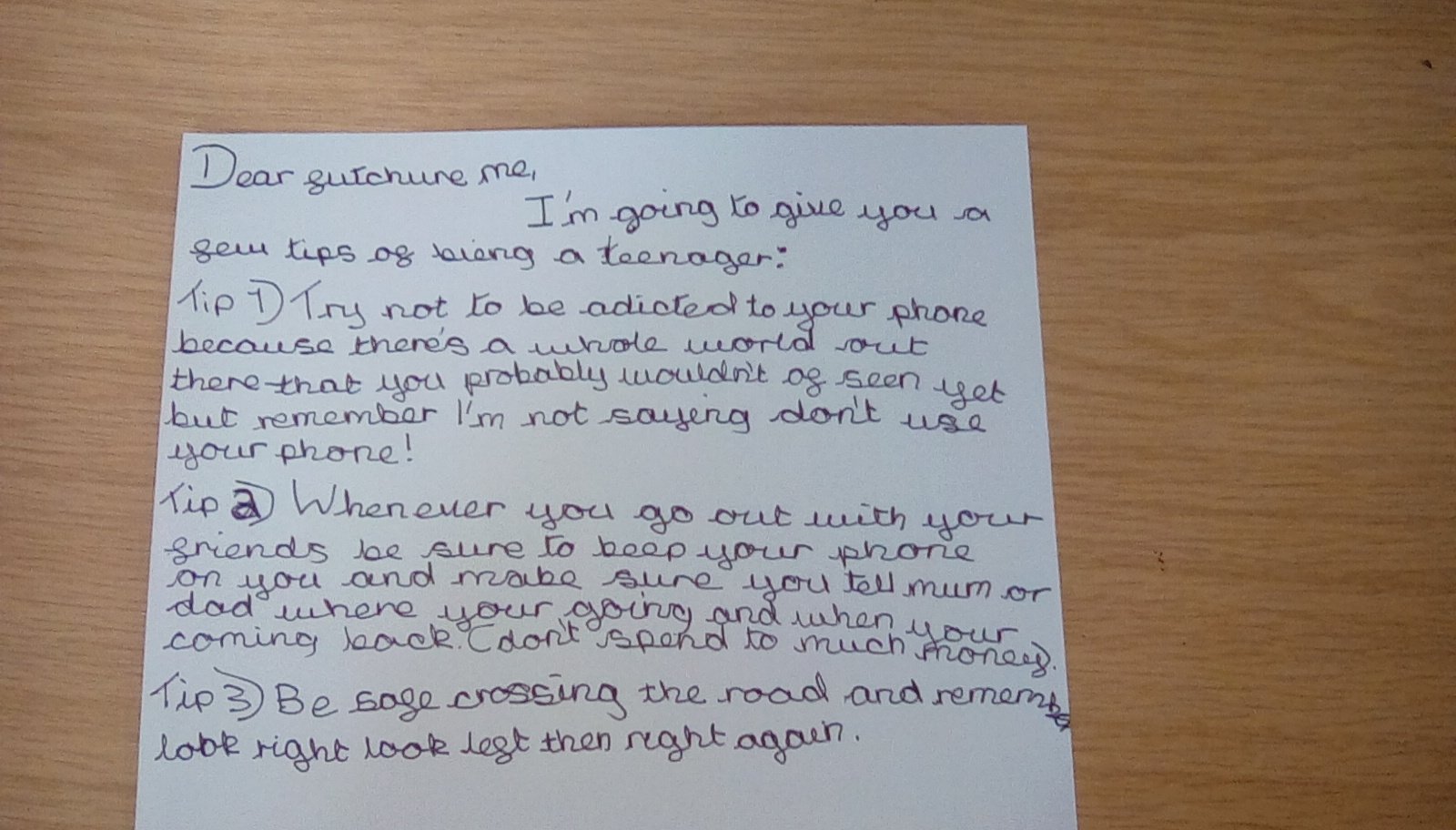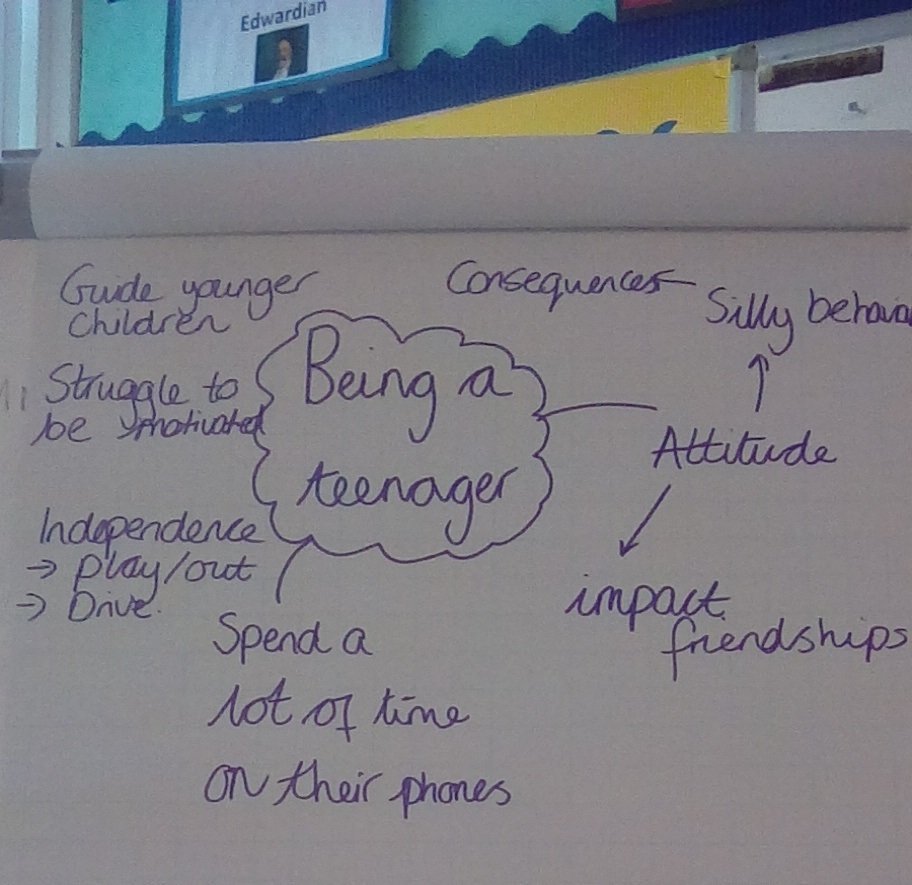 Week beginning 21.10.19
This week in Year 5, we have continued to develop our understanding of Forces by conducting an investigation into friction. Using toy cars, the children tested whether the speed of the moving car was affect by the material of the surface it was travelling on. They then used their findings and understanding of fair testing and accuracy to suggest how they could improve the accuracy of their findings. In addition, the Year 5 children sensibly learnt about Road Safety this week. Importantly, they learnt about the impact of crossing the road safely, as well as stopping distances and the importance of being aware of surroundings. Well done Year 5 – an important lesson well learnt.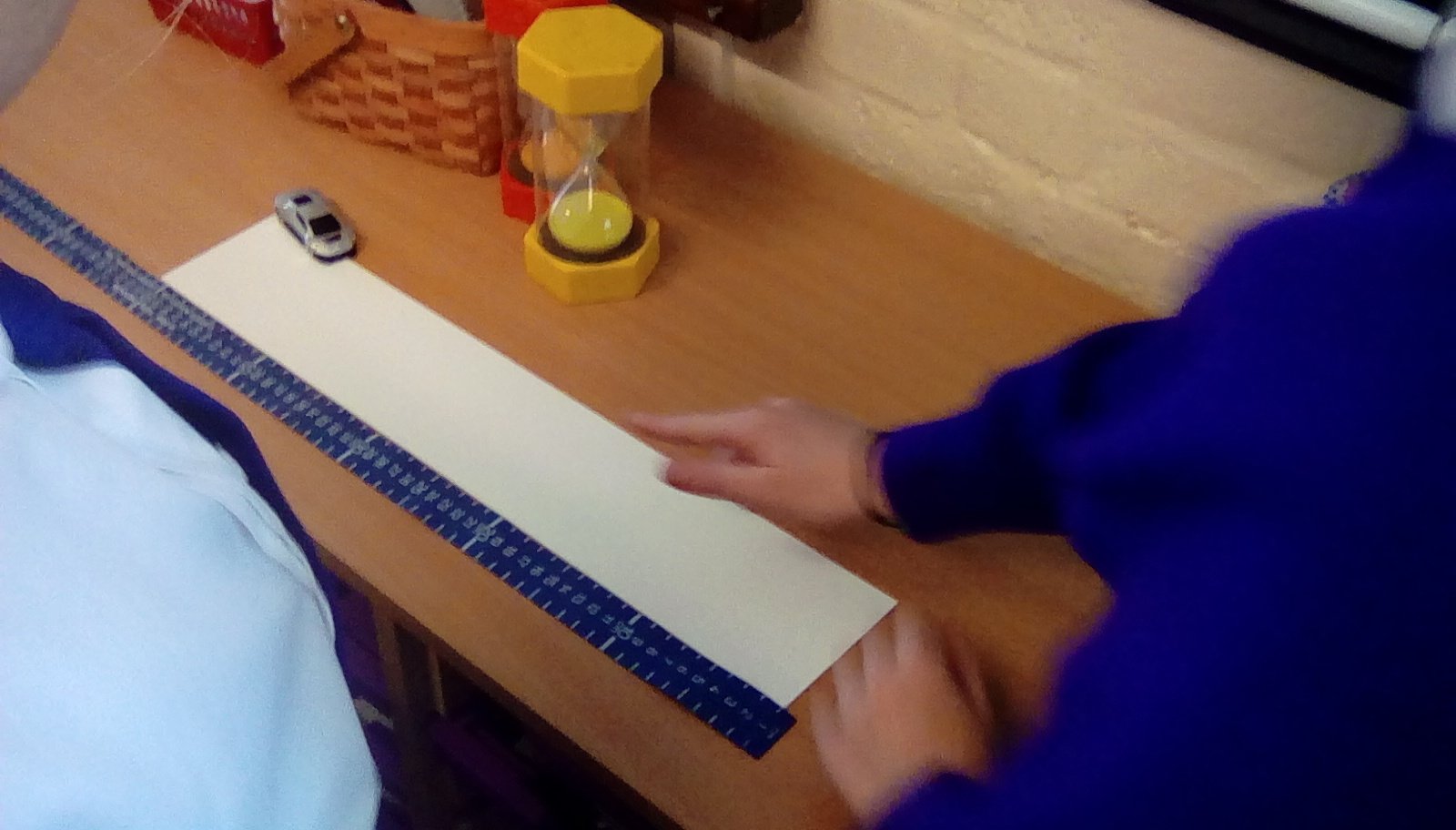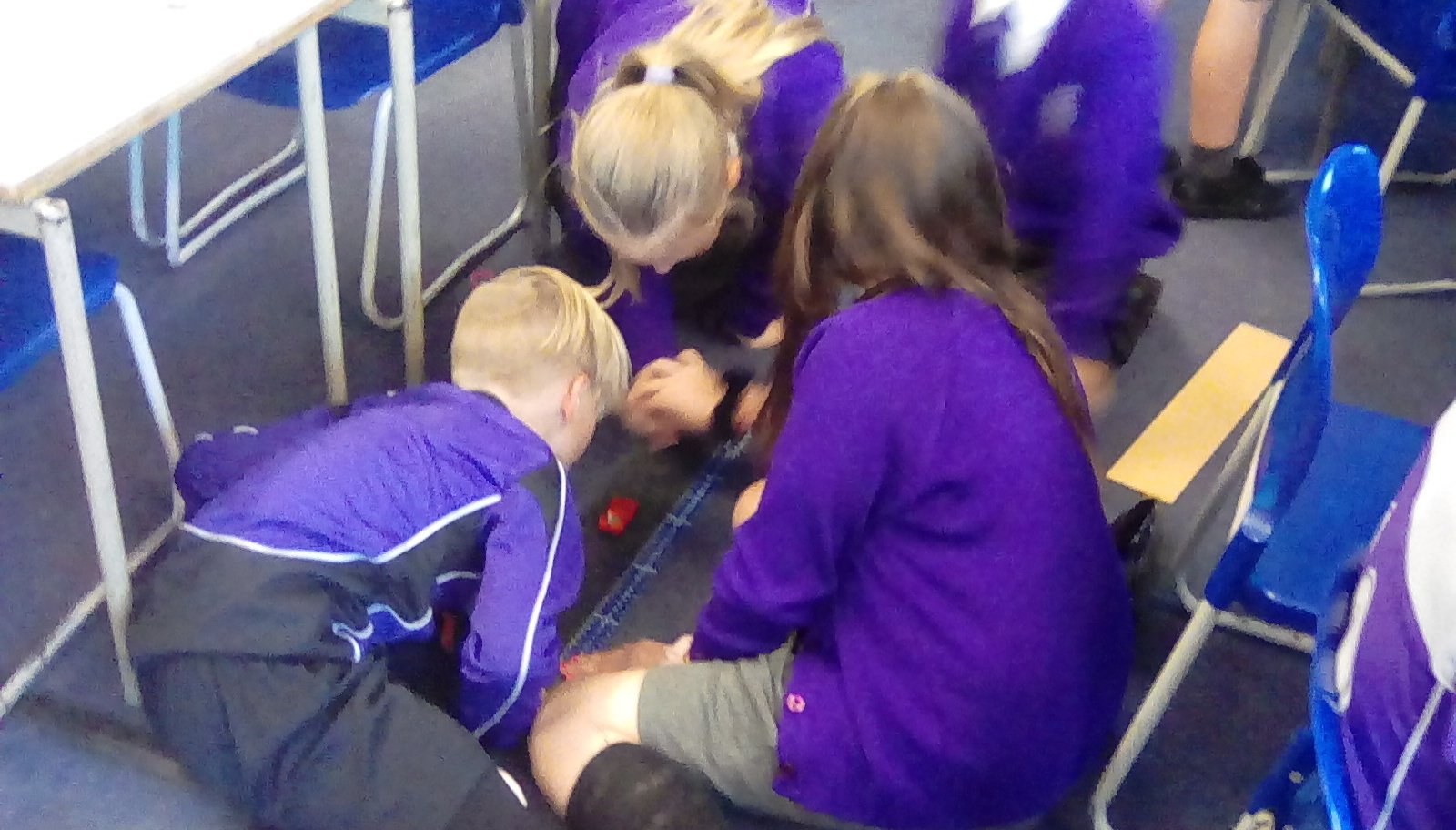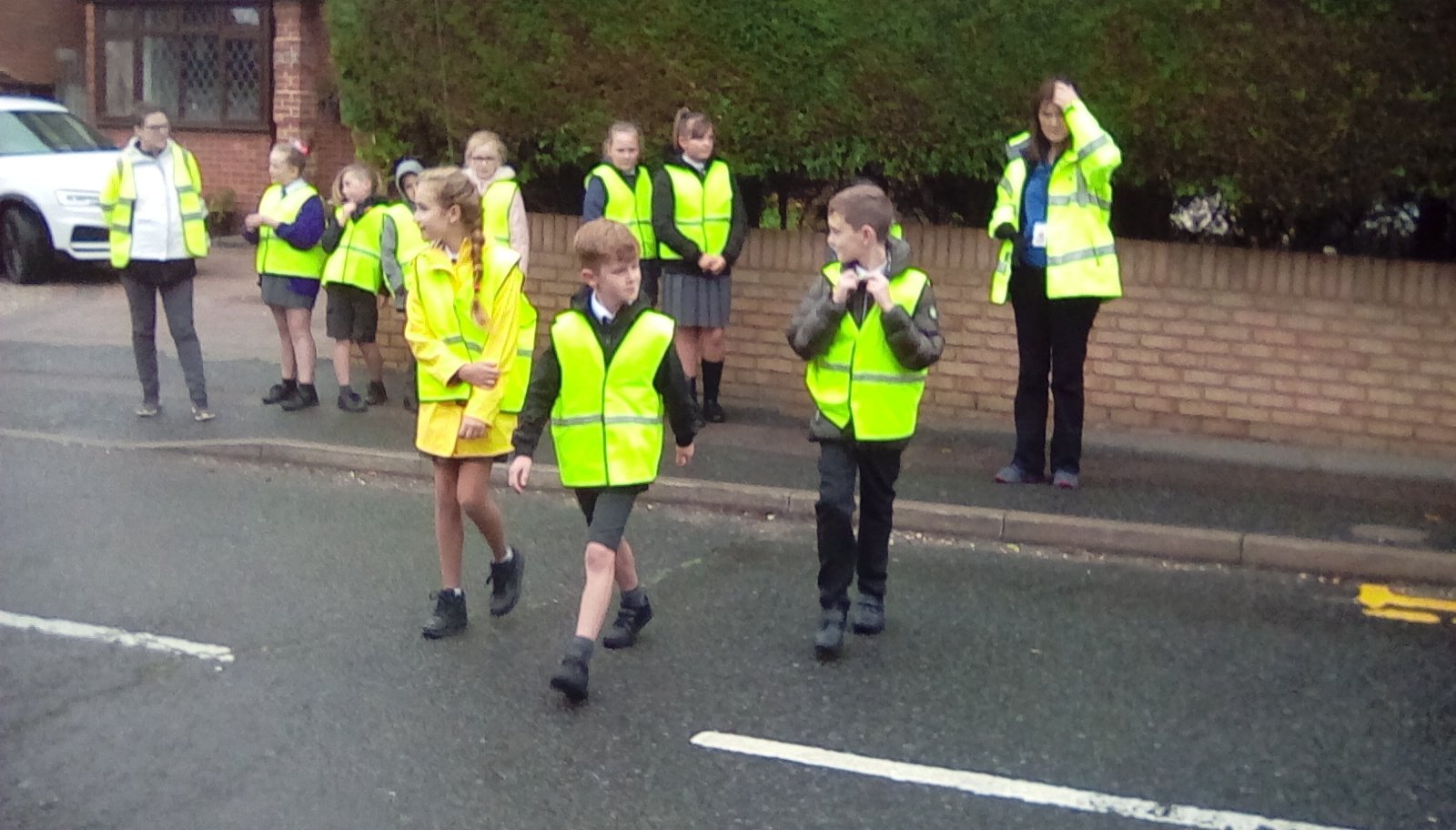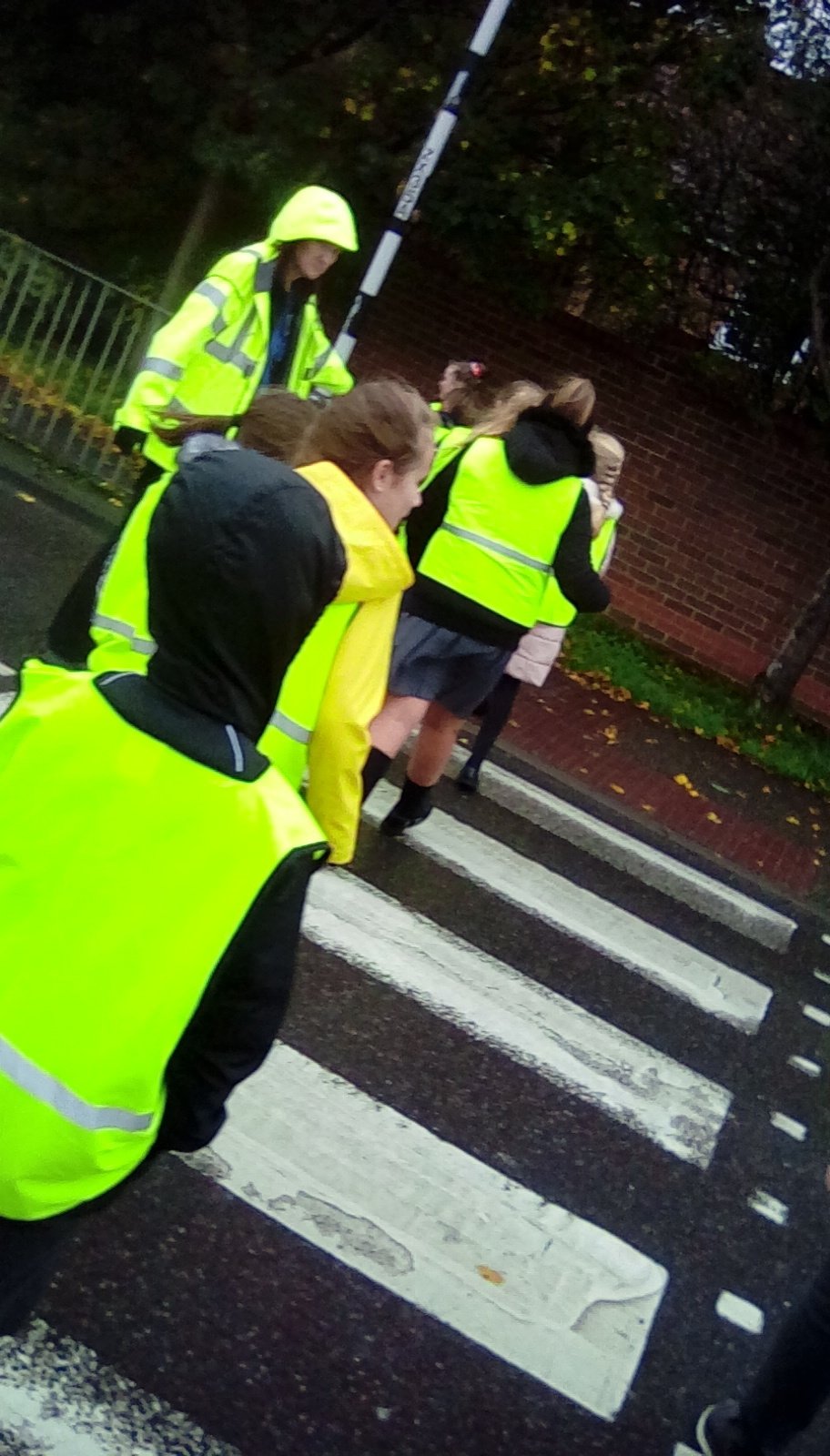 Week beginning 14.10.19
This week in Year, the children have designed, created and improved their own prototypes in Design Technology. Applying their understanding of gears, levers and pulleys within science, they have produced guillotines designed to behead a plasticine man, as would have punishment for crimes in the past. They have applied their understanding of punishment in the Tudor era, as well as other key time periods, to create effective designs, as well as choose materials and resources to construct their own guillotines. Impressively, many children were able to improve their prototypes after evaluating whether their structure served its purpose, in addition to displaying fantastic team work.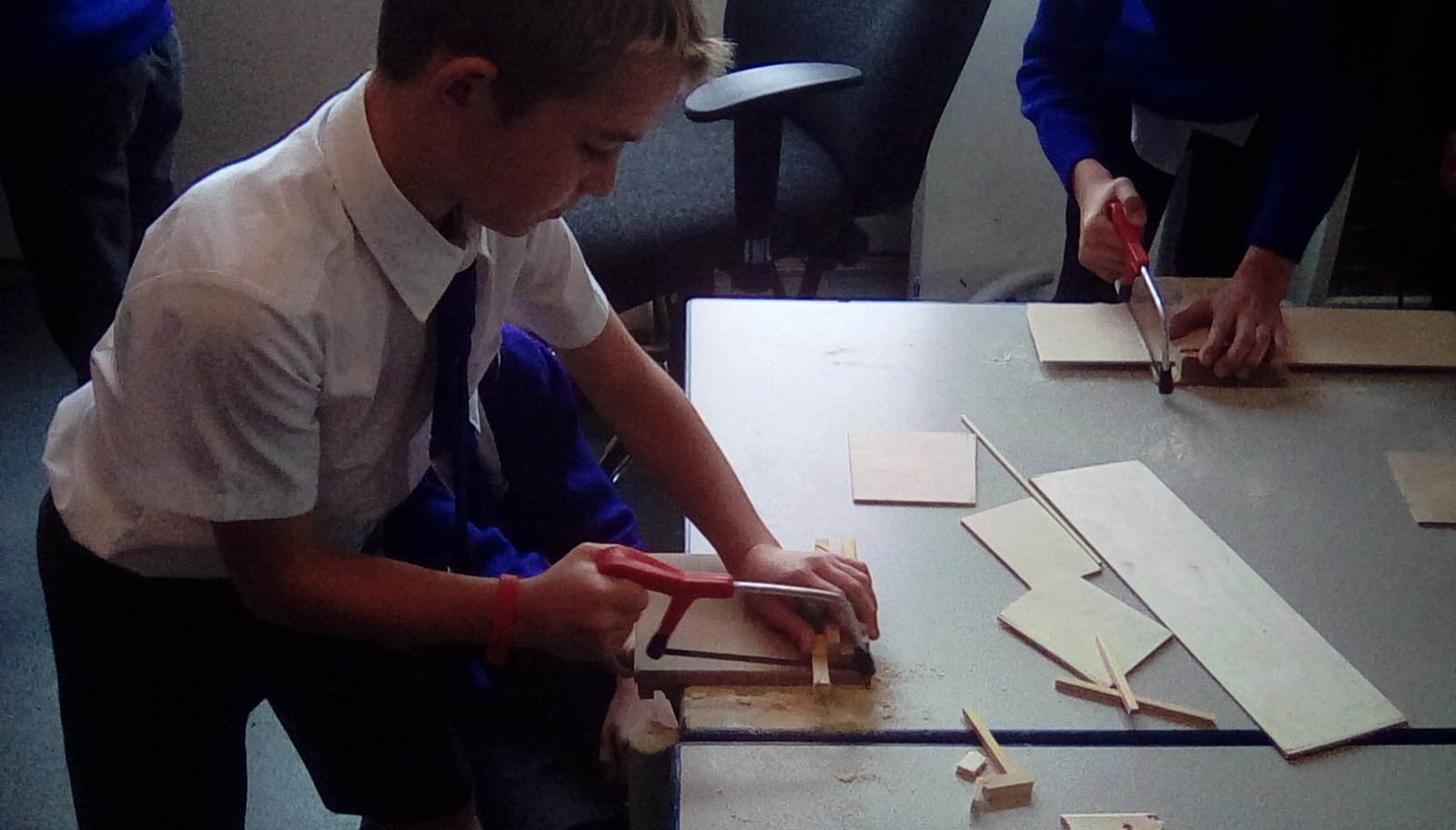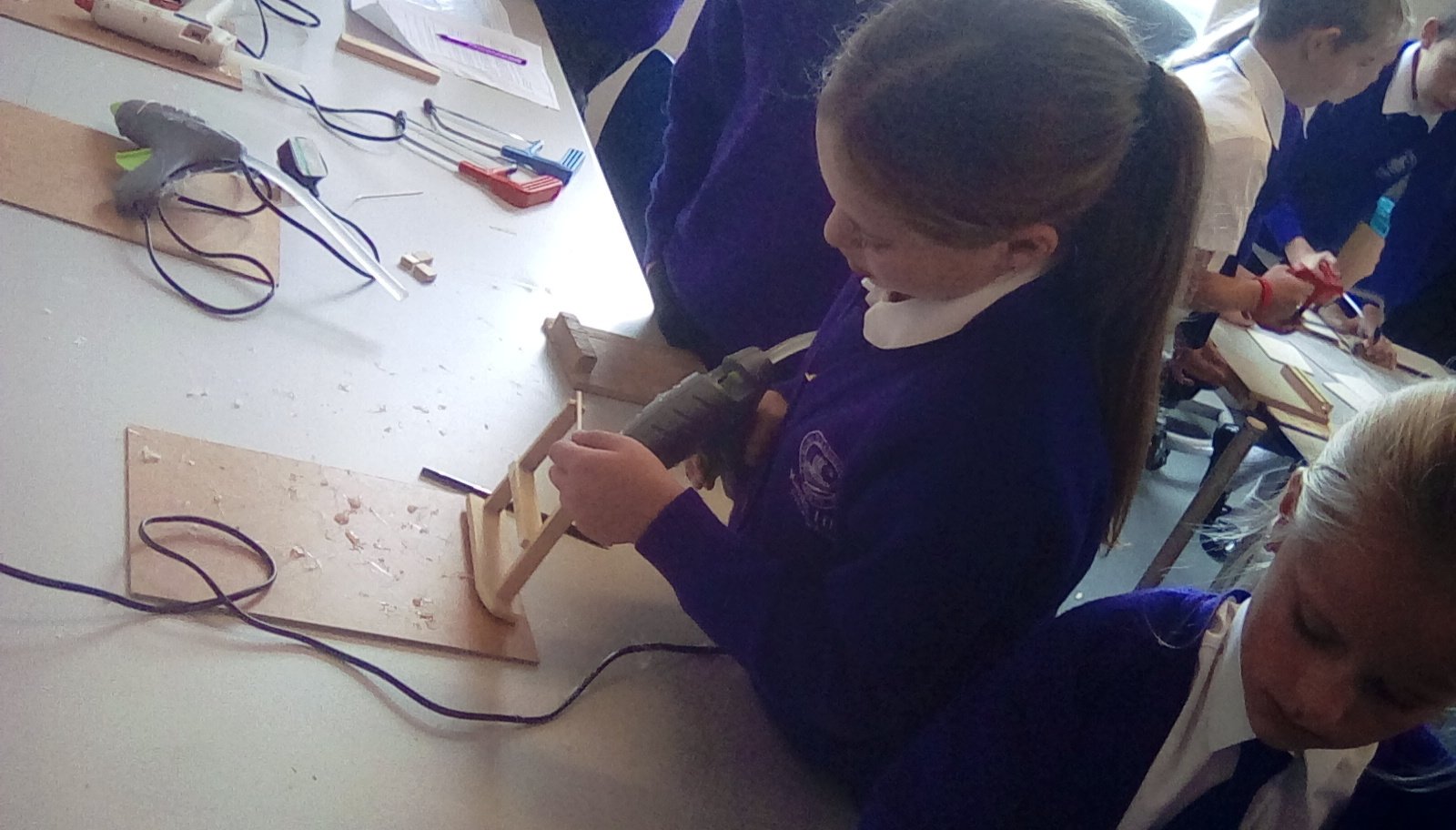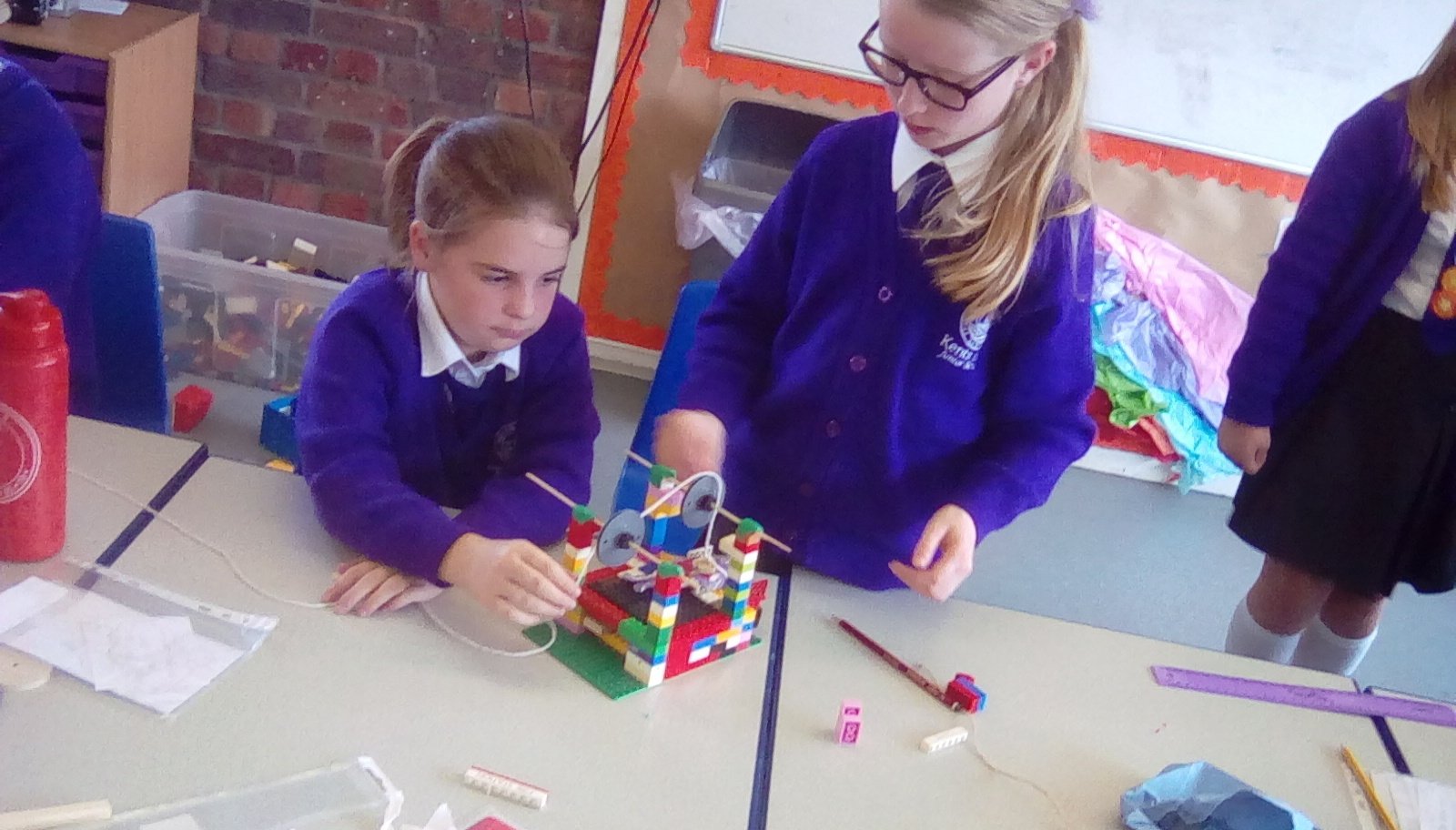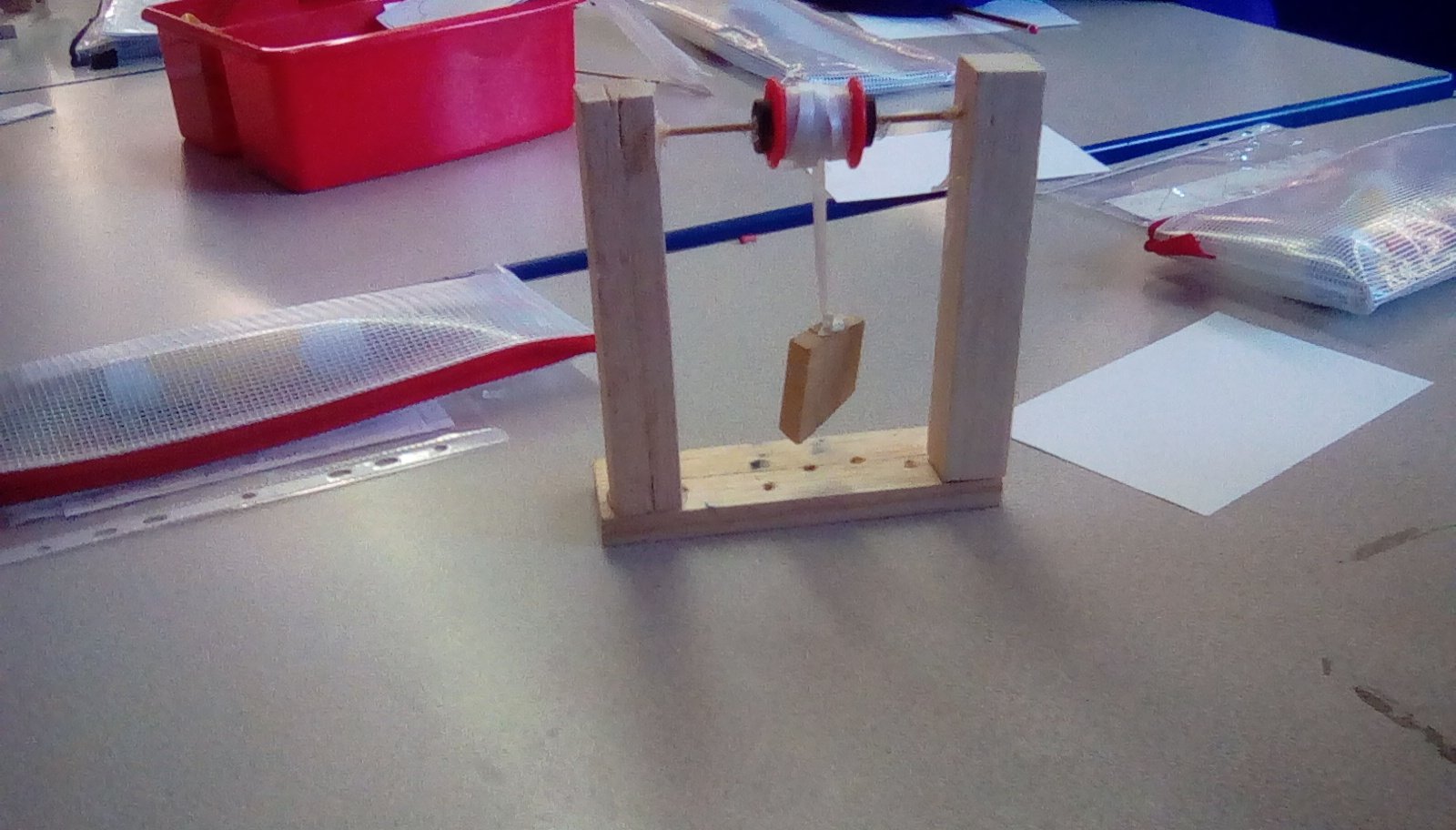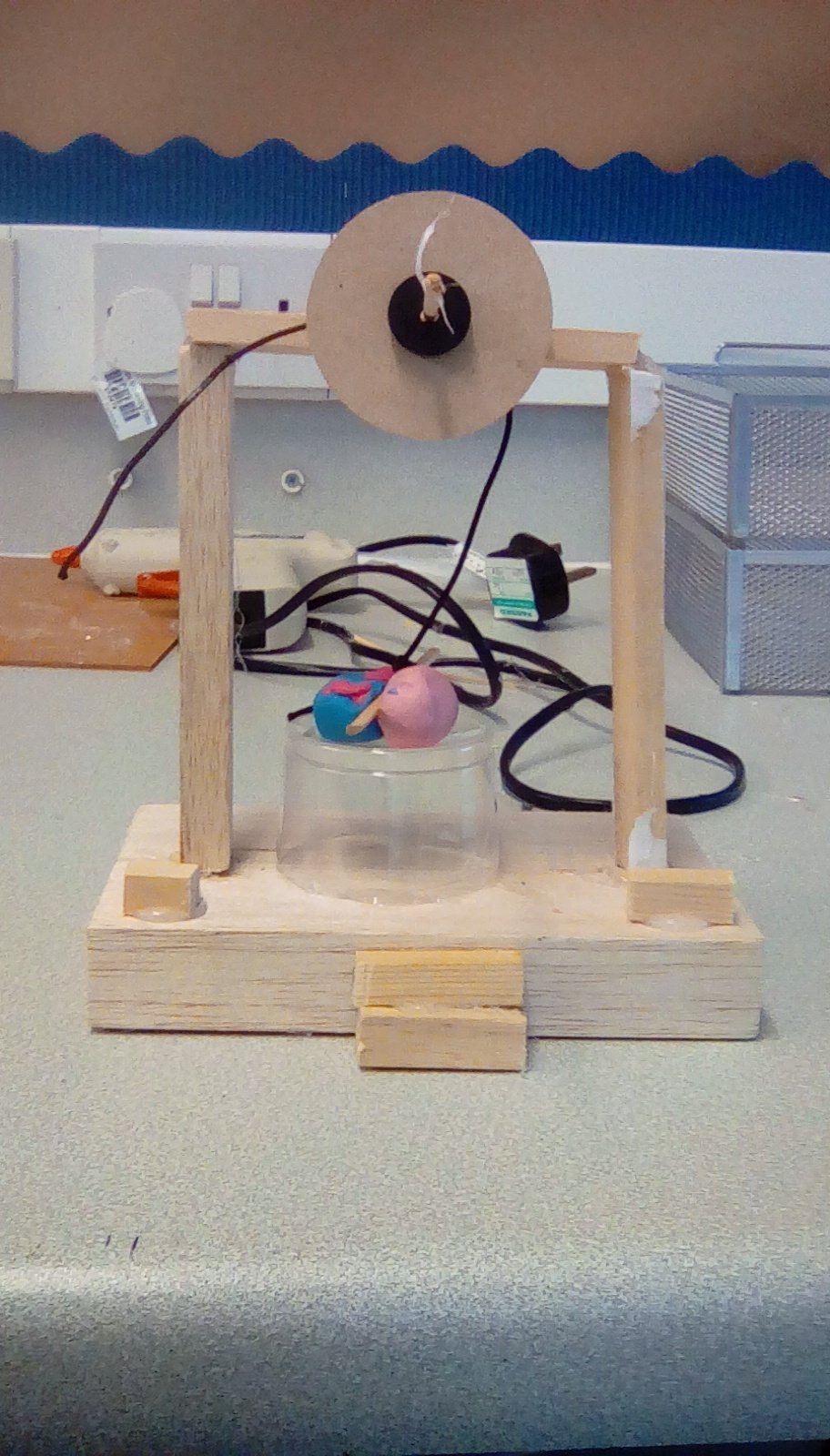 Throughout this week, the children have been developing their understanding of online safety using the SMART approach. To enhance this, Year 5 used Now Press Play to immerse themselves in a real life scenario concerning online safety, which they then discussed the importance of and how to resolve the issue.
Week beginning 07.10.19
This week in Year 5, the children have been developing their understanding of air resistance in science. They planned and conducted their own investigations creating and testing parachutes rate of fall, using different types of material to test this. After recording their data, they came to the conclusion that paper had the most air resistance acting upon it, as their paper parachutes fell at the slowest rate. This information could then be passed onto the company that they were designing parachutes for. In addition, the children have been focusing on their writing to entertain in the form of rewriting the opening scenes of the book Holes. Successfully, they have used similes and personification as well as expanded noun phrases and adverbs to compose well thought out, creative, pieces of writing. Well done Year 5!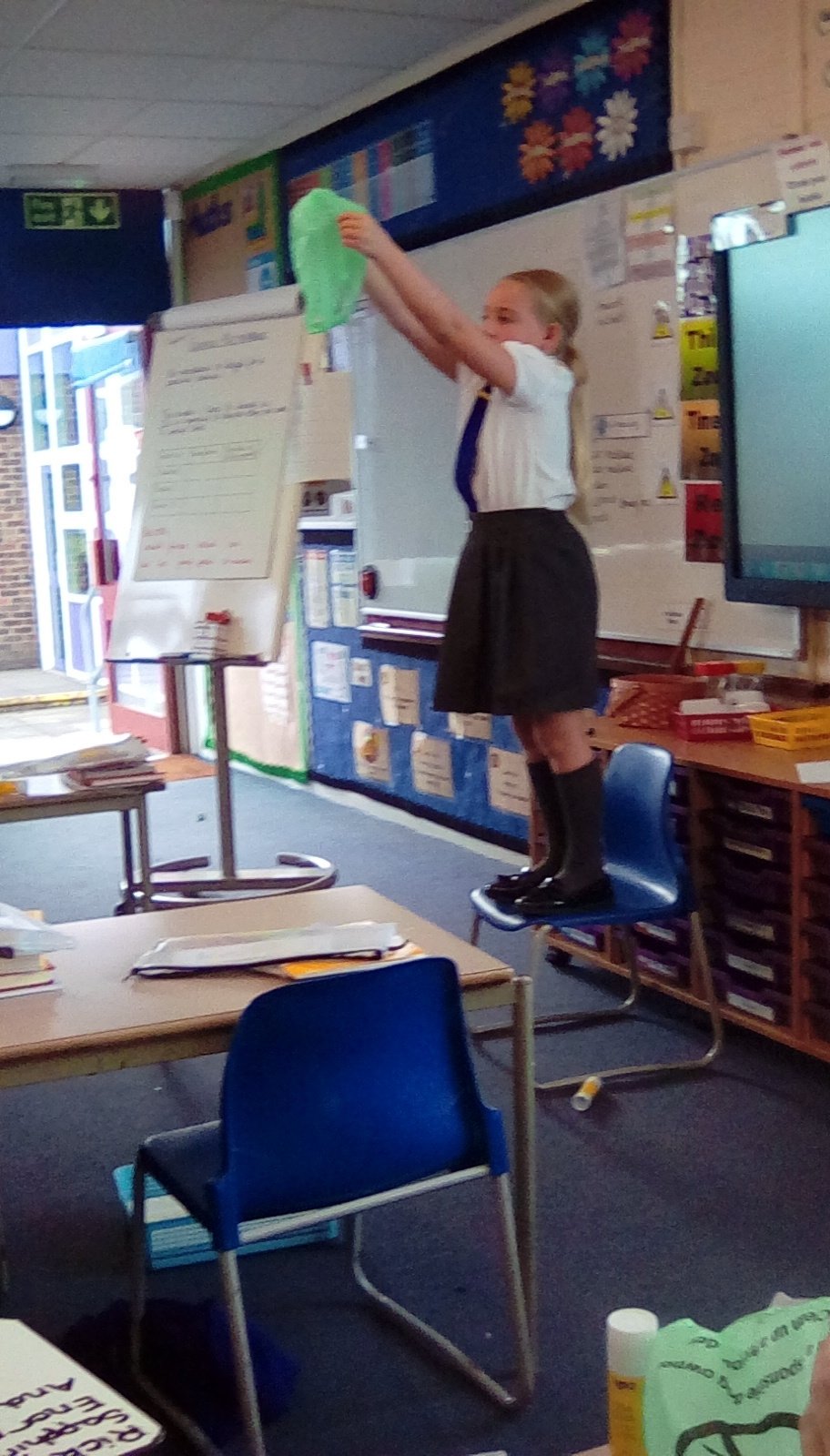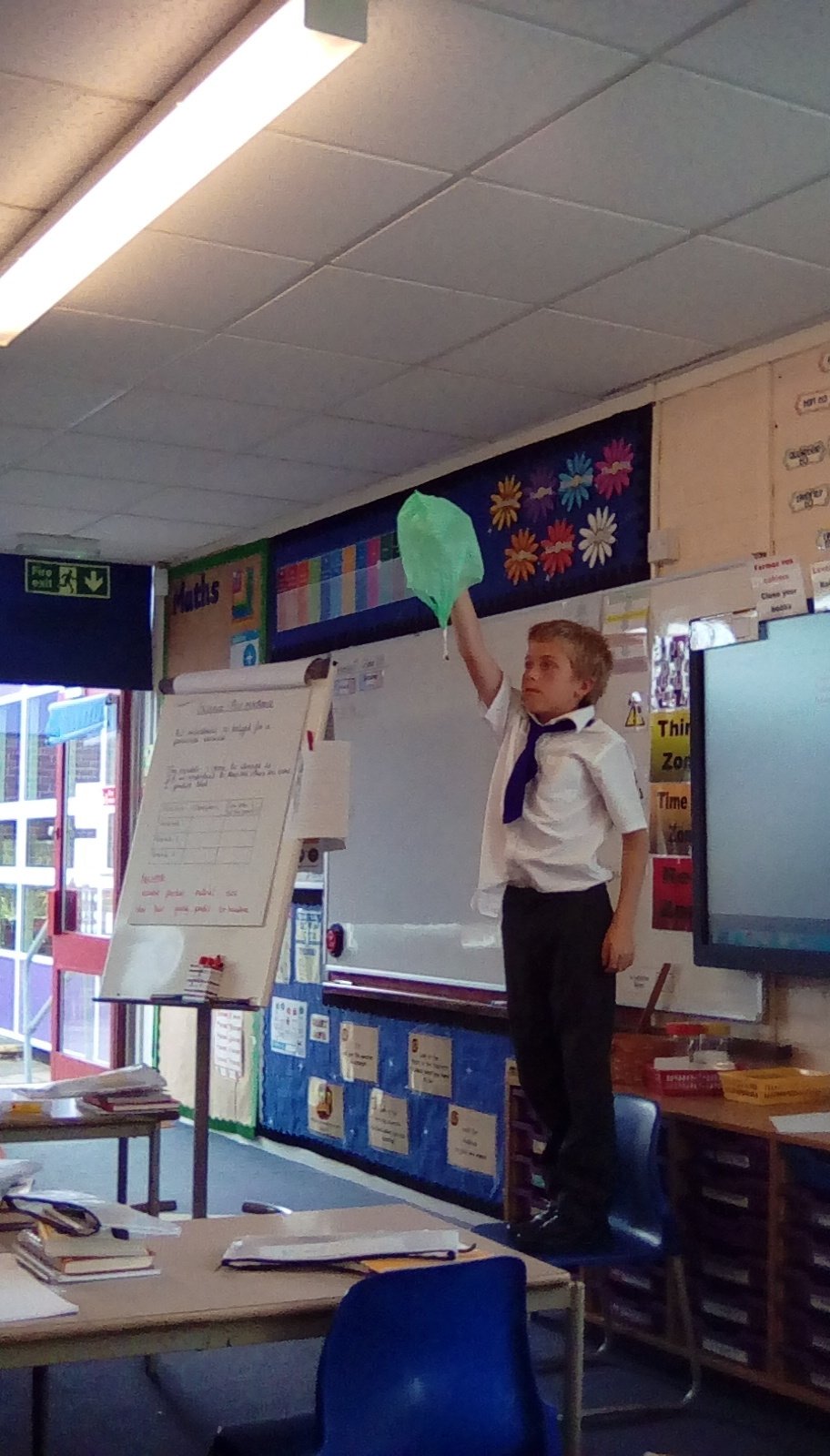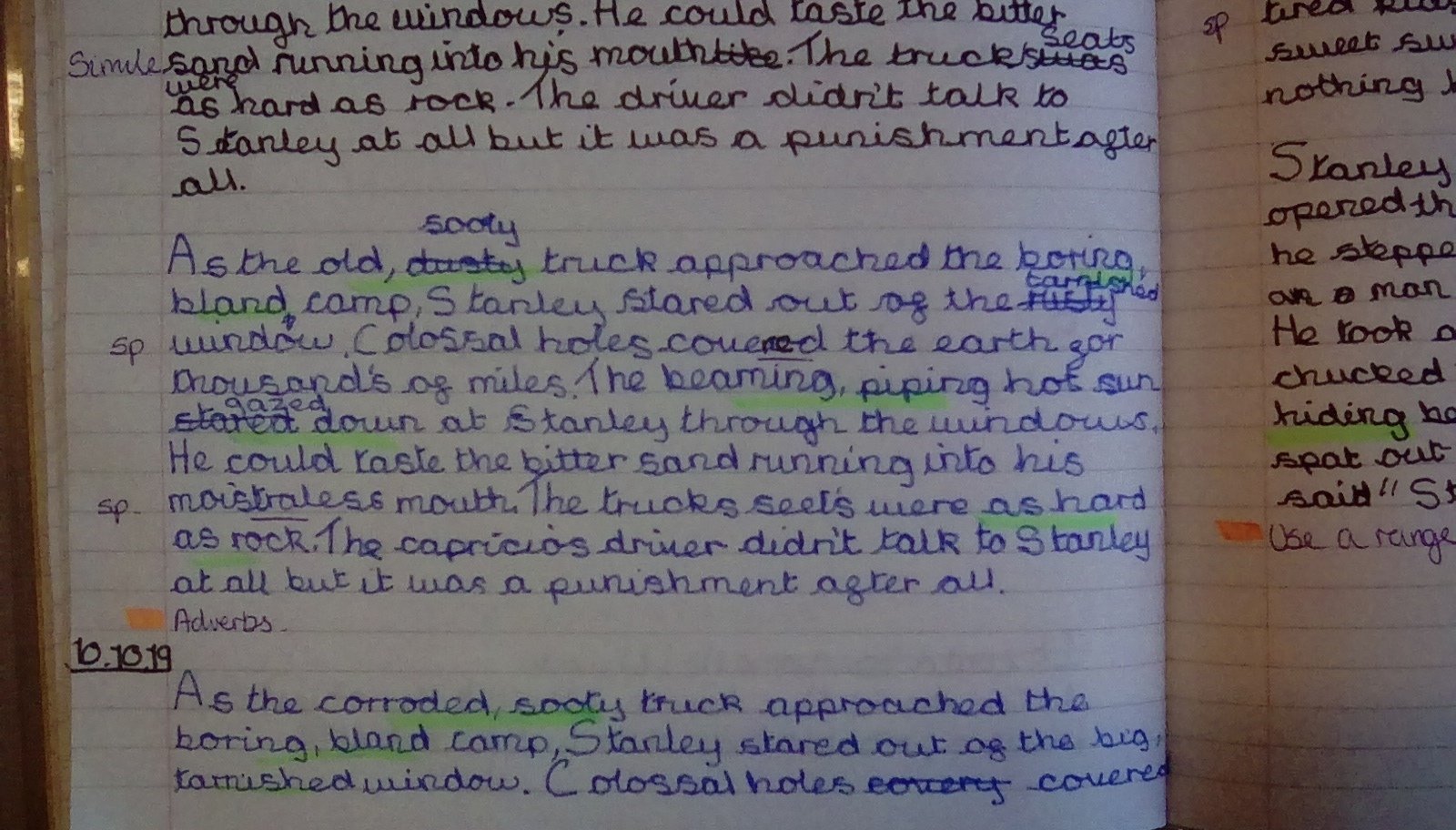 Week beginning 30.09.19
This week, the children have had the amazing opportunity to meet GB athlete Laura Samuel. They demonstrated the core values of perseverance during the fun yet tough exercises, as well as teamwork whilst cheering on their peers! In Gymnastics as part of PE, 5LJ have tried hard whilst using the apparatus, as well as 5MC and 5HW continuing to push themselves in their PE lessons. In addition, they've also furthered their understanding of crime and punishment across different eras whilst recreating the Magna Carta in Art and learning about punishment in the torturous Tudor period.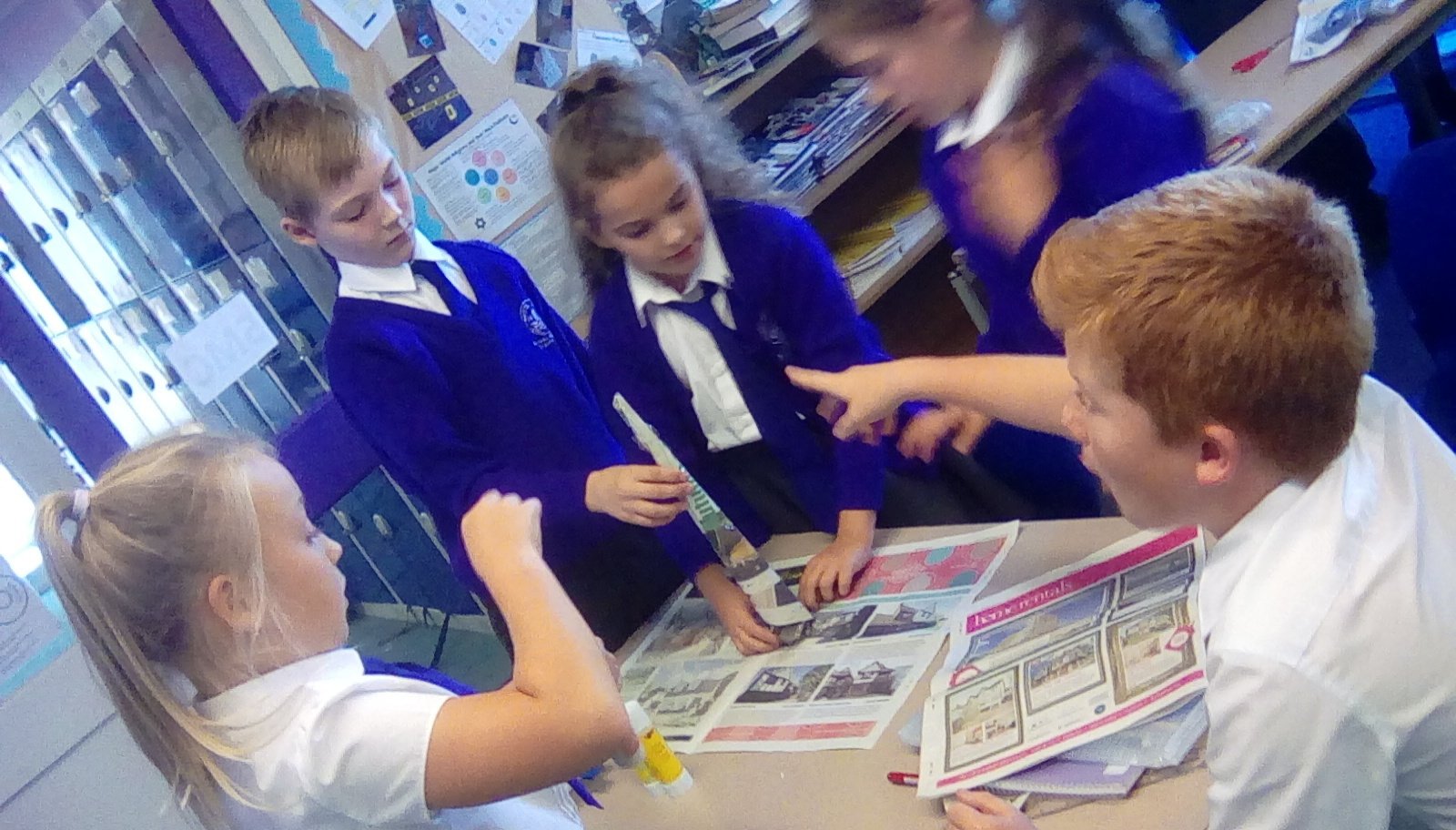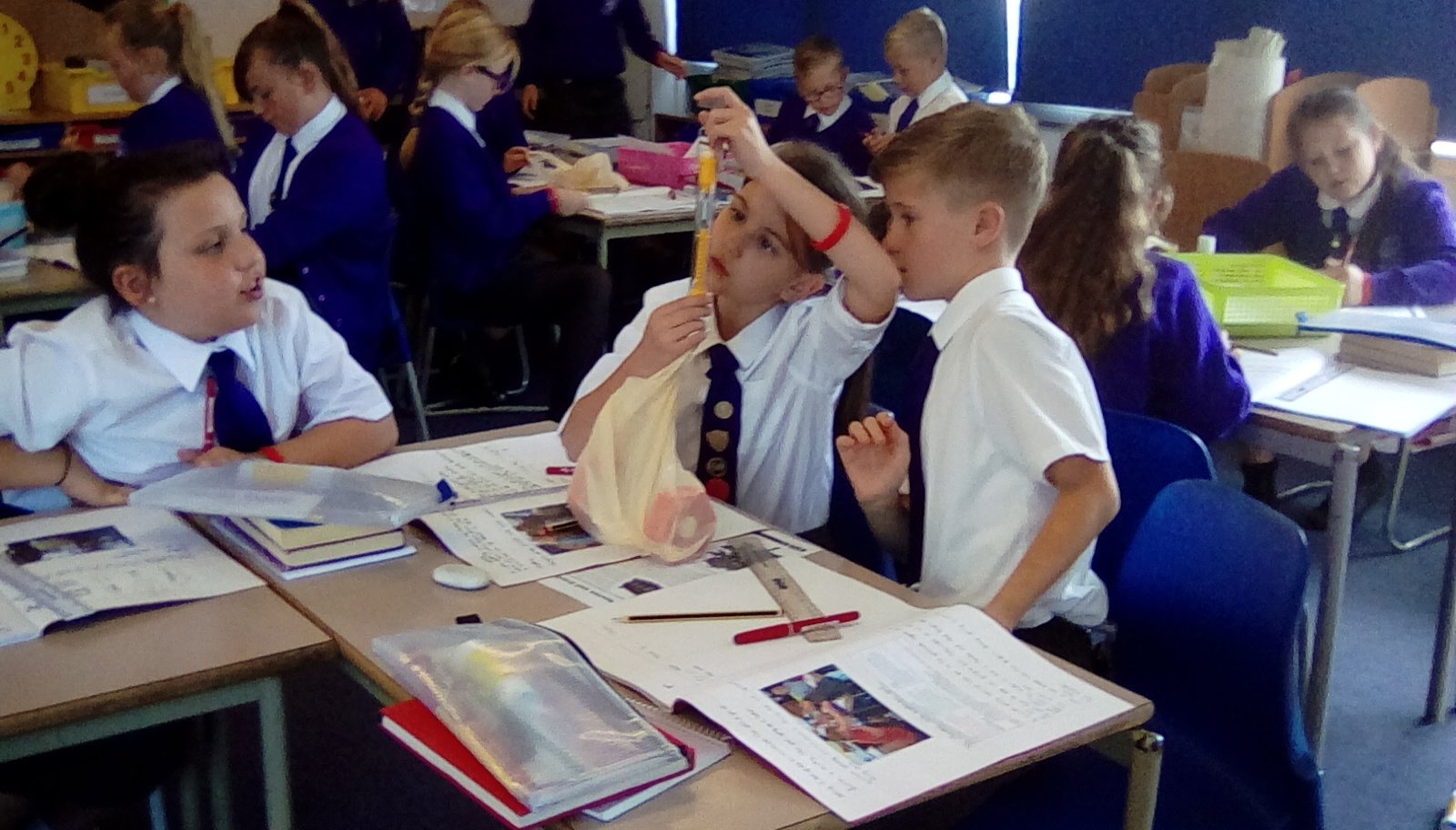 Week beginning 23.09.19
This week, the children have had the amazing opportunity to meet GB athlete Laura Samuel. They demonstrated the core values of perseverance during the fun yet tough exercises, as well as teamwork whilst cheering on their peers! In Gymnastics as part of PE, 5LJ have tried hard whilst using the apparatus, as well as 5MC and 5HW continuing to push themselves in their PE lessons.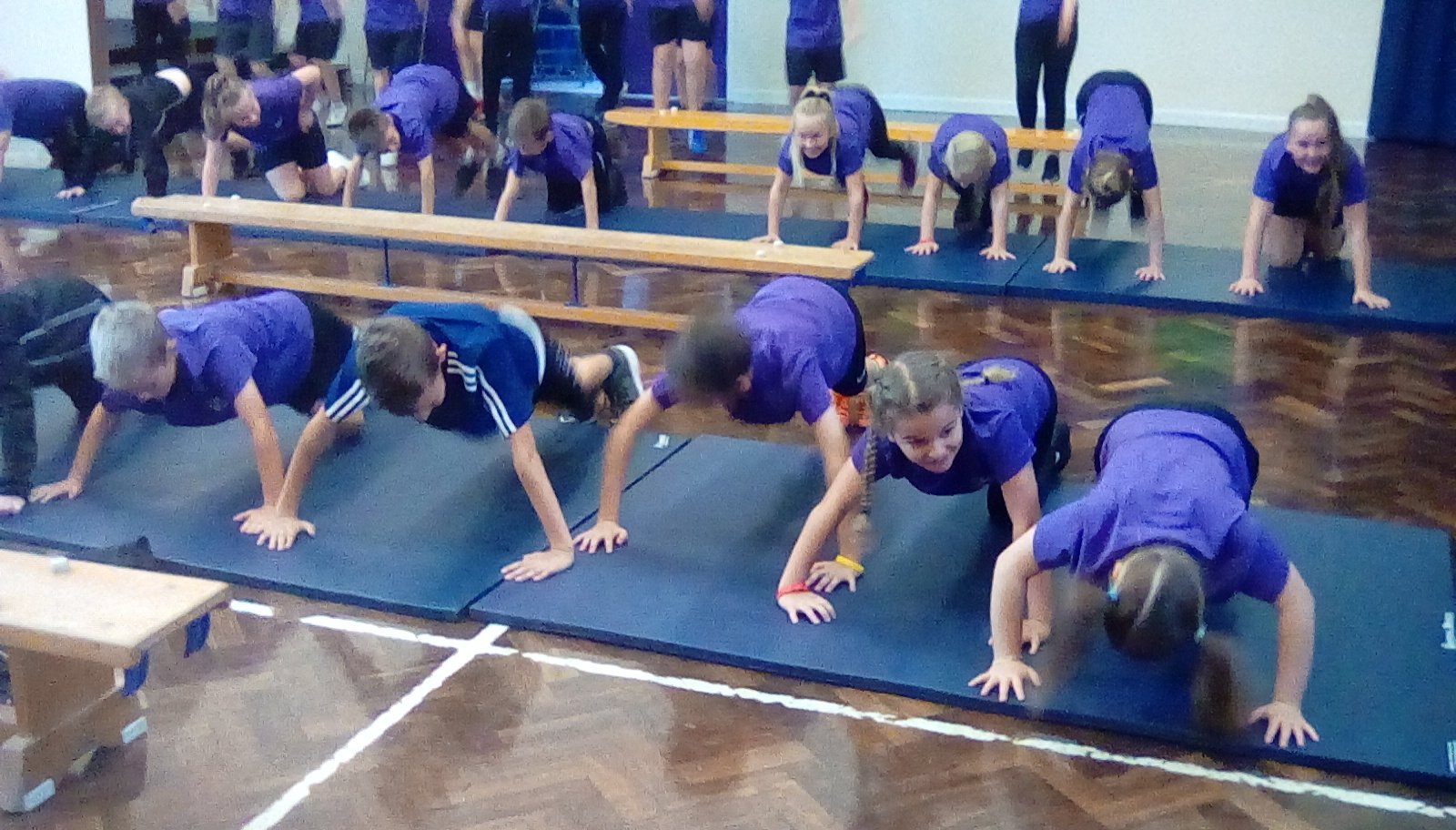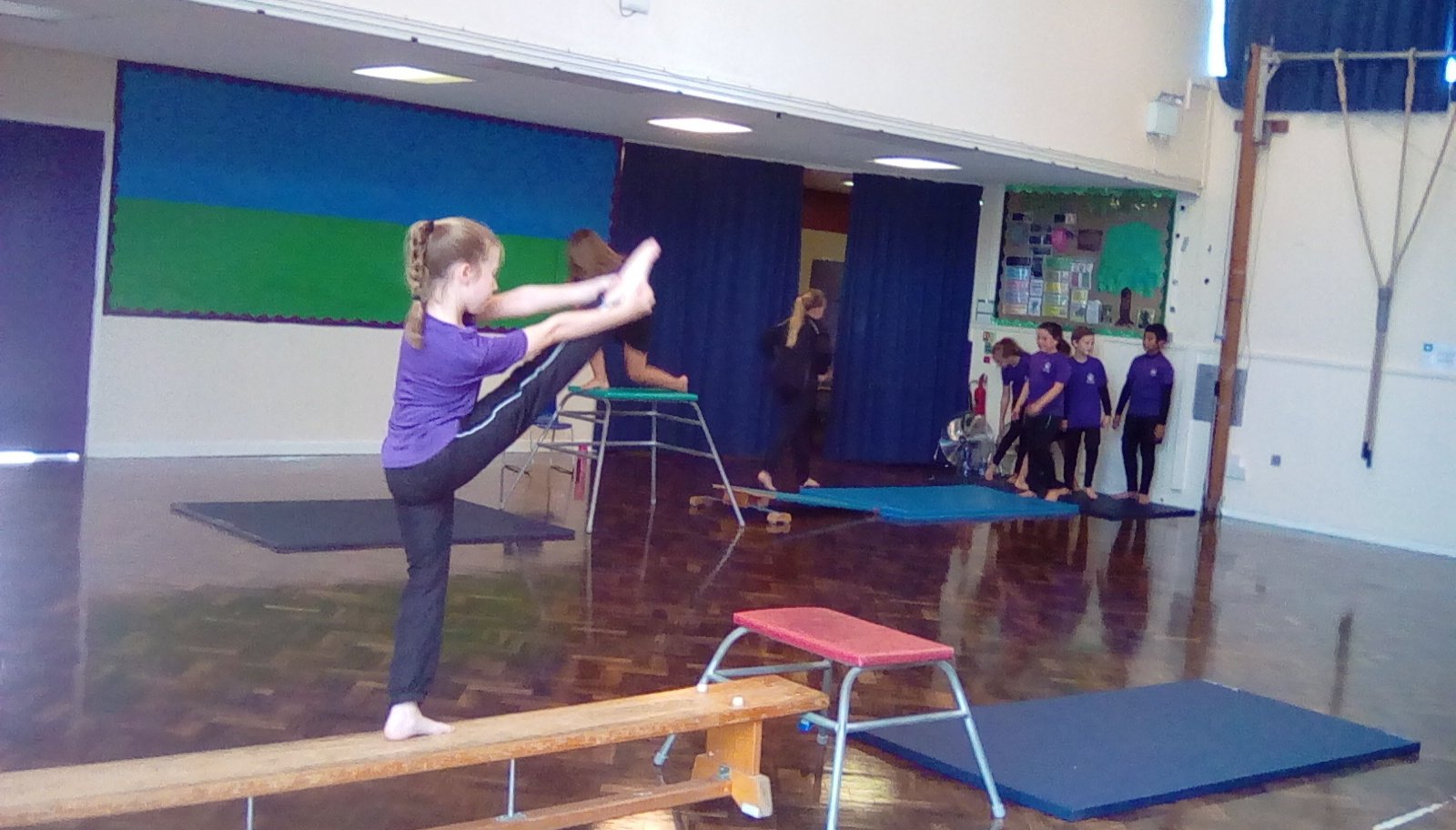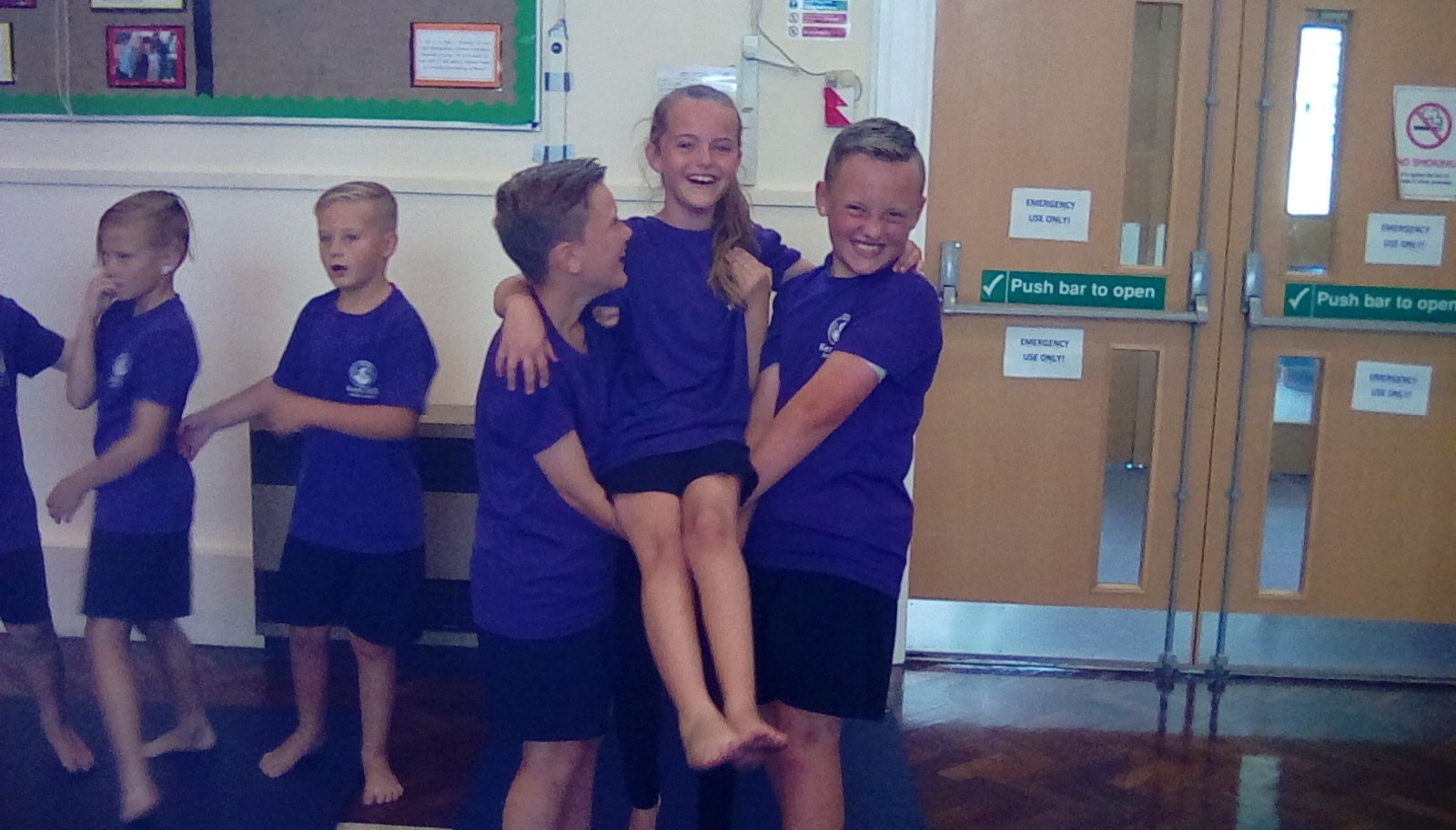 In addition, they've also furthered their understanding of crime and punishment across different eras whilst recreating the Magna Carta in Art and learning about punishment in the torturous Tudor period.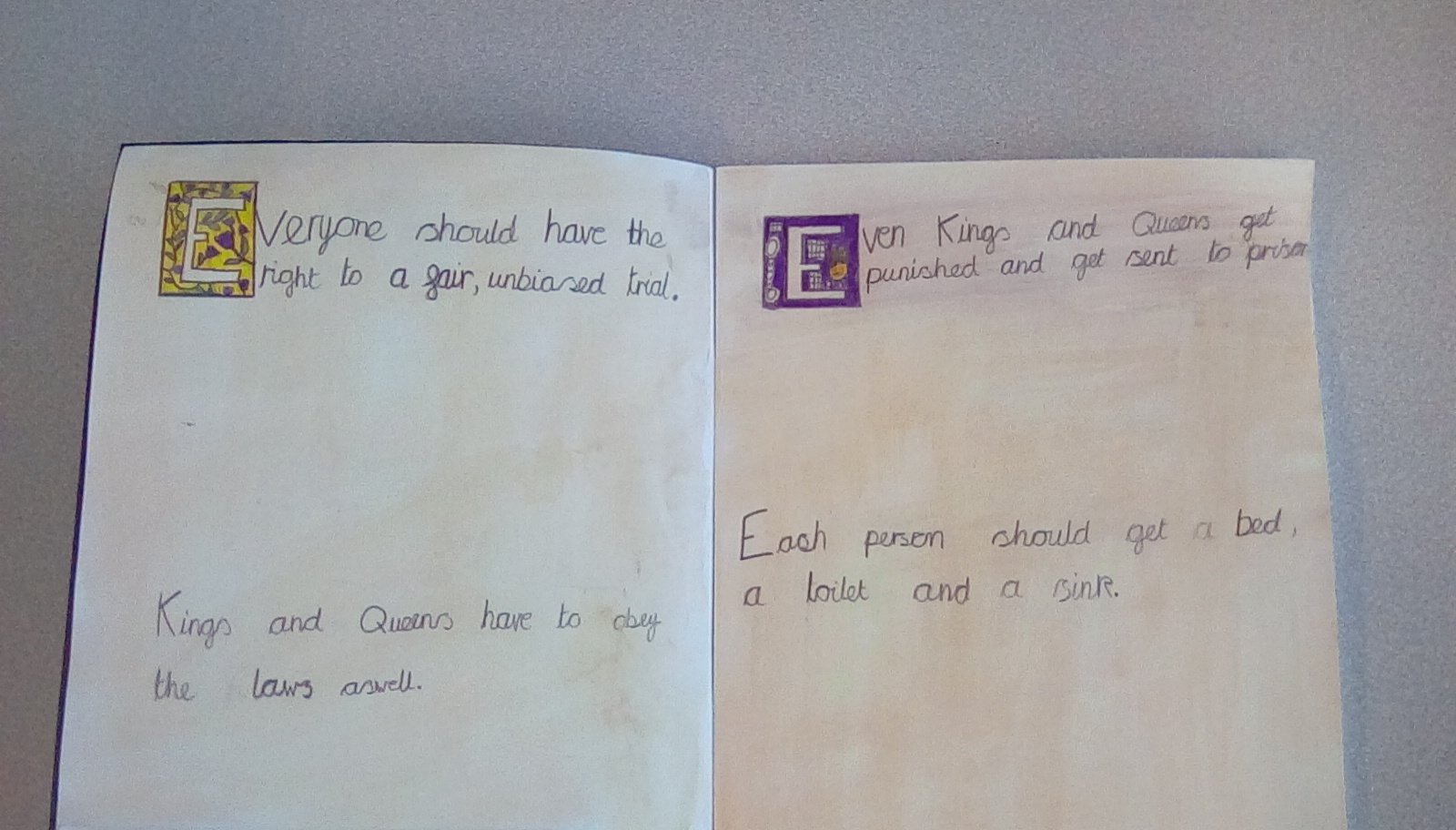 Week beginning 16.09.19
This week Year 5 have produced a 'write to inform' piece about Slavery in the Roman era, using all the learning acquired during topic lessons, as well as beginning to learn about Crime and Punishment in Anglo-Saxons times. Excitingly, they presented/listened to speeches from School Council candidates, and developed our understanding of politics by using ballot papers to elect their year group members of the School Council. It was also Year 5's turn to showcase 'what we've been learning' in our celebration assembly. As a year group, the children performed the Tudor Punishment song, as well as shared some of their other work since being Year 5's.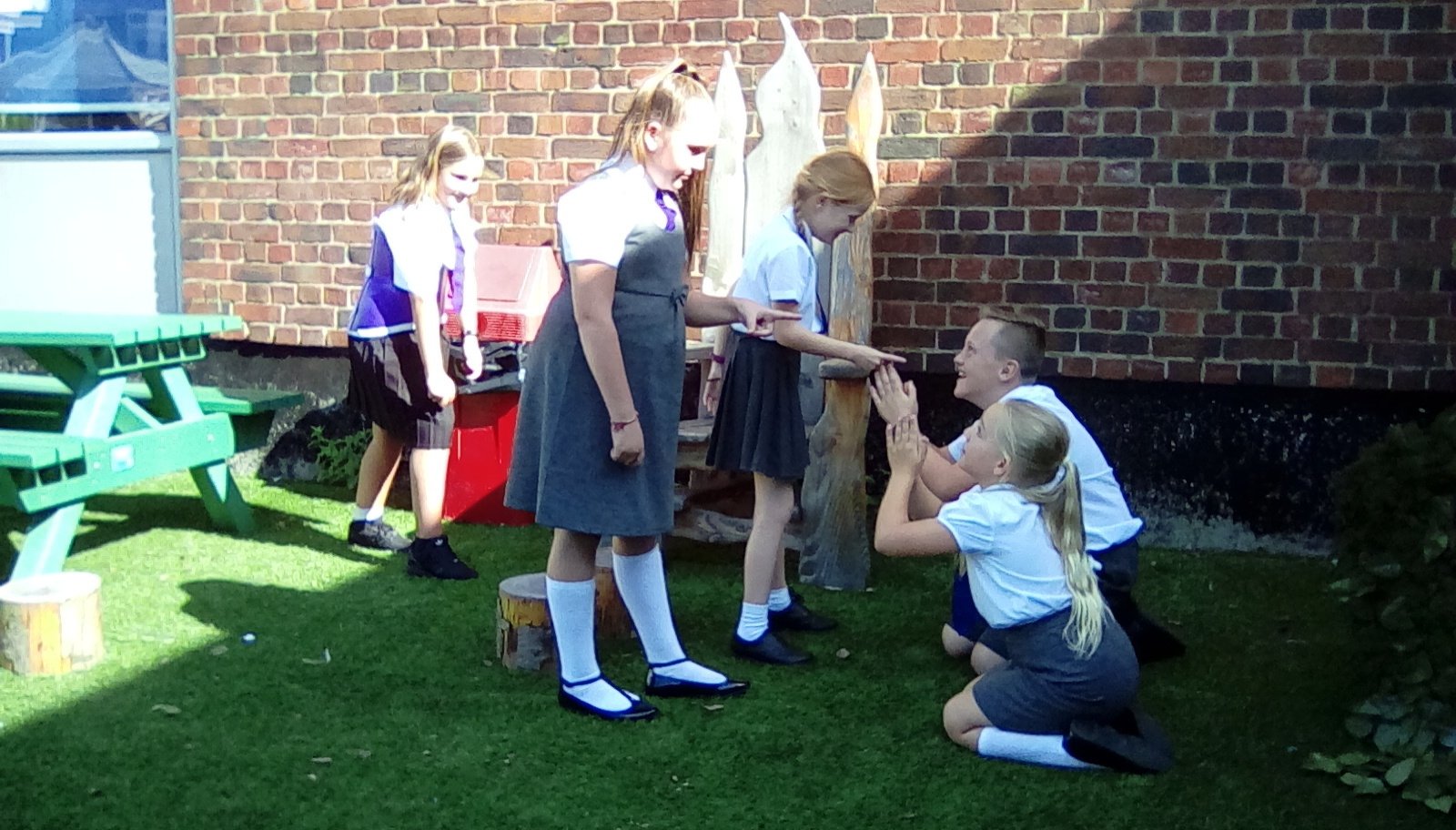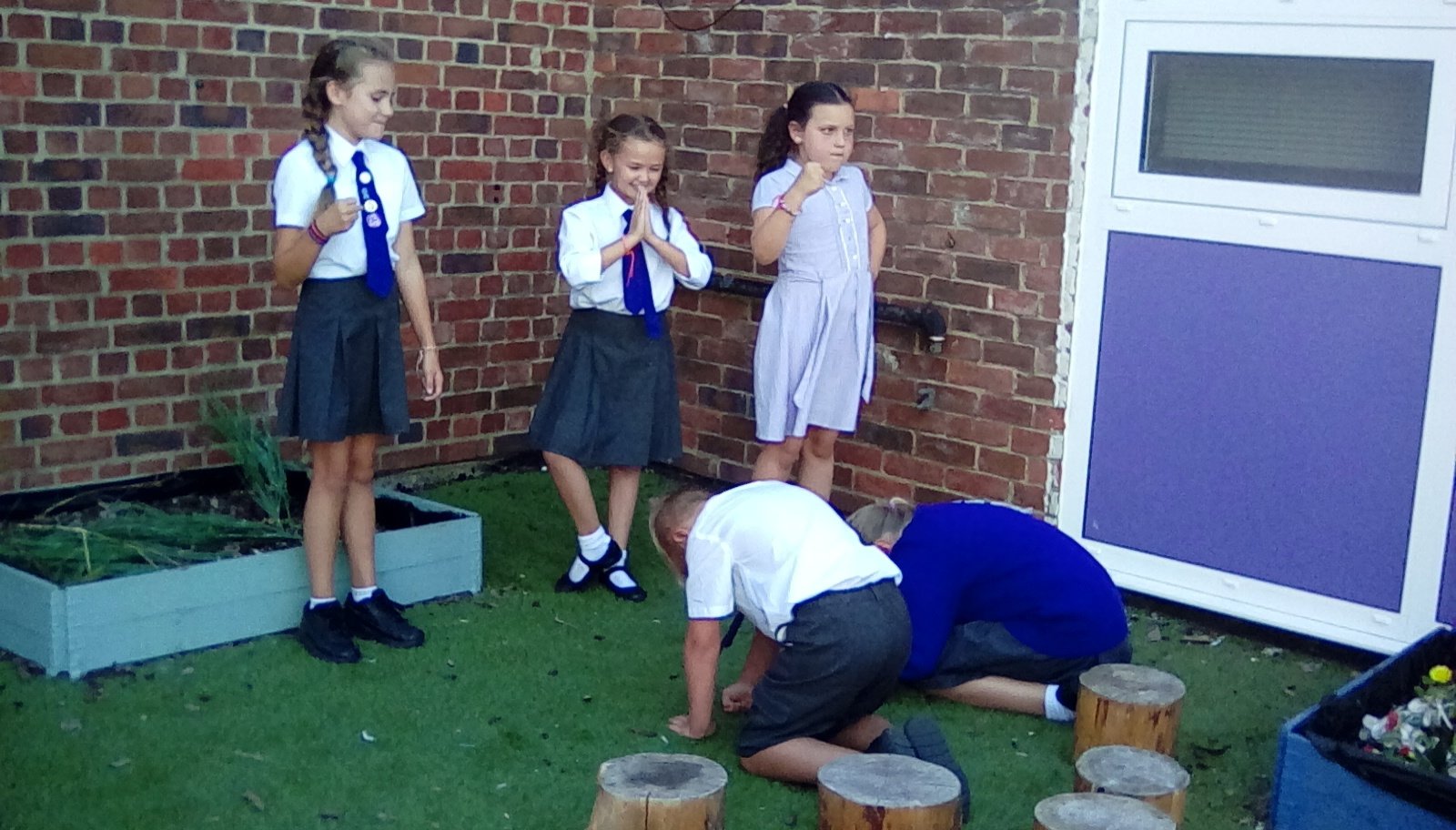 Week beginning 09.09.19
This week in Year 5, the children have gone back in time 2000 years to learn about crime and punishment in the Roman era. To start their learning, they researched a range of Emperors using the Chromebooks, which provided an opportunity to practise their teamwork skills. The children then developed their knowledge by learning about different types of punishments in Roman times using scenario cards and a flowchart, and compared these to the modern era, as well as learned about slavery. In addition, they showed off their creative ideas in our first Free Write, which was inspired by our book – Holes. Well done Year 5!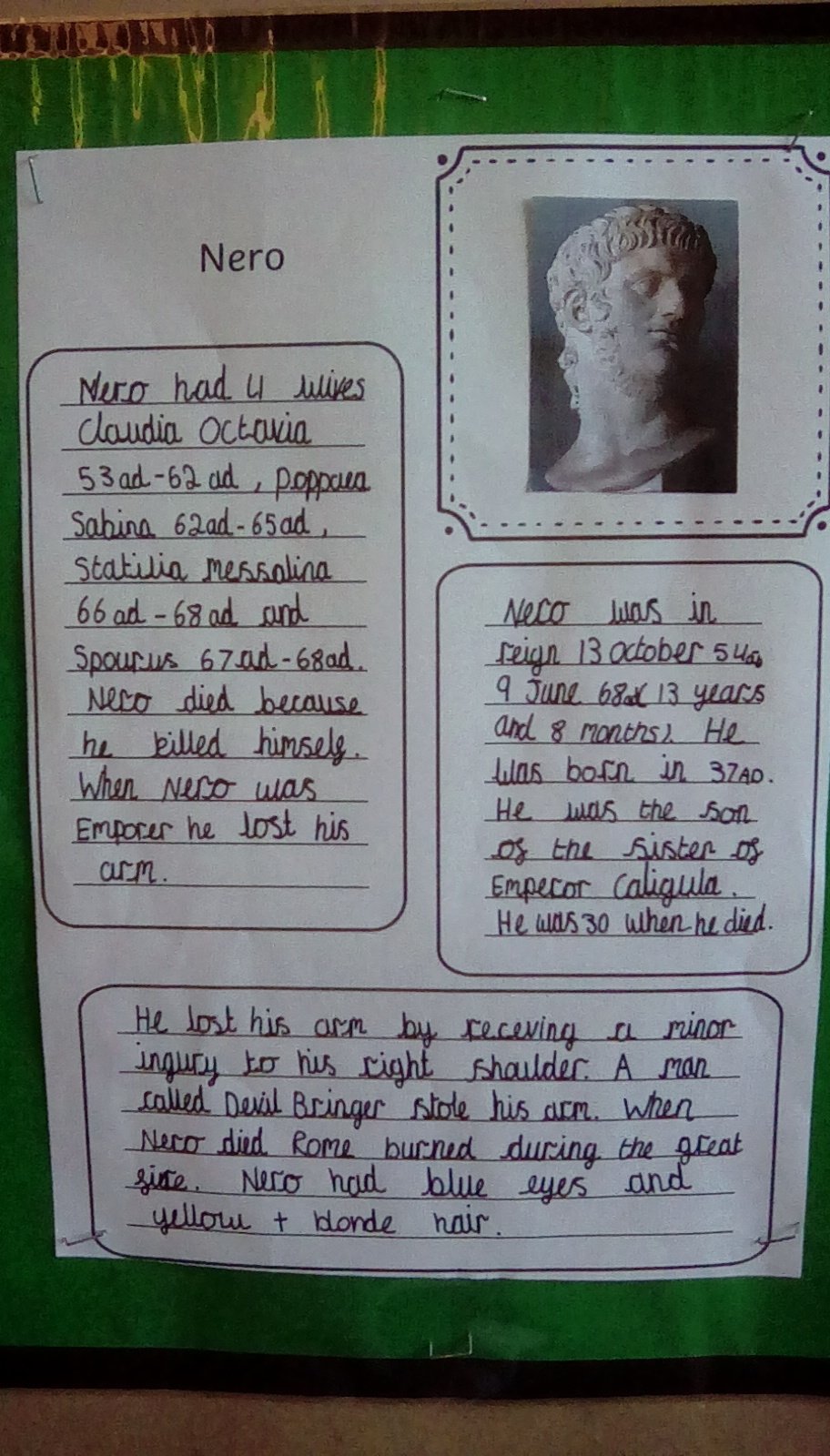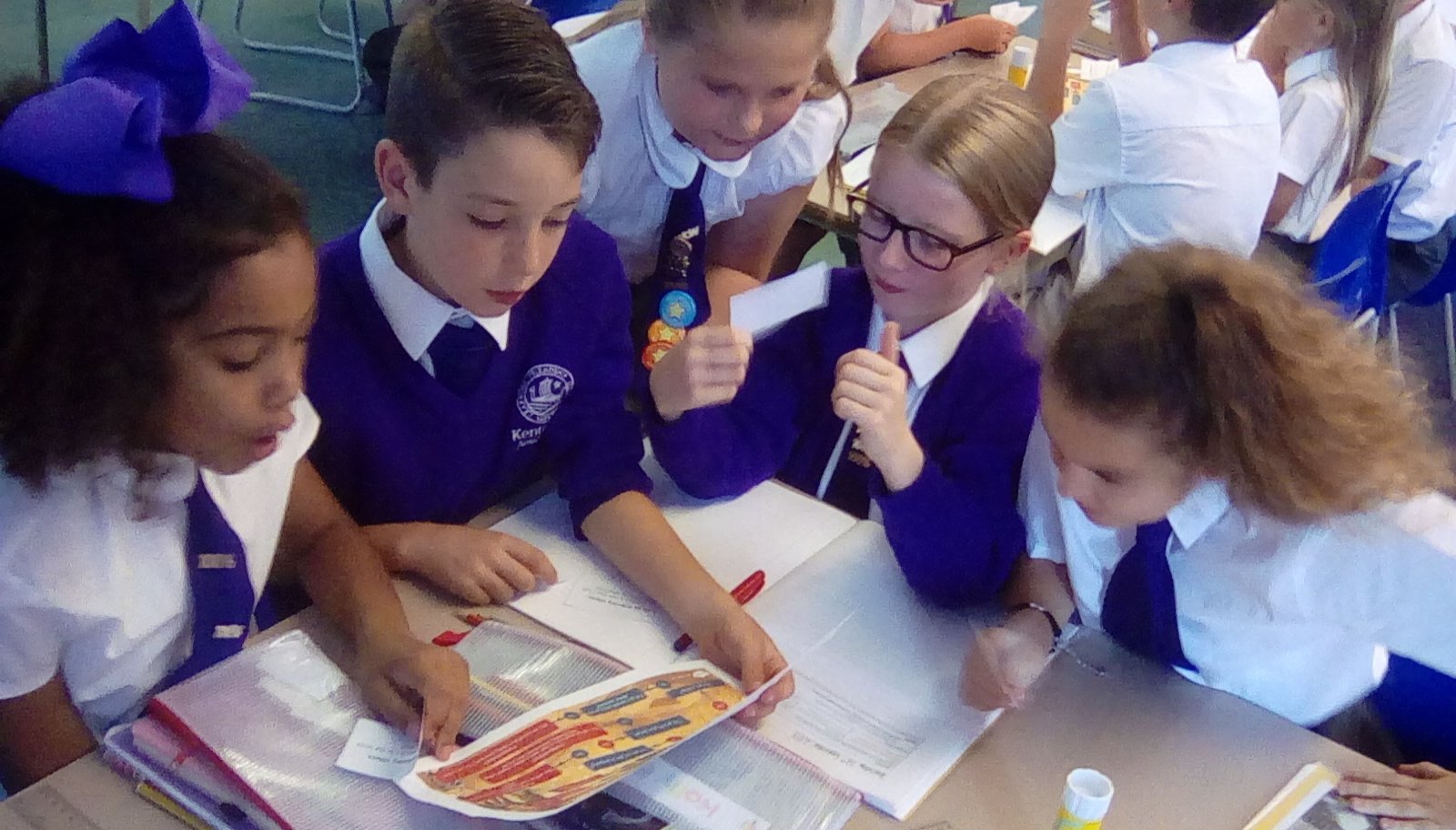 Week beginning 04.09.19
This week the children have been settling into life as Year 5's! On their first day back, the children enhanced their ability to work in teams, as well as problem solving, during team building activities. One of the challenges was to build a tower using only spaghetti and marshmallows.
To excite the children, they were detectives for the day as part of our hook day for our topic Crime and Punishment. Superbly, Year 5 worked together to identify evidence at a crime scene, as well as scrutinising witness statements and other evidence in order to capture the criminal. They learned about the importance of using finger prints and DNA to identify suspects, including printing their own finger prints! The children discussed punishments and suggested consequences for Miss Hovey's actions. Using everything they had learned, Year 5 produced their own reports of the tragedy demonstrating their fantastic writing abilities.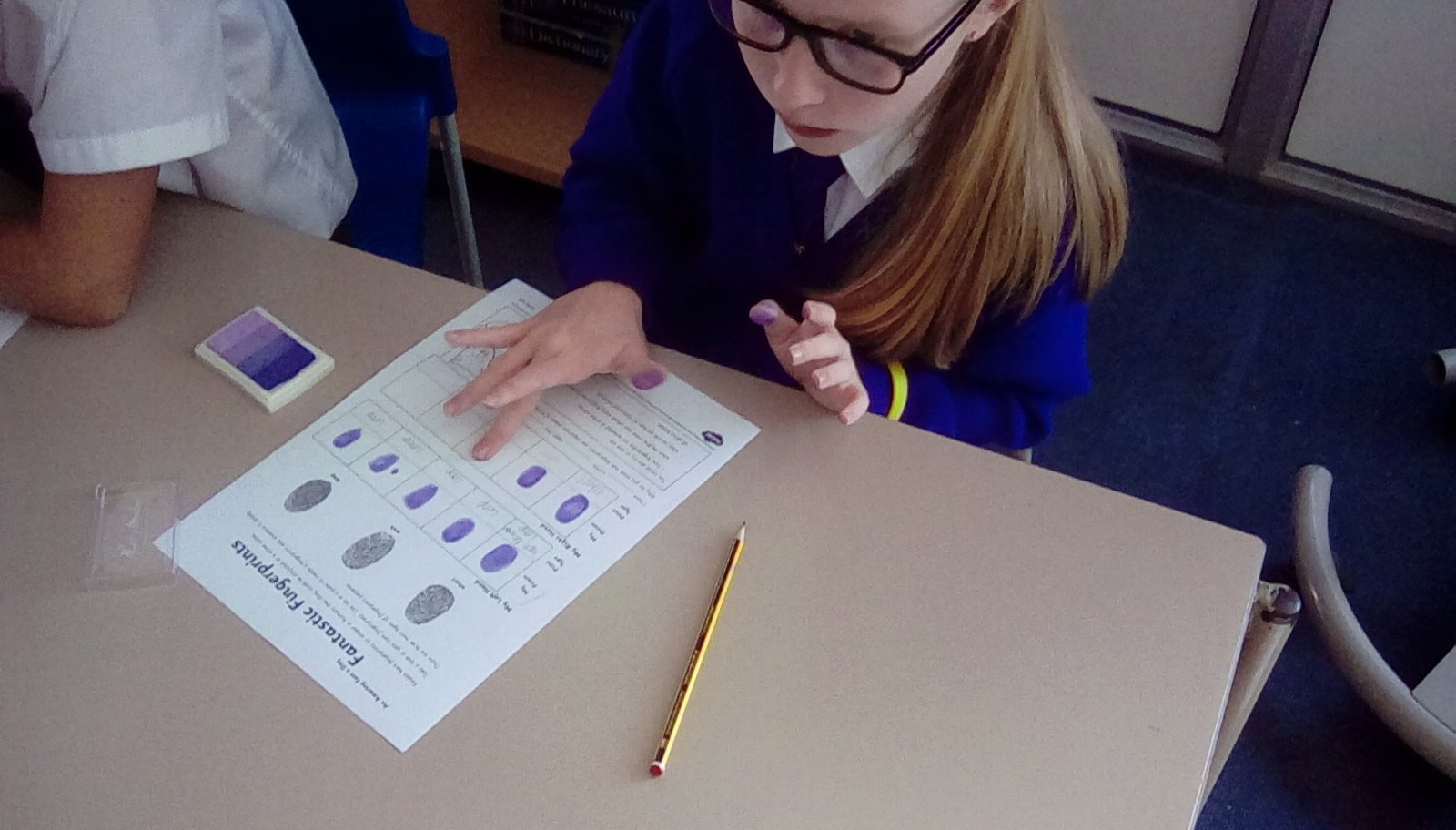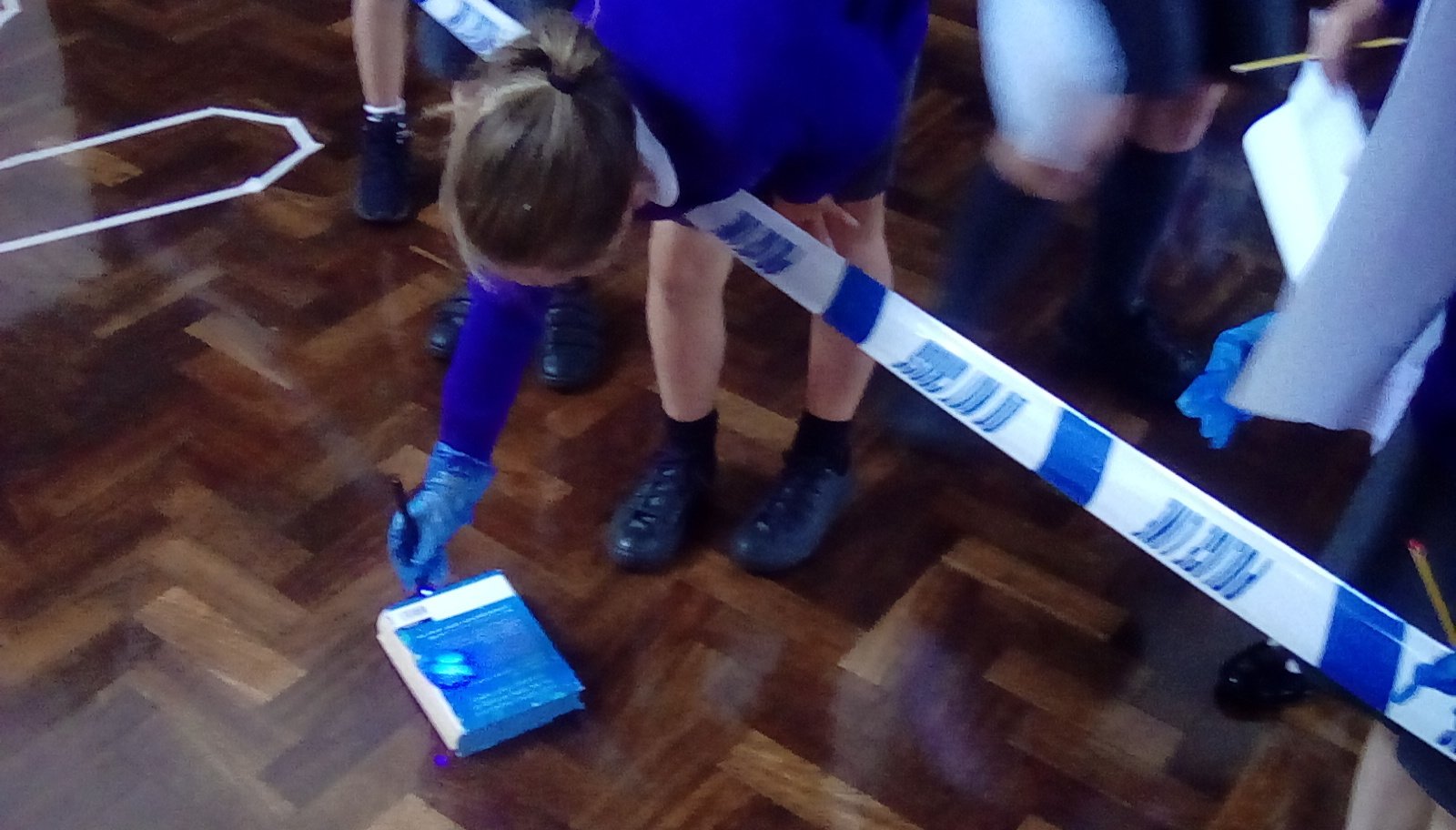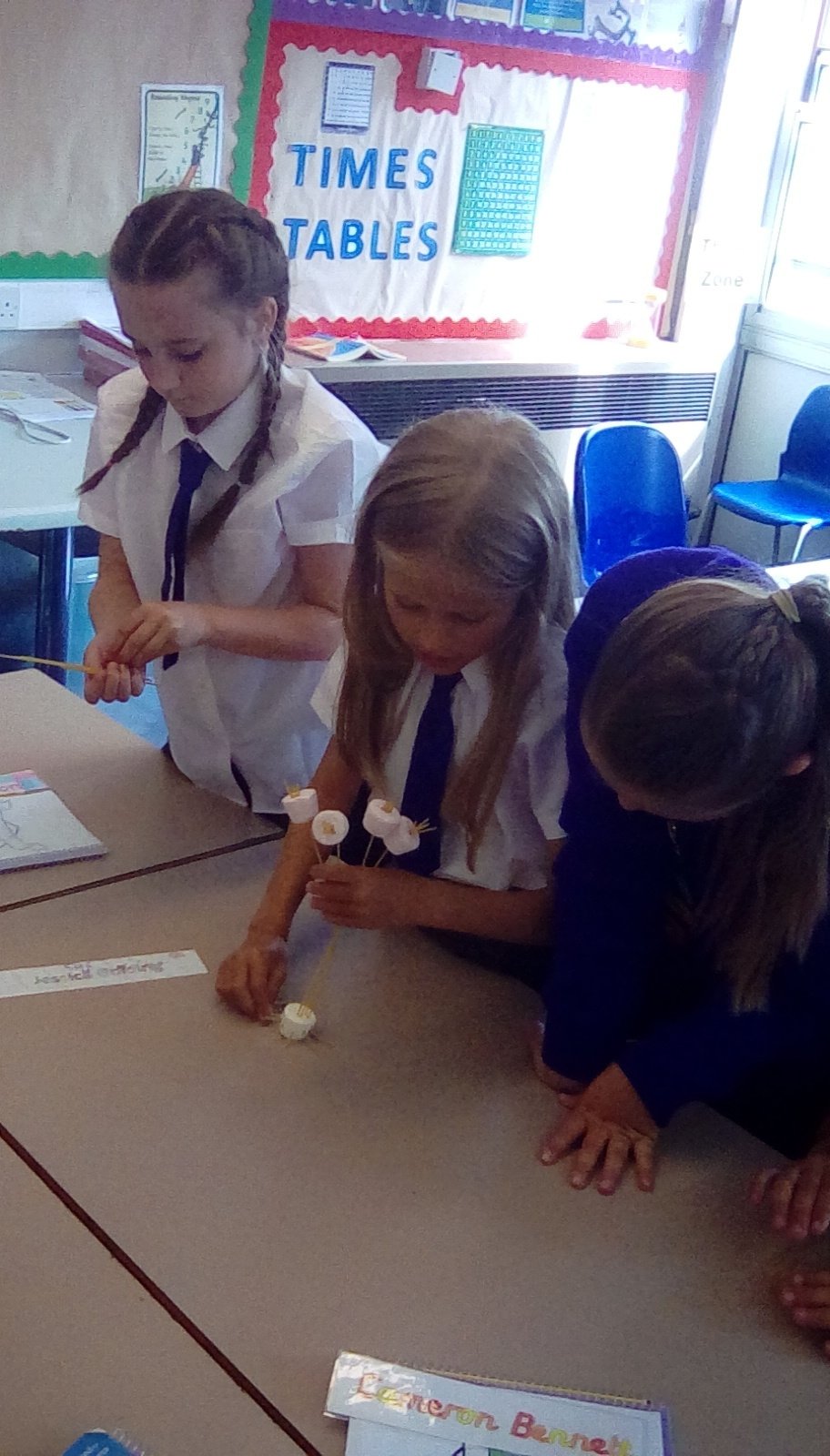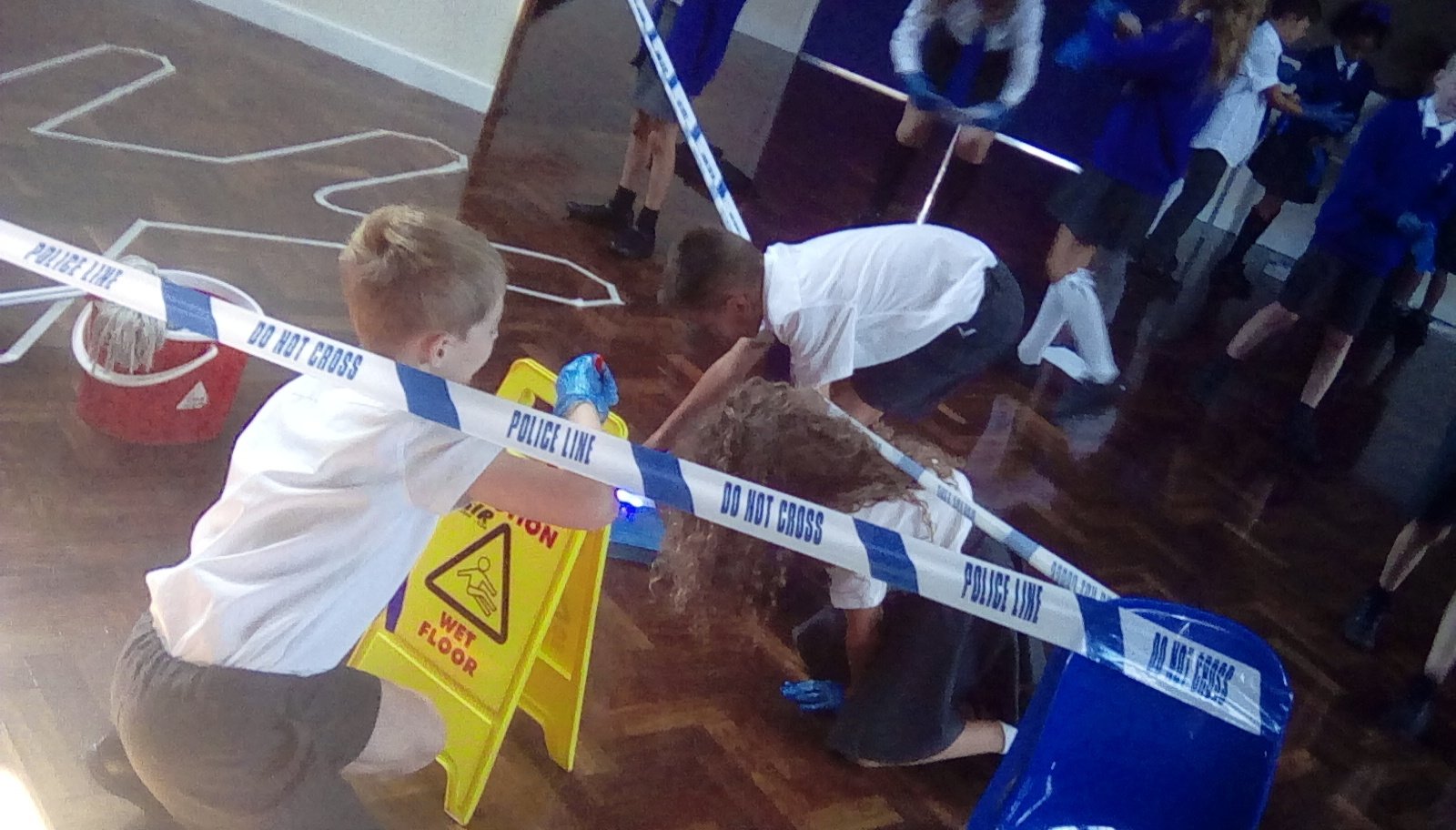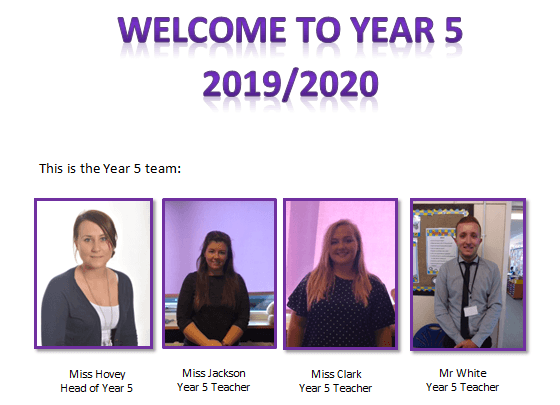 If you have any questions or queries at any point, please don't hesitate to contact one of us via the home/school diary or the school office. We will also be present at the end of the school day on the gate.
We are looking forward to our first exciting topic: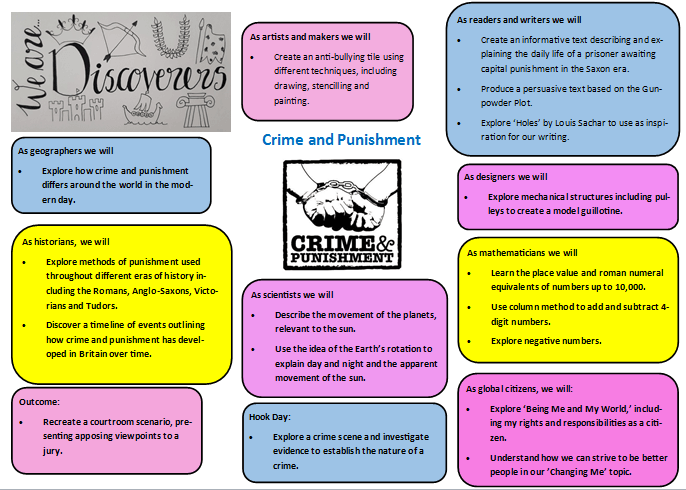 Please check back each week to see what we have been learning about!

Week beginning 15.07.19
This week Year 4 have been designing their own settings and characters to make a Stone Age animation. They then went onto using the ZU3D software on the laptops to make their stop motion animations working in groups of 3. The children have really enjoyed coming up their own storyboards, characters and settings to use within the animation. Below is some examples of their work.
In science this week, children have been looking at and exploring why animals become endangered. They begun by exploring what man made changes effect the environment animals live in. Then chose an endangered animal to research and found out where their animal's habitat is, why their chosen animal was endangered and what is being done/ could be done to help this animal not become extinct. The children then had the freedom to chose how to present the research they had found into their books, many choosing to make a poster. Below is an example.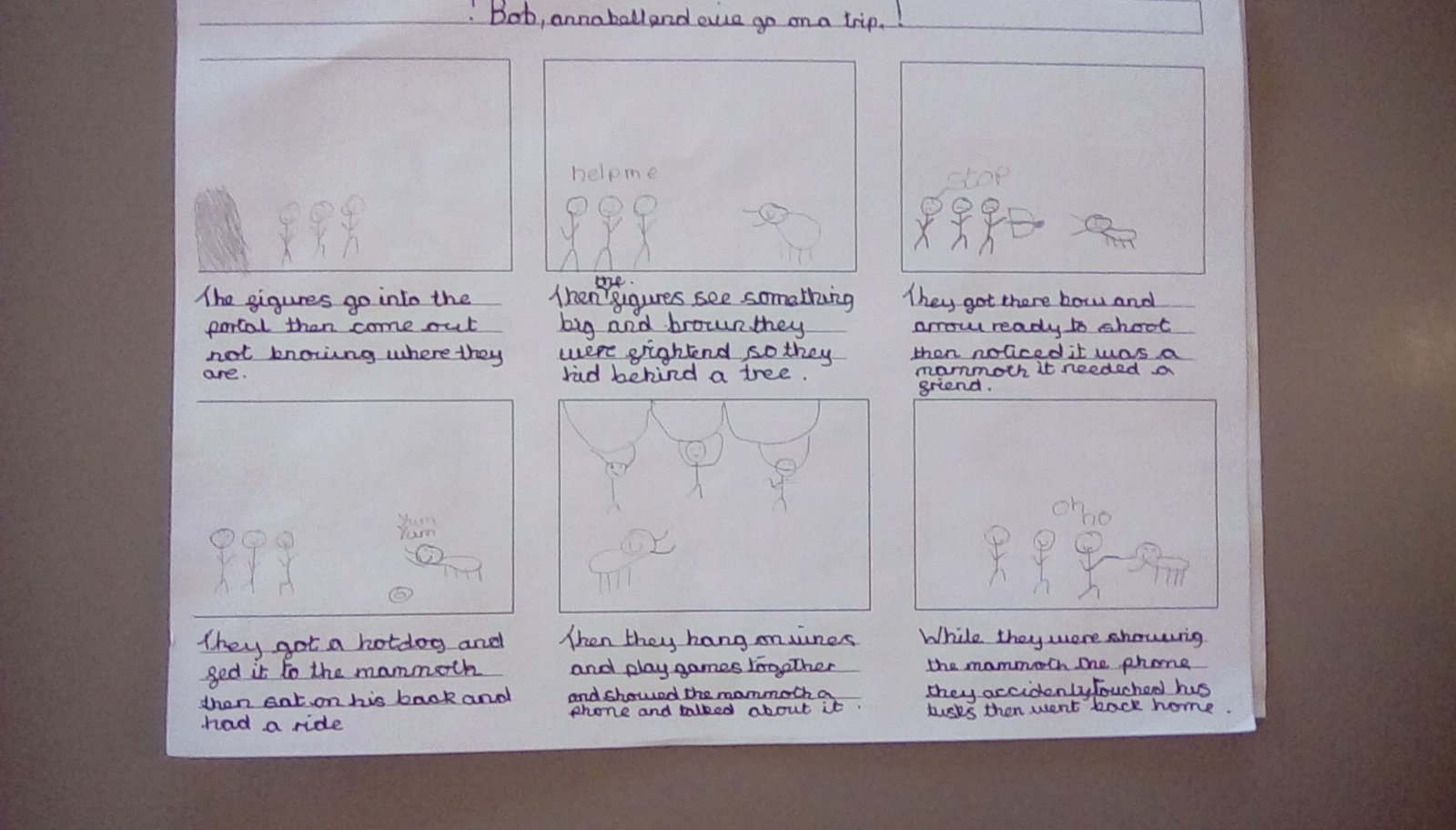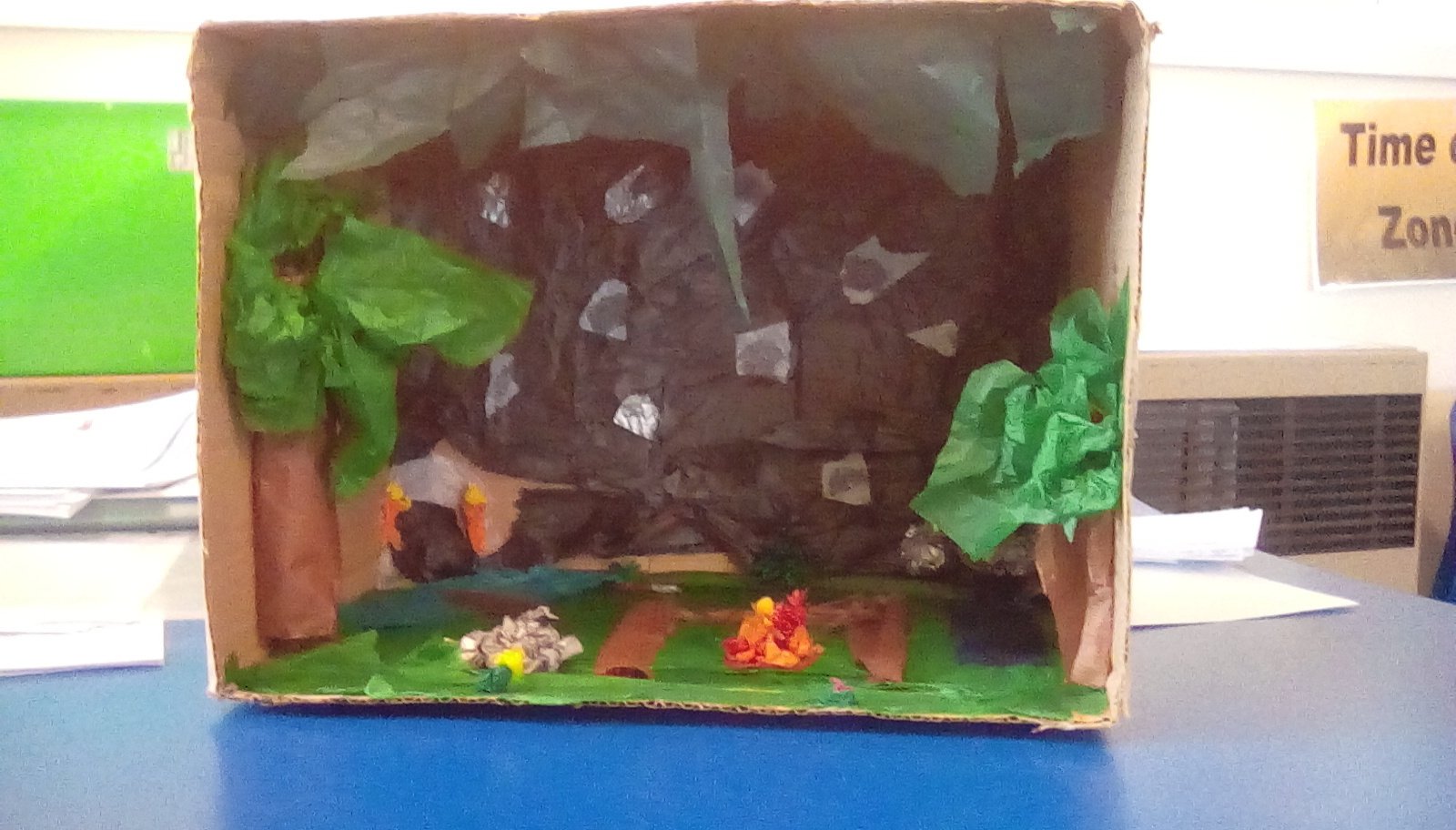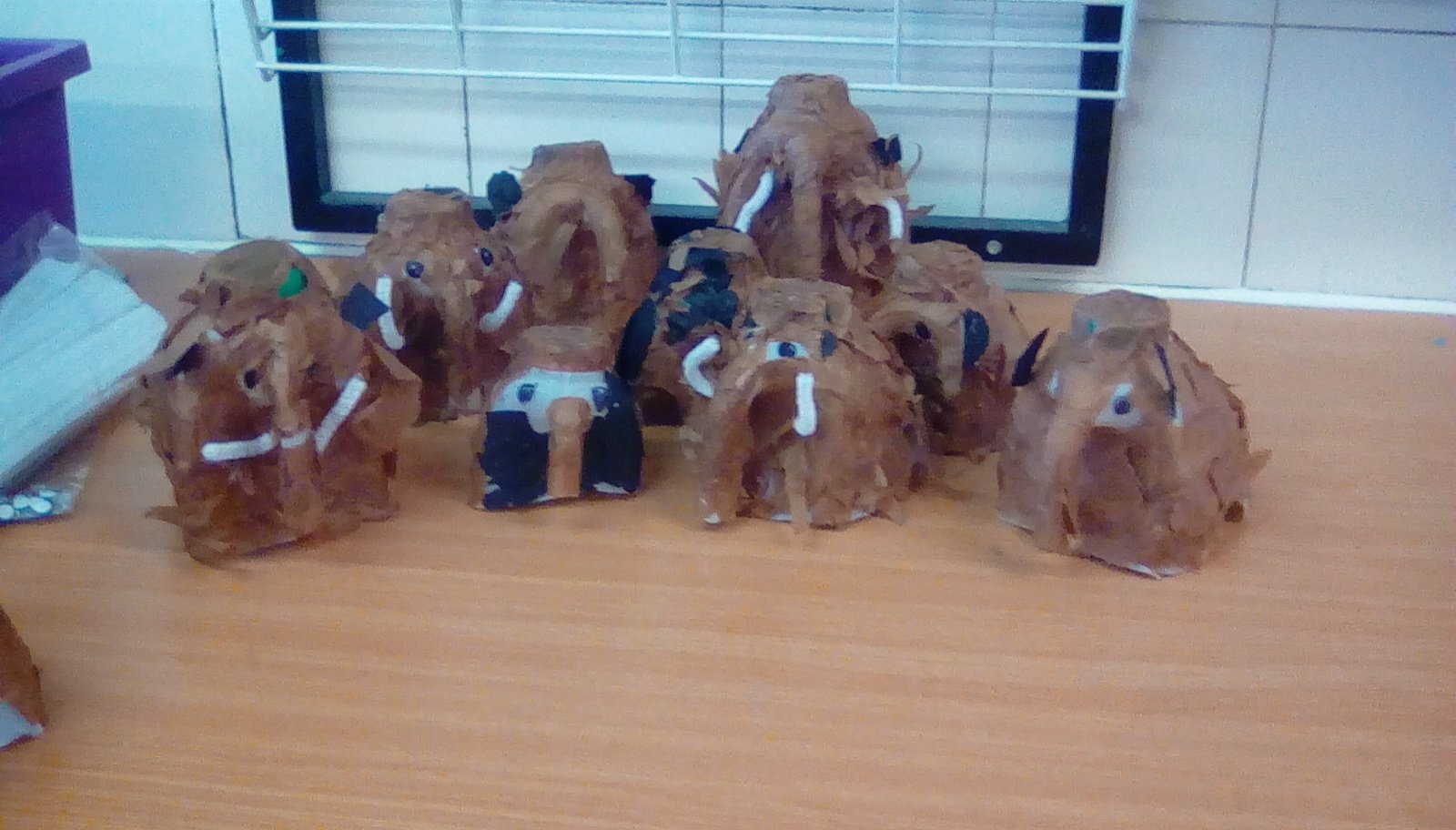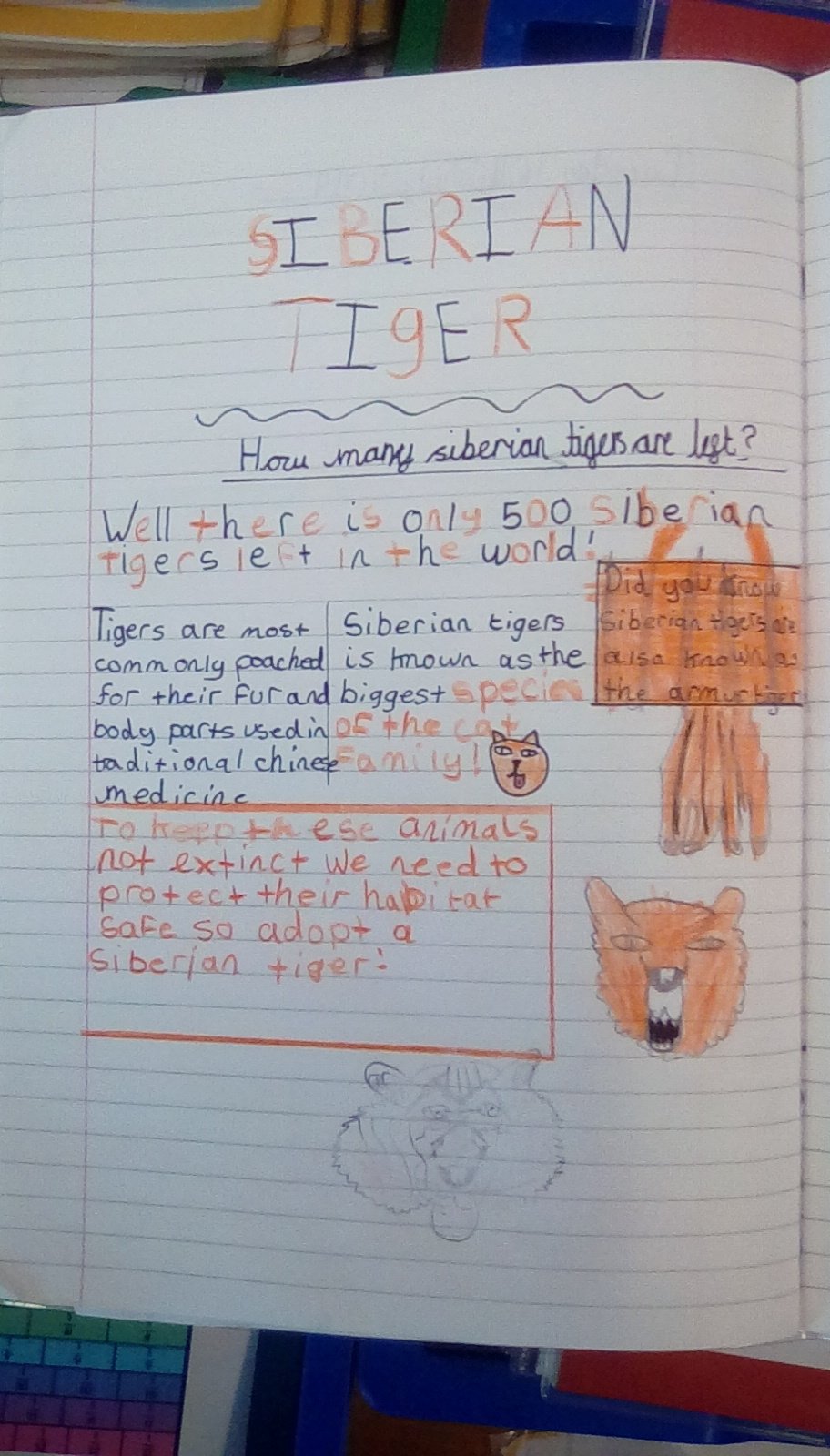 Week beginning 08.07.19
On Monday, Year 4 took part in a lesson understanding the properties of 3D shapes. They put this into practice by creating paper Stone Age figures - conical Stone Age people, homes with entry ways and even a mammoth!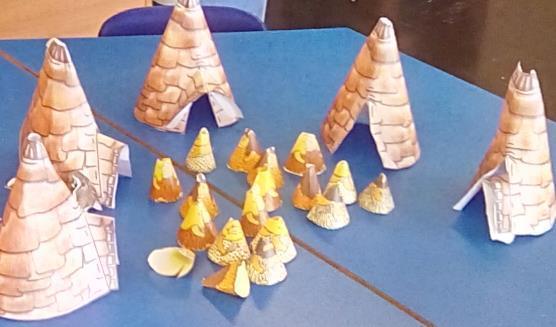 On Thursday, we took the next step in our Design and Technology project, working closely with our teachers to use saws, hot glue guns and card triangles to build our pulley system structures as solidly as we could. When we weren't building these, we were creating the background for a new Stone Age project: animations! We used different techniques with tissue paper to decorate the inside of a cardboard box - to set the stage for our animations! The outcomes were all excellent.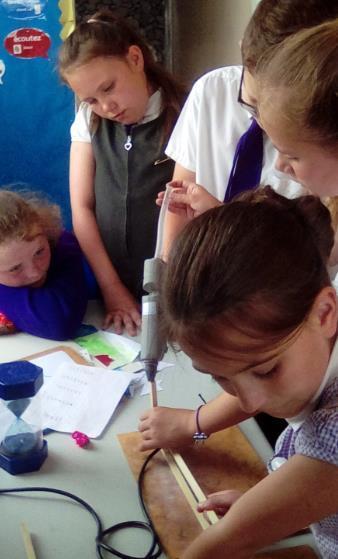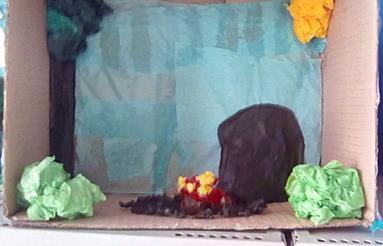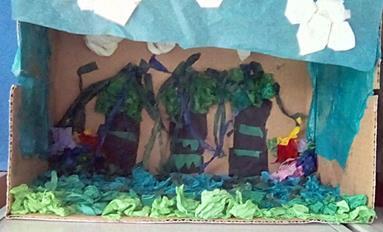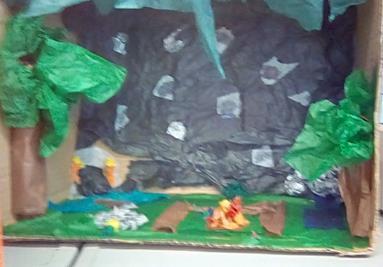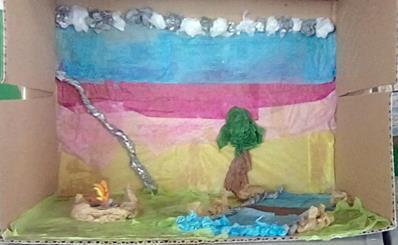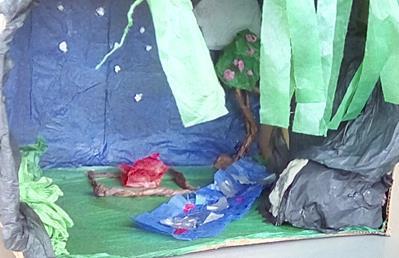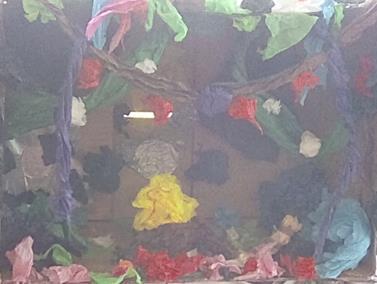 In PE, we worked together as a year group in a rounders tournament. It was great to mix the whole year group together and to work in our houses once again.
Week Beginning 01.07.19
We began getting ready for our Design and Technology construction this week and were able to work with saws to prepare the wood. The children were very careful to measure and to have a teammate check their measurements, and then under close supervision did the sawing themselves!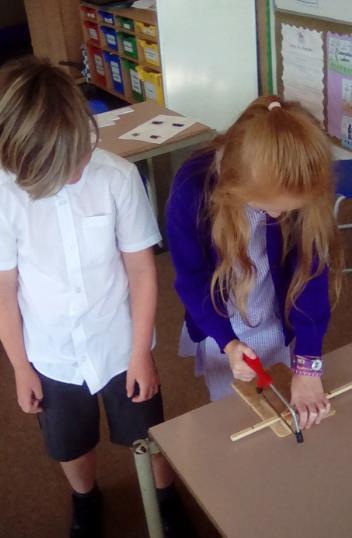 Next week we will finish our preparations and begin to build our very own pulley system towers inspired by Ug - Boy Genius Of The Stone Age.
Year 4 enjoyed going onto the back playground reserved for Year 5 and 6 on Wednesday before Meet The Teacher took place. From all accounts, the children were very well-prepared and acted just like Upper Key Stage Two students throughout the time with their new teachers.
We learned about the discovery of Stone Age homes on the Scottish island of Skara Brae and were able to put this information into a news report including interviews with the man himself, William Watt.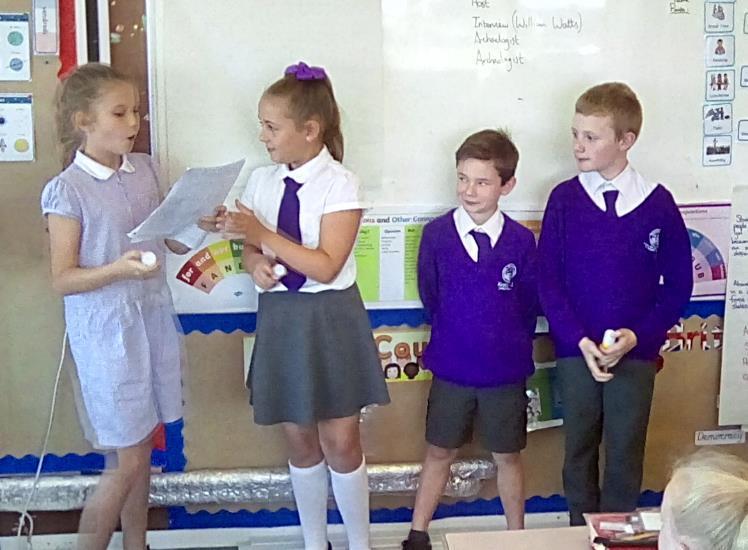 Week Beginning 24.06.19
Year 4 have worked extremely hard on their assessments this week, working to prove how successful their year has been and how ready they are for Year 5. Excitingly, we were involved in the first Government Times Tables Check and logged on to our Chromebooks to answer 25 fast-paced multiplication questions. The children actually seemed to enjoy this 'test' and were pleased with themselves and the preparation that had made it feel approachable to them.
We also wrote a story based in the Stone Age, involving a modern person being thrown back in time and encountering the strange creatures and customs that we have been learning about.
In Science, we continued to classify and categorise animals, including in Venn diagrams and Carroll diagrams. This work certainly raises some interesting questions on what the children and staff do and don't know about animals and the way they live! There are some fascinating creatures out there that can be very difficult to group.
Week Beginning 17.06.19
This week, Year 4 began a focus on classifying living things based on their similar features, for example grouping animals into reptiles, mammals, amphibians, birds and fish. We can classify in to all sorts of groups though, for example animals with two legs, animals with no legs, animals with four legs and animals with more than four legs. We identified that many large groups share many similarities despite being very different.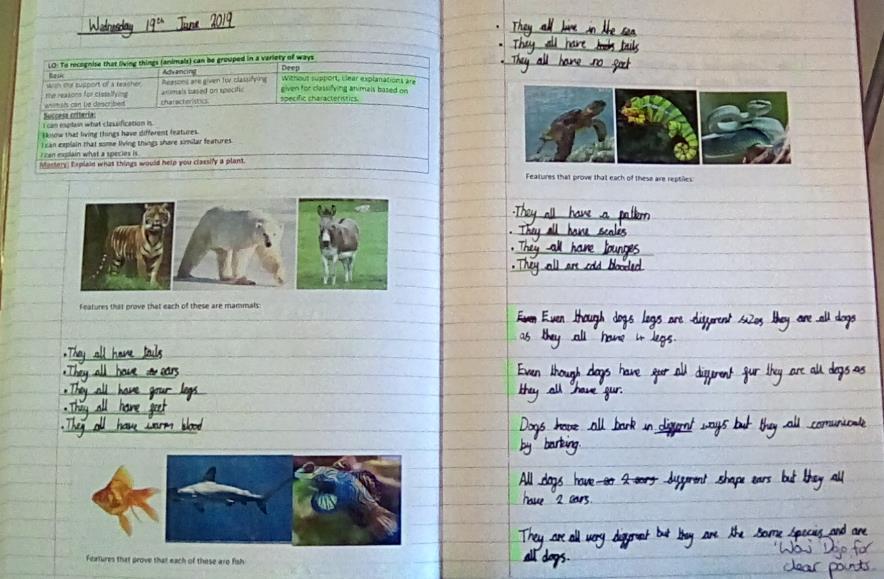 We've worked hard in Maths to recap lots of topics, for example fractions, decimals and time. It was a lot to remember but the children worked very hard indeed.
In History, we focused on how the Iron Age people developed their homes into hillforts - small towns of people living together in their roundhouses on top of large hills for protection of themselves, their belongings and their farms.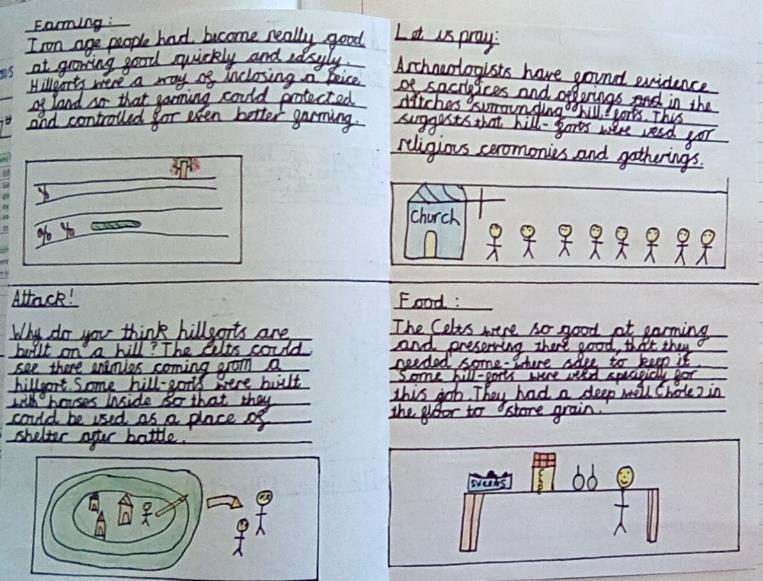 Week Beginning 10.06.19
This week, Year 4 started to read the graphic novel Ug – Boy Genius Of The Stone Age and have focused on writing to persuade. We were in role and were trying to persuade members of the Iron Age to appreciate how lucky they were with their superior homes, tools and weaponry. We created television adverts to sell the bow and arrow.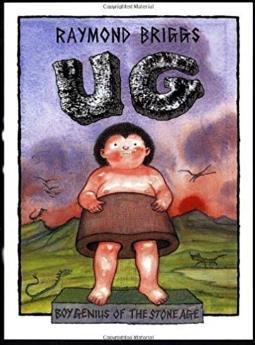 Year 4 also started their D+T project, inventing a machine that uses a pulley so that Ug can bring fresh water up to a Stone Age village that sits on the top of a cliff. The children will need small plastic bottles to make a bucket for their pulley so if you could save some and send them in that would be really helpful.
This week, we have also been writing to persuade someone living in Stone Age Britain that the Iron Age lives are better than the Stone Age. We have been trying to use a range of compound and complex sentences as well as exaggeration and rhetorical questions.
Finally, in relation to the Stone Age, the children interpreted a pictogram about animals caught by the hunter gatherers and then created their own. They had to understand that in a pictogram, a small symbol represents a number, often bigger than one, and that you can sometimes use half a symbol to represent half of that number. For example, if a picture of a mammoth meant four mammoths were hunted, then two and a half mammoth symbols would represent ten caught (four, then another four, then half of four which is two).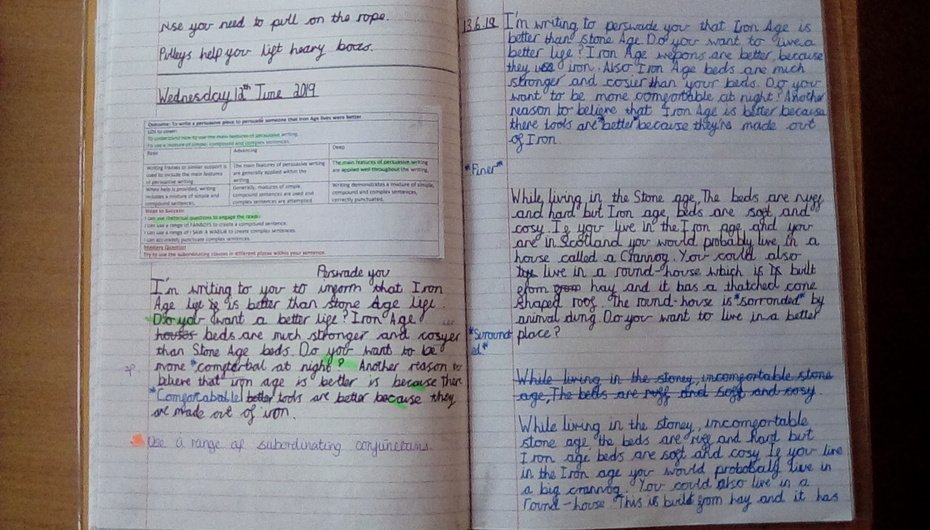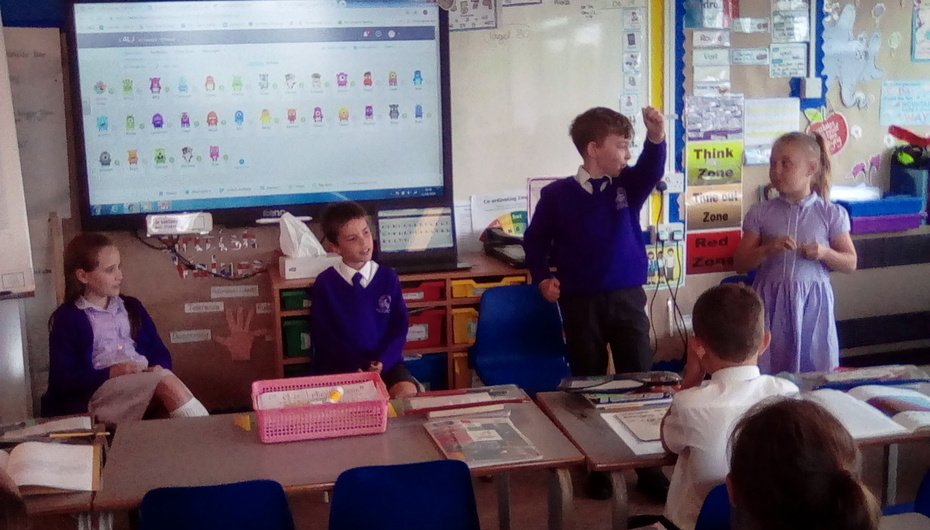 As our times tables will be assessed in assessment week, we have been practising really hard. We hope that you will help the children to keep these in the forefront of their minds in the next couple of weeks.
Port Lympne Thursday 6th June to Friday 7th June 2019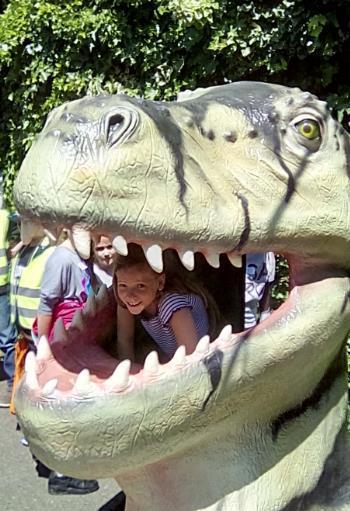 The children arrived at school and were quickly organised onto the coaches for our arrival at Bear Lodge, our accommodation. We didn't stop there, however, and sped over to Port Lympne Animal Park before lunchtime. The entrance was made memorable by the first sighting of some of the park's impressive dinosaur models.
The park is full of animals and a driven
Week beginning 12/11/2018
This week in year 4 we have been looking at materials and their properties, in particular what happens to water when it is heated and cooled.
We have carried out a few experiments. One was to see which conditions affected evaporation. We placed beakers of salt water around the classroom in different environments. These were a warm place, a cool place, a light place and a dark place. We found out that heat helps evaporation to happen quickly as more water had evaporated from that beaker than the others.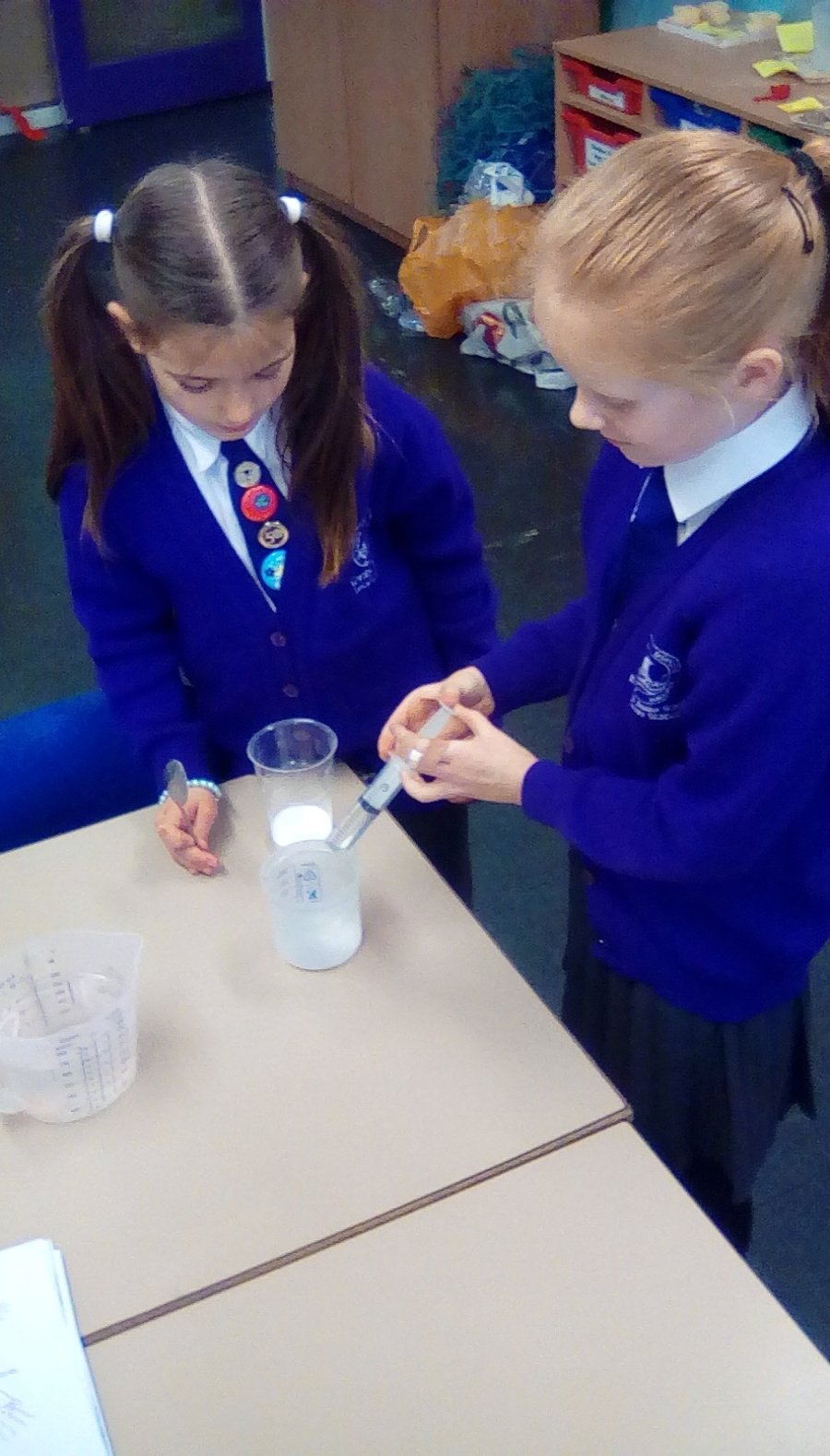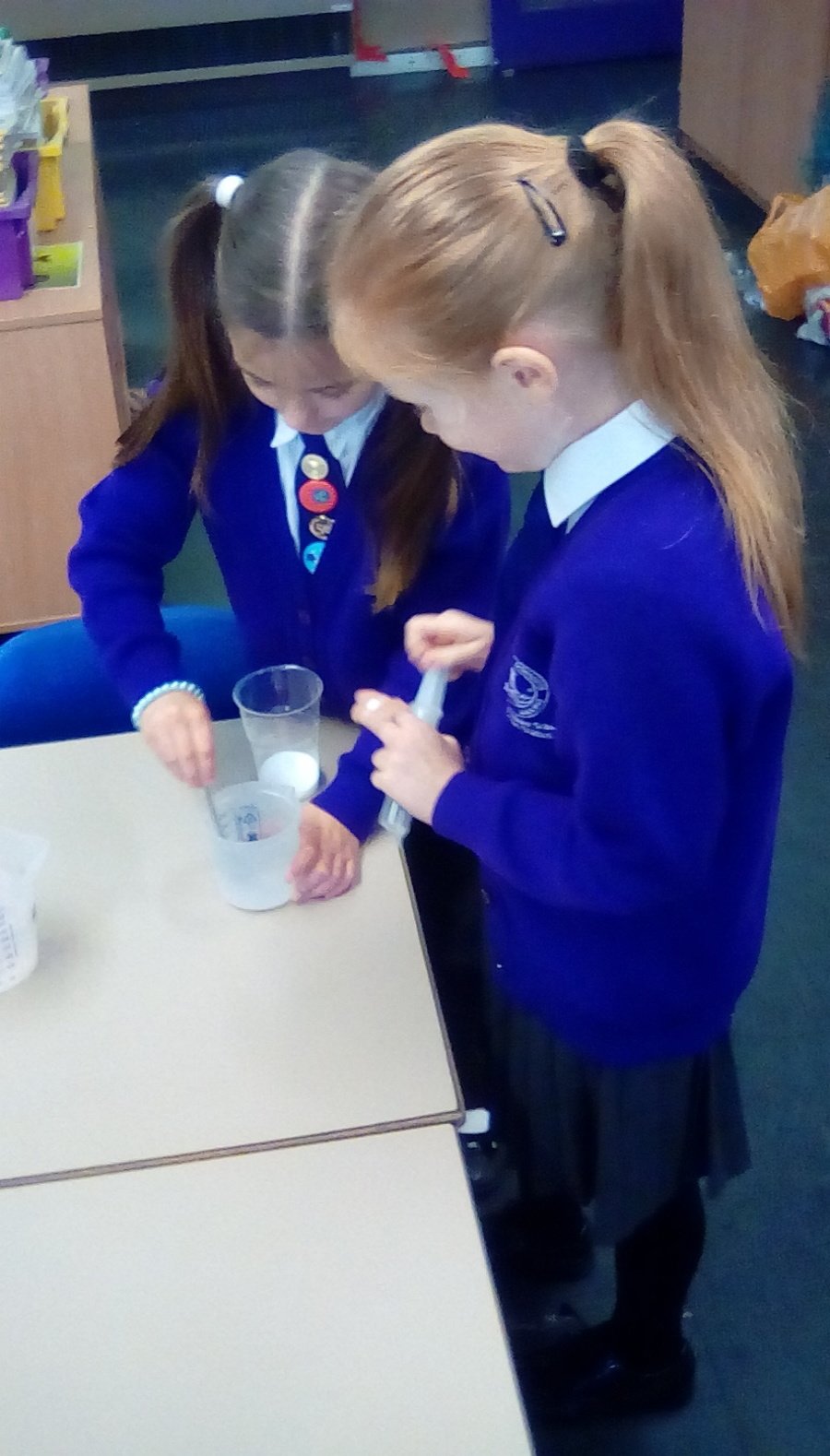 Week beginning 5/11/2018
In Year 4 this week we have been preparing narrative poems about Flotsam, focusing on using a range of figurative language.
On Tuesday, we participated in the Roots to Food Roadshow, learning about healthy eating. Four of the children competed in a 'Ready-Steady-Cook' style challenge to make two healthy dishes from different parts of the world.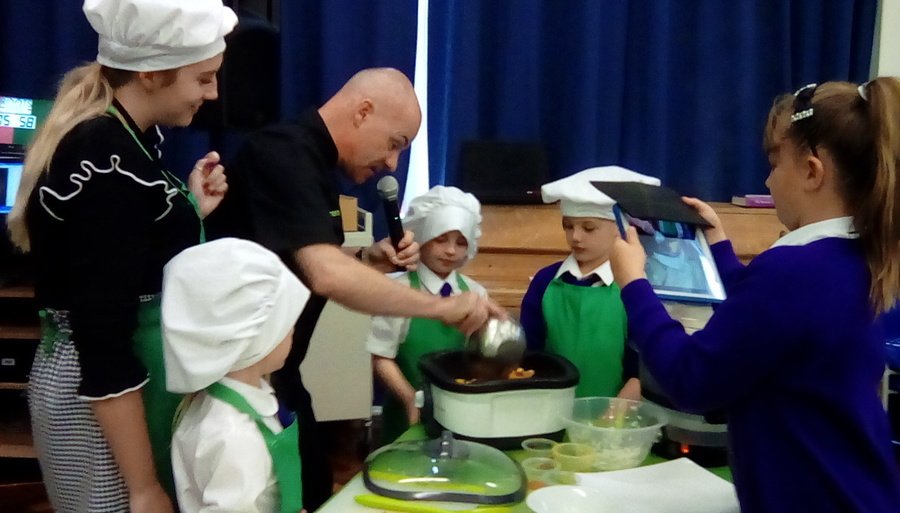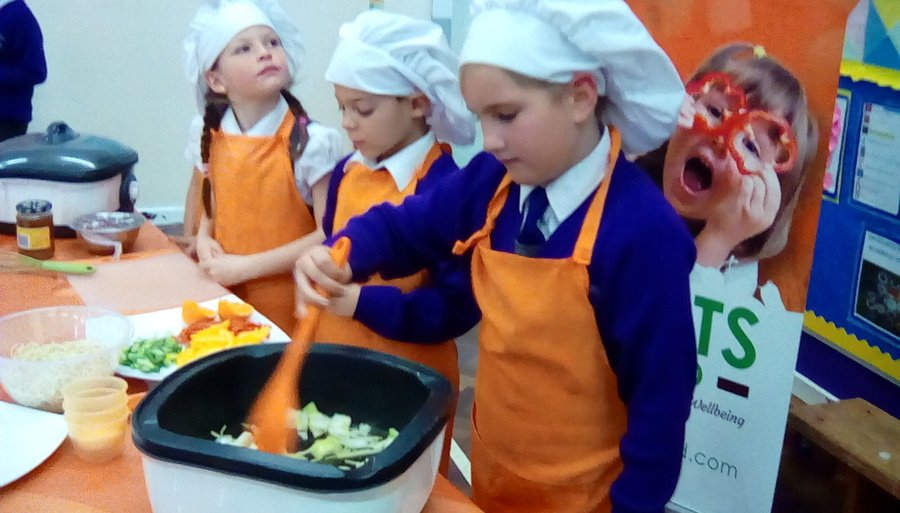 We have also spent time this week reflecting on Remembrance Day and the centenary of the First World War. In class, we have been working with clay to make poppies, as well as making plastic bottle poppies as part of the whole-school display.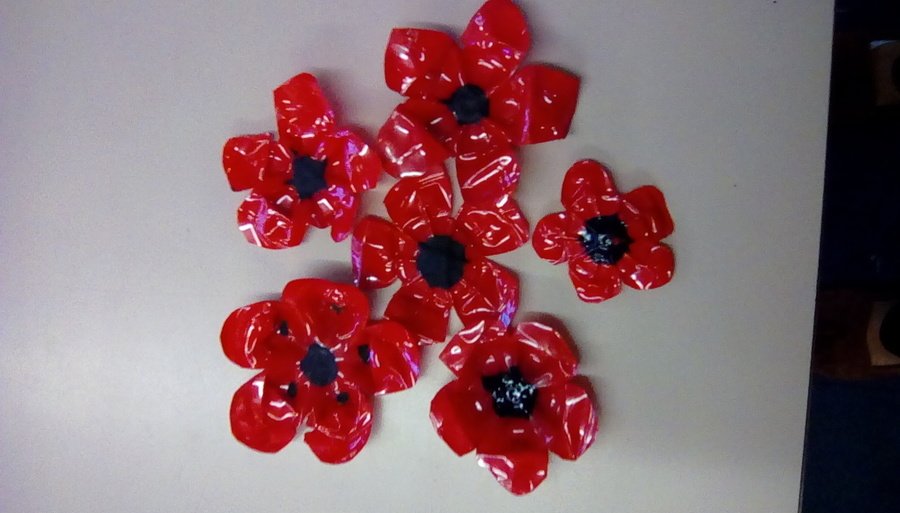 Week beginning 29.10.18
This week in Year 4 we begun our exciting new topic Plastic Pollution. On Tuesday 30th October Year 4 went on a trip to Concord beach on Canvey Island. We met the Year 4 class from Lubbins Park Primary Academy and walked to the beach. We met Colin from the Friends of Concord Beach charity who told us about the work he does keeping the beach clean for the public. We then spent some time cleaning up the beach and looking at different types of litter.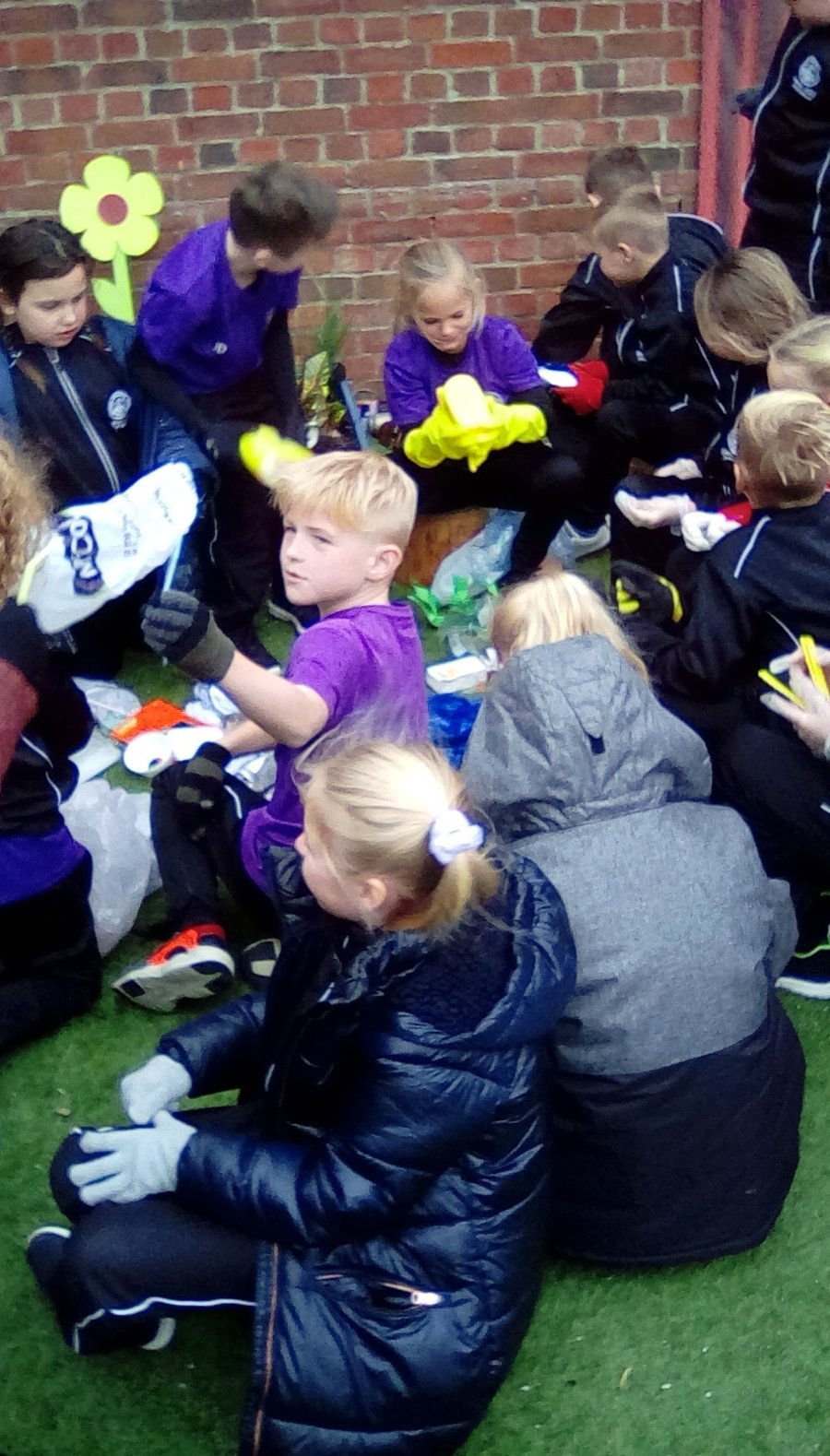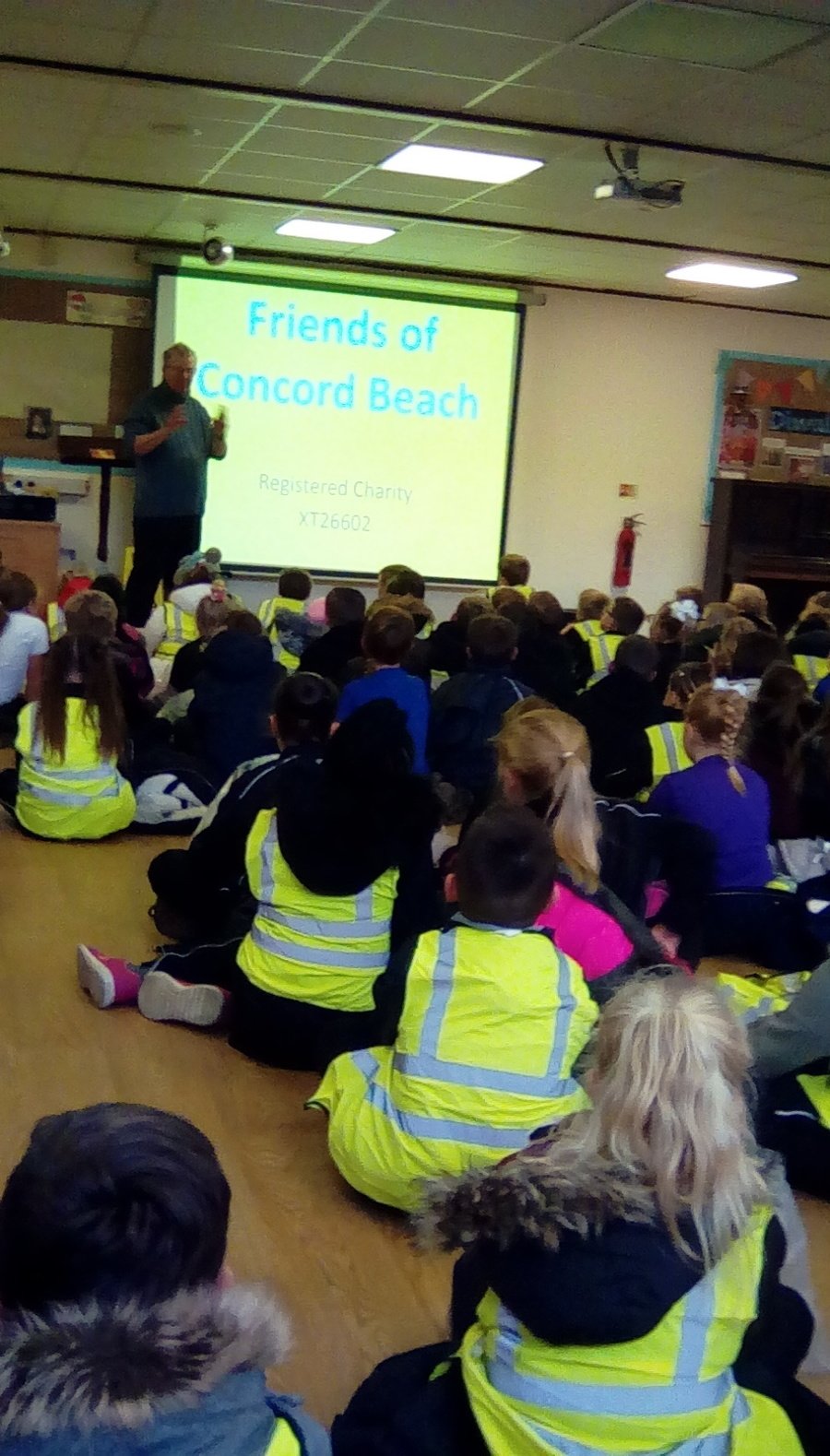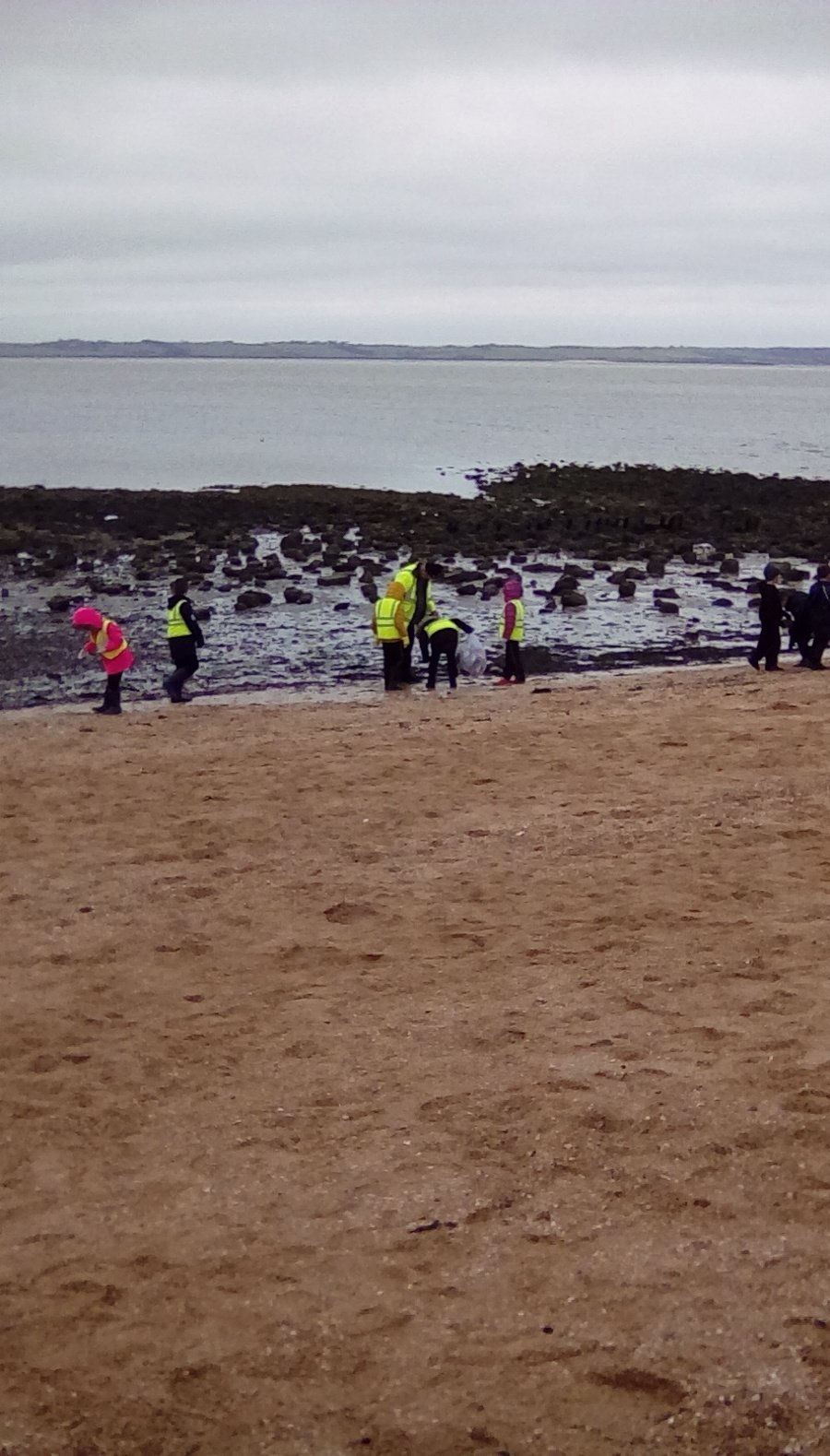 Autumn 1
This half term, the children have settled well into Year 4 and have enjoyed the responsibility of supporting younger members of our school to settle in.
We were amazingly impressed by the quality of the children's summer holiday homework.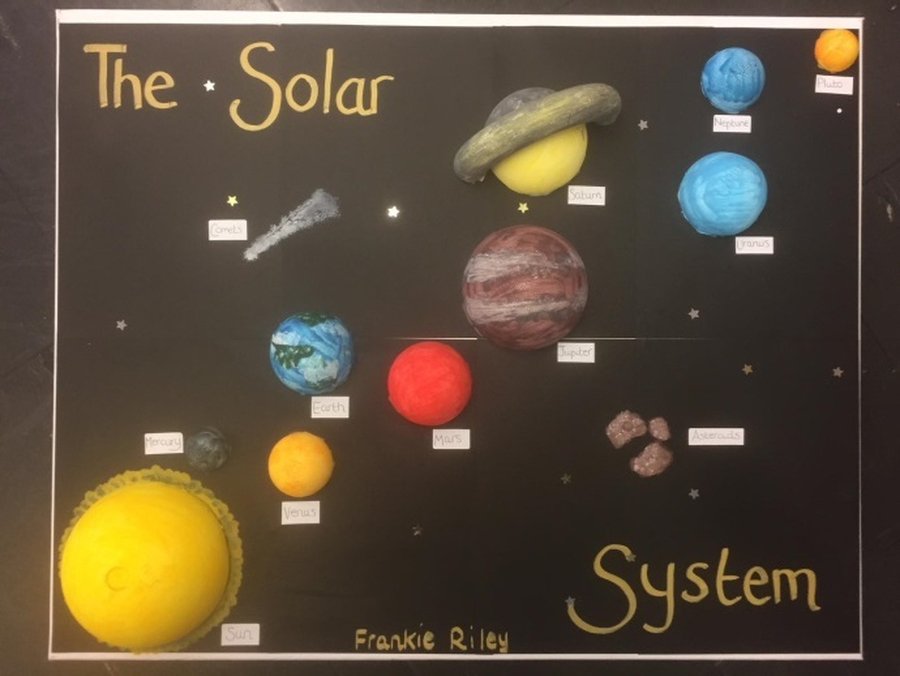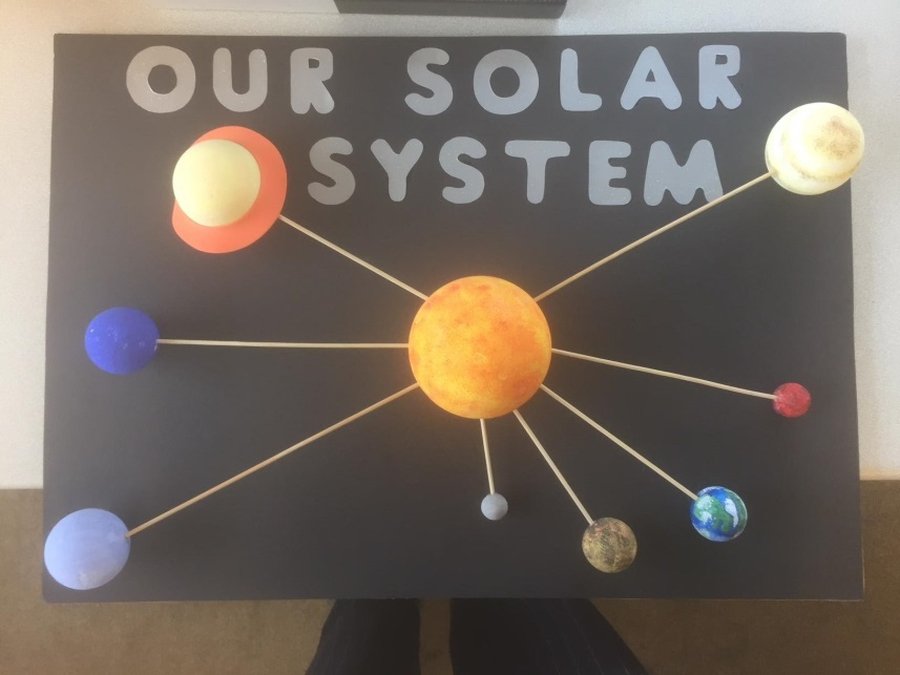 They began their Space topic by investigating an alien crash landing on the school field!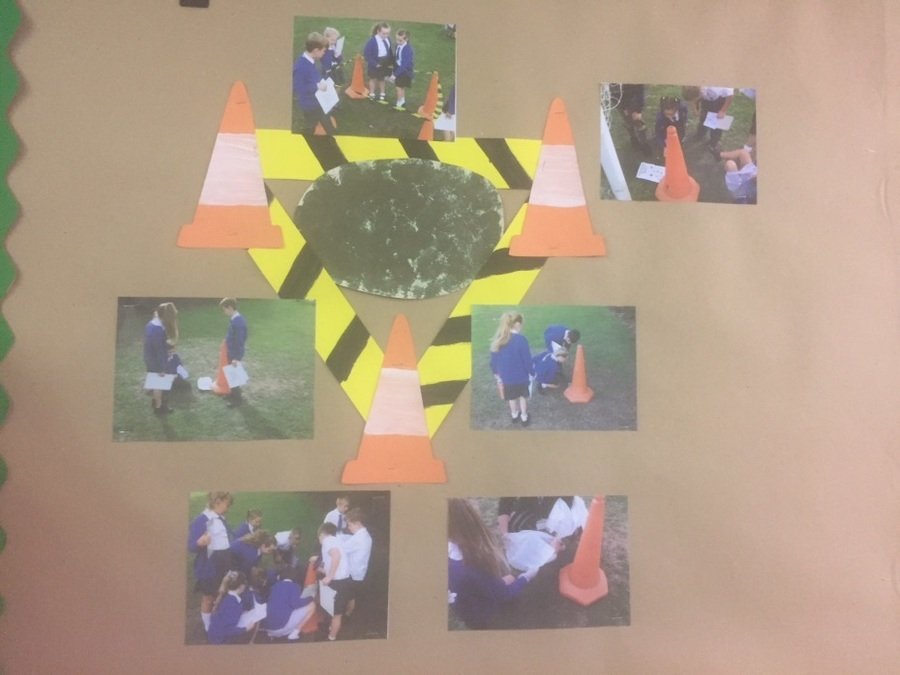 The children developed their team work skills when making and launching rockets. Mr Falvey and Miss Jackson got very wet!